10 Reasons to Stay Onsite at Disneyland
I've always said offsite is okay at Disneyland. I've listed 10 reasons to stay offsite before! I'm not an offsite fan at Walt Disney World. At all. Disneyland, on the other hand, has a lot of good options right offsite, and a lot of good reasons to stay offsite. But there are also reasons people often pay more to stay onsite at Disneyland. And here are 10 of them!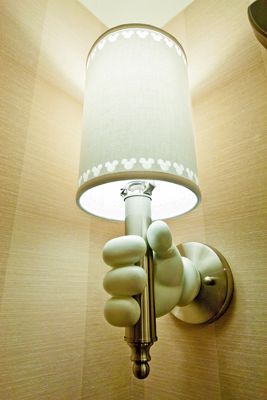 1. Magic Factor – The Magic Factor is one of those terms that's tossed around and not easily defined, but many people will agree that it's real. When guests go to Disney, they want to be enveloped in the atmosphere, lost in their surroundings, and transported to another place. Disneyland starts at a disadvantage when compared to Disney World. When you enter the Disney World property, you can't see anything but Disney World from most locations. It's easy to forget the real world is out there for a few days. Disneyland, however, is surrounded by the real world. There's an IHOP within walking distance of just about every location on property. For me, staying onsite helps. When I'm walking towards the Disneyland resorts, I'm walking away from the realities on Harbor Boulevard and walking towards more magic. No matter how lightly themed even the least-themed hotel (Paradise Pier Hotel) may seem, there are still hidden Mickeys to be found in the carpet and bedding, Mickey lamps, Mickey faucets, even Mickey himself is in the house at breakfast. If my room has a theme park view, I can turn on my television and have the music to the fireworks or World of Color piped in. The cast members aren't always perfect, but Disney has high standards for hiring and it shows. The Magic Factor is a real thing, my friends. It's real.
2. Special Entrance – There's a special entrance into Disney California Adventure in the Grand Californian that's just for resort guests during busy times! It's most valuable in the mornings when the lines at the front gates are huge. The line at the special entrance can get long, but from my experience, they're prepared, it moves fast, and they do check room keys. You come out right at Grizzly River Run, so it's easy to snag some World of Color FASTPASSes before you join everyone and his dog over in Cars Land. If you are on your way back towards California Screamin' and The Little Mermaid, you'll pretty much have that area to yourself!
3. Package Delivery – Guests of the Disneyland hotels can have purchases they make in the resort sent back to their rooms. I must say I did not fully appreciate that benefit when I first heard about it. Now I understand. Have you ever decided not to buy something, or to wait until the end of the day, no matter how inconvenient the store location is, to buy something just so you wouldn't have to carry it around? I have. There's no need if you're staying at a Disney resort (and not leaving that day). Buy it, fill out a quick form, and don't worry about it again! No more loading down the stroller so much that it falls over as soon as the child steps out!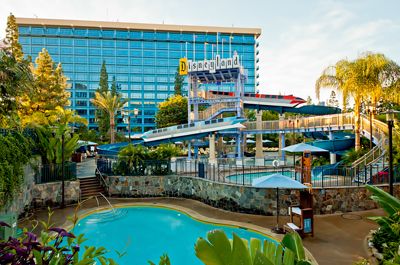 4. Charging Privileges – Disney hotel guests can charge resort purchases on their room key. It's pretty convenient, and probably will be even more so once MyMagic+ rolls out fully!
5. Pools – There are a couple of pools at offsite hotels that are not shabby, but as a general rule, the pools at the Disney hotels blow neighboring pools out of the water. The pool at the Grand Californian is amazing. There are actually three of them with a great slide and beautiful lounge chairs in a lovely redwood themed setting. The pool at the Disneyland Hotel was redone last year and it was worth the wait. It's a freakin' monorail pool!! It's got great slides and a water playground. It's Awe. Some. Even the rather plain pool at Paradise Pier is better than most offsite hotels. With its unique rooftop location (from which you can view the fireworks with musical accompaniment) and great slide, it's still a good pool. As the Unofficial Guide says, almost 60 percent of preschoolers surveyed say their favorite part of their Disney vacation was the pool. So choose wisely!
6. Childcare – If you would like an evening for just the grown-ups, you don't have very many options offsite. You can bring a naive loving grandmom or find a reputable local service. If your kids are between 5 and 12 and you are staying in a Disney hotel, you have another option. It's called Pinocchio's Workshop. You can make reservations at Guest services or by calling 714-635-2300. Pinocchio's is full of games, arts, crafts, snacks, and even dinner if you like! My children spent a few hours there one evening when they were younger, and it was one of their favorite parts of our vacation. Yes, even more than the pools!
7. Views – There are certainly some offsite hotels with unique views. The Carousel Inn & Suites gave us some really neat views of the Matterhorn. But for a true theme park view (I mean looking down into California Adventure theme park view), you'll need to stay onsite.  If you're like me and love the atmosphere of Downtown Disney District, then your only option is onsite. It's people watching heaven! Truth be told, I enjoy the Downtown Disney views as much as the theme park view rooms at the Grand Californian.
8. Hotel Activities – I've referenced some of these before, but the Disney hotels have some extra activities for guests. When you check in you should get a sheet listing some the options for your stay, although there have been times at the Grand Californian where they left a list on our pillow at night. There are things like the Art of the Craft Tour at the Grand Californian, power walking through California Adventure, towel folding classes, private shopping experiences, animation classes, there are lots of good options! Some of these come and go, but odds are you will find something you like!
9. In Room Celebrations – I had a blog post recently about ways to celebrate at Disney. Some of the options only happen onsite! The Dream Makers will come and secretly decorate your room, but they can only do that onsite! And for a fee, of course, but that's another post.
10. Extra Magic Hour – This is the biggest one, folks. With the popularity and wait times in Cars Land, this benefit is huge. Extra Magic Hour allows Disney hotel guests to enter one of the parks early every day of their stay. On Tuesday, Thursday, and Saturdays it's Disneyland, and Sunday, Monday, Wednesday, and Friday, it's Disney California Adventure. There have been some busy times when guests could pick either park! Right now, being a resort guest or an Annual Passholder are the only ways to get into California Adventure early. And Annual Passholders can only go to DCA on Saturdays. On a recent, very crowded weekend my party used Extra Magic Hour at Disney California Adventure and we were able to ride Radiator Springs Racers twice, Luigi's Flying Tires, Mater's Junkyard Jamboree and still had time to walk around and take pictures and enjoy ourselves. This benefit really can't be oversold. It's huge where Cars Land is concerned.
What do you think? Are these enough reasons for you to try a Disneyland onsite hotel?