Disney Cruise Line Stateroom Considerations for Larger Families
If your family consists of four or fewer people, selecting a stateroom on the Disney Cruise Line ships is a straightforward affair – your party can fit into most DCL staterooms. If you have five or more people in your traveling party, things get a little more complicated. Here's what you need to know:
Many Stateroom Categories Won't Accommodate a Party of Five or More
Take a look, for example, at the deck plans for the Disney Dream and Fantasy. A quick skim of the room floor plans at the top will show you that all staterooms in categories 11, 10, 9, 7, 6, and 5 are off limits for your group if you all want to stay together. The same floor plans shows you that if you have a party of six or more, you won't be able to stay in one room together at all on these ships. (Click to enlarge the image.)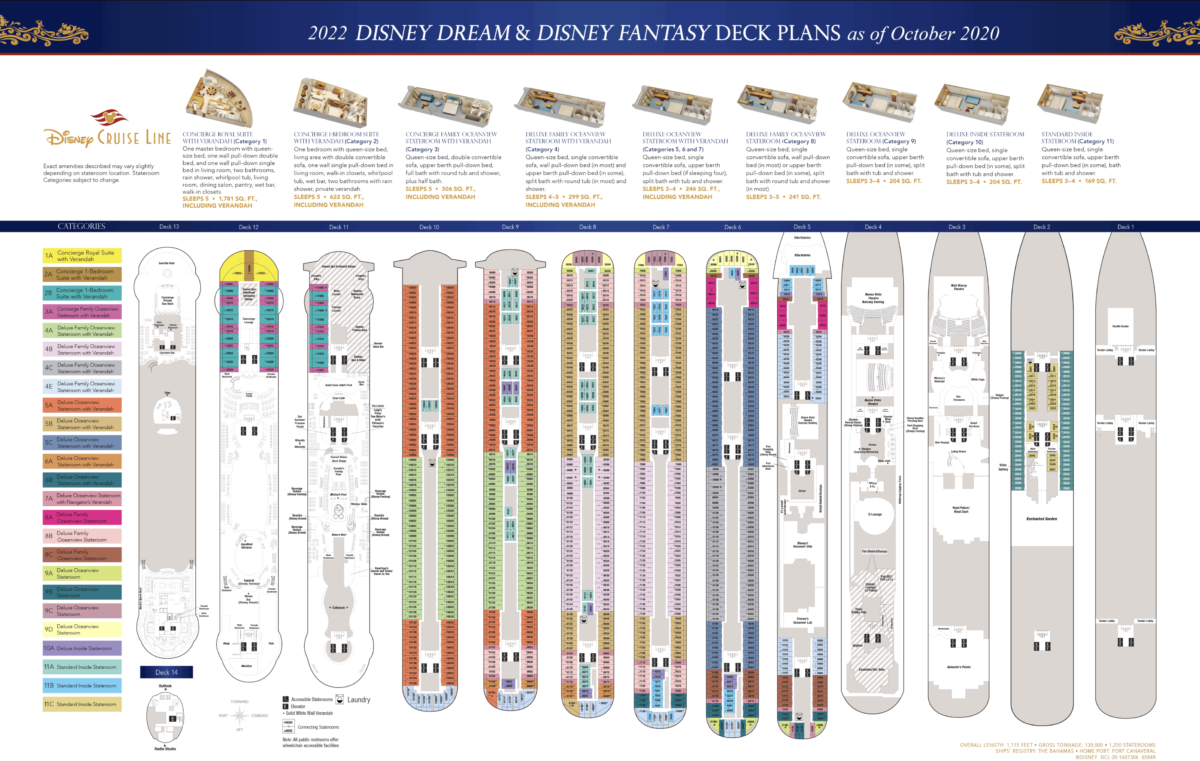 If you're a party of five, and you want to stay together in one cabin, your only options on these ships are stateroom categories 3, 4, and 8, plus the pricey concierge categories 1, 2, and 3.
If you Have a Party of Five, Even if You Can All Fit into One Room, You Might Not Want To
On the Dream and Fantasy, a category 4 stateroom, which can accommodate five guests, runs approximately 300 square feet, including the verandah. At the full capacity of five guests, that gives each person 60 square feet, some of which is bathroom and outdoor space, and most of which is consumed by the bed and other furniture. Also on the Dream and Fantasy, a category 8 stateroom (an oceanview room with no verandah), which allows five guests, is approximately 240 square feet total, or 48 square feet per person, much of which is consumed by the bathroom and furniture.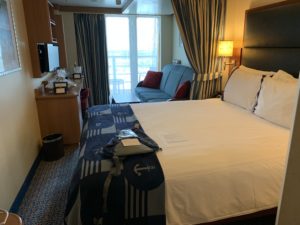 And consider that you'll have five people's worth of luggage to store, devices to charge, and toiletries to contain, and you'll soon realize how quickly cozy can turn into cranky.
If you've never been on a cruise before, as you make your stateroom selection, one thing to consider is that you may use your stateroom differently than a hotel room at Walt Disney World, for example. I've been on plenty of Walt Disney World vacations where I left my hotel room at 7:30am and returned at 11:00pm to just to shower and sleep. I was too far away and too occupied in the parks to go back to my room.
This type of room avoidance is unlikely on a cruise. There's certainly plenty to do on the ships, but chances are you'll be in and out of your room much more often on board than you would be at theme parks, even if only to change clothes. On board a ship, guests often find a need to change frequently. On a typical day, you might be in and out of exercise clothes, swim clothes, casual attire, and formal dinner attire, then back to swim or casual attire. If one person wants to nap and another person needs to change, there's not much room for quiet and privacy with only 48 square feet to call your own.
Splitting Your Party Into Two Staterooms May Save Your Sanity
If you're putting five guests into one category 4 stateroom, for example, your sleep surfaces will be one queen sized bed, one twin-size sleeper sofa, a twin-size Murphy bed, and a twin-size bed that pulls down from the ceiling. This set-up requires that two of the guests sleep in the same bed. If you're traveling with adults who don't want to share a sleep surface this could be problematic. This arrangement might also be tight for any guest who is physically larger than average. Some teen boys may find that the twin-size beds, particularly the top bunk, are uncomfortably small.
I have three daughters who all like to take their time in the bathroom. Even with DCL's split-bath (shower/sink in one compartment, toilet/sink in a different compartment) arrangement, we have A LOT of grumbles about who is taking too long to get ready. And again, there is often more need to get ready on a cruise ship than their would be in some other vacation situations.
Having more sleep surfaces and more bathroom space could be the key family harmony. This can be accomplished by booking your family of five or more into two cabins rather than one.
Contrast this with putting five guests into two category 11 staterooms. This combination would give the party two queen beds, two twin sleeper sofas, and likely two twin beds that pull down from the ceiling. This gives your group an additional adult-sized sleep surface, which can be helpful if the members of the party are friends rather than family, if the guests are physically larger, or if there is more than one guest with a fear of heights who doesn't want to sleep in a bunk-like situation. And – while the category 11 staterooms don't have a split bathroom, they do have two showers, which may be better for some party configurations.
The Finances of Two Staterooms May Not Be Different Than One Stateroom
Note: Stateroom pricing is quite variable. The same room might be a drastically different price depending on your sail date and the date on which you book the cruise. So that I'm comparing apples to apples, the prices I'm about to note were all found on the same date for the same cruise. You might encounter different pricing if you conduct your own search.
For the April 6, 2023 4-Night Bahamian Cruise from Miami on the Dream, putting five guests into one stateroom (two adults and three kids, ages 15, 10, and 8) involves a minimum cost of about $7,400 in an Oceanview stateroom, or about $7,850 in a Verandah stateroom. (An inside stateroom is not an option with this party composition.)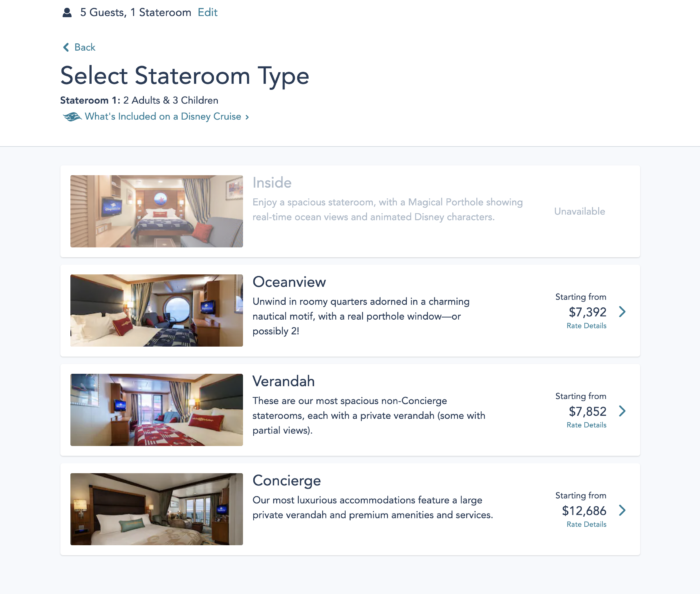 If you instead book these folks into two inside staterooms, you can get a price of about $7,900. This is less than $100 different than putting everyone into one Verandah stateroom to get more sleep surfaces, more square footage, and an additional shower.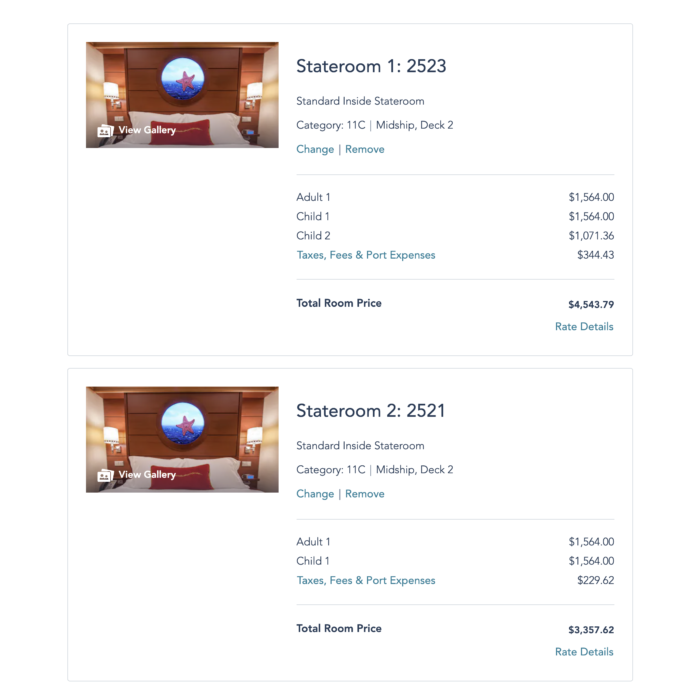 Losing window or verandah access might be a deal-breaker for some families, but a compromise might be to get one inside cabin and one with outdoor access.
When you're playing around with different stateroom combinations, be aware that the first two people booked into a stateroom always pay the adult rate, regardless of age. If you have young kids and teens, you may be able to save a few dollars by making sure the youngest child is booked as the third person in a room (rather than the second) so that they get charged the child rate instead of inadvertently forcing them into the adult rate.
You Can Make Two Staterooms Feel Like One Room
Families with young children might worry about putting little ones in a different cabin. Never fear! Break out your magnifying glass for a look at the deck plans and you'll see that many of the staterooms on the Disney ships are connected by an internal door. (Look for the little V-shaped symbol between the rooms to indicate that the rooms are connected. Seriously, you may need a magnifying glass to see them.) Connecting rooms are available at most stateroom levels, from standard category 11 inside staterooms, on up to concierge suites. There are even a few concierge rooms which allow more than two rooms to be connected.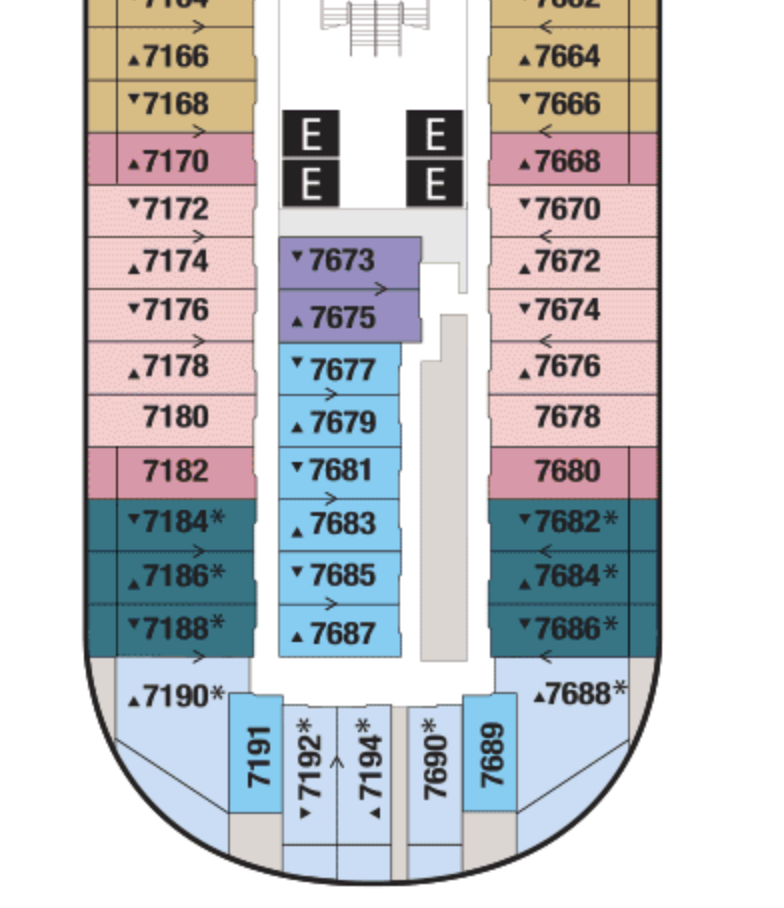 Connecting rooms are exactly what they sound like, two rooms connected by an internal door. Opening the internal door effectively turns those cabins into a multi-room suite. In addition to adding space, selecting connecting rooms gives you a real door in addition to the flimsy internal "privacy curtains" present in most rooms.
Connecting Rooms are Not All Alike
In most instances, connecting rooms are listed at the same category level. For example, an 11B is connected to an 11B or a 4C is connected to a 4C. However, there are a few unique situations in which staterooms of different categories connected. For example, on the Dream and Fantasy, stateroom 7188 (a 6B cabin) can connect to 7190 (a 5E cabin). These staterooms are quite similar, but a bit of tinkering with various combinations might save you a few dollars.
The most common situation in which you'll find dissimilar staterooms connected occurs when one of the staterooms has a handicap accessible designation. For example, on the Dream and Fantasy, you'll see handicap accessible stateroom 6186 (a 9A deluxe oceanview cabin) connected to 6188 (a 6B deluxe oceanview cabin with a verandah). For many parties, this would be a nice balance of economy and outdoor access, with one slightly less expensive room connected to a slightly more expensive room with an additional amenity. Of course, the priority access in this situation should go to guests who need the handicap room for medical reasons, but if theses rooms become available for general booking, it could be the best of two worlds.
If you're looking for odd stateroom combinations, you may benefit from the expertise of a veteran cruise specialist travel agent who understands the nuances of the various options.
Your Options Expand Further if You Don't Need Your Rooms to Connect
While parents of small or special needs children will likely want access to them via a connecting door, families with older kids, or a party of friends rather than family, might not need their rooms to be connected. For example, when my daughters were older teens, I liked to have them in a room fairly close to my husband and me, but they were experienced enough travelers that I didn't absolutely need them to be in a connected room.
If you just want adjacent but not connected rooms, the stateroom type combinations increase dramatically. For example, on the Dream and Fantasy, cabin 9010 is an oceanview stateroom next to (but not connected to) 9012, a stateroom with a navigator's verandah. This could be a good combination savings and outdoor access for my family, particularly if something like the connecting door handicap room combinations were not available.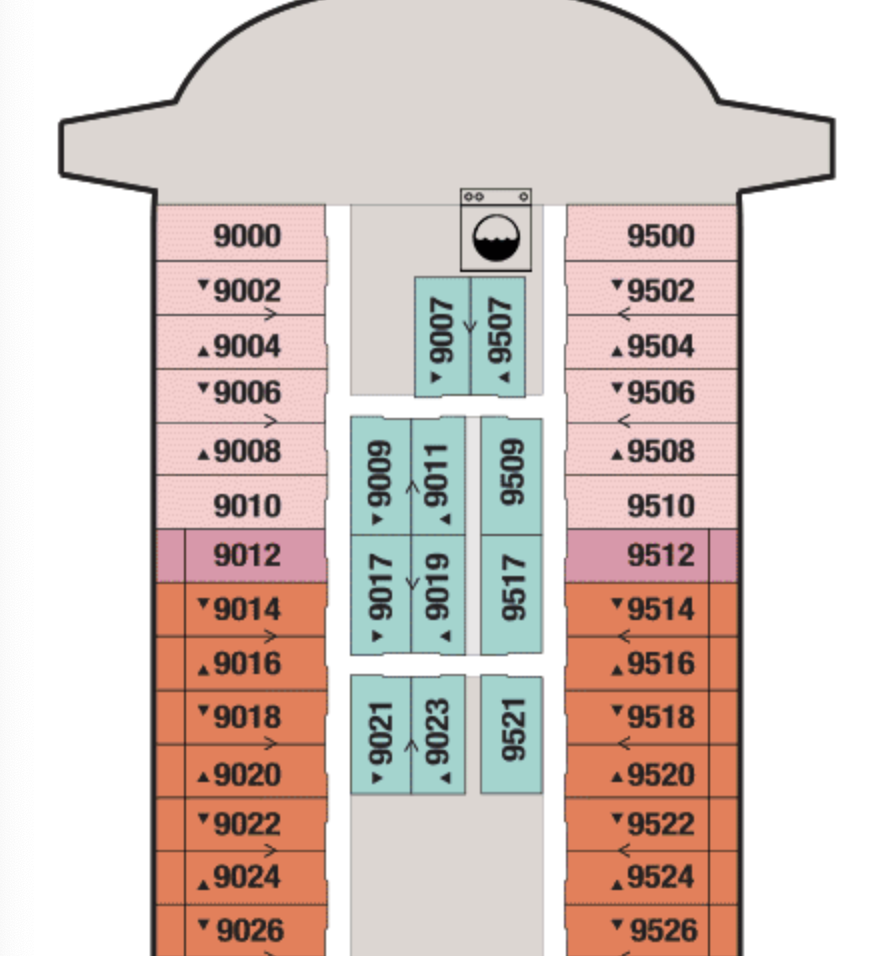 There are also many families who put teens in an inside stateroom with the parents in an oceanview or verandah room directly across the hall (for example something like 9521 and 9518 on the Dream or Fantasy). Again, this allows cost savings in one room with better amenities in the other.
Larger Parties Should Get Familiar with the "Add Another Stateroom" Button
A group of six or more will get error messages when trying to book the entire party into one stateroom. Any larger party will want to get familiar with the "Add Another Stateroom" button as they explore their booking options.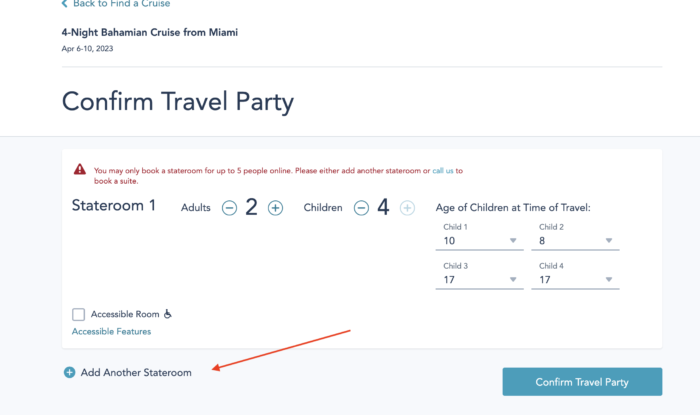 Not All Age Combinations Will Work When Booking Staterooms
While getting two rooms for your larger party is often an elegant solution, it may not be possible in all cases. Disney Cruise Line requires that at least one guest age 18 or over be booked into every stateroom. Additionally, all guests ages 17 and younger must be booked into a stateroom with someone 21 or older.
This is no problem if, for example, two adults are traveling with three kids. Two get two rooms, you would book an adult with one child into one cabin, and the other adult and two children into the second cabin. However, if one adult is traveling with four children, then they would not be eligible to be booked into two staterooms. On the Dream and Fantasy, their only option would be one category 8 room or a one category 4 or higher room, assuming one is available. This is true regardless of whether the rooms are connecting and regardless of the age of the children. A single parent of four teens would have to stay with them in one stateroom rather than two.
This rule has other impacts as well. I once considered taking two of my teen daughters and a friend of theirs on a DCL cruise. While my daughters are quite close with their friend, I didn't think she would be entirely comfortable sleeping/changing/relaxing in the same room with me (a non-family member) for a week. I wanted to get a room for the girls (again, well-behaved older teens) connected to a room for me to give everyone a measure of privacy, but Disney would not allow me to do this. We ended up scrapping our plans.
You Don't Have to Sleep Where You're Booked
I mentioned earlier that some families put their teens in an inside stateroom with the parents across the hall in a verandah or oceanview stateroom. Given the 18-and-over rule, you'll see that this is not allowed from a booking perspective. However, once you're actually on the ship, the rule is not enforced. If you're a family traveling with more than one stateroom, Guest Services at the ship will be more than happy to code your Key to the World Cards (room keys) so that each key opens all the linked rooms. This means that on the ship, family members are free to mix and match their sleeping locations among the reserved rooms. Even though it's not booked that way, parents can sleep in one room, with the kids in another. Most stateroom attendants will automatically ask you how you want your rooms configured and where people will really be sleeping.
Think About Your Castaway Club Status
In addition to thinking about the ages of who gets booked into which room, your ability to book excursions and fine dining may be impacted by who is booked into which stateroom.
For example, during one family vacation, my twins and I had a higher Castaway Club (DCL loyalty program) rating than my husband and other daughter (lucky us). My kids were all older, so we had no pricing issues with who got paper-booked into which cabin. However, we did run into a problem when trying to book excursions for that cruise. We inadvertently booked me and the higher Castaway status twins into one room, while my husband and lower status Castaway status daughter were in the other room. Excursion and dining booking access dates are based on the Castaway level of the highest status person in each room. Because we had stacked the deck with all the high-status family members in one of our rooms, half of our party was able to make excursion reservations before the other half. If we had arranged the booking slightly differently, booking one of the higher-status kids into the room with her dad, we would have been able to make excursion reservations for both rooms at the same time.
The excursions we were selecting were not in short supply, so as a practical matter it ended up as a non-issue, but if you were looking to book an extremely popular or scarce excursion, then you might be in trouble.
Additional Ways to Save Money on DCL for Larger Families
In addition to tinkering with different stateroom configurations, larger families (and anyone else looking to economize), may want to look closely at their travel dates. Your travel date can be the largest factor in the overall price of your Disney Cruise vacation. The price might be double on the same ship, on the same itinerary, if you choose a Christmas week voyage over one in, say, late September. Choosing a different ship is also something to consider. The Wish may be the hot new thing, but the Dream visits the same ports and is often 10% cheaper (or more) for a nearly identical itinerary.
You may also want to look at other aspects of your trip planning as areas where you can economize. Will driving, rather than flying, allow you to reduce your total budget? Will choosing a different embarkation port change your budget? Can you skip extras like pricey shore excursions?
For more tips on Disney Cruise Line travel, check out The Unofficial Guide to Disney Cruise Line or speak with one of our expert Touring Plans travel agents.