10 Things You Should Know About the 2012 Disney Dining Plan at Disneyland
Okay, I've been promising to write this blog for quite a while now but I've been putting it off!  Why have I been putting it off?  Because the dining plan at Disneyland is so confusing!  And I'm a travel agent who has been trained in all things Disney!  I've gone through online training and sat through actual classes at Disneyland about the dining plan and yet still, I find it confusing.  Hopefully I can shed a little light on it here.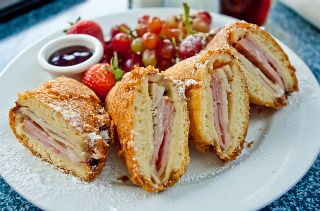 I'll tell you right up front, this blog is coming from a fan of Walt Disney World's Dining Plan.  I consider Disney World's plan to be easy to use, and, depending on your eating habits, it can save you money.  It's not for everyone, but it's perfect for a lot of guests.  At Disney World, depending on which plan you purchase, you get a certain number of meals and snacks per person per night of stay.  The cost of individual items is usually not a factor.  For instance, if you are using a dining credit at Le Cellier Steakhouse at lunch and you want that New York Strip Steak for $31.99 – get it.  It's covered!  Disneyland's plan is very different, however.  Here are some things you should know about it.
1. Disneyland's Dining Plan is essentially prepaying for your meals.  You can either purchase individual character meal vouchers, or there are four meal plans to choose from (which also include character meal vouchers).  They are:  Donald's 2-Day Dine in the Magic Meal Plan, Goofy 3-Day Dine in the Magic Meal Plan, Minnie's 4-Day Dine in the Magic Meal Plan and Mickey's 5-Day Dine in the Magic Meal Plan.  Each plan includes a different number of vouchers (to include character meal vouchers) with an established dollar value printed on them.  Except in the case of character meal vouchers when used at a character meal (described in #8 below), the vouchers are worth exactly the amount printed on them.  When you use them, that amount will be applied to your bill.
2. With the Disneyland dining plan, you can buy a shorter length plan than the number of nights you stay.  You can't do this at Disney World, unless you split stays, so in this regard, the Disneyland meal plan provides a little more flexibility.  If you are staying 3 nights but are only interested in a couple of nice sit down meals, you can get the 2-day plan!  That way you won't be stuck with extra vouchers at the end of your vacation.  Another major difference with the Disney World plan is that everyone on the same vacation package at Disneyland does not have to purchase the meal plan.  Parents can buy it for their teenagers and not for themselves, for example.
3. The vouchers expire at the end of the year in which they are purchased.  Unlike Disney World's dining plan where dining credits expire on midnight the day of check out, at Disneyland the vouchers expire at the end of the calendar year.  So, you may be able to save them for your next trip if you don't use them all the first time.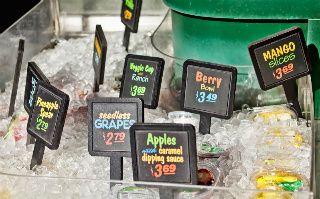 4. Similar to Disney World's plan, you can't add a Disneyland dining plan onto a room-only reservation.  At Disney World there are exceptions for things like a Disney Vacation Club stay, military discount, or Annual Passholder reservation.  At Disneyland, however, there are no exceptions.  Also, considering that what constitutes a package at Disneyland is sometimes different than what constitutes a package at Disney World, it can be difficult to know if you can add on a meal plan.  At Disneyland, you can't assume that because you added tickets onto your room-only reservation that you can also add the dining plan.  To confuse things even further, Disneyland also has a ticket that is considered a package even if you don't have a room of any kind booked!  It's called Passport Plus and you can add dining plans to it.  You can, however, add character vouchers onto a room-only reservation.
5. You cannot use the vouchers everywhere.  Unlike the plan at Disney World where it's hard to find a restaurant that doesn't participate (especially with the 2012 plan adding a bunch of new restaurants like T-Rex Cafe and both Rainforest Cafés) Disneyland's vouchers don't work at restaurants or food carts in Downtown Disney where you will undoubtedly want to eat because of the great selection of restaurants there.  It didn't used to work at the Disneyland Resort Hotels, but thankfully Disney has fixed that problem.
6. There is a difference between the types of character meal vouchers.  The Premium Character Dining vouchers cost $40 and are for lunch or dinner at Ariel's Grotto (although they do not work for the World of Color dinner packages) and breakfast, lunch and dinner at Goofy's Kitchen.  The [not-as-premium] Character Dining vouchers cost $33 and are for Minnie and Friends Breakfast at the Plaza Inn in Disneyland, Surfs Up! Breakfast at the PCH Grill in the Disney's Paradise Pier Hotel, or Chip and Dale's Critter Breakfast at Storytellers Café in the Grand Californian Hotel & Spa.
7. Character Meal Vouchers do not necessarily mean characters.  Both kinds of character meal vouchers can be used at places other than character meals.  If you purchase Mickey's 5-Day Meal Plan for an adult, you will see it includes 3 character dining experiences, 1 premium character dining experience, 4 $15 dining vouchers and 4 snack vouchers.  The character vouchers have a dollar value and you can redeem them at any participating restaurant.  The value of the voucher you use will be applied to the meal.
8. It is possible to save money using the Disneyland dining plan.  And when I say save money, I mean just a few dollars.  When you use a character meal vouchers at a character meal, they are worth the value of the meal.  If you're not traveling during a peak holiday season when character meal prices can be inflated, you will save a little.  For example, the current price for an adult dinner at Goofy's Kitchen is $35.99.  A Premium Character Dining voucher is $40.  Because the voucher includes tax and gratuity which would add up to more than the difference of $4.01, you can actually save a few bucks.
9. It is also possible to lose money using the Disneyland dining plan.  Again, when I say lose money, I am probably talking minimal amounts.  If you use a $5 snack voucher for a snack that costs $4.50, you will not get change.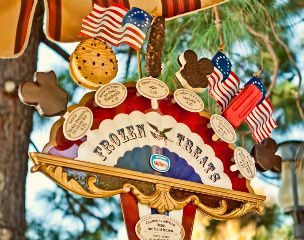 10. If you don't want to carry cash, the Disneyland dining plan may be for you (Disney uses this as a selling point).  Since carrying credit cards or gift cards would also save you from carrying cash, I've tried to think of scenarios in which carrying meal vouchers worth specific amounts would be more convenient than carrying credit cards or gift cards.  As the mother of two teenagers, one scenario does come to mind.  If you let the teens go explore Disneyland by themselves for a while, vouchers may be better to give them than credit cards or gift cards.  The way I see it, there are two possible benefits with the vouchers in this scenario.  First, it's not as big a deal if they lose a $5 voucher as compared to a credit card or gift card, and second, they can't spend $20 on food if you only give them $10 to spend!
So there you have it!  An attempt to explain the Disneyland dining plan, and some pros and cons about it (could it be any different than the Disney World dining plan?).  Hopefully, the Disneyland dining plan is clearer now – at least a little!
How about you?  Do you still have questions about the plan or have any experiences to share?  What changes would you like to see made in the Disneyland dining plan?