Gourmet Landscapes Food Studio: 2023 EPCOT Festival of Arts
Dishes that whisper the untamed beauty of the far North.
Our recommendation: Hooray for Canada! Nothing in this booth is new, but we're glad to see it for another year, each and every dish.
Booth Overview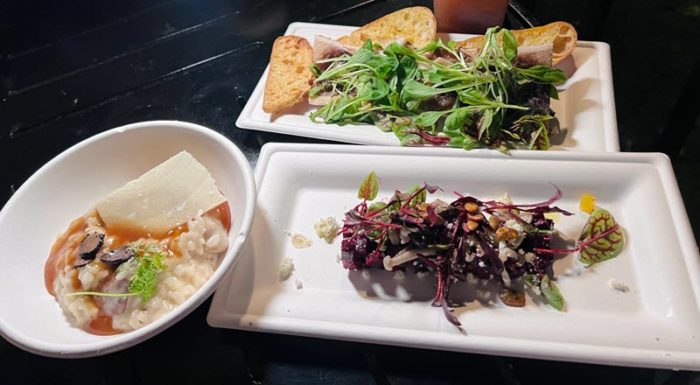 Food
Blood Orange-braised Beet Tartare 🌱🇬🌈– $5.50
– with Mustard Vinaigrette, Pickled Clamshell Mushrooms and Golden Beets
Roasted Bone Marrow – $10.50
– with Onion Marmalade, Pickled Mushrooms and Petite Lettuce
Wild Mushroom Risotto – $9.75
– Aged Parmesan, Truffle Shavings, and Zinfandel Reduction
Beverages
Whole Hog Brewery Raspberry Chéret Double Radler – $5.50/$9.00
– Stevens Point, WI
Schlumberger Cuvée Klimt Brut – $9.00
– Austria
The Meeker Vineyard Winemaker's Handprint Merlot – $11.00
– Sonoma County, CA
Frozen Rusty Nail Cocktail – $15.00
Our Thoughts
Best of the Booth
We don't love the price of Wild Mushroom Risotto, but it's always a win. Always! The shaved truffle and the Zin reduction get us every single time, and we can see how the quality justifies the price. It's not new or daring but we are totally confident that we're going to love this entire bowl and it is consistently good. If you're not by yourself get two, because you will not want to share.
Rest of the Booth
The Blood Orange-Braised Beet Tartare is plant-based, gluten-friendly, and an excellent ode to this ruby root vegetable. The pickled mushrooms offer a nice twang to balance the deepness of the beets. Hooray for this tweaked version of a Festival standard.
We're aware we have the comic sensibilities of an average elementary school child, but the Roasted Bone Marrow throws us directly into giggles and a chorus of the Flintstones theme song. It's tasty and delicious and a good deal for the price considering we would never, ever know how to prepare this properly. But if you must skip something here this would be our pick because while you're going to love each bite you'll be hungry at the end.