2022 EPCOT Festival of Holidays: Mele Kalikimaka Holiday Kitchen Review
Positioned near Port of Entry, Mele Kalikimaka serves a holiday helping of Hawaiian flavors.
Overall recommendation: do not skip. We love this entire booth. LOVE LOVE LOVE.
Booth Overview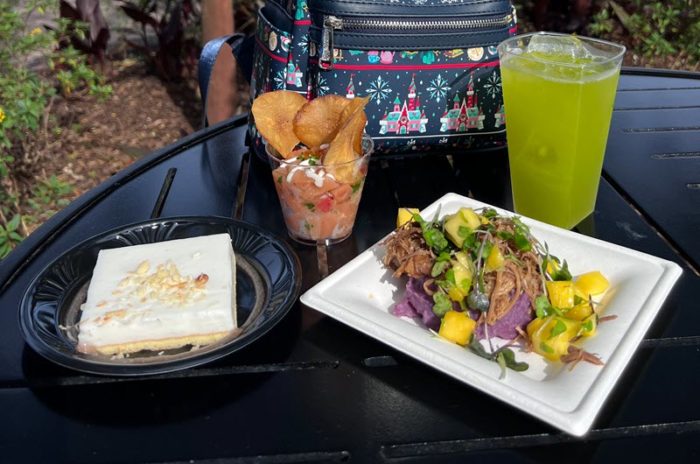 Food
Kālua Pork – $5.50
– with Okinawa Sweet Potatoes and Mango Salad
Lomi Lomi Salmon 🇬 – $6
– with Tomatoes, Onions, Salmon Roe, Yuzu-Mayonnaise and Yuca Chips
Haupia – $4.50
– Hawaiian Coconut Pudding with Candied Macadamia Nuts and Coconut
Beverages
Kona Brewing Co. Big Wave Golden Ale – $5.50
– Kailua-Kona, HI
Florida Orange Groves Sparkling Pineapple Wine – $12.50
– St. Petersburg, FL
Melon Breeze – $14
– with Spiced Rum
Our Thoughts
Best of the Booth
The Kālua Pork is always a favorite at this festival and at $5.50 it's still reasonably priced. The pork is sweet and salty and has beautiful tropical flavors and no spice, so it's going to work for folks who don't love the heat. The flavors + price are the reasons it's one of the items on our "Best $50".
Rest of the Booth
The Lomi Lomi Salmon is fresh and yummy. We have seen it with a nicer presentation in other years, but the flavors are still there. The Haupia is milky, light, and creamy: the perfect sweet after the pork.