REVIEW: Big Beautiful Bread Bowls at Disneyland's Royal Street Veranda
I like big bread bowls and I can not lie. These round and robust balls of glorious carbohydrates have been a staple of Disneyland's dining scene for decades now. Today we'll be reviewing Royal Street Veranda, which is one of the main locations where you can acquire these bulbous delights in Disneyland.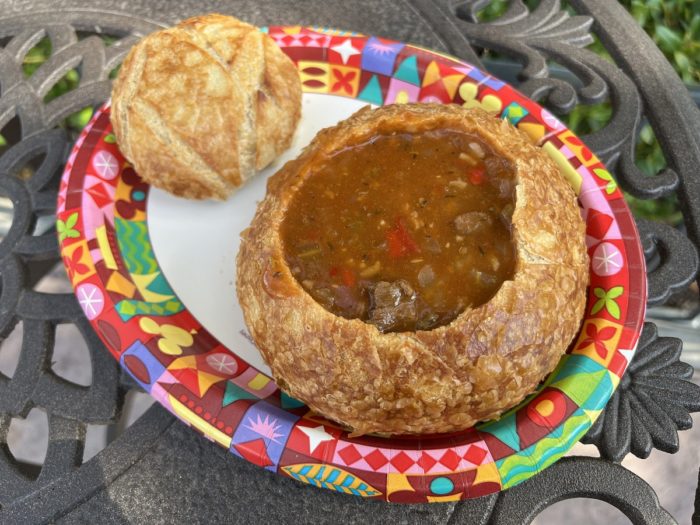 Let's get right in to it. Doesn't that look delightful? Don't you just want to lay your head on it and take a nap? Pictured above is the bread bowl with Steak Gumbo, which is hearty and delicious. You'll find chunks of steak, rice, onions, peppers, and other goodness in this satisfying and substantial gumbo.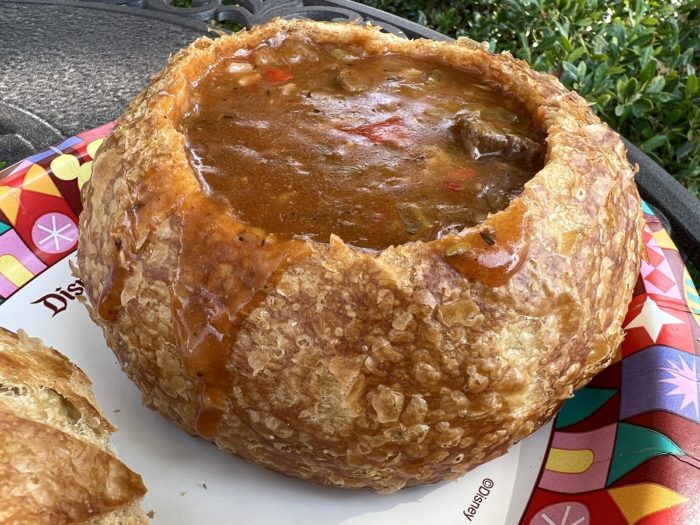 Our one and only complaint is that we wish the bread cut out was just a bit bigger, and the portion of soup served was a tad more. But at $11.49 you really can't beat it when compared to other Disneyland quick service entrees. If you eat all the soup and scarf down all the bread you will definitely be full after this meal. The best part about the whole thing is how the bread bowl soaks up all the soup. It's wonderful, but be sure to grab some extra napkins.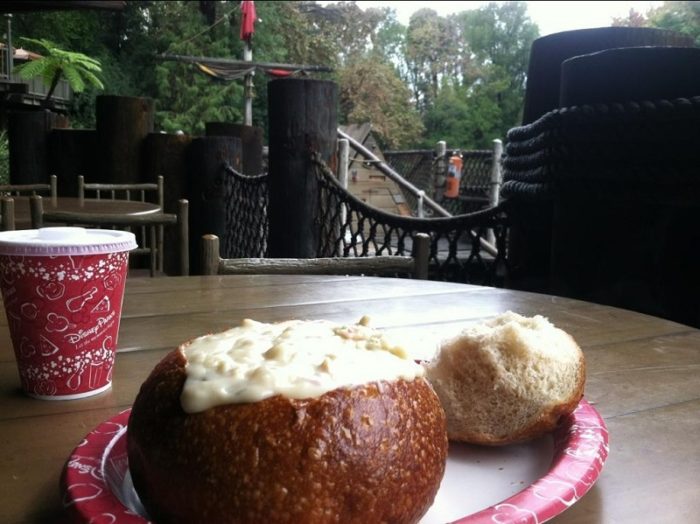 Clam chowder is also available (as is vegetarian gumbo, which is also fantastic). The clam chowder is heavy, creamy, and oh so wonderful on a those rare rainy Southern California days. By the way, the bread used in Disneyland's bread bowls is made fresh next door at Disney California Adventure.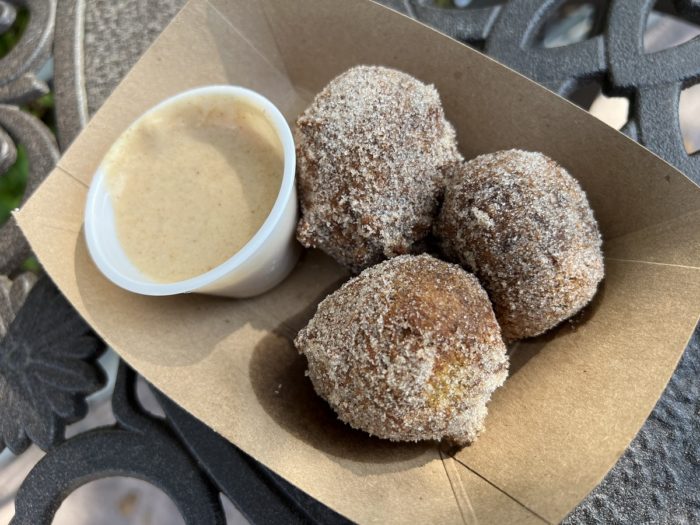 Royal Street Veranda will usually have a seasonal dessert in the form of fritters. For example, as I'm writing this review it's the fall season, so these tasty pumpkin spiced fritters with cream cheese are available. If you're a fan of fried dough then don't leave Royal Street Veranda without buying these fritters.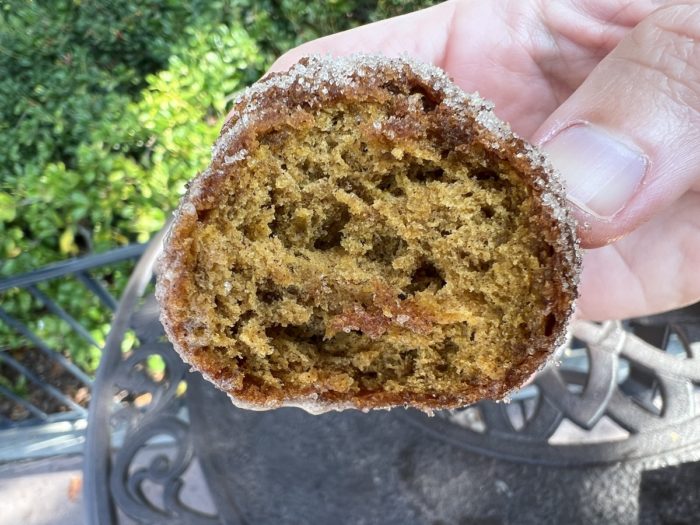 Don't make the mistake thinking you can share them with a friend or family member. Hoard them for yourself.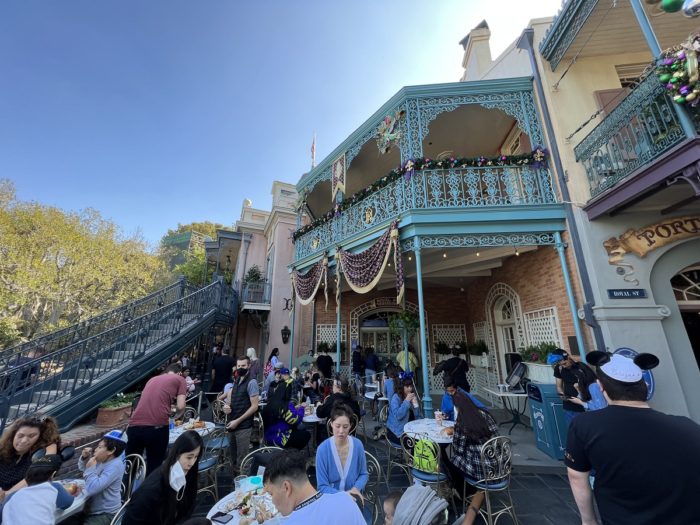 Royal Street Veranda is located in New Orleans Square, to the right of the entrance of Pirates of the Caribbean. It's a small location, with just one window for ordering and picking up food via a stand-by line, and one for mobile order pickups.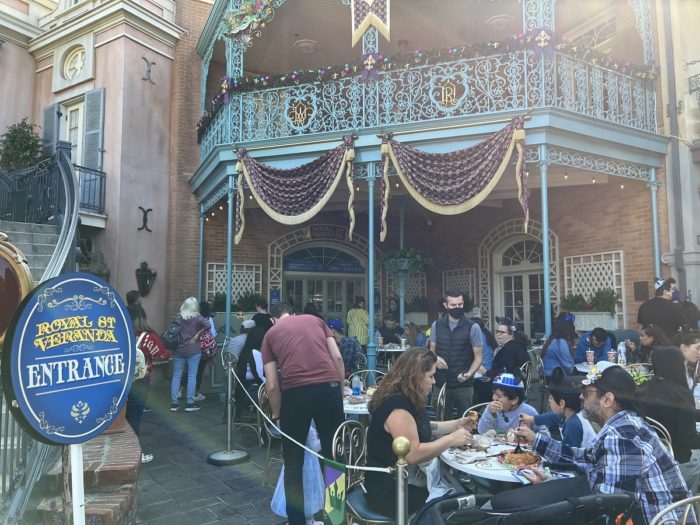 There is a microscopic seating area located in front of it, but don't even bother waiting for a seat here. There's never any open. Grab your food and walk over to Rancho Del Zocalo in Frontierland.
Can you tell how much we love Disneyland's bread bowls? We think they're one of Disneyland's best quick service entrees and they are well worth the price.
The Christmas season is here and crowds are picking up at Disneyland Resort. Be sure to check out our Disneyland Crowd Calendar, which rates every day of the year on a scale of 1 to 10 so you can see how busy Disneyland and DCA will be during your visit. Also check out our Disneyland Touring Plans. These itineraries can show you how to beat the crowds and spend less time in line at your favorite rides. Our Touring Plans can also be personalized! All of our tools are used by hundreds of thousands of visitors each year and are constantly being updated by our in-park team of researchers and data scientists.
What are your thoughts about Disneyland's famous bread bowls? Let us know in the comments.