SATURDAY SIX: Six Reasons We LOVE Universal's Toothsome Chocolate Emporium
This week's SATURDAY SIX takes a look at Six Reasons We LOVE the Toothsome Chocolate Emporium & Savory Feast Kitchen. The newest entrant into Universal CityWalk's murderer's row of restaurants has just gone into previews, with a grand opening not far behind.  Located in the former home of NBA City, the Toothsome Chocolate Emporium sits directly next to the entrance to Islands of Adventure and its visually stunning facade fits in with other worlds that never existed (but you wish did) like Port of Entry or Seuss Landing.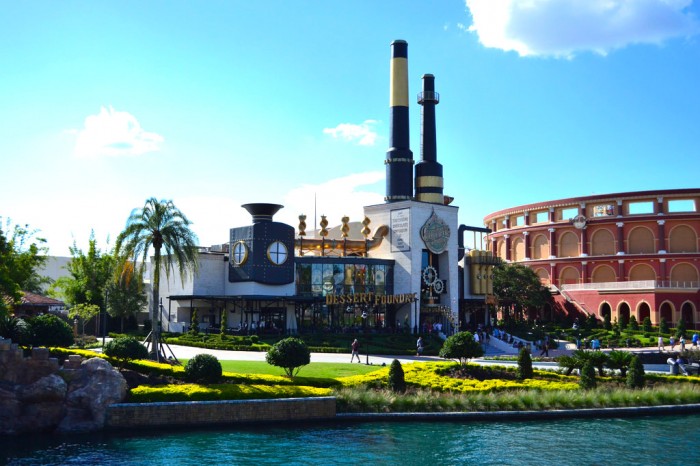 When Toothsome was originally announced, it teased that it would debut with larger than life milkshakes. The idea of a milkshake with a full cupcake or chocolate covered banana on top seemed too good to be true. However, to quote Han Solo, "It's true. All of it." It turns out that the E-Ticket milkshakes were just the tip of the iceberg, as Toothsome is filled with both wonder and – believe it or not – an amazing menu. Today we're going to look at some of our favorite features of this magical restaurant. So sit back, play the NXT song "Glorious" as appropriate background music, and let's begin our list with…
# 6 – Walk Around Characters!
Talk about bucking the trend. In a theme park world where getting rid of the human element seems to be a priority, Universal has walk around characters in the Skull Island: Reign of Kong queue and inside Toothsome. The restaurant has a lengthy backstory (which can be found inside the menu), and it revolves around Professor Doctor Penelope Tibeaux-Tinker Toothsome. In Penelope's exotic trips around the world, she discovered ways to infuse chocolate into extraordinary recipes. When Penelope returned home from her travels, she discovered that her parents had set out to join her ("Surely the world isn't so big that we can't find you.") Penelope decided she would use her chocolate knowledge to create an emporium, and would share her dishes with the world until reunited with her family. 
Penelope  can be seen walking about Toothsome, occasionally with her robot companion Jacques. Just as with the best Disney meet and greets at the Magic Kingdom, Penelope stays completely in character, is filled with charm and as they would describe her in the 19th Century: is a bricky gal.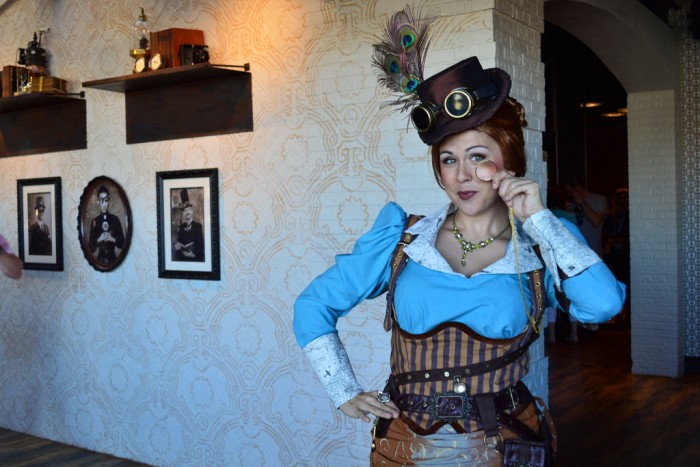 –
# 5 – The Upstairs Bar and All Those Drinks!!
There are plenty of tables, both indoors and outdoors, on two levels at Toothsome for those guests looking to enjoy a meal. There is also a To Go counter on the first floor for those looking for – say – just a milkshake. For those of us who enjoy an adult beverage or two, there is a fantastic bar on the second level of Toothsome and it is loaded with incredible drinks. There are several menu pages dedicated to "libations" and "potent potables." There are of course the standard bar drinks, but you'll also find curious concoctions like the Wicked Cherry (Mount Gary Black Barrel rum, cherry Heering liqueur, creme de framboise, chocolate bitters), Chocolate Cherry Mule (Double chocolate vodka, brandied cherry, ginger beer, chocolate bitters), and the High Fashion (Old Forester 86, brandied cherry, chocolate bitters). Like Springfield's Duff Beer and Diagon Alley's Dragon Scale, Toothsome has an exclusive brew of its own with the Too Chocolate Stout. A "Dark ebony with rich chocolate finish," the stout has an ABV of 5.8% and will be the go to drink for anyone who enjoys a Guinness. There is also a fantastic view of CityWalk from the second floor of Toothsome, so keep it in mind next time you're in the mood for drinks.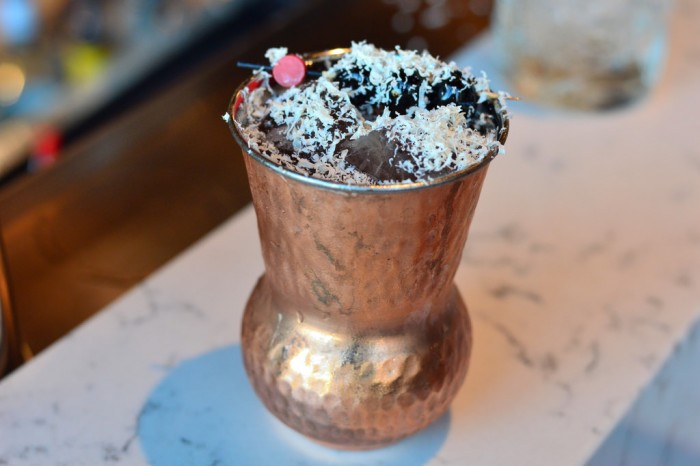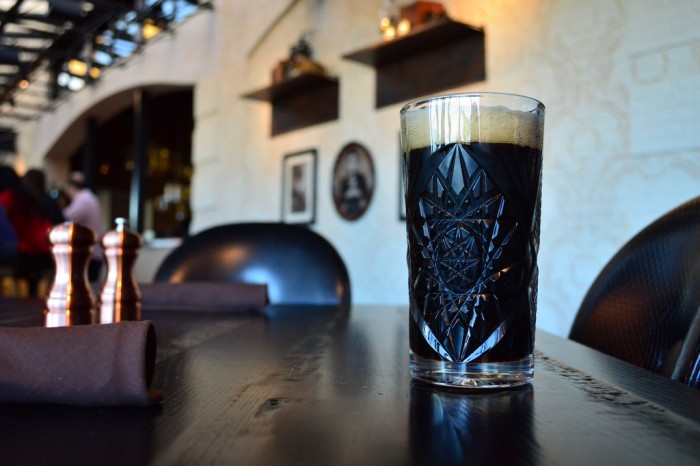 –
# 4 – Candy Store and Merch!!!
The gift shop and candy store on the first floor is an attraction in and of itself. In general, the theme park world is blessed with incredible candy stores, but like everything else Toothsome somehow takes it up a notch. Both the packaged and freshly made candy are as elaborate and beautiful as anything you'll find in the Wizarding World (the benchmark for quality theme park gifts and sweets). Like the Candy Cauldron in Disney Springs or Big Top Treats in the Magic Kingdom, guests can watch some sweets being made behind the counter. The display cases are filled with colorful candy and uniquely designed offerings such as chocolate covered pretzels in the shape of gears. There are Toothsome branded shirts and coffee cups, along with next level bananas steampunk items that look like they come from the mind of Tim Burton (the good Tim Burton, not the one we have now.) The Toothsome gift shop and candy store is the Shut Up and Take All My Money meme come to life.
–
# 3 – The Appetizers!!!!
Now we're talking. With a menu so big it would make the Cheesecake Factory blush, you're probably not surprised to learn that are multiple pages dedicated just to appetizers (which Toothsome refers to as Temptations.) We at the SATURDAY SIX headquarters consider ourselves bread connoisseurs, and look forward to various bread services at restaurants like alcoholics look forward to the bar menu. In Orlando, there is the untouchable Sanaa bread service leading the pack, but Toothsome's Warm Chocolate Almond Bread makes a very good showing. Served with salted caramel butter, the bread isn't as heavy as you would think and is a great value at less than $3. The standout app was the sure to be popular Totchos. This was fried tater tots, spicy green chili, crispy pork belly, andouille sausage, and cheese sauce. Most places that serve totchos just dump sauce on the top, so many of the tater tots end up with no sauce. Toothsome looks to have tossed their tots with the sauce and meat, so everything has a nice taste throughout.
We were  huge fans of the Pork Belly Sliders (caramelized onions, mustard aioli, arugula, chocolate dipped bacon, served on a pretzel bun) and you pretty much have to order the Black & Tan Onion Rings just to experience the cocoa ranch dipping sauce. That's right, cocoa ranch. Just as drinking a Beverly is a right of passage in EPCOT, tasting cocoa ranch is an experience at Toothsome. It is something you will never forget (no matter how hard you try).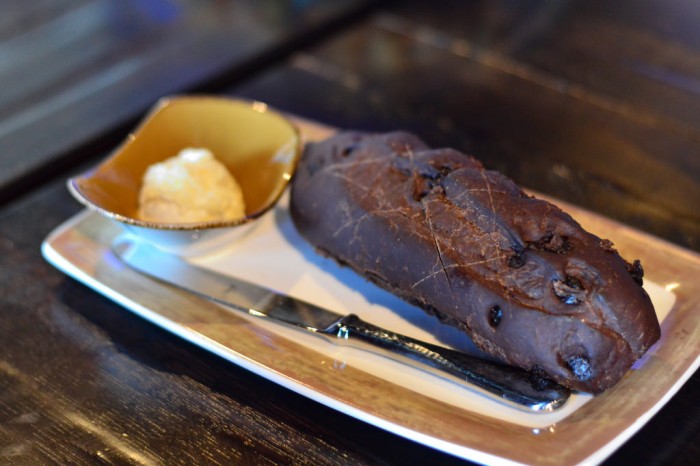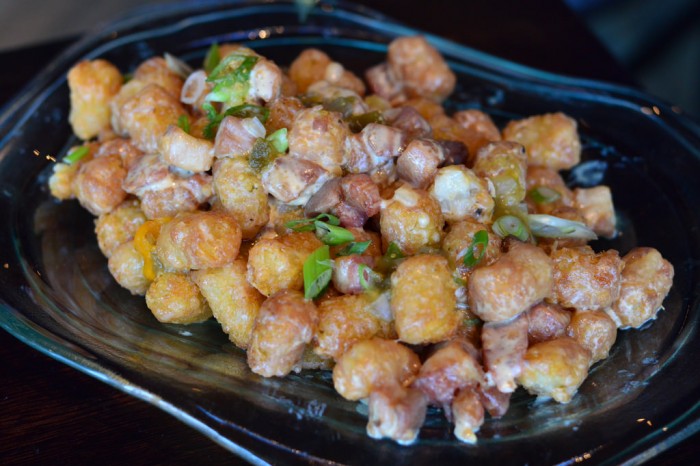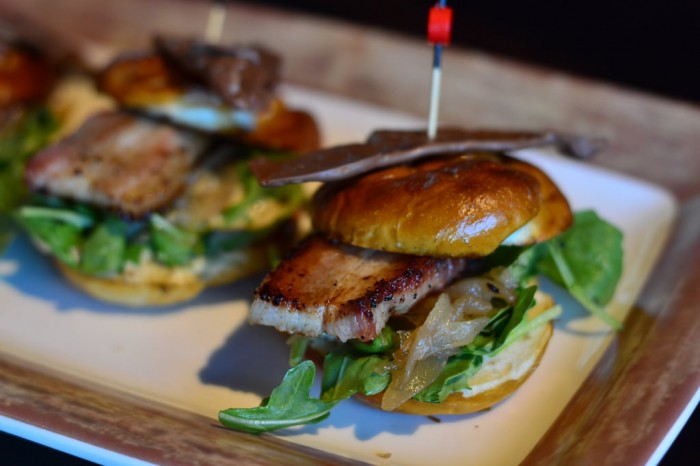 –
# 2 – The Entrees!!!!!
The amount of menu pages dedicated to the various entrees at Toothsome is pretty much larger than the Fantastic Beasts and Where to Find Them book, so there is something for everyone. Flatbreads, seafood, pasta, and sandwiches a plenty along with a Day Long Brunch Menu. That's right, you can get giant waffles and french toast plates for both lunch and dinner any day of the week. As theme park burger aficionados, we had to sample a couple including the May Contain Bacon and the Blue Plate burgers. The Blue Plate features a half pound burger that is topped with grilled meatloaf, garlic mashed potatoes, Wisconsin cheese, and sweet corn. Somehow it tasted even better than it sounds. The May Contain Bacon was another half pounder with smokey thick cut bacon, pork belly, pineapple chutney, and chipotle Jack cheese. Mac & Cheese is a theme park blogger's staple, and we're happy to report Toothsome's Shrimp and Lump Crab Macaroni and Cheese plate is terrific.
From the brunch menu we ordered the Broccoli Cheddar Quiche and it was described as "Delicious, just as my mama makes it." Next time we'll get a couple Mimosas with it. The Brisket and Wild Mushroom Meatloaf  was another huge serving of food that was a big hit. It had two thick pieces of meatloaf served on top of mashed potatoes with gravy and topped with fried onions. Despite all having our favorites, it's hard to imagine how many times we'd have to come back before ordering the same thing again because there were just so many items on the menu that we're on the I Gotta Try That list. The flatbreads and waffles in particular looked phenominal.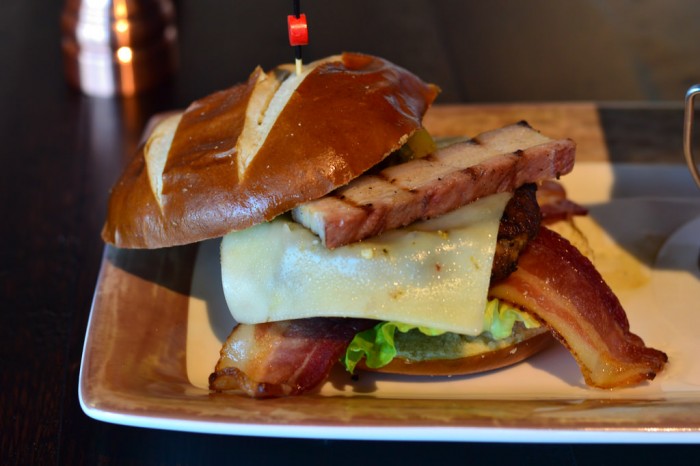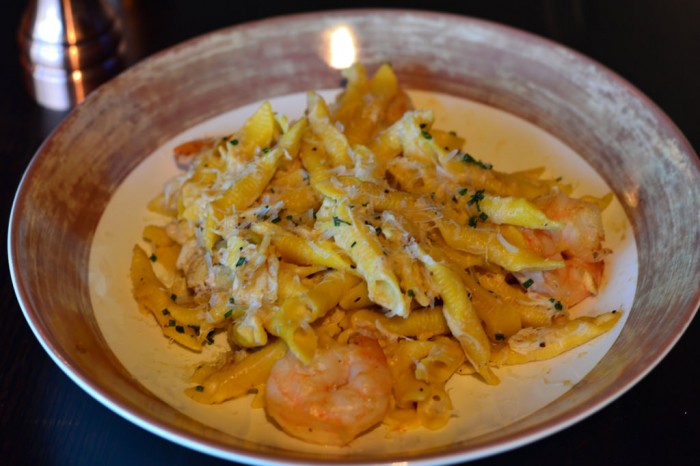 –
# 1 – THE DIABETIC COMA!!!!!!
Finally it was time for the main event. The shakes and desserts. It's going to be a challenge to try them all and pick our favorite, but it's a challenge we are up to (whether our cholesterol count is up to it is another question altogether, but we're on the Don't Ask, Don't Tell policy.) Each of Toothsome's shakes are basically two desserts in one, the actual milkshake and then the topper. We tried the Brownie (Dutch chocolate ice cream, brownie, milk chocolate swirl), Bacon Brittle (bacon ice cream – yes bacon ice cream – bacon brittle, bacon flavor, chocolate covered bacon, bacon caramel), Chocolate x5 (chocolate ice cream, chocolate chunks, strawberries, chocolate sauce, fresh whipped cream, chocolate spirals, cherry), and the Cinnamon Fantasy (Cinnamon Toast Crunch ice cream, cinnamon, fresh whipped cream, Cinnamon Toast Crunch.)
The shakes have taken some grief on Theme Park Twitter, mostly over the price point (they range from $12-$13) and Toothsome having a hard time keeping up with demand in a timely fashion. Toothsome is still in preview, so you have to imagine the process and efficiency will improve over time. As for the price, these shakes are larger than your average theme park shake (also bigger than the great shakes over at The Cowfish) and the To Go shakes are served a plastic mason jar container that doubles as a souvenir cup. The actual "shake" part of the milkshakes definitely needs to be a bit thicker, and once that happens these are the ultimate milkshakes in Orlando. There are 13 different varieties of these shakes, and we're already counting down the minutes until we can taste the Chocolate Banana Brain Freeze, Marshmallow Crisp, and Salted Dulce de Leche.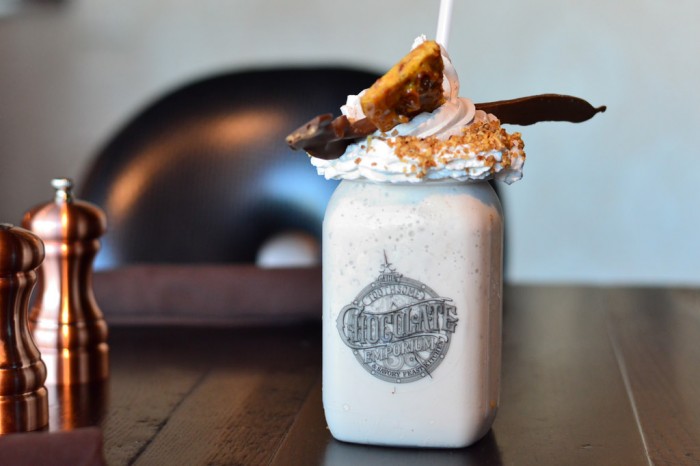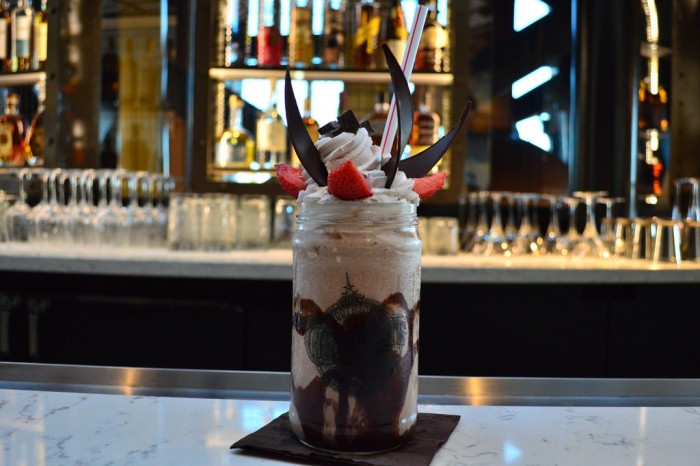 –
The shakes are just part of the massive dessert experience at Toothsome. There are gigantic sundaes along with miscellaneous items such as potted cream, bread pudding, and chocolate cream pie. We decided to try the Classic French Chocolate Mousse and the Chocolate Creme Brûlée because the pictures on the menu looked so good and boy, did they deliver. We may have even asked the mousse to marry us, it's that good. As for the sundaes: you can't see a dessert on a menu featuring the iconic Universal snack – the brookie – and not not order it. We have tried an extreme eat or two in our theme park travels and are excited to announce that Toothsome's Brookies, Cookies & Cream joins the elite. There's another sundae featuring S'mores, one with Strawberry Shortcake, and one topped with Reese's Pieces that may have been stolen from our own dream journal. We truly are blessed.
–
HONORABLE MENTION – Steampunk Theme
Toothsome is right up there with T-Rex Café, The BOATHOUSE, and Be Our Guest as a true immersion of #story. From the steampunk themed lighting fixtures and plumbing, to a ton of art pieces throughout the restaurant, diners are surrounded by a unique theme of Steampunk meets Willy Wonka. Universal's transformation of CityWalk including some truly great restaurants including Vivo (Italian), Antojitos (Mexican), and Red Oven (pizza) but Toothsome is one of those places that people have nothing to compare to at home. This is destination dining and the place people like me, who live in Florida, take friends and family when they are down on vacation. It has the "wow factor" and then some.
–
So there you have it: Six Reasons We LOVE Universal's Toothsome Chocolate Emporium & Savory Feast Kitchen. See you next weekend for the latest installment of the SATURDAY SIX, where we'll look at something fun from the world of Disney and Universal. If you enjoyed yourself, be sure to check out The Magic, The Memories, and Merch! articles (which we just celebrated our THREE YEAR ANNIVERSARY), or, for your listening pleasure, check out the E-Ticket Report podcast. You can also follow Your Humble Author on Twitter (@derekburgan)
If you enjoyed this article, you will surely like the following:
Universal Dining: The WOK EXPERIENCE at Universal's Royal Pacific Resort
Universal Dining: Emeril's Tchoup Chop
Universal Dining: Character Breakfast at Jake's American Bar
Universal Dining: Jimmy Buffett's Margaritaville in CityWalk
Special Thanks to crack staff photographer Brandon Glover, the one and only Brian of Orlando United, Attractions Magazine (THE best theme park magazine, hands down), and blogger to the stars Megan Stump for their invaluable assistance with this article. Be sure to also check out Brandon on The Park Blogger podcast with co-host Aengus Mackenzie along with Meg's Yeti To Be Named Disney Podcast.