Unheralded Dining Gems: The Wave…Of American Flavors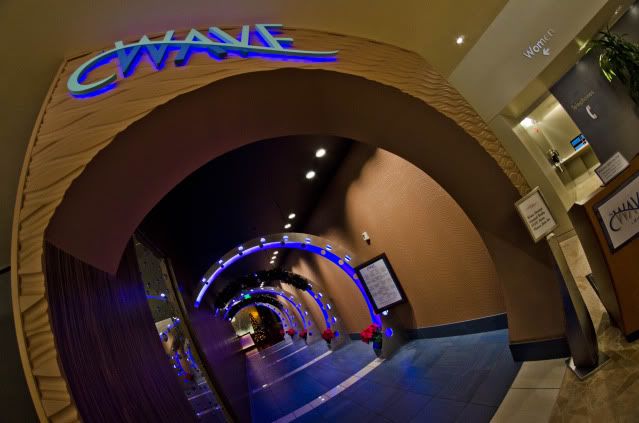 I began my previous article making light of the only sure things in Walt Disney World planning being that you need to make advance dining reservations 180 days out, and that park hours will change at least once while you're planning your trip. Well, in the Disney universe in general, there's one more thing that's certain: sequels. Not wanting to miss out on the lucrative market for these, I've decided to capitalize on the runaway box office success of my Kona Cafe post, and develop the idea into a series of posts on the topic. I'm also going to start syndicating the posts, and I will be introducing a line of merchandise soon. Who wouldn't want some "TouringPlans.com Unheralded Dining Gem" boxers? Yeah, the idea is pure gold.
For the second restaurant in our series, I decided to stay inside the monorail loop, this time making a stop at Disney's Contemporary Resort. This one might be a bit divisive, if only for its history, because it replaced a perennial favorite in the Concourse Steakhouse. However, the past is past, and The Wave certainly qualifies both as delicious and as unheralded. If it's "easy" to make reservations at Kona Cafe, it's almost impossible not to be able to be seated as a walk-up to The Wave (not that I'm advocating this strategy). It seems the place is never more than half full.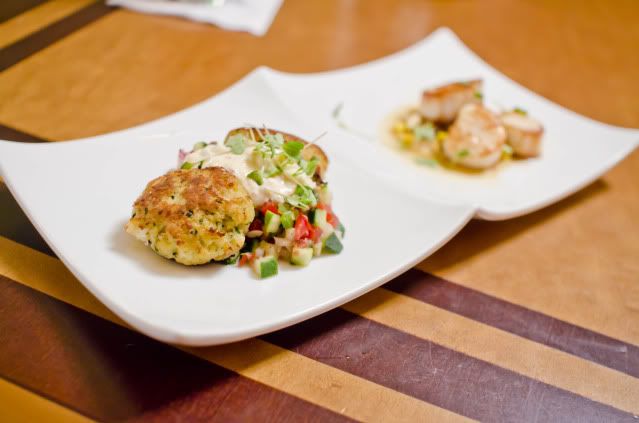 As with Kona Cafe, location is a big plus here. It's a short walk from the Magic Kingdom, and while I don't think the Contemporary offers as good of ambiance as the Polynesian, I think it compensates for that by actually being secluded from the main lobby of the Contemporary, thus keeping noise levels down. All of this makes it an excellent impromptu dinner choice when the Magic Kingdom crowds and heat begin to wear on your family on a busy summer day. It's equally as accessible if you're coming from Epcot and heading over to the Magic Kingdom for some Evening Extra Magic Hours.
As soon as you enter the repetitive circular entrance-way of The Wave, you know you're about to be a part of something hip. Blue lights, a bar with heavy aquatic influences, and a posh waiting area that looks like it's straight out of an exclusive Miami nightclub (not that I would know) all greet you as you enter the restaurant. If this isn't your scene, it might be a little intimidating at first. Based on the general lack of kids I've seen at The Wave, I think families with small children may actually be intimidated by the restaurant. Then, you spot the dining area, which is much more subdued but still nicely appointed, and reminiscent of a your typical Disney restaurant.
The servers at The Wave reinforce the notion that The Wave fancies itself as somewhat of a trendy restaurant, explaining that the a menu is mostly sustainable and environmentally-friendly. While I think this is a great goal and I hardly criticize any company truly seeking to be a more responsible corporate citizen, part of me thinks Disney is disingenuously paying face to these ideas for the marketing and public relations benefits. It's with claims like these that The Wave borders on eye-rolling pretentiousness. But not once does this impact the food. As far as sustainability and environmental-friendless go, don't be scared away from The Wave if you avoid things like all-natural and organic foods because you like eating flavorful food. The Wave most certainly fits the bill as serving food with great flavor.
From appetizers to main courses to desserts, everything my wife and I have tried at The Wave has been wonderfully prepared and has tasted delicious. Menu items seem thoughtfully determined, with each component of a dish complimenting the other tastes. Even the unorthodox garnishes and toppings, that ostensibly were chosen for their shock-value, end up tasting wonderful, and leave you thinking, "why don't all restaurants prepare this dish like this?!"
The reason The Wave is likely most well-known is for its decision to only carry wines with screw-off tops. Among the general public, there is a misconception that screw-off top bottles of wine are one step above bagged wine in terms of quality. However, many oenophiles will tell you that screw-off tops are actually better for the wines! Since I'm hardly an oenophile (it actually sounds like a martian off the same planet as Sonny Eclipse to me!), I can't really speak to this, nor can I speak to the wine list at The Wave, but I have only heard great things. I do find it disappointing that at The Wave, as with almost every other Disney restaurant with an exceptional wine list, the craft beer list is fairly non-existent. Disney, there are plenty of folks out there who like to pair beer with food, maybe it's time to start recognizing this ever-growing group of consumers?
In addition to its wine list, the other stand-out among stand-outs at The Wave is its dessert menu. These are served in small groups of three, with a common theme weaved between the trio to tie them together (and give them their menu name). Here, the flavors again actually do compliment one another nicely, and come together to form (unexpected) perfect desserts. Unconventional, yes. But also delicious.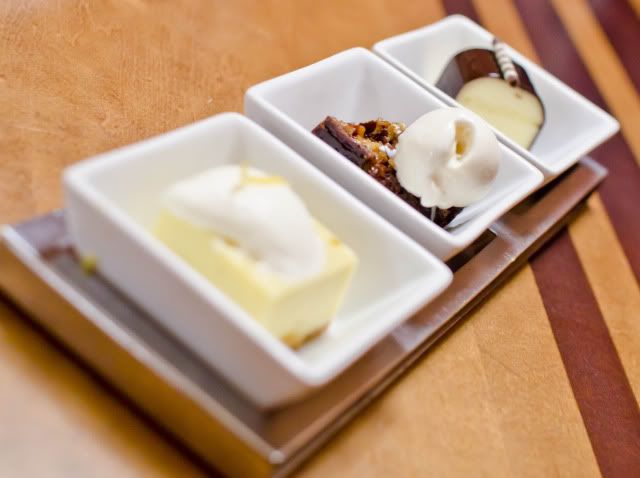 Overall, The Wave's menu is incredibly balanced, and is solid all around. Some options may not be the best cuisine you can find on property, but nothing that we have tried there has been mediocre. Most choices are adventurous, thanks to sides and little garnishing touches ranching from avocado mouse to spinach-bacon salad. While I might expect these touches at Animal Kingdom Lodge or in the World Showcase, to see them show up at a restaurant that describes itself as a wave "Of American Flavors" is incredibly refreshing. (American Adventure, are you taking notes?!)
This summer, when you find your blood boiling as you walk through the Great Stroller Parking Lot in Fantasyland, consider cooling off with a lunch or dinner break at The Wave. Even if you don't have ADRs, there's a good chance they'll take you in! Whether you have an adventurous palate or enjoy the typical "American fare," you won't be sorry dining at The Wave!
Ever tried The Wave, or still bitter over the Concourse Steakhouse? Do you love or hate The Wave? Share your thoughts on The Wave, and any other "unheralded dining gems" you may have, in the comments!