What I Wish I Knew Before My Trip to the Magic Kingdom
As Spring and Summer are just around the corner, that means Spring Break and Summer Vacation and many guests making pilgrimages to the Magic Kingdom at Walt Disney World. Actually, many will be visiting for the first time ever! If you are planning your very first visit to the park, and you're like me, you've probably been doing your Disney World homework to avoid those rookie mistakes and hopefully maximize that precious vacation time. Still, oftentimes, they are a few things that aren't mention in guidebooks which could've made your park time run more smoothly. So please glean from my first-hand experience Disney World Rookies and discover what I wish I knew before my trip to the Magic Kingdom.
Characters Can Be Found at the End of a Line
While I love Disney commercials, they aren't exactly a realistic representation of what it's like in the parks. First of all, there are almost always people pretty much everywhere. Those shots in the commercial where the happy people seem to have the parks all to themselves? Not real. This is also true of how you meet Disney Characters. Very rarely does a character suddenly appear and surprise you with a hug. You see, at Walt Disney World, characters are escorted by a Cast Member to a designed spot and then guests wait in line for a little conversation, an autograph, and a picture or two. Now that doesn't mean that meeting characters isn't fun or memorable. It absolutely is! But it's just not as spontaneous as it appears on those promos.
Always Ride Seven Dwarfs Mine Train and Peter Pan's Flight First
The Magic Kingdom has the most attractions of any other Disney World Park and many of them are extremely popular and absolute must-dos for first timers. However, something you definitely will wish you knew is that two Magic Kingdom attractions in particular are notorious for ridiculously long lines and they are the Seven Dwarfs Mine Train and Peter Pan's Flight. Of course, the solution for anyone who has done their Disney World homework is to book a FastPass+ reservation for these attractions. But if none are available, or you just want to experience them again, you should definitely ride them first. Now I don't mean you should ride them first whenever you happen to arrive at the park. No, I'm saying you need to ride them as soon as the park opens.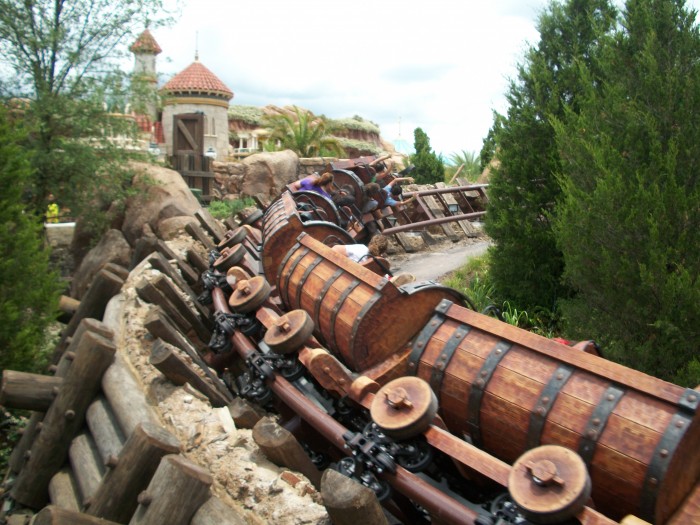 The Seven Dwarfs Mine Train is the park's newest attraction and a hybrid between a tame coaster and a dark ride. The ride vehicles also sway slightly when going around corners, just like an actual mine car. All of the detail, technology, and just the fact that it's a large, new attraction mean that the Seven Dwarfs Mine Train queue is filled from the first half hour of the day until fireworks at night; and so, I strongly encourage first timers to head here first thing when the park opens.
After Seven Dwarfs Mine Train, guests should most definitely make tracks to the other side of Fantasyland to experience Peter Pan's Flight. This attraction was an opening day attraction back in 1971, and was inspired by Disneyland's version which was also an opening day attraction there in 1955. Basically, Peter Pan's Flight is timeless and will fill up the lines until the end of time. Personally, I don't even think of getting in line for Peter Pan's Flight once the park has been open for more than an hour, so definitely plan to ride it when the park opens.
You Can't Drive There
It's true. You can't exactly drive to the Magic Kingdom. There's no way you can drop off your family near the gate and go find a parking spot and there's no tram. Actually, if you're planning on driving around Walt Disney World and want to go to the Magic Kingdom, you will have to park your vehicle at the Transportation and Ticket Center (TTC). It's located next door to the Polynesian Village Resort and is all the way across the lake from the Magic Kingdom. It's basically the transportation hub of the Walt Disney World Resort. Here, guests have the choice to take a boat or Monorail to the Magic Kingdom entrance. Tip: If you are planning on taking a Monorail, choose the Express Monorail to the Magic Kingdom to bypass stops at the resorts.
The only exception to the no-traffic access in front of the Magic Kingdom is Disney Buses. Disney Buses are the only form of Disney Transportation that can drive Disney World Resort guests to the Magic Kingdom and drop them off near the entrance at designated bus stops. This is why many Disney World Resort guests who have a car or rental car choose to use the Disney Buses or Resort Monorails when heading to the Magic Kingdom for the day. So yeah, this is something you will want to know before your first trip to the Magic Kingdom.
The Main Street Vehicles Don't Run All Day
The Main Street Vehicles are one of my favorite things about Main Street, U.S.A. These old-fashioned vehicles take guests on one-way trips to and from the Town Square and Cinderella Castle and consist of a Jitney, Fire Engine, Horse-Drawn Street Car, and an Omnibus. My personal favorites are the trolley and the Omnibus. I love seeing the horses pulling the street car and when the Dapper Dans hop aboard for a ride, and riding on the top level of the Omnibus on the seat facing forward. However, for those of you, like myself, who love a ride on the Main Street Vehicles, you should know that they usually only operate in the morning and even stop for a time for the Trolley Show. Oftentimes, they only run for a little over an hour and so if you want to ride the Main Street Vehicles, be prepared to visit first thing in the morning. If you would like to know the operating hours of the Main Street Vehicles during your visit, feel free to ask Guest Services or check your MyDisneyExperience App.
Don't Use FastPass+ for Shows
When it comes to making those FastPass+ reservations, what you're going to wish you knew before your trip to the Magic Kingdom is not to waste them on shows such as Mickey's Philharmagic or the Monsters, Inc. Laugh Floor. Why? Well, Mickey's Philharmagic and the Monsters, Inc. Laugh Floor have large theaters which can handle huge crowds. Most of the time, although there are exceptions on especially busy days, the only waiting you will have to do is waiting for the show ahead of you to end in order to go into theater which makes your FastPass+ reservation obsolete. So don't waste those FastPass+ reservations and instead use them for attractions where you really can skip the lines.
The Festival of Fantasy Parade Begins in Frontierland
The most popular location to watch the afternoon parade is Main Street, U.S.A. But what most guests don't know is that the parade doesn't begin for those lined up on Main Street when your times guide says it's going to. In fact, if you're crowded on a curb in front of the Emporium or Main Street Confectionary, you won't be seeing floats for nearly twenty more minutes. Why? This is because the daytime parades start in Frontierland and end on Main Street, U.S.A. It's certainly something I wish I had known as it would've prevented a lot of confusion. It's also something that I think others should note, especially if they have time restraints during their day at the park.
Don't Just Eat Anywhere
One of the biggest mistakes you can make on your first visit to Walt Disney World's Magic Kingdom is eating wherever you happen to end up. Following the hungry herds at lunch hour is how people develop the misconception that Disney World has only overpriced cheeseburgers, bad pizza, and French Fries as there a few less than spectacular dining destinations that totally misrepresent what the park has to offer in regards to dining. For instance, consider Cosmic Ray's Starlight Café with its show tune-singing alien and numerous stations offering mostly standard theme park fare and compare it to the Be Our Guest Restaurant with its three themed dining rooms, cupcakes, and the best potato leek soup you've ever had. One is outdated and just kind of weird while the other is an attraction in itself. But yet, first time guests still continue to empty their wallets at the park's lesser restaurants instead of searching out for a meal that lives up to the Disney standard. I would suggestion, along with Be Our Guest, Columbia Harbour House, Cinderella'sRoyal Table, Liberty Tree Tavern, the new Jungle Navigation Co. Ltd. Skipper Canteen, and the Crystal Palace.
The Park Opens Earlier Than Scheduled
Something I certainly wished that I known before previous visits is that the park sometimes opens earlier than what it's scheduled. I remember arriving several minutes before park opening several years ago with plans to squeeze in a few of the park's popular attractions before the crowds arrived, only to find that the Magic Kingdom had already been open for nearly 20 minutes! From what I now know, an early opening might take place on an especially busy day but there's no guarantee. If you want to be at the Magic Kingdom for rope drop or to catch the morning Welcome Show, I would recommend being at the gates at least 30 minutes before the park is scheduled to open and even earlier if you can manage it.
Be Sure to See the Magic Kingdom Exclusives
What you will wish you knew before your trip to the Magic Kingdom is that the park has a number of exclusives; and by exclusives I mean attractions and locations that can only be found there. For example, the Magic Kingdom is the only Disney Park that has a Liberty Square. It's something first timers should note in order to really appreciate the attention to detail and historical accuracy Imagineers put into this unique land. The Magic Kingdom also has a number of attractions that can't be found anywhere else and should be experienced, such as The Hall of Presidents, Mickey's Philharmagic, the Carousel of Progress, and PeopleMover. Finally, the Magic Kingdom is the only to boast a New Fantasyland, which is probably my favorite section of the park these days. So Magic Kingdom Newbies, be sure to put these attractions and areas on your park to-do list because you won't see them anywhere else.
Always Take the Monorail
When choosing how to get to and from the Magic Kingdom, I have learned through trial and error that the Monorail should be your number one choice of transportation. While I love a gentle cruise over the Seven Seas Lagoon and Bay Lake, waiting for a boat and even the process of getting from one destination to the other can eat up time. The Monorail, however, doesn't have to deal with the traffic and stoplights of Disney Buses and arrives and departs at a much faster rate that the boats. It's also air conditioned and offers that incredible, elevated view of the Walt Disney World Resort!
You Need a Plan
Tackling the Magic Kingdom can be an intimidating prospect, as it's literally packed full of things to see and do and taste and just to notice. What I wish I knew before my visit to the Magic Kingdom is that I needed a plan. Walking into the park with no plan resulted in a lot of wandering, wasted time, and even stress and frustration. On the other hand, thinking you can see it all in one day can mean much of the same when things go wrong, attractions break down, bad weather blows up, or when you're just tired. What I've learned is to have a plan, but not a strict plan. Basically, you need to have a reasonable agenda of what attractions and entertainment you want to experience with plenty of flexibility built in for just exploring and those unforeseen delays.
Are you planning your first visit to Walt Disney World's Magic Kingdom? If so, be sure to note a few of these tips to maximize your experience at Walt Disney World's Magic Kingdom Park. Also, as always, fellow Disney World Experts are encouraged to share their park wisdom with readers in the comments!