10 Benefits of Concierge Staterooms on Disney Cruise Line
I will start off this blog post with a warning!  Once you have sailed concierge on a Disney Cruise, it is very.  Very.  Hard to go back!  So, tread cautiously…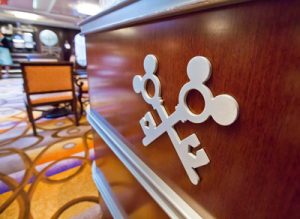 Concierge is amazing!  And it's expensive. (Sometimes crazy expensive.)  Prices will vary greatly based on destination, cruise length, and the number of people in a stateroom.  As much as I love concierge, I most definitely cannot afford it every time I sail.  There are times when you could take multiple cruises for the same price as an upgrade.  The price for a 12-night European sailing in concierge will probably make you lose your breath.  It's hard to believe there are people that pay that,  but pay it they do.  Concierge sells out all the time.  And for some people, it's worth it.
I'm much more likely to do it when I'm splitting the cost with a friend than I am when it's my family and I'm paying for the whole room.  But when it works with my budget, I'm all in, and I don't ever regret it.  Here are 10 reasons why.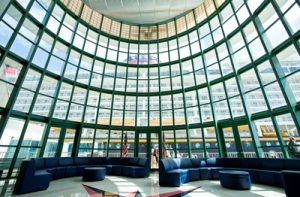 1. Early Activity Booking – While the concierge booking window technically opens at the same time as the booking window for Platinum Castaway Club Guests (those who have sailed more than 10 times before), the availability is not the same. Concierge guests send their requests for bookings to Shoreside Concierge 5 days before that window opens. And when the window opens, concierge goes first!  There aren't that many concierge guests relative to the whole guest count onboard, so concierge grabbing things first won't affect the availability of most activities.  I say most, because the number one exception is cabanas on Castaway Cay.  Most of the time, concierge guests grab them before anyone else has a chance.  If you want a cabana, concierge is the absolute best way to ensure you get one.  Even if you don't want a cabana, having Shoreside Concierge take care of all your bookings for you is a wonderful convenience.
2. Early Onboard – Concierge guests are the first guests onboard. If you like being first (I admit it, I need like to be first) concierge is for you! There's a special check-in area, and in most terminals, Disney has a special reserved seating area or lounge for concierge guests.  Before any other numbers are called, someone comes to get those concierge guests first.  First!  Winner winner chicken dinner!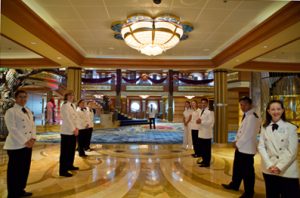 3. Special Embarkation Lunch – After boarding, concierge guests can choose to go to a special lunch, just for them. It's a very similar menu to the one served in whichever restaurant onboard is doing the a la carte lunch for everyone else, but there's no waiting and there are very few other guests. Alcohol is also included (although as a teetotaler, I don't get the same excitement about this as other guests).  There are extra servers, a concierge host, and bartenders making sure everything is going smoothly.
4. A Concierge Lounge – Now all four ships have concierge lounges. And they are lovely, quiet spaces. On embarkation day, concierge guests can choose to go right to the lounge if they don't want to go right to lunch.  The lounge hosts are there to go over your itinerary for the cruise, there are bartenders to get drinks for you, and snacks are available.  During the cruise, the lounge is open from early morning until around 10 pm, and there will always be at least one concierge host inside.  There will be continental breakfasts available each morning, snacks and desserts during the week, and evening receptions with free alcohol available.  There is also packaged popcorn available to take to your stateroom, or the movie, or the show, or just eat.  One day there will be a special meet and greet with a Disney character!  There's also an amazing coffee/hot chocolate/hot tea machine for guests to use which may, in actuality, be the highlight of the lounge for coffee or tea drinkers.
5. Concierge Hosts – Speaking of concierge hosts, you may be wondering what they do. Concierge hosts are there only for the concierge guests. They are there to help you with anything you may need.  No more standing in line at guest services!  Do you want to put some money on your account?  They can do it.  Check for excursion availability?  They can do it.  Do you want to change your Palo time, or maybe book a placeholder for your next cruise?  You guessed it, they can do it!  These concierge hosts are amazing, and remarkably attentive to your wants and needs.  I really can not say enough good things about them.
6. Private Sundeck – All four ships also now have private sundecks. They vary in size and what they offer (the Dream and Fantasy sun decks have a private hot tub), but they are all quieter than the regular pool decks, and have lots of seating. They are also fully equipped with sunscreen, towels, and they usually even have Evian facial spray!  That's luxury for you!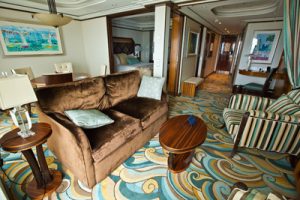 7. Stateroom Amenities – Concierge stateroom types vary between ships and range in size from a regular Category 4 type stateroom that sleeps five up to the giant Royal suites that sleep up to 7 (depending on the ship)! All of them have upgraded amenities though. They all have upgraded linens and even a pillow menu to choose from.  The sofas and chairs in the concierge staterooms are also upgraded and more comfortable than the standard options.  Every stateroom has a fridge of some size which the stateroom hosts keep stocked with cans of soda and bottles of water.  This is heavenly for soda drinkers like myself!
8. Extra Internet – Disney offers all guests a little free internet, but concierge guests get even more. Every stateroom that signs up for internet on the first day will get 50mb of data free. Concierge staterooms get an extra 100mb.  And the big kahunas, the Royal Suites, actually get unlimited internet.  Un. Limited.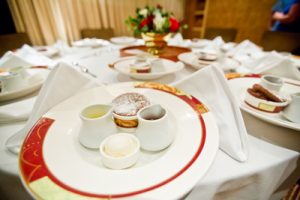 9. Special Dining Opportunities – Guests staying in concierge staterooms with a dining table (all concierge staterooms except category V), can get dinner from the main dining rooms delivered to their stateroom. Royal Suite guests can even get Palo in their room. Dinner in your PJ's?  I'm in!  Concierge guests can also order breakfast from room service on the last morning.  For everyone else, room service closes at 1:30 am the last night.
10. Extra Gift – This can always change, but the concierge hosts usually drop off a gift in the staterooms on the last day. They are usually exclusive Don Ducky Williams prints, but I've had other gifts as well. You never know what will show up!
Bonus – There's a special activity for concierge guests on select sailings on the Fantasy–It's a private cooking class inside Palo!  Called Palo Be Our Guest, guests will cook, eat, drink and even take home souvenirs like their own Palo chef jacket.  The experience is 3-hours long and $279 a person.  While other guests can book if concierge guests don't fill all eight slots, it's usually full after concierge gets their shot.
Have you sailed concierge?  Are you thinking about it?  Tell us in the comments!
Tammy Whiting is the owner of Storybook Destinations. Did you know Storybook Destinations offers a complimentary subscription to TouringPlans with qualified Disney and Universal bookings? Click here for a no-obligation quote on your next vacation!