10 Disney Cruise Line Secrets
Everyone loves a good secret, right? Of course, as soon as enough people tell it, it's no longer a secret. Hear that, Disney Vacation Club? So if you've been on a Disney cruise or have been researching for a while, there may not be any great surprises here. But here are 10 of my favorite "not so well known" tips. If you've got any others, definitely add them in the comments!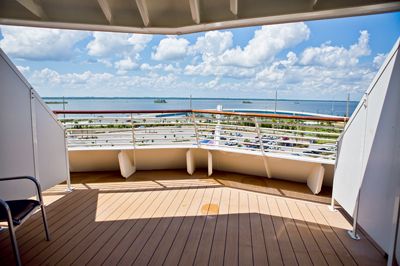 1. All Rooms Are Not Created Equal – While there are three basic room types – inside, oceanview, and verandah, each room type has several options. On the Magic and Wonder there are rooms with obstructed portholes that are classified (and priced) as inside rooms because of the obstruction! An oceanview room for an inside price! On the Dream and Fantasy category 8A's are like mini-suites in some cases! A mini-suite for an oceanview price! Some of the category 5E's on the Dream and Fantasy have ginormous verandahs! On the classic ships, 7A's are classified as a Navigator's Verandah which should mean the verandahs are enclosed with a circular cut out window. Some of them are actually regular verandahs with slight obstructions so they were reclassified into a cheaper category. Some of the concierge staterooms have huge bump out verandahs unlike their concierge neighbors. There are some "hidden" gems out there. Find them before you go all willy-nilly and book the first thing you see!
2. Room Service has Secret Food – Secret, I tell you! Or just food that isn't listed. That's a kind of secret, right? And it's not just any food. It's not like secret vegetables or something. It's Mickey Premium Bars!! Room service has unlimited, FREE included in the price of your cruise, Mickey Bars! They'll bring them anytime, day or night. Another item not listed but available on many cruises is the Mickey Mouse-shaped Rice Krispie treat (with the ears dipped in chocolate). Score! Room service closes around 1 am the last night of your cruise, but go crazy before then! One great tip out there in the Disney community is to order two Big Island Cookies from room service and put your Mickey Bar in between to create the most awesome ice cream sandwich known to man. While the chocolaty goodness is "free" (I'm talking money, not calories), tips are appreciated for the servers!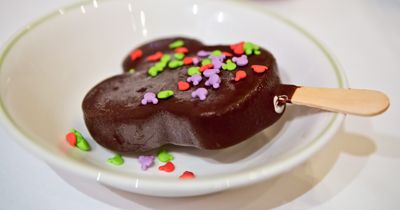 3. There are Free Souvenirs – There are. And I'm not talking about taking extra paper napkins with Mickey heads on them for your scrapbook, not that there's anything wrong with that. I'm talking a really cute souvenir. Pick out something that would be cute to have character autographs on, like a picture matte for your favorite cruise photo, a T-shirt, or a pillowcase. Bring it on the cruise and drop it off at Guest Services the first day with a Sharpie pen. At the end of the cruise you'll get it back covered in character autographs! If you put several different colors of Sharpies in with your item, you'll get several colors of autographs. It really is a great, one of a kind souvenir.
4. Some Popular Reservations are Held Back – Don't despair if your life's goal is to eat at Remy (on the Dream or Fantasy) and it was completely full when you tried to make a reservation. Disney holds back some reservations that you can secure once you board. Now, if you are planning to do this, you should try to board the ship as early as possible. When you are given your first Personal Navigator as you check in at the terminal, look for the location for dining changes. Go there right away. It often says they won't open until 1:30 to make changes, but it's usually open long before that (like immediately when people start boarding!). Go and see if you can snag something! They can help with Remy and Palo, as well as take requests for the Main Dining Rooms. Likewise, whereas Disney doesn't typically hold excursion spots back, don't give up. People do change their minds and cancel. Check at the Port Adventures desk to see if you have any options.
5. Guests Love to Decorate Their Doors – All of the doors to staterooms, besides concierge, are metal, which means they're the perfect place for decorative magnets! And if you've never been onboard, you may be stunned by the number of people who decorate their doors. In fact, your kiddos may be sad your door is not decorated if you didn't plan ahead! Magnets are easy to make yourself. There are all kinds of free designs out there to print. Print directly on to magnet paper and then cut them out, or print on cardstock and then attach magnets to the back. Be fun, be creative, be magical! Disney is finally getting in this game as well since I saw some door magnets for sale in the gift shop onboard on my last cruise in September.
6. Some Onboard Activities Should be Booked Before They Are Even Announced – There are some activities onboard that require booking once you are actually onboard. Things like wine tastings, beer tastings, mixology classes, chocolate tastings, and tea with Disney friends. They aren't held on the first day of the cruise, and won't usually show up in the schedule until the day they actually do take place. The thing is, though, by that time they're usually full! The repeat cruisers, and those in the know because they've done their research (pat yourself on the back right now because you are placing yourself in the second category by reading the Touring Plans Blog), book them before others even know they're coming. So after you board, go to Guest Services and inquire what activities will be taking place on your cruise. If any appeal to you (some have a small cost associated with them), sign up, right then and there!
7. The Menus are Not Restrictive –When you get your first glimpse of a menu in one of the main dining rooms onboard, you may be completely overwhelmed with choices! There are so many wonderful choices! Well this is not Top Chef. You're not going to offend anyone by mixing it up a little. If you want the steak, but don't want the sweet potatoes that come with it, ask for the twice baked potato instead (a much better choice if you ask me by the way)! If you can't decide between the surf and the turf, get them both! If your 4-year-old wants the shrimp off the adult menu, order it. If your 18-year-old *cough* my son *cough* wants the pizza and fries from the kids menu, he can get it. Every. Single. Night. The kids menu isn't just for kids. How else do you think I get Mickey Premium Bars from the kids menu most nights for dessert? If I'm not too full from ordering them from room service that is. Yes, I like Mickey Bars. Don't judge.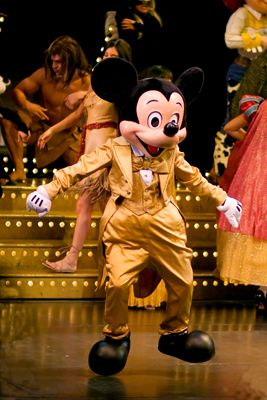 8. The Nightly Shows Are Shown on Your Stateroom TV – Are you worried your little one won't sit quietly through the amazing nighttime shows but you don't want to miss them? Do you want to put on your PJ's at 7:30 and not come out of your room until morning? Well, never fear, one of the channels on your stateroom TV broadcasts a recording of the show every night. Of course, they're better in person (isn't everything?), but it's better than completely missing them, don't you think?
9. You Can Use the Locker Room Showers Anytime – Has your bathroom been taken over by teenagers when you're trying to get ready in the morning? Never fear, there are other options. The showers in the locker rooms in the Spa and Fitness Center areas are open and available for you to use.
10. Late Dining with Kids Isn't as Bad as You Fear – Thanks to something called Play and Dine, you don't have to worry about squirming, tired children making it through a late dinner seating. About 30-45 minutes into late dining, the kid's club counselors will come pick up children who wish to participate and take them to the kids' clubs. That way the parents can enjoy some time with them at dinner and then still have a nice quiet dinner themselves after the kiddos are gone. Just let your server know so they can bring the kids' meals out quickly.
So do you have any tips or secrets to share with us? Do you know about the 5K?  That the food is better on the adult beach at Castaway Cay? Give us your secrets!