10 Good Reasons to Stay at the Paradise Pier Hotel
In previous blogs I've covered the Disney's Grand Californian Hotel and Spa and the Disneyland Hotel, so I thought Disney's Paradise Pier Hotel needed a little love! I won't for one second claim that Paradise Pier is my first choice for a hotel at Disneyland. The Grand Californian definitely takes that honor. And there are certainly much cheaper offsite options that are within walking distance of the parks. But there are some good reasons to stay at Paradise Pier. And here are 10 of them!
1. Price – I am definitely not saying that Paradise Pier is your cheapest option near Disneyland, but it is your cheapest option to stay in one of the Disney hotels on property. The Grand Californian is always the most expensive, and usually the Disneyland Hotel is less, with Paradise Pier coming in as the least pricey. I've found there are times there is only a minimal difference between the Disneyland Hotel and Paradise Pier, and there are other times when there is a big difference. Frequently, a standard room at the Disneyland Hotel is the same price as a theme park view room at Paradise Pier. Disney doesn't publish rack rates for its Disneyland hotels, but you can probably expect to pay around $200 a night at Paradise Pier, depending on the time of year, without any discounts.
2. Onsite Privileges – Of course, one benefit of staying at Paradise Pier as opposed to offsite is that you can take part in the onsite guest privileges. Some of the more well known privileges are charging purchases to your room and package delivery back to your room so you don't have to carry your souvenirs around all day. One of the lesser known privileges is early entry into both parks. Guests staying onsite get entry into Disneyland for Magic Mornings during their stay. Onsite guests can also get into California Adventure 30 minutes early through the Grand Californian entrance each and every day.
3. Location – The location is a good one! Not as close as the Grand Californian, but depending on where you're going, a little closer than the Disneyland Hotel. Paradise Pier is kind of situated between and a little set back from the other two hotels. When you walk out of Paradise Pier, and cross the street, you're at the Grand Californian. You can then take advantage of the awesome Grand Californian entrances into the Downtown Disney District or California Adventure. If you go the other direction when you exit Paradise Pier, you'll end up at the Disneyland Hotel.
4. PCH Grill – I'm a big fan of Goofy's Kitchen and I wasn't expecting much at Surf's Up character breakfast in the PCH Grill. I was very pleasantly surprised, however! The food was great and the characters were plentiful. The characters each spent a lot of time with our table. Mickey was stationed near the door in his surfer gear for pictures and there was never a long line to see him. Every so often there was a call for kids to join in and "ride some waves" and hula hoop. We've also eaten dinner at the PCH Grill and while there were no characters, the food was good and the ambience was relaxing. They did something fascinating with the straws there, by the way. This may be common place at other restaurants, but I've never noticed it before our dinner at the PCH Grill. The drinks were all color coded by straws. We each had a different kind of soda and we each had a different color straw. Whenever we needed a refill, any server walking by could take care of it because they knew what we were drinking because of our straw color. I thought it was genius!
5. Paradise Theater – Or as it's affectionately known – the Mickey Movie Room! Paradise Theater shows Disney films and TV shows all the time. It's right down the hall from the lobby and a great place for kids to be entertained while a parent checks in. It's themed in a beach setting with kid sized Adirondack beach chairs to get comfy in. The TV looks like it's in a giant sandcastle.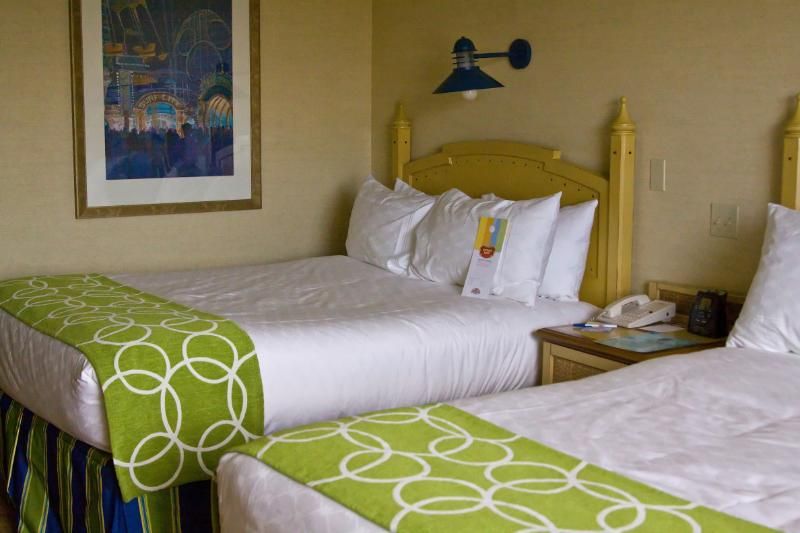 6. Mickey Details – Disney has added some lovely Mickey touches to their rooms in Paradise Pier. The Mickey surfer lamp, the Mickey Heads on the bedspreads, and the Disney picture on the wall to name a few. Some may say it's a quick fix to make a formerly non-Disney hotel more Disney, but I like it! Mickey makes me happy.
7. Rice Krispie Treats – Your mileage may definitely vary for this one. In years past at Paradise Pier, you would often find chocolate dipped Mickey shaped rice krispie treats in your room at night. These days it seems to be hit or miss. I've heard some guests are still getting them with somewhat random turn down service, and others had luck if they asked. So if you're staying there, ask the front desk if they can help you out with that one! You never know!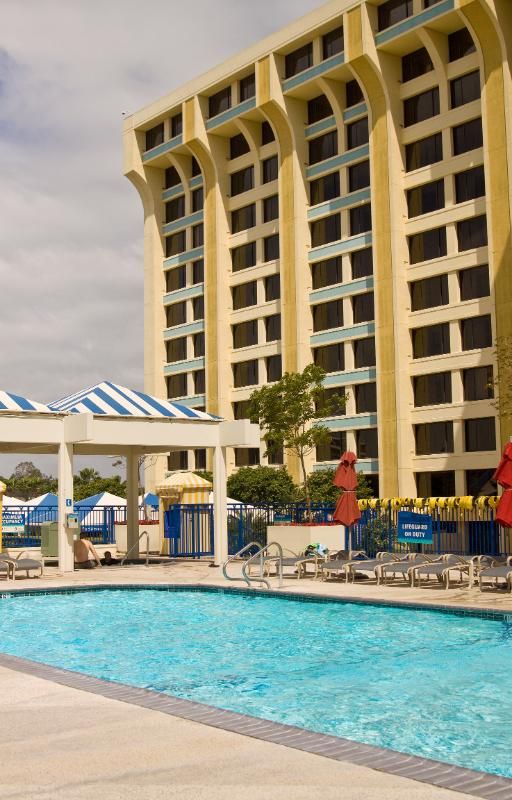 8. Cool pool – The pool is cool! It's called a rooftop pool, but it's not on the roof of the main hotel which is 14 stories up. It's on the roof of a shorter wing, just 3 stories up. It's not terribly themed, but it's got a great slide, a hot tub, a toddler wading pool, and it's a good size. It's usually much less crowded than the other two Disney hotel pools also. It probably goes without saying that it can't compete with the other two Disney themed pools, but it puts most pools on Harbor Boulevard to shame.
9. Fireworks From the Pool Deck –You can watch Disneyland fireworks from the pool deck! The music is piped in while you see the fireworks from a whole different location. While actually being in the park will always beat other views, it's a neat and different way to enjoy the show. Definitely worth doing on one night you're there.
10. Theme Park View Rooms – Speaking of watching things from your hotel, the theme park view rooms in Paradise Pier are excellent. When we first walked into our room and looked out the window, I think there was a little cheer from our group! The views into California Adventure are just gorgeous. The picture on the right was the view from our room. At night you can even watch World of Color while the music plays on one of your TV channels. I'm not saying you should watch from your room if this is your only chance to see it, but the view from the rooms is a whole different perspective on the show. It's also the only socially acceptable way you can watch World of Color in your pajamas.
So what do you think? Are there any other reasons you like to stay at Paradise Pier?