10 Good Terms to Know for Your Disney Cruise
A vacation on Disney Cruise Line (DCL) can be a whole new language lesson! If you've never been on a cruise, there are so many new terms! If you've never cruised with Disney in particular, Disney even has a few of its own to throw at you. Have you ever sat in a room full of military people who keep throwing around acronyms like they're part of the common English language and everyone knows what they are, and you feel like you shouldn't interrupt the story to say you don't know what the heck they're talking about? No? Just me? Okay, well try to imagine that situation, because it can be a little bit like that! While there's not enough room to list all the new terms you will encounter onboard a Disney ship in this blog post, here are some of the more common ones!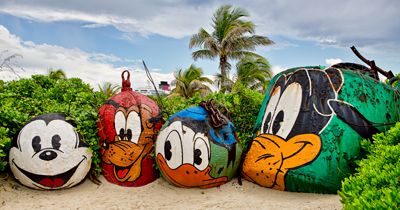 1. It's a Stateroom Not a Cabin, a Ship Not a Boat, and a Deck Not a Floor – There are a few terms associated with a cruise that should be pretty obvious, but they're not! You don't go up to the tenth floor to get some pizza as a pre-dinner snack. You go to deck 10! If Brent has ever been your cruise director, he will remind you (in an awesome Australian accent by the way) that you are NOT on a boat. You are on a beautiful ship. A boat is the little tiny thing that pulls up next to the ship and guides it out of the ports. Unlike most other cruise lines, Disney also does not refer to their rooms as cabins. They are staterooms! Disney does not want you thinking of a tiny little cabin when you are talking about the rooms onboard. Doesn't stateroom just sound more spacious and upscale? See what they did there?
2. Key to the World Card – This is most definitely a Disney term! In English, your Key to the World card is your stateroom key. Not just any room key though, it is also your method to charge things onboard, it has your dining rotation on it, it tells you what muster station to report to for the lifeboat drill, the onboard photographs taken by the crew's professional photographers are linked to it, and you'll need it to get on and off the ship in the various ports of call.
3. Bow/Forward, Stern/Aft, Starboard, and Port – These six words are pretty common terms on a ship, and you're going to hear them a lot when you're onboard. You may even hear them when you're picking your stateroom! Why do you care what starboard is for instance? Well you want to be starboard if you want a gorgeous view of Castaway Cay while docked there. Starboard is the right side of the ship (defined as the right side when you are facing forward toward the front of the ship). Port is the left side of the ship (everyone has a funny little way to remember which side is port, mine is that both the word "port" and the word "left" have four letters!). Bow is the front of the ship, and aft is the back of the ship! And, if you need to go to the front of the ship, toward the bow, the ship's crew will direct you to go "forward." Similarly, if you need to go toward the stern of the ship, you will be directed to head "aft." It's not like they'll kick you off the ship if you don't have these down when you board, but they're handy to know.
4. Personal Navigator – A Personal Navigator is basically a list of all of a day's activities while onboard a Disney cruise ship. What show is playing, information on the next day's port, what's happening in the kid's clubs, movies, classes, sports, etc. It covers at least four sides of paper because there's a lot to do every day! A paper copy of the Navigator shows up in your room every night when your room is turned down. In addition, Disney's Personal Navigators have just come into the digital age and now there is a digital version for Androids and iPhones! Just download the free app and use it to your heart's content onboard (you don't even have to pay for the Wi-Fi that dynamically updates the apps, but you also can't surf the web on that free Wi-Fi). We really enjoyed using the digital version, the biggest benefit to us being able to check the future activities and not just the current day's events. It was much easier to plan our week. Whichever version you choose, the Personal Navigator is invaluable. I did read a funny story on the message boards once about someone who heard there would be a "personal navigator" in her room every night and thought an actual person was showing up at their stateroom every night to help them "navigate" the next day's activities. She couldn't figure out where they were the first night! The Personal Navigator is wonderful. Maybe not as wonderful as an actual person showing up to your room to help, but maybe more practical.
5. Rotational Dining – Disney pioneered the concept of rotational dining. Traditional cruise ships have a huge dining room capable of accommodating at least half of the passengers onboard at once. Disney ships have three main dining rooms onboard which the diners will rotate through on a set rotation throughout their cruise. It's great to have a different themed restaurant to enjoy each night, but the real genius here is that your serving team rotates with you. So, while enjoying a new experience every night, you are still getting to know (and love) your wonderful servers.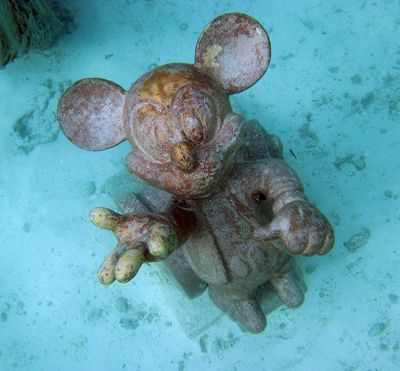 6. Tendering – Some ports require tendering. Tendering means your cruise ship will anchor offshore and smaller tender boats will transport guests from the ship to shore. Pulling up to a dock where passengers can freely walk on and off is obviously the more preferred method, but sometimes ship size, or the number of ships in a port, prevent that. Tendering can be quite the time sink, especially when your ship is only scheduled to be in a specific port for a few hours, but unfortunately it's unavoidable sometimes.
7. Transfers – Transfers are the official way to get to the port. Unlike Disney Magical Express transfers from the Orlando airport to Walt Disney World, Disney Cruise Line transfers are not free. Costs vary if you are sailing from somewhere other than Port Canaveral, but in Orlando they are $70 per person round-trip, children under 3 are free. DCL's Orlando transfers will either go between the airport and the port or Walt Disney World and the port (just let DCL know which one you need). In other ports the transfers go between the airport and port, or hotels booked through Disney.
8. GTY – Usually when you book your cruise you will be able to choose a specific stateroom number. When a category starts to fill up, it goes into GTY status. That means you won't be able to pick a stateroom number in that category and you'll need to change categories if in fact you do want to pick one. Cruise lines like to have some flexibility to move people around for those last few rooms so they choose where the guests end up. They won't move guests down a category, and you'll usually be kept in the same category, but there is always the possibility they will move guests up in categories as well.
9. IGT, OGT and VGT – IGT (inside guarantee), OGT (oceanview guarantee) and VGT (verandah guarantee) are last minute restricted discount fares on sailings. When you book these non-refundable rates you pick a type of room, not a specific category or room. You choose whether you would like an inside room, oceanview room or verandah room. I answered some common questions about these in a previous blog post.
10. Castaway Club – Castaway Club is the best term of all because it means you have already been on a Disney cruise! Once you've been on a Disney cruise of any length, you become a member of the Castaway Club. This highly sought after club has three levels. You become a silver member once you have sailed one time. Gold members have sailed more than 5 times. Platinum members have sailed more than 10 times. Each level has more benefits, but every level will get a welcome gift in their stateroom every time they sail. I'm telling you, it's the best club to be a member of!
What terms did I forget? Are there any others that confused you at first? Or still do?