10 Reasons Disneyland is More Exciting to Tour Than Walt Disney World
For all the hardcore Walt Disney World fans who are hyperventilating at my title, let me preface this by saying again – I love Walt Disney World!!  I have no problem relaxing and enjoying every minute of a trip there.  I will never, ever stop going to WDW and in fact I am headed there next week with extended family!  But there are some things about Disneyland that make it easier and more relaxing to see, especially for first-timers.
1.  Being at a smaller resort is more relaxing.  It just is.  First timers at Walt Disney World are often completely overwhelmed trying to see 4 parks, 2 water parks and a huge shopping, dining and entertainment district.  At Disneyland, you don't have to exhaust yourselves to cover it all.  It's more compact, and it's easier to cover in less time.  That's not to say there are fewer rides!  Disneyland packs more actual rides into 2 parks than WDW puts in 4. They're just not as spread out!
2.  There are no transportation issues.  At WDW when you are staying in one resort, it can be quite a chore to get to and from another resort where you have a dining reservation.  At Disneyland you just walk there.  You don't have to leave your resort an hour early to catch a bus to get anywhere!  You just walk.  You can leave Disney California Adventure and be at Napa Rose  for a reservation 5 minutes later!  Every time we go to WDW, we debate whether to get a rental car.  While Disney transportation can get you where you need to go, having our own vehicle is  always so convenient and saves lots of time, especially when staying at some of the more remote resorts like Disney's Animal Kingdom Lodge, Disney's Coronado Springs Resort, or Shades of Green at Walt Disney World.  At Disneyland, we never debate this.  There is literally no reason to get a rental car once you arrive at Disneyland if you plan to stay at the resort for your entire vacation. 
Look at this picture.  See what's outside the window of this room at the Disneyland Hotel?  That's Downtown Disney!  Right there!
3.  Commando style touring is not nearly as tempting.  We were commando style tourers for years at WDW.  We were there when the park opened (or before) when we were following our touring plans and we stayed until the park closed.  We didn't want to miss a thing!  No surprise we were often dead tired while on our vacation and we always said we needed a vacation to recover from our vacation when we got back home!  We've learned our lesson at WDW and while those days still happen, they are not the norm.  At Disneyland, we've never been tempted  to fall into "commando mode."  The entire resort invites you to tour at a much more leisurely pace.
4.  Advance dining reservations are so much easier.  Disney fans complain all the time about having to decide where they want to eat at Disney World six months before they go.  That's not necessary at Disneyland.  Some of the most popular restaurants can be booked a few days before you go and you can even walk up during off peak times.  How many times does that happen at Disney World?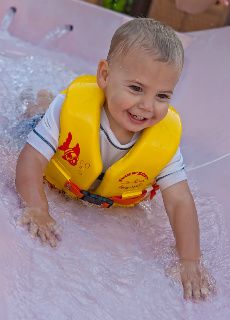 5.  It is much easier to take breaks.  Sometimes, taking a break at WDW is just a chore.  It can take 30+ minutes each way to get to your room and back.  By the time you've waited for transportation at the park and perhaps had to stop at two hotels on the way to your stop, it can be hard to relax for a couple more hours in your hotel or in the pool.  At Disneyland, the odds are good you can walk to your hotel and take a break.  If you're staying on property, you could be in your room in 5-10 minutes and in the pool in 5 minutes more!  Okay that last part is partly determined by how quickly you can locate and put on your swimsuits.
6.  You can hold a FASTPASS in two parks.  This is a great tip.  Let's say you are waiting for your FASTPASS window for Buzz Lightyear Astro Blasters to open up, but you really want to get World of Color FASTPASSes before they are gone over at California Adventure.  Give one (trustworthy) person all of your tickets (assuming you have a Park Hopper) and send that person over to DCA to grab them!  Everyone doesn't have to go and the two FASTPASSes won't interfere with each other.  Anytime you can use FASTPASS to its full potential you will be able to tour more efficiently.
7.  Three-day trips really work.  It really is possible to see everything in three days.  Well not everything, but enough to make you feel like you covered it.  I've done the four parks in one day craziness at Disney World and that was great fun (at least it was the first time!), but really we didn't even scratch the surface of a single park.  With everything being so close at Disneyland, you really can get a lot done in just 3 days!
8.  Less time means less money.  If you've got the time and the money, this won't matter to you as much.  If you've only got a few days you won't spend as much.  I don't mean that the tickets or hotels are cheaper than Disney World.  I mean that shorter stays cost less money.
9.  You can enjoy your hotel.  One of the great things about WDW are the hotels.  There are hotels in all price ranges with varying themes.  The problem is, we don't feel like we are ever there!  Sometimes at Disney World we spend a fortune on a hotel that we are really only sleeping in (although we have done much better on this the last few trips to Disney World).  At Disneyland, however, it's so easy to go back to your hotel and enjoy it.  If I want to go to an animation class or story time in Disney's Grand Californian Hotel and Spa, it's no problem!  I can leave DCA about 10 minutes before the activity starts and be there in time!
10.  The Downtown Disney District is so close.  We love walking through the stores, eating in the restaurants, and soaking in the atmosphere at Downtown Disney at WDW.  But wow, is it a chore to get there!?!  You can't get a bus right from a park, so you have to go back to your resort, or another resort, first if you're in a park.  Catching two busses at WDW?  That can be a nightmare!  It could take an hour.  At Disneyland?  Just walk!  From your hotel, from a park, from all over!  Just walk!  You are just minutes away.
As I said in my last blog, smaller doesn't mean worse!  And bigger doesn't necessarily mean better.  It just means different!  But smaller does mean more relaxing.  More rides, fewer days, less money, more breaks, less wasted time.  All that adds up to relaxing.
Okay, okay some people are inevitably exhausted by the entire thing.
I'll have some more reasons Disneyland is awesome in the coming weeks!  Let us know what you think!