10 Reasons It's Okay to Stay Offsite at Disneyland
Whether to stay onsite versus offsite at Disneyland is a very different discussion than onsite versus offsite at Walt Disney World.  I am one of those people who will argue to the death that staying onsite at WDW is better.  In Florida, I cannot stand to leave the magic to go off property for any reason.  I don't even want to drive off property to go buy milk, much less drive off to go to spend the night somewhere!
I love the Disney hotels at Disneyland, but offsite there is different for me.  Here are some reasons why.
1.  The offsite hotels are closer at Disneyland.  It's easier to leave the property because the odds are good you aren't getting in a car.  Most of the time you are walking somewhere!  When I can walk somewhere, it's just easier to feel like I didn't completely leave the magic.
2.  Unlike Disney World, Disneyland doesn't have any value resorts on property.  If you are looking for a fun, inexpensive hotel on property, unless there's a great discount going on, you're probably just not going to find it.  Rack rates at the Disney hotels start at $210 a night for the Disneyland Hotel and Disney's Paradise Pier Hotel.  Disney's Grand Californian Hotel and Spa starts closer to $280 and goes up to over $500.  Those starting prices are off-season, non-weekend prices.  With the best discounts running around 30%, you're still looking at a best-case scenario of $140 a night and that price is hard to come by.
3.  The line between on property and off property at Disneyland is very blurred.  Some of the offsite hotels are actually closer to the parks compared to the Disneyland Hotel or Paradise Pier.  There are several offsite hotels at Disneyland that are literally right across the street.  Not right across an interstate, or *within a mile* of the property; right across the street.
4.  Several resorts within walking distance have other transportation options.  Many have resort shuttles or are serviced by the Anaheim Resort Transit.  It starts running about an hour  before the parks open and stops about 30 minutes after they close.  It's inexpensive and a good option if your tired feet can't make it another step.
5.  Disney has a relationship with more than 40 of these offsite hotels.  They are called Good Neighbor Hotels and if you book a package to stay with one of them through Disney you can get many of the same benefits as guests staying at the Disneyland Resort hotels.  Benefits such as Magic Morning Early Admission and Mickey's Toontown Morning Madness.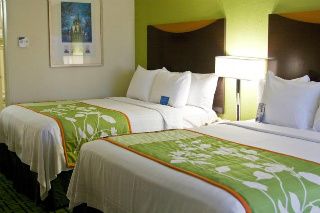 6.  There are some great hotels in the area.  Our first offsite stay was across the street at Best Western Park Place Inn and Mini Suites for $59 a night.  The rooms were a bit dark and unexciting but they were clean.  The pool is the same rectangular type concrete pool you can find in backyards across the country.  It was all we needed though.  Other hotels cost a little more but are much nicer.  The Howard Johnson Anaheim and Fairfield Inn Anaheim Disneyland Resort are great hotels.  I'd stay at either one even if they weren't right across the street  from Disneyland.  The picture on the left is a room at the Fairfield Inn.
7.  Offsite hotels will often guarantee updated rooms.  Disney always reminds their guests that requests are just that – requests.  They are not guaranteed.  Some of the offsite hotels actually will guarantee an updated room.  An updated room in an older hotel can make all the difference.
8.  Free Wi-Fi!  Many of the offsite hotels have free wireless Internet access! You'll get this at the Disney-owned hotels, as well.
9.  The offsite hotels have "fourth night free" promotions at different times in the year that can help you save while extending your vacation.  The Disneyland hotels sometimes run this promotion as well, but you're starting from a lower price point with most of the offsite hotels if you are trying to minimize your out of pocket expenses.
10.  Many of the offsite hotels have free breakfast!  That's something you definitely won't find onsite at Disneyland, unless you are paying for concierge.  The free breakfast is not elaborate at many of the hotels, but it is free and it is something to tide you over until your first Mickey bar of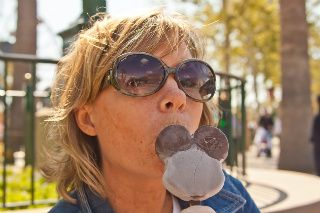 the day.  Others, like Embassy Suites Anaheim South, have the same great cooked to order breakfast you find at all their hotels.
Now, I do love the Disney hotels at Disneyland.  If you can swing it, stay at one of the Disney hotels.  All three are within walking distance of the parks and Downtown Disney and as the Unofficial Guide says, the rooms and pools are some of the nicest in the area.  I have stayed at all three and there are different things about each one that make them special.  Walking out of the Grand Californian into a park?  Amazing!  The new light up headboards and pool at the Disneyland Hotel?  Magical!  A theme park view room at Paradise Pier?  Perfect!
But if those don't work for you, Disneyland has some offsite options!  And good options at that!