10 Reasons the Grand Californian is My Favorite Disney Resort (Anywhere)
Disney's Grand Californian Hotel and Spa is an amazing resort.  I've stayed at just about every Disney resort in Florida and California, and I've toured the few where I haven't actually stayed (and I can't wait to visit Disney's new Aulani resort in Hawaii).  In general, each of these resorts is superb and has its own unique charm.  Disney's Contemporary Resort has an upscale feel and great location.  The lobby and grounds of Disney's Wilderness Lodge are beautiful.  Disney's Polynesian Resort is on the monorail and has huge rooms.  The animals outside your balcony at Disney's Animal Kingdom Lodge are breathtaking.  Disney's Yacht Club Resort has a pool to die for.  Being able to walk from Disney's Boardwalk Inn into Epcot takes the resort to another level.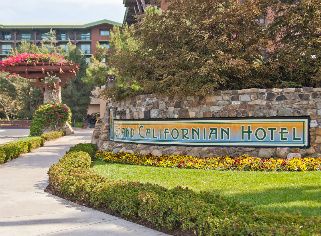 But it's official.  My favorite resort is the Grand Californian.  We've stayed there multiple times and loved it every single time.  There are probably 30+ reasons why it's become my favorite, but here are 10 of them:
1.  Location, location, location.  There are so many great things about the Grand Californian, but the location has to be the best.  There is no better location at any Disney park.  The Grand Californian is literally attached to Disney California Adventure (DCA) and the Downtown Disney District.  One exit to the hotel is actually a special entrance to California Adventure, while another is an entrance to Downtown Disney.  The Contemporary in Florida has a great proximity
to the Magic Kingdom, as do the Epcot resorts to Epcot.  They are all a short walk away from the park entrance.  The Grand Californian isn't a short walk, it's a step.  When you step outside the Grand Californian, you step into California Adventure.  Or Downtown Disney.  No resort in Florida can equal that.  I am much more willing to ride Grizzly River Run on a chilly day when I know I can walk off the ride and into my resort to change.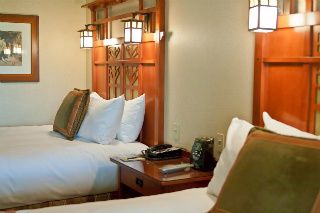 2.  It's stunning.  Just stunning.  Its design is inspired by the Arts and Crafts Movement similar to the Animal Kingdom Lodge and Wilderness Lodge, and you'll really see the similarities in the majestic lobbies.  The Grand Californian's beauty continues down the halls and into the rooms.  At Wilderness Lodge, once I get to my room I feel like I'm doing a little "upscale camping."  Not at the Grand Californian.  The rooms are beautifully decorated, and the feeling is luxury, not "campy".  The pools are great, the grounds and outdoor fireplaces are wonderful, and the list goes on.  It's just a beautifully stunning resort.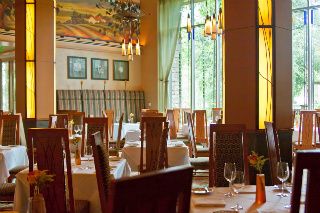 3. Napa Rose.  Napa Rose is an award winning restaurant located inside the Grand Californian.  It serves California inspired cuisine and the menu changes seasonally.  The restaurant itself is beautiful with its stained glass and views of California Adventure.  Just google Napa Rose and you will see how popular the food is.  If you're a wine connoisseur, this is the place for you.  Every server is a sommelier and the selection of wines is extensive.  If you are looking for an incredible fine dining experience at Disneyland, this is it.
4. Disneyland's Downtown Disney District.  Downtown Disney is so close, it doesn't require a special trip to visit and enjoy.  The first time I ever stayed at the Grand Californian, my hotel balcony was right above the World of Disney Store.  Literally, the store was immediately below the balcony, yet we never heard noise from the store.  We stood on the balcony numerous times watching people, watching fireworks, and watching the Disney vendors selling their wares.  If we wanted to go to the movies (which we didn't because, well, we were at Disney!), the theater was only a 5 minute walk from the Grand Californian.  If we wanted to eat at the ESPN Zone or House of Blues (or one of the other great Downtown Disney restaurants), we were just minutes away.  I love Downtown Disney at both parks, but we spend much more time at Disneyland's version because it is so convenient.

5.  The views.  The views from this hotel are great.  If you can afford a theme park view room, do it!  I love the sights and sounds of the parks at night when viewed from my balcony.  As I mentioned above, the Downtown Disney view is awesome too—as are many of the pool views.  If you are in a standard view room, there are public areas to take in the premium views.  On one of the hotel's upper floors, there's an awesome outdoor seating area with a view of the pools and DCA.  Additionally, if you are staying on Disney Vacation Club points, you can take advantage of this exclusive, covered patio and watch DCA's World of Color show (with music!).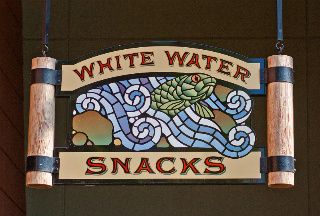 6.  White Water Snacks.  White Water Snacks is a great place to eat.  It's really the only food court type restaurant at any of the three Disney resorts.  It has lots of choices to make everyone happy.  It's also super easy to get to when you need a break from the parks, and it rarely seems to be crowded.  We've been on the most packed of summer days and found the whole place fairly deserted.  Yet, White Water Snacks is so close you can see DCA right through the windows.
7.  Resort Activities.  We really try to take advantage of the resort offerings when we stay at the Grand Californian.  It's easy to do when the resort is so close from anywhere you may be on property.  The animation class in the Hearthstone Lounge was an instant hit with our family—and, it's free!  The hotel staff delivered our drawings back to our room with a special note from Mickey.  No more worrying about crushing our drawings in our backpacks while we walked around the park!  Another great activity in the Grand Californian is Tales From the Hearth.  You can sit in comfortable rocking chairs and warm up by the fire while a cast member entertains you with stories.  Okay, the warming up part isn't so exciting when it's 90+ degrees outside, but the rest applies.  How about a power walk through California Adventure before it opens?  There are many more activities, just check out the schedule when you arrive!
8.  Pinocchio's Workshop.  We've only actually used Pinocchio's once, but our kids gave it very high marks.  We decided we needed an adult only dinner and we checked the kids in for a couple of hours.  When we went to pick them up, and you guessed it, they didn't want to leave!  They begged to go back the rest of the trip.  Considering how many other things there were to do that we'd already paid for, so to speak, we declined.  But, they still have fond memories!  There are arts and crafts, computers, a large movie screen, and cots if the children get sleepy.  Your kids won't miss you at all.
9.  The Monorail.  In the spirit of the Contemporary Resort at WDW, the monorail goes through the Grand Californian (but admittedly, not quite as dramatically as in Florida).  You won't see it from inside the lobby, but imagine how excited your kids are if you are in a courtyard view room and they are standing on the balcony when a monorail goes zipping past!  Our kids were so excited!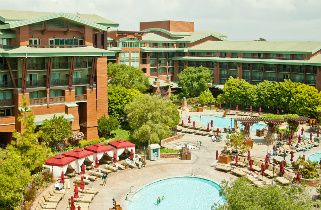 10.  The Robes.  There's a super comfy robe hanging in your closet for your use while staying at the hotel—and it's emblazoned with the Grand Californian's crest!  Now, I'm a robe person (is that too much information?).  I love relaxing in my robe after baths and after swimming.  And, with a robe, it's so nice not to have to remember a swimsuit cover up.  No walking through the lobby in your wet swimsuit, or long (but not quite long enough) tee shirt.  I loved the Grand Californian robe so much that a timely Mother's Day purchase at the hotel's gift shop allows me to enjoy it year round!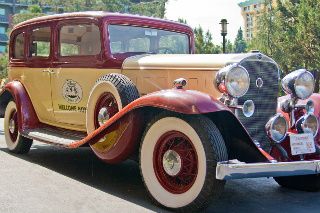 Everyone has a favorite resort, and Disney fans certainly don't all agree.  Some of my lesser favorites, *cough* Wilderness Lodge *cough*, have die hard fans, and I won't argue with their choice.  Well, the Grand Californian is my favorite.  I just love it.  I feel like I'm home when I walk in the lobby and not just because the cast members keep welcoming me home.  I really don't know them, and it's a little strange to have people you don't know in your home.  But I digress…
How about you?  What's your favorite (and why)?  If it's the Grand Californian, tell us why!