10 Reasons to Get a Cabana on Castaway Cay
Have you ever had a cabana on Castaway Cay?  Then I'm guessing you know what I'm about to say.  I LOVE the cabanas on Castaway Cay.  Scott Sanders from the Disney Cruise Line Blog called them "game changers" for a beach day, and I could not agree more.  Whether you are a beach person or not, the cabanas can turn a nice day at the beach into a spectacular day at the beach.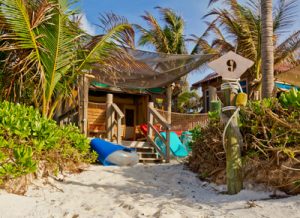 I wrote a blog post about the cabanas a few years ago, but I decided it was time for an update.  As before, I'll start with the bad news.  The cabanas are expensive!  The regular cabanas on the family beach are $549 for 6 guests in the off season, and $599 in peak season.  On Serenity Bay, they are $399 for four guests.  The grand cabana is $949 for 10 guests.  None of those prices include the 12 % tax you will also pay.  You can add 4 more guests to the regular cabanas at the family beach, 6 to the grand cabana, or 2 at the adult beach.  Each additional guest will cost $50 plus tax.
The second piece of bad news – they are difficult to get!  Concierge guests usually snatch these up before most guests ever get a shot at them.  There's a reason that happens – they are awesome.  But plans change, and people change their minds, so they do show up for non-concierge guests at times too.  If you want one, keep watching for them.  Here are some reasons why: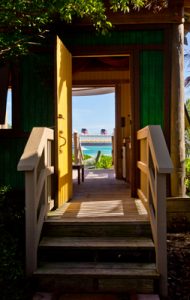 1. Private Space – I cannot emphasize this point enough: a private space on a busy island is heaven. There's room to spread out, a safe if you were worried about any valuables, and big comfortable chairs to relax on with new magazines to read if you forgot a book. Peace, quiet, and personal space is abundant.  If you have a little one that needs to nap, you can get a pack and play set up inside, and you won't have to go back to the ship–So convenient!
2. Uncrowded Beach – While not technically a private beach, the family cabanas do have their own beach behind a roped off area. I've never felt remotely crowded, and there are several times a day when we were the only ones in the water. Your cabana will also have its own set of sand toys to use on that beach.
3. Fridge of Drinks and Fruit – Food is abundant on a cruise, so it seems silly to highlight a plate of fruit and a basket of snacks, but it is super convenient! Also, I'm not sure why, but I am always starving by the time lunch opens on Castaway. Like starving!  We always rope drop Cookies or Cookies Too.  So, I love grabbing some chips or a banana to tide me over.  And free fountain drinks are awesome, but a fridge of cold cans of Coke or bottled water within arm's reach all day?  #Spoiled.  There are also some cold damp washrags in the fridge that are so refreshing on a hot day.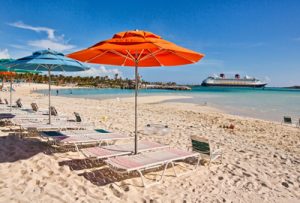 4. Towels – More good news, you can also bypass the towels that are being passed out when you get off the ship. You have an abundance of thick, luxurious towels waiting for you in the cabana!
5. Music – The cabanas have three music channels you can choose from for some background music. Or musak as it may be. A Castaway Cay channel, Sounds of Hawaii, and Senses Spa. There's also a volume control which helps!   It adds a nice island vibe to the experience.
6. Snorkeling, Bikes and Floats – For a little more bang for your buck, snorkeling equipment, bike rental, and floats are included in the cost of the cabana. Snorkeling is normally $34 per adult, bikes are $13, and floats are also $13 a person. If you would normally use those things, that's $60 a person you're saving right there!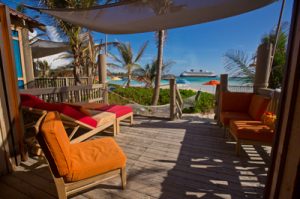 7. Shelter – If you are a pale skin, freckly, skin-cancer prone person like myself, having somewhere to get out of the sun whenever I need to is wonderful! And necessary. Heaven forbid it should rain; shelter is even better.  We once had a 30-minute shower that drove us to the cabana and about half the island back to the ship.  Then the sun came out and we spent the rest of the afternoon on a basically empty island!
8. Sunscreen – Speaking of pale skin, freckly, skin-cancer prone, the cabanas are stocked with sunscreen! Lather up!
9. Beach Chairs and Hammocks – No fighting for the best chairs or hammocks on the family beach with the rest of your fellow cruisers. The best chairs and hammocks are right in front of your cabana!
10. I Need Something Button – Each cabana also comes with a magic button that you push if you need anything. Specialty drinks are not included, but you push that button and someone is on their way to take your order! Do you have an allergy?  Push that button and talk to a host about lunch.  They will take care of you!
Do you have any questions about a cabana?  Have you tried one?  Let us know in the comments!
Tammy Whiting is the owner of Storybook Destinations. Did you know Storybook Destinations offers a complimentary subscription to TouringPlans with qualified Disney and Universal bookings? Click here for a no-obligation quote on your next vacation!