10 Things You'll Want To Know About a Vacation at Disney's Aulani Resort
Aloha! This week I've got Disney's Aulani Resort on the brain! Why, you ask? Because I spent a glorious week there recently. I've been to Hawaii before, and there's a reason people call it paradise. And let me assure you, Aulani does its part to live up to that. It's an absolutely stunning resort, and that trip was one of the most relaxing vacations we've ever had. I highly recommend a visit. And if you do get a chance to stay there, here are ten things that may help you experience the magic even more.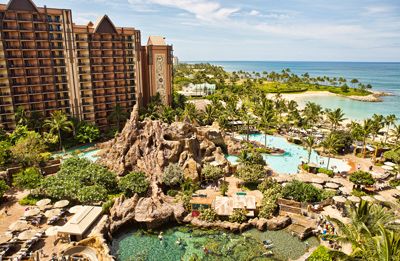 1. It's Disney With a Light Touch – Aulani is absolutely a Disney resort. And that's a good thing. It's also a Disney resort with one of the lightest touches you'll find. Sure, you'll have the opportunity to see Mickey, Minnie, Goofy and friends decked out in Hawaiian garb, but they're in an environment that truly feels authentic to the island. Because at Aulani, the central themes are the islands of Hawaii, its people, and their culture. Need examples? The interactive game at the resort isn't a Phineas and Ferb adventure, it's based on Menehune, a mythological Hawaiian people. Although there are hidden Mickeys to be found, there are actual hidden Menehune statues all over the resort. The collage of photographs behind the front desk is made up of individual photos taken by Hawaiian students across the islands. Additionally, the lobby is breathtaking and open air like you find in resorts all over Hawaii, and it has a grand 360-degree mural which tells the history of Hawaii. Even the pools aren't Mickey shaped; they're free form, most with gorgeous views of the ocean and lagoon the resort is situated on. Finally, in a fun touch that my family really enjoyed, the elevators play classic Disney songs using Hawaiian-style music and lyrics in the Hawaiian language. Have fun guessing which song is being played!
2. The Rooms Are Gorgeous – Gorgeous is a word you use a lot at Aulani. It's just the word which keeps coming to mind! The rooms there are really, really pretty and comfortable. Just what you want a hotel room to be. The views vary widely. The garden views are nothing to write home about, but the pool and ocean views are spectacular. One word of caution about the rooms, however. The doors in the one-bedroom villas are inadequate for privacy. They are really more like shutters and block no sound at all. You can't see people once the door is shut, but sound wise they may as well be in the room with you. This was the one poor design choice we noticed in the entire resort.
3. Chairs Can be Saved, but Only for an Hour – Chairs by the pools and beach are prime real estate, as you can imagine. At Aulani, the pools and beach and sun and lush greenery are the real stars. You (and most of your fellow Aulani guests) will definitely spend a lot of time in the chairs near the pool or beach, so it's good to know what the policy is for saving chairs. Not surprisingly, my husband saw people saving chairs as early as 7:30 am at Aulani as he was heading out for a morning jog. Now that may rankle some of us, but the Disney policy allows for it for a limited amount of time. Here is what we took away regarding Aulani's chair saving policy. To start with, it is actually enforced by cast members! So what does that mean exactly? Does that mean you have nowhere to leave your things if you want to swim? Not at all. What it does mean is you can't put a pair of flip flops and a few towels on six chairs in a row in the morning and then spend your day swimming and not using them and expect them to still be there when you get back after lunch. The chair saving policy is that any belongings on chairs left unattended for one hour (when chairs are at a premium) will be moved. The cast members really do enforce this. These dedicated chair attendants watch the chairs, and if no one has been seen for a little while, they go and fold a towel and place it on the back of the chair. That's key. A folded towel on the back of a chair means that chair is on the clock. The chair attendant then takes note of what time the towel was folded, and if that towel hasn't moved an hour later, the belongings on the chair are moved to a nearby towel hut. We saw it happen, and we inherited the chairs. So, if you are looking for chairs and having a hard time find what you need, just ask one of the chair attendants. They'll let you know which ones are about to open up and help you find some. From what we saw, it's actually an efficient system.
4. Great Dining Options On and Offsite – Aulani does have some great dining options, and you don't have to leave the Disney bubble for food if you don't want to. 'Ama'Ama is an upscale beachside restaurant with seafood, steak, and pasta options. Makahiki is the buffet restaurant with character breakfasts every morning. There are also several quick-service type options on the beach and around the pool area. There's even a shave ice stand that stays busy from opening until close. If you're looking to spend a little less money (it's Hawaii, not much is cheap), there's a small but nice shopping center basically across the street. In this shopping center there is a great sit down restaurant named Monkeypod Kitchen, which you should probably make reservations for because it seemed always to be packed! We really enjoyed our dinner there. Another evening, we had pizza and delicious garlic rolls at Pizza Corner in the same shopping center. There is a Mexican place called Just Tacos, which actually serves a lot more than "just" tacos. There's also Hawaiian barbeque, an ice cream shop (expensive, but yummy), and several little boutique shops. If you just want to stock up on some essentials like milk and snacks, there's also an ABC Store called Island Country Market, which has those and so much more, including counter-service meals. Just this past week Aulani also opened a self serve Dole Whip stand! Now if that's not exciting, I don't know what is!
5. There are Lots of Great Side Trips on Oahu – It wouldn't be hard to spend a full week in Aulani and never feel the need to step off property, but there are so many wonderful things to see and do in Hawaii, you should probably consider some side trips. Aulani offers some official excursions with options such as hiking, horseback riding, and local sightseeing. Renting a car is another option to give you more freedom. Pearl Harbor and the USS Arizona Memorial are very moving and something every American should see at least once. Tickets are first-come-first-served, and in the summer they do run out early. Downtown Waikiki is full of shopping (and tourists) if that floats your boat. I'd definitely recommend a trip to the North Shore to see the sea turtles and surfers! Don't forget to stop at Matsumoto for cheap and delicious shave ice. Or go see the incredible Polynesian Cultural Center (pricey, but very unique and worth the money). There are also all kinds of beautiful (and free!) hikes around.  And what trip to Hawaii (or Disney) is complete without pineapples? You need to visit the Dole Plantation! There are beautiful pineapples, Dole Whips (the biggest draw for me), a maze, a train ride, it's a fun place! Definitely worth a trip!
6. There are Daily Navigators! – Okay, they're not called Navigators. Navigators are a daily newsletter Disney Cruise Line leaves in your room every night listing the next day's activities. We love sitting down every night on a cruise and planning what we want to do the next day. Well, Aulani has them, too! There they are called the daily 'Iwa. We dubbed them Iwagators. The Iwagators list character times, movies on the lawn times, teen activities, excursions, restaurant hours, and more. They aren't always in your room (usually not at all in the DVC villas), so just stop by the front desk at night and ask for one if you don't get it.
7. Parking is Expensive (If You Have to Pay for It) – Parking at Aulani is crazy expensive: $35 a day. That's a lot of money, but having a car does give you added freedom to explore Oahu. If you're a DVC member staying on points, self-parking is free. Guests paying cash to stay in a room and day visitors, however, have to pay (with some validation available for day guests). A silver lining to this high parking price if you have to pay is that valet parking costs the same as self-parking (understanding the tip will be extra). If you are considering renting a car, take the price of parking into account. There is an Alamo car rental location on site, so it may be possible to only rent a car as needed. Also, Aulani sometimes offers free transfers from the airport as a special (this is not the norm, however). In fact, they are running such a special now, so you may not need a car if you're not planning on leaving the resort.
8. The Cast Members are Disney Friendly – The cast members definitely live up to highest Disney standards of friendliness and service. Frankly, we were blown away at the Aloha spirit which infused all the Aulani cast members. It was simply superb. Personally, I have always found park cast members to be very friendly, but it's the cruise line crew members who usually blow me away. I think the crew members on Disney cruises are exactly what Walt would have wanted. Everyone from your dining servers to the maintenance workers in the hallways go out of their way to make you feel welcome and appreciated. We felt like the Aulani cast members were on par with that. They were so friendly and welcoming. It was a great environment.
9. The Kids' Clubs Are Free – In another similarity to the cruise line, the children's programming is complimentary for potty-trained guests ages 3-12. While there are some premium activities that cost extra, a day at Aunty's Beach House (as the kid's club is named) is jam packed with activities designed to entertain young guests. There are arts and crafts, Disney movies, hula lessons, scavenger hunts and more! Check your Iwagator (sorry, can't help it) for a schedule.
10. The Time Change Can be Rough – A word of warning, the time change can wreak havoc on your schedule. We came from the Pacific time zone and the time change during Daylight Savings is three hours. From the East Coast that's six hours! And from Europe, it's even worse (way worse, actually). We woke up at 6 in the morning and were ready for bed at 9. Of course that worked great for our teenagers who were actually stirring by 9 am! If you're coming from the East Coast and you've got the time you really should consider a stop at Disneyland on the way! You know just for time adjustment purposes…
There are so many other things to say about Aulani, but as is my way, I can't go beyond the ten points above. So, I'll wait until next time to talk about Aunty—the ultimate Aulani personality because she doesn't feel like a character, she feels like your family. I don't have time to talk to you about how she teaches you about Hawaii and seems like your long-lost Hawaiian aunt! I also don't have time to talk about the free shows and programs which Aulani puts on around the resort, or the free DVDs (for DVC members) you can check out each night (although strangely, they didn't have Lilo and Stitch!). I didn't even get to the award winning spa! Or the snorkeling lagoon or lazy river where we spent so much time!! Ack!
Does it sound amazing? It should! Have you been? What are some of your favorite things?