10 Tips on Tipping on the Disney Cruise Line
Tips on tipping! See what I did there? First time cruisers always have questions about tips. In a somewhat all inclusive environment, it's easy to forget about gratuities! Tips are expected on any cruise line and they can be a significant expense you need to be prepared for. Notice I said tips are "expected" not "mandatory". Tips are always optional. But, just like you wouldn't walk into a nice restaurant and consider not tipping (and if you would, that's a whole different conversation), you really shouldn't consider taking a cruise and not tipping. If you are someone who wants to tip appropriately, but are worried you don't know the standard cruise tipping principles, this blog post is for you. And, Disney has made a lot of this easy for you (well, if you are planning to give the recommended amounts). See below for more!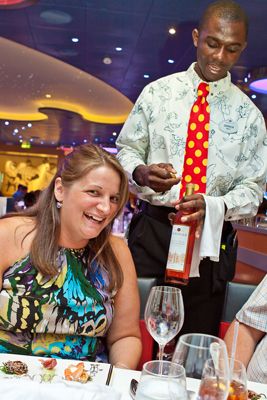 1. There are Four Main Tipped Positions – There are four positions where tips are expected. These tips are so expected they will actually be charged to your onboard account automatically (see #2 below for what that really means). Those four are your three dining room servers (Head Server, Server, and Assistant Server), as well as your Stateroom Host or Hostess. Now if you've never cruised before, the Head Server is kind of like the maitre d', the Server is in charge of your personal table service team, and the Assistant Server is just that, the assistant to your lead Server. The Stateroom Host/Hostess is the person who keeps your cabin clean, makes your bed, turns your bed down at night, makes those awesome towel animals, leaves you chocolate (!), and generally ensures you have everything you need in your room. The total amount you will tip is determined by the number of nights of your cruise. The recommended amounts per night are $4 for Server, $3 for Assistant Server, $1 for Head Server and $4 for Stateroom Host/Hostess per person in your sailing party. You'll notice that adds up to $12 per night. Take that $12 and multiply it by the number of nights and the number of guests in your stateroom. That will be your suggested tip amount. For my family of four on a 12-night cruise this summer that was $576. That's a lot of money, but the people who received the tips did a ton of work for us during those 12 nights (all with a smile on their faces)!
2. You Can Change Tip Amounts – As mentioned above, Disney now automatically charges the standard tip amounts to your onboard account. Those amounts are auto-charged, but not set in stone. If you want to give more, or in the rare circumstance where you may want to give less, you can go to Guest Services before the cruise ends and have them changed. If you just want to add a little, you could also add some cash to the tipping envelopes you will find in your room on the last day of the cruise.
3. You Can Prepay Tips – If you want to keep down that onboard bill and pay for everything ahead of time, just call Disney or your travel agent and you can prepay your tips up to 3 days before you sail.
4. Bring Small Bills to Tip Porters and Bus Drivers – If you use Disney transportation (or some equivalent) during your trip, you will probably notice a not so subtle sign posted near the driver saying something along the lines of "Tips are Appreciated for Good Service." Consider giving them a few dollars after you arrive. The old adage that everyone who touches your bag should be tipped also applies here at Disney. There are several possible times someone may assist you with your bags. When you arrive at the port, tipping the driver will cover that since he/she will help get your bags on and off the bus. If you're in your own car or a private transfer, when you arrive at the port the porters will offer to take your bags from you to deliver to your stateroom. It's customary to tip them $1 to $2 a bag.
5. Some Drinks have a Gratuity Automatically Added – Any drinks, non-alcoholic or alcoholic, you order from a bartender will automatically have a 15% gratuity added. Any soft drinks, bottled water, or alcohol you order from room service will have an automatic gratuity. In addition, if you order a smoothie, bottled water, or alcohol from your dining Server, they will add a gratuity. You do not need to add more unless you are so inclined.
6. Spa Tips Are Automatically Added – An 18% tip for services at the spas onboard will automatically be added to your bill. Again, you do not need to add more unless you are so inclined.
7. Room Service Tips – With the exception of a few packaged items and the drinks listed above, room service is complimentary. It is, however, customary for many to tip the person that brings it. They will bring a "bill" for you to sign when they bring the food, even though the bill total can be zero. Sometimes they don't offer the bill to you, but they always have it if you ask. You can sign it and add a tip onto your onboard account. If you'd rather tip in cash, have a few small bills on hand. $1 – $2 per person is a good tip. When my kids were younger, they always enjoyed handing out the tips when the room service arrived.
8. Bring Cash to Tip Excursion Operators – Tipping your driver and tour guide on excursions is customary. So, bring some cash with you for your excursion operators and drivers! We've found US dollars are accepted just fine in many foreign ports (particularly in the Caribbean), but you can obtain foreign currency to use for tips at Guest Services onboard when needed. I can't tell you how many times we've forgotten to take cash off the ship when going on an excursion. Seriously. It's embarrassing. Don't be like my family. And on an unrelated note, apologies to all affected tour operators or friends and family traveling with us whom we've had to borrow money from.
9. There May be People You Want to Tip but Shouldn't – That sounds a little crazy doesn't it? It's true, though. Not cash anyway. There are some positions that are non-tipping positions and they cannot accept cash. Kid's club counselors come to mind. Any cash tips they receive are supposed to be turned into the supervisor and pooled for a group party or something similar. If that's what you had in mind, then go ahead! If you'd rather reward a specific counselor, come up with something other than cash that they can keep.
10. Palo and Remy Tips are Included in the Price. Kind of – Brunch and dinner at Palo cost $25 per person. Brunch at Remy is $50 and Dinner is $75. Disney is clear as mud on whether that includes a tip for your server. Apparently there is a small portion of that cost that goes to your server. And when I say small, I mean about $5 split between several people at Palo. If you've ever experienced the level of service you get at either restaurant, you'll know that they easily "deserve" more than that. Personally, I'd recommend tipping based on the value of the meal you received. You'll find at Palo especially, that meal would have cost much more on land and you can tip accordingly. If you purchased any alcohol not included with the meal, there will be an automatic tip added for that. So get off your wallet! The chocolate soufflé alone at Palo is worth the tip!!
So do you have any tips on tipping for us? Any questions about tipping?