25 Drinks of Christmas – Day Sixteen: Pear Cider with Firewhisky at Leaky Cauldron
We're back with everyone's favorite theme park advent calendar: a daily countdown of our favorite drinks at Walt Disney World, Universal Orlando, and SeaWorld building anticipation to the Big Day. 
Criteria: Drinks can be alcoholic or nonalcoholic. Drinks can come from any venue on property. Bonus points awarded for atmosphere where the drink is served. Any drink with glow cubes is immediately disqualified. Ready? Let's go!
DAY SIXTEEN: Pear Cider with Firewhisky at Leaky Cauldron (Universal Studios Florida)
–
To celebrate the release of the trailer announcement for Fantastic Beasts and Where to Find Them, we ourselves are heading back into the Wizarding World. Today we make a stop in Diagon Alley and try the Pear Cider with Firewhisky found inside the Leaky Cauldron. While the Wizarding World has blessed us Muggles with some fantastic beers such as Dragon Scale and Hog's Head Ale, Blishen's Firewhisky is our first taste of liquor enjoyed by wizards and witches. Known for filling one's body with courage, Firewhisky can be purchased as a single shot, a double, or as we recommend: mixed with pear cider (you can't go wrong having it with apple cider either). Here's a toast to Alastor Moody, Cedric Diggory, Fred Weasley, Remus Lupin, Nymphadora Tonks and all the great people we have lost over the years but will live forever in our hearts.
Ingredients: Pear cider, Blishen's Firewhisky, and a pinch of magic.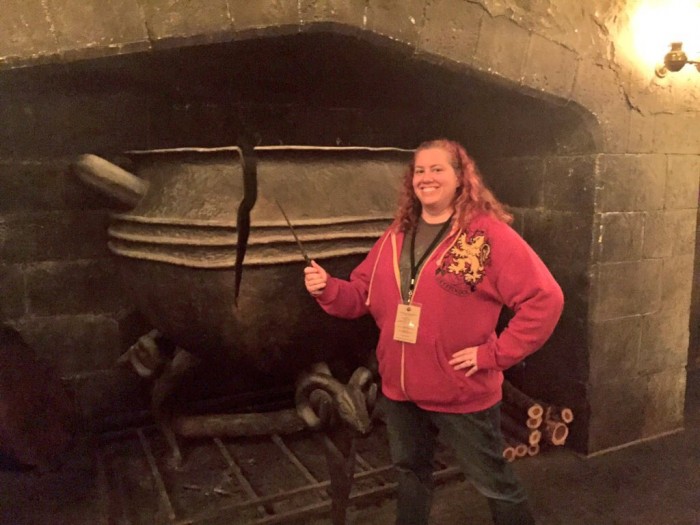 –
An ultra-themed dining experience straight out of the Harry Potter books and movies, the Leaky Cauldron features a menu that makes you actually wonder if you are eating a meal inside a theme park. With some of the best drinks, snacks, and foods at Universal, the Leaky Cauldron is one of our favorite places for a meal in Orlando.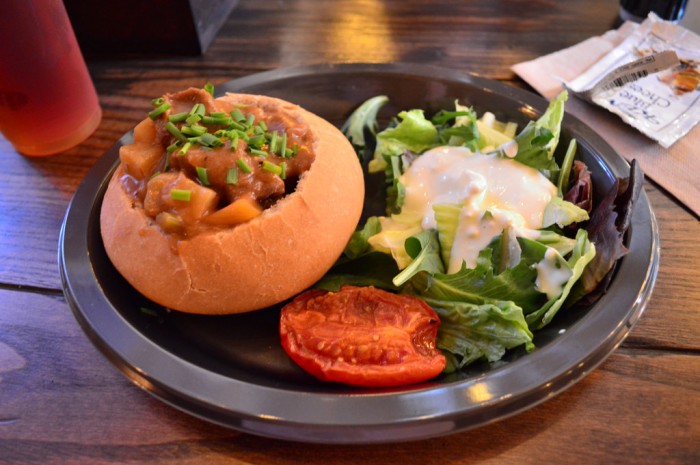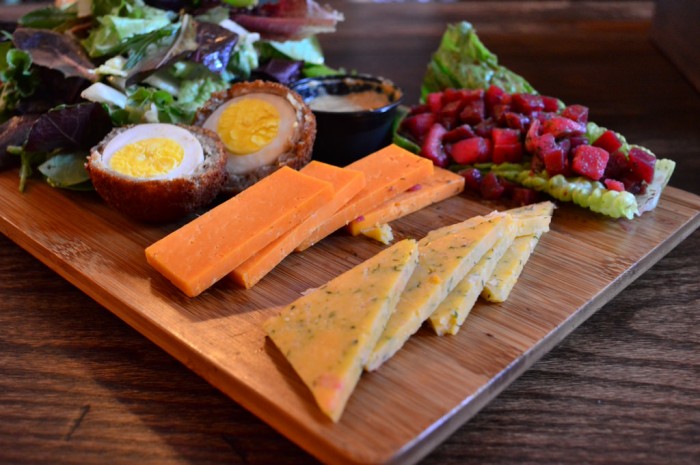 –
Previous Drinks of Christmas:
DAY ONE: Polynesian Pearl at Trader Sam's Grog Grotto
DAY TWO: Dufftoberfest at Duff Brewery
DAY THREE: Godiva Chocolate Martini at Mizner's Lounge
DAY FOUR: Blood Orange Side Car at Swizzle Lounge
DAY FIVE: Imperial Pilsner at Morimoto Asia
DAY SIX: Smoking Gun at Emeril's Orlando
DAY SEVEN: Mint Julep at BOATHOUSE
DAY EIGHT: Bees Knees at The Cowfish
DAY NINE: Cool-headed Monkey at Jock Lindsey's Hangar Bar
DAY TEN: 5 O'Clock Somewhere at Jimmy Buffett's Margaritaville
DAY ELEVEN: Key West Kiss at Shark's Underwater Grill
DAY TWELVE: LeFou's Brew at Gaston's Tavern
DAY THIRTEEN: Himalayan Ghost at Thirsty River Bar
DAY FOURTEEN: Schweitzer Slush at Skipper Canteen
DAY FIFTEEN: Dark & Tropical Stormy at Trader Sam's Grog Grotto
Interested in theme park drinks? Then do we have a eBook for you! The Walt Disney World Bars and Lounges eGuide by Brian McNichols. Over 250 pages and containing well over 400 photos, this eGuide takes you through EVERY bar and lounge on WDW property (trust me, Brian has the kidneys problems to prove it!) Also included? Recipes for some of your favorite WDW drinks. Ratings, descriptions, and photos for each of the 70+ bars and lounges. Talk about the perfect Christmas present!
Special thanks to crack staff photographer Brandon Glover and Fred Weasley's widow Megan Stump for their invaluable assistance with this article. Be sure to also check out Brandon on The Park Blogger podcast with co-hosts Aengus Mackenzie and Brian Carey.
You can always find Your Humble Author each week on the SATURDAY SIX, each month with the Disney Outlet Store Photo Report, and on Twitter (@derekburgan) producing original pieces of Burgan Fine Art™