The Basics: Planning A Trip to Universal Orlando for Disney Veterans
This is a continuation of our Back to Basics Series. Scroll to the bottom to see our other Basics posts.
Even the most ardent Disney fans have become aware that there exists ANOTHER theme park complex in Central Florida that people visit from time to time, and some of you have probably even considered popping over there for a bit to see what it's all about. Gatorland aside, however, let me tell you about Universal Orlando, which is yet another top notch theme park experience that you should consider. This article will hopefully provide you with some guidance as a first timer to help you get the most out of the experience.
Let me get this out there at the outset: I realize that there exists this whole "Disney vs. Universal" rivalry that exists in the fan community. I'm not really trying to steer anyone towards one park or the other, I'm just trying to provide enough objective information to help Disney fans that are considering going to Universal make an informed decision and plan for the best trip possible. Because I am writing this for those that are familiar with Disney, however, some comparison of the two is a useful way to go about it, as it provides some context. I'm sure some of the more passionate folks on either end of the issue will take some of these thoughts as a shot across the bow. Just know that I'm a fan of both places, I have annual passes at both places, and I'm honestly doing my best to be as fair as possible. Please keep that in mind before you fire off your scathing email or comment! So, without further ado, let's jump in!
Should You Go?
So, question number one: is Universal worth your time and money? The short answer is "Yes, absolutely," Universal Studios Orlando and Islands of Adventure are extremely well-done theme parks that are worthy of their position alongside Disney as the giants of the theme park world. With that said, Universal is definitely set up more for some traveling groups than others:
Harry Potter Fans:
If you're a fan of the Harry Potter series, Universal's theme parks will seem like a love letter written personally to you. The theming in both Hogsmeade and Diagon Alley is next-level stuff that will completely transport you into J.K. Rowling's universe. It is at least as well-done as Disney's best work, and is simply spectacular. Even if you're not a Harry Potter fan, you'll likely still appreciate the incredible attention to detail in both of these areas, but if you are a fan, it will blow you away.    
Thrill Ride Fans: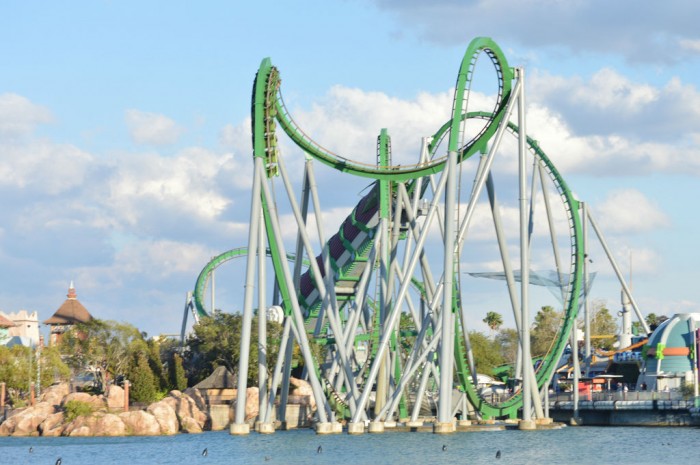 Because so many of Universal's top attractions have a height requirement or are fairly intense, being willing, ready and able to experience thrill rides will broaden the park's appeal to you. Universal delivers more visceral thrills than Disney does, so if you're the sort of person that gravitates towards Rock 'n' Roller Coaster, Tower of Terror, and wish that Magic Kingdom's mountains were a little faster and bigger, you're probably going to be pretty happy with Universal's offerings.  
Conversely, Universal is for this reason not as great a fit for families of exclusively small children. The first time we took our daughter to Universal, she was two and a half-years old. There was stuff that she could do, but we felt like a lot of the time, we were dragging her from thing she couldn't do to thing she couldn't do — and when there was something she could do, we were just watching her do it.
As compared to Disney where many things have broad appeal, I definitely felt that at Universal, things that appealed to small children were the exception to the rule, and most of those attractions had very little appeal for the accompanying adults beyond offering them a breather. There are some really great play areas at Universal for the smaller set (my daughter could spend all day at Camp Jurassic), but the number of things that you and your preschooler can do together are more limited than at Disney.
If you are only planning on going to Universal once, it would be best to wait until your kids are tall/brave enough to do the bigger rides.  The magic height to ride anything and everything as this goes to press is 54″.    
What to Expect
Property Configuration
If you're used to the sprawl that is Walt Disney World, Universal will feel positively cozy. There are two theme parks at Universal — Universal Studios Florida, and Islands of Adventure — that flank a central dining and entertainment district called CityWalk. As compared to Disney parks which tend to have a central focal point with attractions and lands that radiate out from there, there is a body of water at the center of both Universal parks, making moving around the parks more like walking around World Showcase than Magic Kingdom. That said, the loop around is nowhere near as large as the lagoon in Epcot in either park.    
It takes about 5 minutes to walk from the entrance of one theme park to the other, and all of the hotels are walkable from the parks within 15 minutes. As of this writing, there are four hotels on property at Universal Studios Florida — Loews Portofino Bay, Hard Rock Hotel and Loews Royal Pacific Resort are comparable to Disney's Deluxe hotels, and Cabana Bay Beach Resort is considered a Value hotel. Another moderate property, Sapphire Falls, is currently under construction and will be opening soon. All of the hotels are an easy walk to and from the parks. If you are going to Universal as a part of a larger trip to Central Florida, I generally recommend putting your Universal visit either at the beginning or end of your trip and staying at one of the on-site hotels as opposed to doing it as a day trip from Disney, even if you're only planning on spending one day at Universal.
There are two reasons for this: first, the on-site hotels are quite nice and are cheaper than comparable Disney hotels, so if you're not going to be at Disney during this time anyway, why pay Disney prices and have to deal with transportation to get there and back?  The other reason is that guests of all Universal hotels get early entry into the Harry Potter areas, and guests of the three Deluxe hotels get the Universal Express Unlimited Pass for free, which is a frankly better version of Disney's FastPass+ service that I'll discuss more below. Hey, you've got to sleep somewhere, and the Unlimited Express Pass is a great perk that will really move the needle for you on a Universal trip.
Food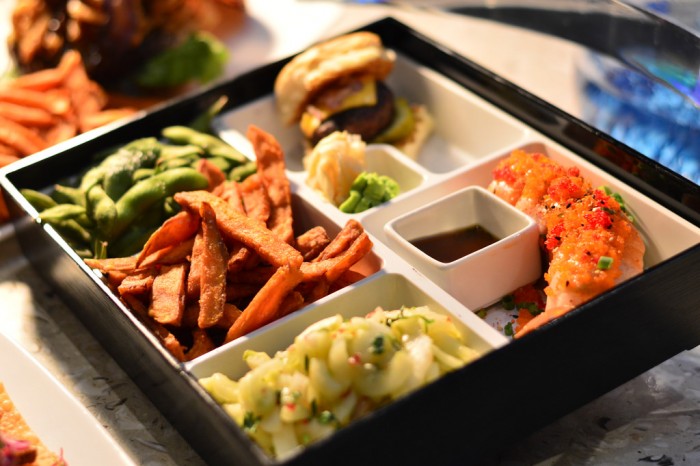 As compared to Disney, where it is common to make dining reservations 6 months in advance, dining at Universal is a comparatively low stress affair. Very few in-park restaurants even take reservations, and you can often get into those with a modest wait even without a reservation. With that said, if you're really gung ho about eating somewhere, getting a reservation a couple of weeks out from your trip to be safe should be more than sufficient. In park, Mythos and the dining options in Hogsmeade and Diagon Alley are all noteworthy for providing excellent theming. 
With respect to in-park food, most of it is served at quick-service (think fast food) establishments and is decent, but nothing special. More interesting table service places can be found just outside at CityWalk or at the various resorts. There does exist ample standard tourist fare, like Jimmy Buffet's Margaritaville, Bubba Gump Shrimp and the Hard Rock Cafe, but there are some higher end options such as Emeril Lagasse's Emeril's Orlando and Emeril's Tchoup Tchoup and some unique dining like The Cowfish Sushi Burger Bar (burger/sushi fusion) if you're looking for something a bit different. There are too many places to go over here (check out our dining section for more detail), but suffice it to say that there should be ample options to satisfy you regardless of your taste.
Atmosphere
With the addition of the two Harry Potter lands and Hogwarts Express that make up the Wizarding World of Harry Potter, which are simply spectacular, Universal has significantly closed the gap as compared to Disney in terms of the quality of the theming. With that said, however, most Disney guests will probably find the theming at Universal, with the noteworthy exception of the Harry Potter additions and a few other areas (Jurassic Park, Springfield U.S.A., etc.), to be relatively superficial as compared to what you would find in the Magic Kingdom or most parts of Animal Kingdom. For example, while Disney goes to great pains to ensure that when you're in one land, you can't see any others, the same really isn't the case at Universal. Also, there are lots and lots of areas in Universal, particularly on the Studios side, where you can see unthemed show buildings and sound stages.   
Part of this misses the point, however. For example, many parts of Universal Studios look largely like a working movie studio because it is in fact a working movie studio. Appreciating it for what it is, there are lots of cool details in the various areas for the observant to check out. Similarly, the left-hand side of Islands of Adventure has a decidedly two-dimensional feel, which makes sense when you consider that the areas are themed around comic strip characters. When Universal really pulls out the stops, however, it is capable of delivering extremely detailed and immersive worlds.
In general, Universal has a more adult feel to it. The rides are more intense, booze is freely available, and the humor is edgier than what you'll find at Disney. In fact, it is not uncommon for shows or Universal employees to openly mock all things Mouse. It's not mean spirited and most people take this in good humor, but it's worth mentioning if you're exceptionally protective of Mickey and his crew.
Attractions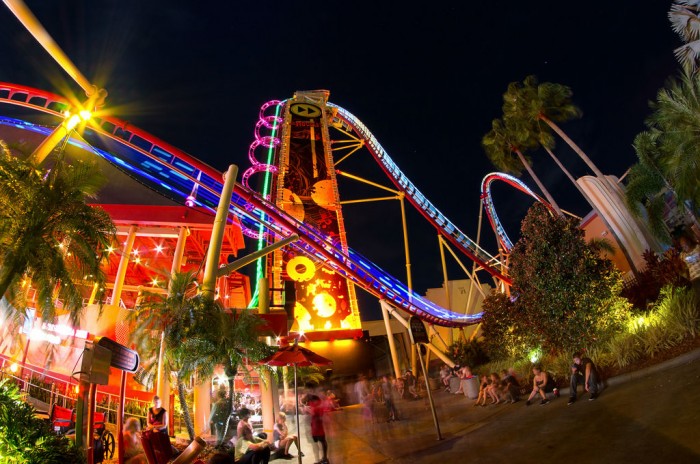 One area where Universal unquestionably stands toe to toe with Disney is the quality of its attractions. I lack the engineering gravitas to know which of Disney or Universal's attractions are in fact more technologically advanced, but the tech is much more on open display at Universal. Also, as I mentioned earlier, Universal's rides are almost universally, pun intended, more intense than comparable Disney attractions. For example:
Universal also firmly embraces the idea that water = fun, and there are ample opportunities to get wet or, if you prefer, absolutely drenched. Even things that you wouldn't expect to involve water nevertheless spray you, and it is not uncommon to see people at Islands of Adventure in particular — where three of the top attractions are serious water rides — that look like they just stepped out of a shower. The Universal water rides are similar in concept to Splash Mountain and Kali River Rapids, but there are also water cannons strategically placed on the pathways to allow passers-by to spray people on the ride. In other words, even if the ride itself manages to spare you, you're not necessarily out of the woods if you're trying to stay reasonably dry. Popeye & Bluto's Bilge-Rat Barges, in particular, is noteworthy for its ability to get you "why-didn't-I-just-jump-into-a-pool" wet.
Universal's Express Pass Service
Universal's answer to Disney's FastPass+ service is called Universal Express, and it works pretty much the same way as FastPass+ in that it allows you to experience attractions with minimal wait, with the notable (and awesome!) difference that there is no need to reserve it in advance and you can use it whenever you want. An unlimited version of it is free to guests of the Royal Pacific, Hard Rock and Portofino hotels as a perk of staying at those hotels, and versions of it are available for purchase by everyone else.   
It is frankly the best hotel perk I'm aware of in Orlando and provides you with such an advantage at some times of the year that it's worth considering getting a hotel room just to be able to take advantage of it. It is valid for the length of your stay, including both check-in and check-out, so even if you're only there for one night, you get 2 days of Express Pass service for free. Having one will largely obviate the need to plan anything other than the primary Harry Potter attractions (which do not use Universal Express), and the cost of Universal Express is such that if you have a family of four, you're going to be close enough to the cost of a hotel room that it's worth paying for the hotel to have it AND be right next to the parks. Prices range from about $40 for a single-park pass during slow season to $150 for a two-park pass during busy season if you're buying it a la carte — and that cost is in addition to the cost of park admission — so it's easy to envision circumstances where it's cheaper to just stay at one of the Universal hotels for an evening rather than buying the pass out of pocket. 
Characters
If you love meeting characters, Universal is somewhat of a mixed bag. On the one hand, Universal does not have the same stable of classic and/or hot characters that Disney does, and character meet and greets in general are less of a big deal at Universal — it would be rare that you'd have to wait for than a couple of minutes for most characters, which include everything from Dr. Suess characters, to X-Men, to Dora and Diego, to the Spongebob crew. On the other hand, you'll also see Old Hollywood stars like Marilyn Monroe and Lucille Ball, and characters from the Simpsons and older movies like Hop that younger kids just don't really know. To the extent that many of the characters are for the benefit of meet and greets with smaller children, there is sort of this awkward tension where the people that should be most interested in the characters don't really know who they are. Regardless, it results in far shorter waits than you would see at Disney, which can be a nice change for those used to carving out several hours to stand in line to meet characters.
With that said, they have a handful of meet and greets that are astonishing. Optimus Prime is incredibly authentic, chatting with the shrunken head by the Knight Bus outside of Diagon Alley is a blast, and the Raptor Encounter over in Jurassic Park is the single best meet and greet in Orlando, period, full stop. I can say without reservation that I have never wanted to immediately get back in line to do a meet and greet again before, but I absolutely did the first time I did the Raptor Encounter. It's also at least as much fun to watch (although in a different way) as it is to experience it.
How Long Should You Devote to it?
This is a tricky question, actually, because the amount of time you need depends upon a variety of factors, and some of those can radically alter the answer to the question. In a perfect world, you'd want to devote 3 days to Universal — 1 day for Islands of Adventure, 1 day for Universal Studios, and then another day for the two Harry Potter areas. You probably don't need a full day for each of those three things, especially if you're staying at one of the hotels that offer Express Pass, but it would give you ample time to hit your favorites again and do everything at a leisurely pace.
The biggest X-factor is whether or not you have an Express Pass. If the have Express Pass, you can actually get a reasonably complete sampling (emphasis on sampling) of both parks in a day — you'd probably want more, but you could do it in a pinch. Without it, your day is going to be a lot more hectic and you're going to get less done.
Another factor is whether you have any little ones with you. Not only will they slow you down in general, but they will add things to your itinerary that you couldn't care less about if it was just adults or older kids. Here's a chart of what an average family, including at least one smaller kid, can expect to get done:
| | | |
| --- | --- | --- |
| | Express Pass | No Express Pass |
| One Day | All headliners and a decent sampling of other lower tier attractions | Most of the headliners |
| Two Days | Comfortably do everything you'd like to do, possibly repeat an attraction or two | Do everything you'd like to do |
| Three Days | Do everything you'd like to do, repeat your favorites | Comfortably do everything you'd like to do |
Note that someone familiar with the Universal Parks could likely significantly outpace this grid, and a first timer could probably do more in less time if they were really committed to cramming in as much in as possible.  This chart assumes to some extent that you'll dawdle to take in the new sights.
Getting There
There was a time when this was a more complex question, but today, the answer is easy — if you're going to Universal from Walt Disney World, use a service like Uber or Lyft. Using Mears' Taxi Fare Estimator, a cab ride from the Magic Kingdom area to Universal should run $45-50 as of press time, not including tip — last time we did it, it cost $60, all in. An estimate of Uber's fare from a third party site is $14-18, and our experience was consistent with that — $15.25 total. I personally find Uber to be a far more pleasant and all around easier experience than taking a cab. I have not used Lyft in Orlando and can't vouch for it, but the pricing is similar to Uber, estimating $18 for the same run.
In the interest of being comprehensive, there are also shuttles that Mears runs between the two resorts. With that said, they will generally cost more than an Uber and are less convenient, so I'm not going to discuss them further.
If you're heading to Universal directly from the airport, be aware that UberX cannot pick you up there, only UberBlack, which is quite a bit more expensive. Your options in order of expense are therefore to (1) rent a car, (2) take a cab ($60-65 all in), or (3) take UberBlack or use a car service, which will cost about the same ($70-$80 all in). Renting a car requires more hassle, however, and the cost of parking will eat into your savings, especially if you're going to be there for more than one night.
As always, we love hearing comments from our readers.  Did I miss anything critical for a first-time Universal visitor to know?  Any tips and tricks from the wise?  Let us know in the comments!
Additional Back to Basics Posts