Dealing with Diapers and Potty Training at Walt Disney World
Traveling to Disney World with a baby or toddler means that you'll be dealing with diapers during your vacation. Oh, pooh!
On the plus side, finding a place to change junior is no problem at all. Disney knows its clientele well and has outfitted nearly every public restroom in the parks and resorts with a changing table. Even most of the men's rooms are equipped with changing facilities. All the restroom locations are noted on the park maps, or just ask a cast member to point you in the right direction.
Buying Diapers
While finding a convenient spot to change the baby is easy, finding fresh diapers to change your baby into can be more of a challenge. Diapers and wipes are sold in all of the resort gift shops, in vending machines in select restrooms, in some theme park gift shops (though they will be behind the counter, so you have to ask), and at the in-park baby care centers (one in each theme park, locations are noted on the park maps). Expect to pay significantly more than you would if you were buying diapers at your local Target.
Another confounding factor is that the brand and size selections available here are extremely limited. Generally, you will only find Huggies brand size 3 or 4 sold in the parks and resorts. If you've got a newborn or an older toddler, or are price sensitive (and aren't we all), you're out of luck. Similarly, pull-ups and other specialty diapers are in short supply.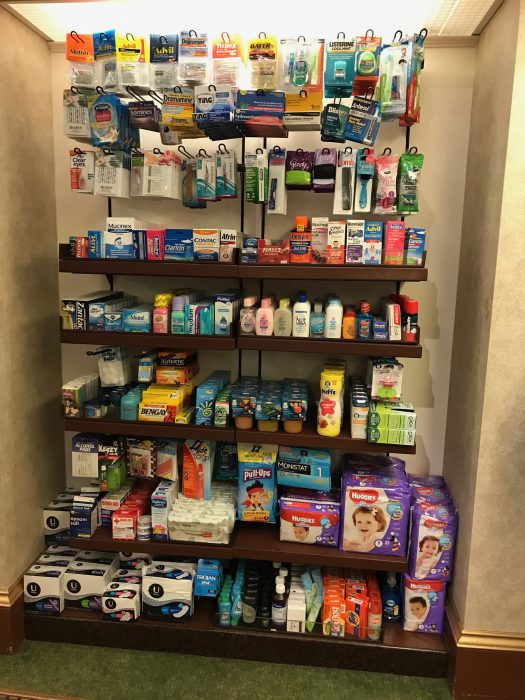 The WDW diaper situation means that you'll need to acquire your diaper supply in one of the following ways:
Bring a box from home. Easy if you're traveling by car. This is more difficult if you're flying to WDW and are paying luggage fees.
Stop at a local Orlando-area supermarket, drugstore, or discount store. Works if you are using a rental car or towncar service that has a stop built into your fee.
Take a cab or rideshare service to a store after you've arrived at WDW.
Arrange for a delivery to your hotel from a local grocery service such as gardengrocer.com. A good choice if you also need baby food, snacks, water, and other items delivered.
Arrange for a delivery to your hotel from a local drugstore such as turnerdrug.com. A good choice if you also need prescription or non-prescription medications.
Arrange for Amazon same-day delivery to your hotel.
Mail a box of supplies to yourself at your hotel. You can do this directly or through any online retailer.
Before deciding which route to take, it pays to do a bit of math. Some of these options incur small fees from Disney, depending on which hotel you're staying at and/or whether you encounter a particularly kind cast member. For example, the resorts that have convention facilities on site may charge you $5.00 to collect packages. Additionally, the delivery services may charge shipping or a delivery fee, and you may want to factor in tips for either bell services or the delivery service, or both, depending on the option you choose. Be sure to factor those costs in when making your budget projections.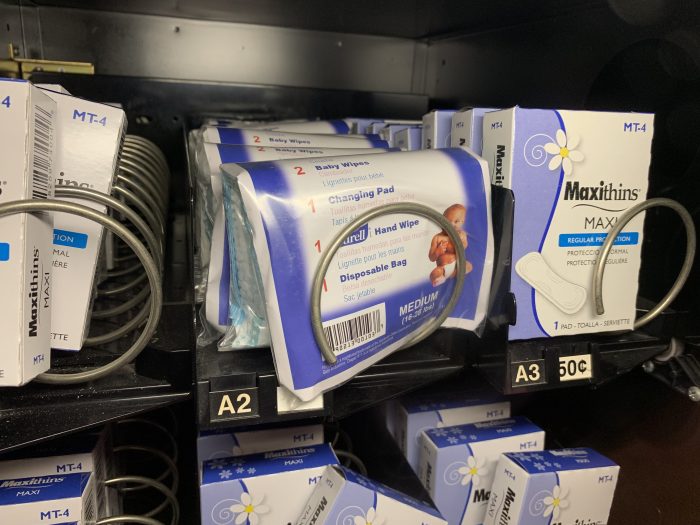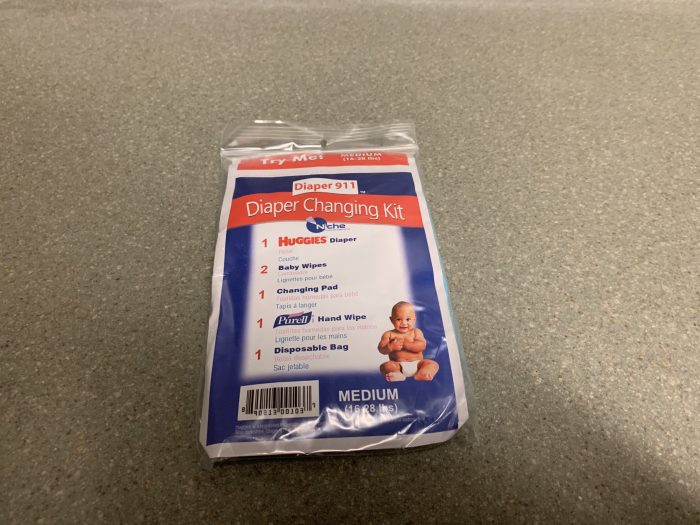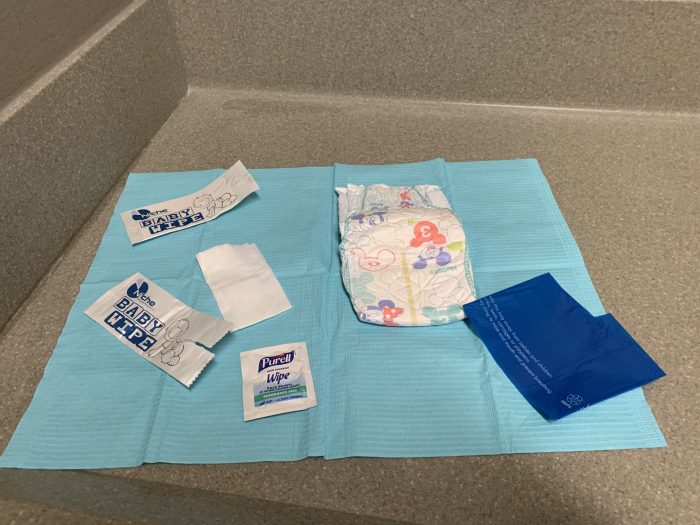 While each family will develop their own strategy about how to manage diaper supplies, because of the possible lack of availability of the right size/style while touring, you'll want to bring several more diapers than you think you'll need into the park each day.
When my daughters were babies, we stocked a large diaper bag with two full days worth of supplies. We left the bag in the stroller while we enjoyed the rides and attractions. However, each time we left the stroller, we were sure to bring at least two diapers (as well as our valuables) with us in a small purse or backpack. This way we were not weighed down in lines, but felt safe that we had enough baby care supplies on hand for emergencies. There are also lockers available for rent in the theme parks if that works better for you.
Once you have your supply situation sorted out, changing diapers at the parks is a breeze. The restrooms have ample changing tables. Restroom locations are noted on the paper maps you can get in at the parks, as well as on the My Disney Experience app.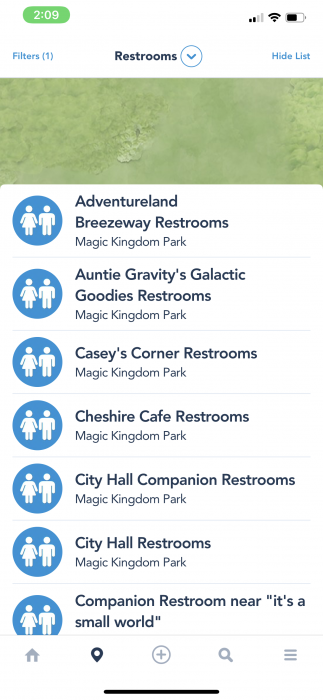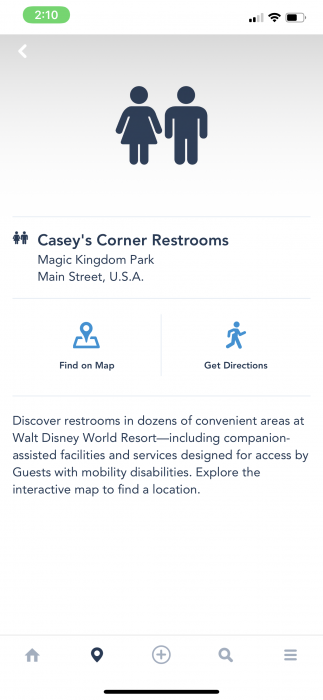 Potty Training Strategies
A more difficult problem is taking a child to the Disney parks (or to any new place) while he or she potty training or newly potty trained. The hyper-stimulating theme park environment can make even the most skilled preschooler forget firmly established bathroom habits. With many guests booking vacation travel months, or even more than a year in advance, it can be difficult to predict exactly where your child will be on the potty training spectrum at the time of your trip. With one of my children, I actually delayed fully training one of my daughters, keeping her in pull-ups until after a WDW trip, because I wanted to avoid potentially messy accidents.
If you are going to bring a training or newly trained youngster to the parks, you should be aware of the following:
Each theme park has a baby care center with a toddler-sized flush toilet. However, there is only one per park. Planning to use this as your main toilet is not a realistic option.
Your child may be too distracted to tell you when he needs to go (seriously, there's a lot going on). Try taking him to the restroom before every ride or two. Be sure to factor in wait times as well as the length of the actual ride when estimating how long you'll be away from toilet facilities.
Use tools like a touring plan and Lines to minimize time in lines. However, if you do find yourself in a lengthy queue and a bathroom emergency arises, you might be able to return to your spot in line without additional wait time. For attractions with FastPasses, cast member attendants have the discretion to issue you a special pass to use the FastPass line. While this is not guaranteed, speak to the cast member at the queue entrance if you find yourself in this situation.
Most in-park restrooms have automatic flush toilets. These are motion sensitive and are prone to mid-business activation by squirmy toddlers, thus terrifying them. A common solution is to bring a roll of painter's tape or a pad of Post-Its into the restroom to cover and temporarily disable the motion sensor. Just remember to throw out the tape or paper when you're done.
There are no mini porta-potties for sale at Walt Disney World. If that's the only way your child can go, you'll need to bring one from home. PLEASE use a potty liner and dispose of it properly in a restroom trash bin.
My family's personal lifesaver was a portable folding toddler toilet seat. This item compacts to about the size of a hardcover novel (not tiny, but easy enough to fit in a backpack), and costs less than $20. This converts any regular toilet seat into just the right size for a training tush, eliminating fears of "falling in." (Full disclosure: the link in this bullet directs to the TouringPlans Amazon store. We get a small referral fee if you purchase through the link.)
Swimming
Disney posts signs near each of its many pools which state: "For your safety, diaper-age children must wear plastic pants or swim diapers…" The lifeguards do not police this policy and leaves the use of swim diapers to the discretion of the parents. If you feel that your child is not "diaper-age" any more, then you can skip the swim diaper.
While Disney leaves a lot up to individual families, you may want to consider that WDW is a new and challenging environment for some toddlers. They're tired, or they're preoccupied with having fun in a place they've never been, or spending all day in the water is a new experience, etc. And the child might forget some recently learned skills. When in doubt err on the side of caution. There are swim diapers for sale in the gift shops at the water parks and most of the resorts. Again, sizes are limited and prices are high, so bringing some from home can make things easier.
In the Hotels
The WDW resorts have some baby care items to borrow at no charge during your stay, among them is a Diaper Genie diaper disposal device. Whether or not you choose to use this, make sure those diapers are wrapped up tight for disposal.
Diaper Etiquette
As the mom of three who made many trips to Walt Disney World during the diaper and potty training years, I completely understand how overwhelming it can be to add diaper issues to an already complicated day at Disney. However, please take the extra step to make sure that you're taking care of business in a sanitary way. That means you should use a pad when changing your child in a restroom, and that you should always change your child in your hotel room or in a restroom, not poolside or on a random park bench. If a mishap occurs and their is an accident in a public area, please alert a cast member so that they can arrange for proper cleaning of the area.
Have you brought a diaper-aged child to Walt Disney World? What were your challenges? What solutions did you devise? Let us know in the comments.