SATURDAY SIX Presents: Everything You Wanted To Know About the Disney Outlet Stores (But Were Afraid To Ask)
This week's SATURDAY SIX takes a look at the Disney Outlet Stores in Orlando! Earlier this week, the SATURDAY SIX's sister series – The Magic, The Memories, & Merch! – celebrated its five year anniversary. A monthly look at the Disney Outlet Stores?
They said it wouldn't be done.
They said it couldn't be done.
Now that it has been five years, they all agree it shouldn't have been done.
However, each month we get questions about the Orlando Disney Outlet Store "experience" and we thought it was time to give you, Dear Reader, a rare look behind the scenes to see how the sausage is made. Consider this an "Outlet FAQ" and hopefully it will help you make a decision on whether or not a trip to the Outlets is worth part of your valuable vacation time.
# 6 – There are TWO Disney Outlet Stores in Orlando
First things first. Each of the two Disney Outlet Stores are officially named Disney Character Warehouse. One is located at the Orlando Premium Outlets on Vineland Ave (close to Disney Springs) and the other is located at the Orlando Premium Outlets on International Drive (next to Fun Spot and very close to the Universal Orlando Resort.)
Both stores carry many of the exact same items, but it is important to note that the Vineland Character Warehouse is a much bigger store than the location on International Drive. That said, the Outlets in general on Vineland can be a complete madhouse every day of the week, but especially so on the weekends. Just like going to the theme parks, it is important to pack your patience as experiencing the Outlets on a busy day can be just as frustrating and nerve wracking as a theme park newbie hitting the parks when the crowd calendar reaches a 10.
The Orlando Premium Outlets may look a lot like areas at Disney Springs, but the shopping experience is much different. Just getting to the Disney stores will have you walking by a whole bunch of salespeople trying to do just about anything to get you to stop. If you thought time share sales pitches could be pushy, just wait until you run the gauntlet of vape sticks, luggage, and perfume salesmen. In general, a large percentage of people that visit the Orlando Premium Outlets are international guests, and they are more used to an aggressive sales force. If your only experience in shopping in Orlando is at Disney Springs or at the Disney theme parks, just know you can always say "no, thanks" and walk away.  You may also want to leave any "personal space" issues back at home as well, because traversing a packed Disney Character Warehouse will make you wish for the wide open and large spaces of the stores inside Hogsmeade Village.
# 5 – Parking is AWFUL
Let's go back to Disney Springs for a second. The parking situation at Disney Springs is now the best in all of Walt Disney World. It has dedicated ramps leading guests to parking garages which will tell them exactly how many spots are available. Anyone who tried to go to Disney Springs during the time they were building those parking garages will remember how absolutely miserable it was. As bad as that was – and it was horrible – it was still better than trying to park at the Orlando Premium Outlets now.
To say parking at the Outlets can be next level bananas is the understatement of the century. Somehow the Outlets made it even WORSE this year by adding a whole bunch of paid parking (until now the parking was all free.) There is valet parking for $15. The Vineland location has an indoor parking garage, which is $10. There is "premium" self parking, which is $3 for the first two hours and then $3 for every additional hour. Finally there is free parking, and you can imagine how close to the stores those are. Before they even made parking an up-charge, parking at the Outlets was crazy. Guests park anywhere and everywhere, often finding out their cars are towed when they come out. The best way to avoid stress as well as feeling the need to pay for parking is to arrive at the Outlets early in the morning or much later in the evening.
# 4 – The early bird may get the worm, but it still won't be early enough to beat the eBay pirates
As we just said, one of the best ways to get decent free parking is to arrive at the Orlando Premium Outlets at "rope drop." The hours for the Disney Character Warehouse are generally 10AM-11PM, but they often have increased hours for the Christmas shopping season. However, if you are at the Disney stores in the first hour they are open you are more than likely going to have to "compete" with the eBay pirates. These are people who buy items at the Outlets to flip them on sites like eBay, or run their own Disney merchandise websites. Like raptors, they work in packs to get around the Disney policy of only being able to buy 10 pieces of any item. For many of the more unique items they will buy every single one before anyone else gets a chance to even see it, let alone buy it. The check out experience at the registers is already probably one of the slowest on property – especially since any item that has any potential of breaking is wrapped more securely than nitro glycerin being driven in a war zone – and being stuck being one of these pirates buying tons of the same items will test your patience.
Here's an example of what you may encounter when attempting to "rope-drop" the Disney Character Warehouse on Vineland. There are two different ways to enter the store and both will have a line of people.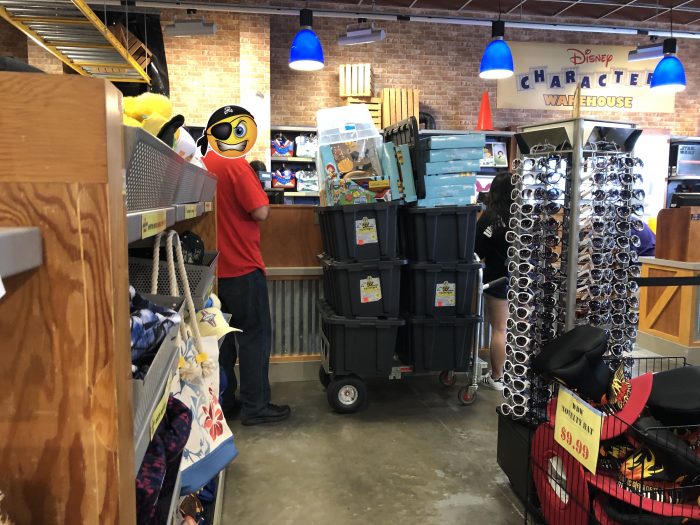 # 3 – Character Warehouse is owned by Disney, so you can use Chase Disney Visa redemption cards
That's right, think of the two Character Warehouse locations in Orlando as extensions of Walt Disney World, as they are both owned by The Mouse and are staffed by actual Cast Members. That means that almost all the of the same shopping policies that are in effect at WDW also hold true at the Outlets, including the ability to use your Chase Disney Visa redemption card for purchases.
Unlike retail stores on Disney property, there is no option to have your purchases delivered to your resort. Character Warehouse also does not ship, so you must make all your purchases in the store. There is no Annual Pass discount, or any other discount available on top of the already marked down items.
# 2 – You can buy snacks and Disney park tickets (at full price)
There are hundreds, if not thousands, of items at each Character Warehouse and almost all of them are discounted at 50-90% off. However, there are a few items in the stores which are always sold with zero discount. These include a selection of Disney themed snacks. You are paying the same (completely bonkers) price for the snacks that you would pay in the gift shop at any Disney hotel. Over the years several dining locations at the Orlando Premium Outlets have been flagged for health violations, so keep in mind that – while expensive – they may be the safest thing to actually consume at the Outlets.
Believe it or not, you can also purchase Walt Disney World park tickets along with the Disney PhotoPass Service at the Character Warehouse. As a person who has gone to both Character Warehouse stores multiple times per month for the last five years, I have yet to actually see anyone actually purchase a Disney ticket there.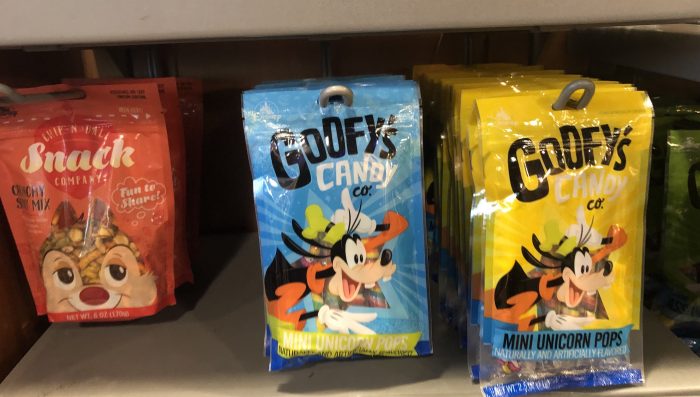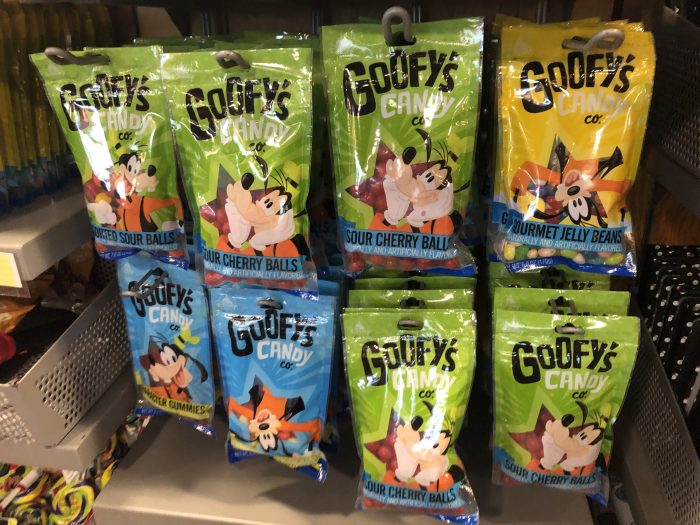 # 1 – Selection at the Character Warehouse can best be described as "The Good, The Bad, & The Ugly"
Turnover at each Character Warehouse is pretty fast. With a few exceptions, pretty much every item in the store will be replaced by something different over the next 4-6 weeks. Often times there are items heavily discounted at Character Warehouse that are still being sold at full price at Walt Disney World and the ShopDisney app.
As for overall QUALITY of the items, beauty is in the eye of the beholder. I've taken several people to the Disney Character Warehouse who come away disappointed, thinking most of the items are "junk." I think part of the negative reaction to the store is because of how busy it can be and how uncomfortable it is shopping there at times. It also depends what type of person you are. I love theme park merchandise and almost always end up spending $50-$100 a visit whereas TouringPlans' own Julia Mascardo – who lives a life many monks would call "a bit modest for my taste" – rarely buys anything on her trips to the store.
You never know what you are going to find, which for shoppers like me is part of the thrill of the hunt. There is such a large variety of items that the stores carry – including dishes, glassware, t-shirts, toys, plush, and pins – that you'll almost always see something interesting (if not something to make you open up your wallet.) Here's a few samples from over the years of items that we really enjoyed…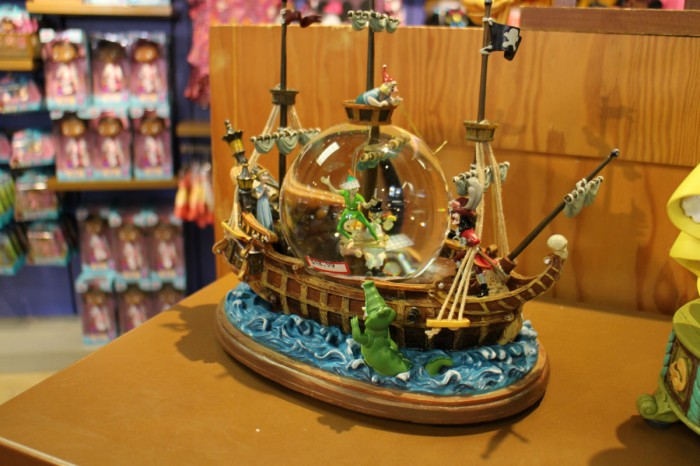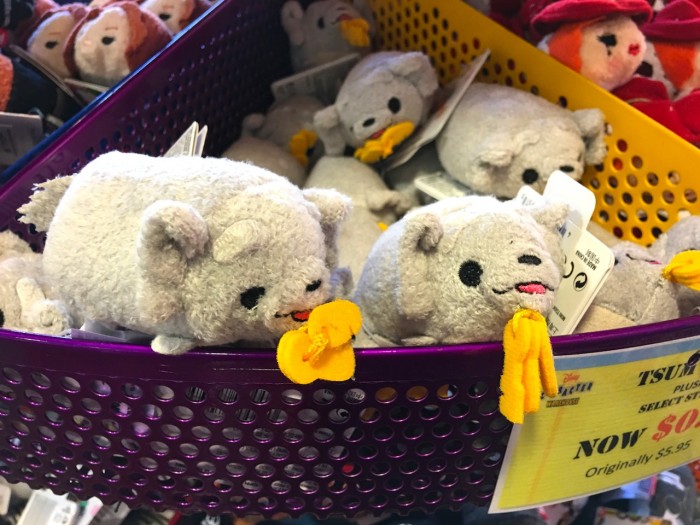 Pretty much every month you are going to find items from various Disney brands such as the Disney Cruise Line, Star Wars, Marvel, and the Disney Princesses.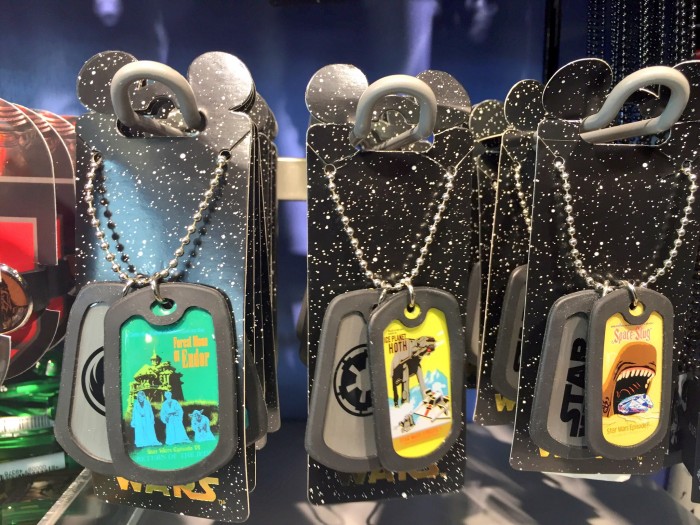 After just about every single "event" at Walt Disney World, you are almost surely going to see items show up at the Outlets. This includes Mickey's Not So Scary Halloween Party, Mickey's Very Merry Christmas Party, Epcot's Festival of the Arts, Flower & Garden, and Food & Wine.
But the reason I love going to the Disney Character Warehouse is for all the items that would otherwise find their way to the Island of Misfit Toys. Merchandise that at times is just completely unexplainable, or as Disney found out, unsellable.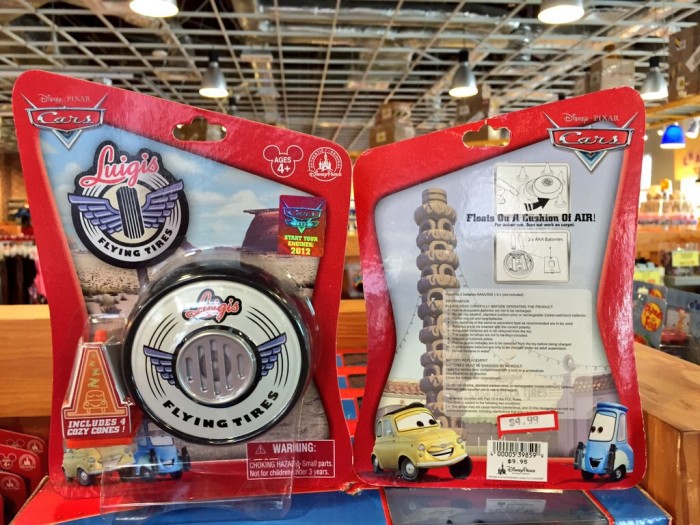 HONORABLE MENTION – A gas station that charges $6.99 a gallon (and that's for the CHEAP GAS)
On your way to the Outlets on Vineland Ave you may do a double take when passing a Shell gas station that advertises a price of $6.99 a gallon. This price IS NOT A TYPO. Generally when you see a gas price this high, you're watching a movie and its the film's way to show you that we are in the future. Not for this gas station. Nay Nay, this Shell has been selling gas at an exorbitant price for years. No one can get an official reason as to why.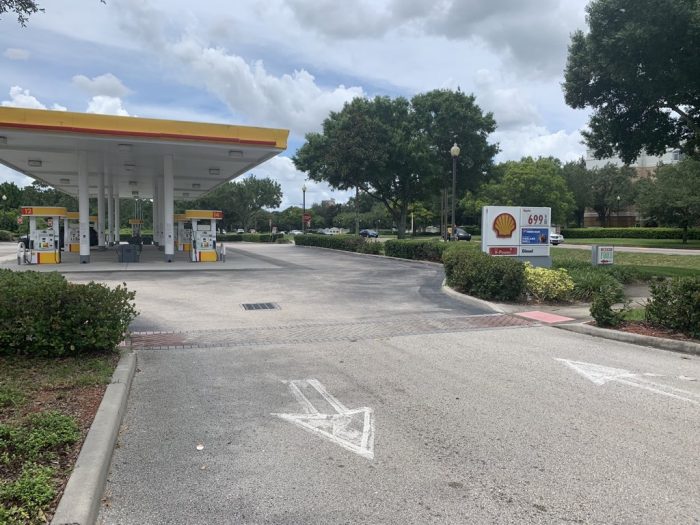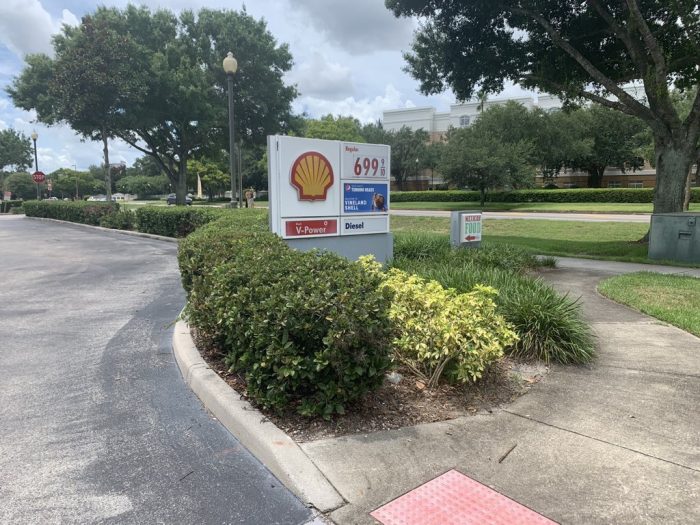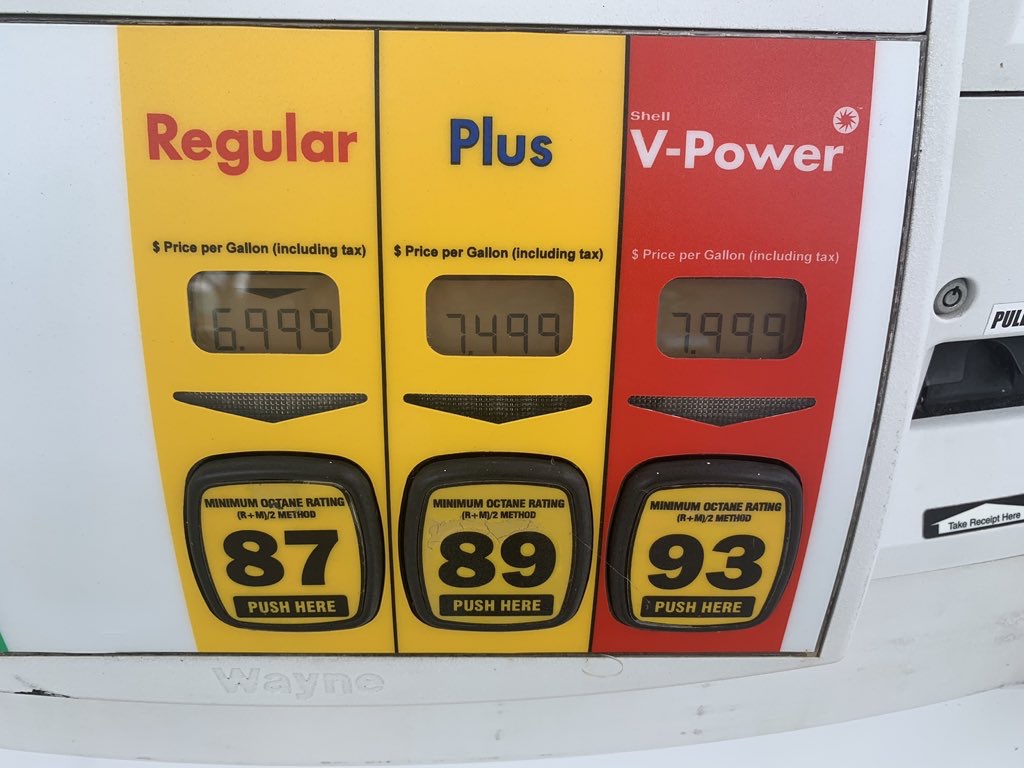 So there you have it: The SATURDAY SIX Takes You, Dear Reader, to the gates of Mordor the Disney Outlet Stores! See you next weekend for the latest installment of the SATURDAY SIX, where we'll look at something fun from the world of Disney and Universal. If you enjoyed yourself, be sure to check out The Magic, The Memories, and Merch! articles, or, for your listening pleasure, check out the E-Ticket Report podcast. You can also follow Your Humble Author on Twitter (@derekburgan).
If you enjoyed this article, you will surely like the following:
SATURDAY SIX Investigative Report: The WORST Places To Propose at WDW
6 Pieces of Disney Merchandise That Don't Exists (But Totally Should)
Are Disney's Hotels Going To The Dogs? A Review.
Walt Disney World Locations Used in Hulk Hogan's THUNDER IN PARADISE
SATURDAY SIX Investigative Report: Disney PET PEEVES
The SATURDAY SIX Uses Disney Villains To Explain Theme Park Blogging
6 Times Our Favorite TV Shows Went To Walt Disney World
Special Thanks to our spirit animal Brandon Glover, the lovely and talented Juliette Elton, Captain Cruiseline Scott Sanders of the world famous Disney Cruise Line Blog, Jammin' Julia Mascardo, Dynamite Daisy Lauren, the SAT SIX Fun Squad of Parkscope Joe and Nick, and blogger to the stars Megan Stump for their invaluable assistance with this article. Be sure to also check out Brandon on The Park Blogger podcast with goofballs co-hosts Aengus Mackenzie and LitemAndHyde , while fellow Potterheads may enjoy Meg's work on the Central Florida Slug Club.
FINAL PLUG! Did you know The 2018 Unofficial Guide to Universal Orlando has a special edition of the SATURDAY SIX in it? Finally, someone came up with an actual reason to read a book. ORDER this baby now!