Disney World Mini Golf and Massive Cupcakes
I recently returned from another magical trip to Disney World. After spending several nights in the theme parks, my family and I decided to shake things up and try something different. We headed out for an evening of Disney World mini golf and massive cupcakes. Here's everything you need to know if you want to relax with a unique outing of Disney World mini golf at Fantasia Gardens and some massive BoardWalk Bakery cupcakes!
Getting There
On this particular vacation we had rented a minivan so transportation for us was a no-brainer. We were starting our evening with a round of mini golf at Fantasia Gardens which is located right next to the Walt Disney World Swan Hotel. We just followed the trusty red and purple signs as if we were headed to that hotel and as soon as we arrived, we saw the large parking lot for Fantasia Gardens right off Epcot Resorts Boulevard. If you are using Disney transportation, your best bet is going to be taking a bus to Hollywood Studios and making your way from there. Once you arrive at Hollywood Studios, you have a couple of options. If your feet are up for it, your fastest way to get there is to take the short walk (about 10 minutes) along the path that runs between that park and Epcot. If your feet are too tired, your other alternative is to take a relaxing ride aboard one of the boats that runs among Hollywood Studios, Epcot and the surrounding hotels. If you choose option two, you will want to exit the boat at the stop for the Walt Disney World Swan Hotel. From there, Fantasia Gardens is located right by the tennis courts.
Hours
Fantasia Gardens is open every day from 10:00am – 11:00pm.
Cost
The cost is $14 per adult and $12 per child (ages 3 to 9) for 18 holes of mini golf.
Discounts
There is currently a 15% discount for Annual Passholders and DVC members.
At this time, if you buy one regular price round, you get 25% off all additional rounds through the next day with your receipt.
Discounts vary by season. Be sure to ask what is available during your stay.
Some ticket and package options include free rounds of mini golf.
Our Experience
Once we arrived at Fantasia Gardens, we had to decide which course to play. They have two very distinct mini golf courses. The first is called The Gardens course which is more of your typical mini golf course. There are cute obstacles to putt through and it is themed like the animated movie classic, Fantasia. The second course is called The Fairways and actually resembles a real golf course. Each green is longer with roughs, traps and hazards. My boys, considering themselves mini golf pros (they have been playing been playing since they were three after all), decided to choose the more difficult Fairways course. So we grabbed our scorecard, clubs and balls and off we went!
The rules are the same as your basic mini golf course anywhere. You have a maximum six strokes per hole, and you get a one stroke penalty each time your ball goes out of bounds. This penalty stroke came into play several times during our game, because The Fairways course does not have standard railings around each hole. It truly looks like a tiny golf course!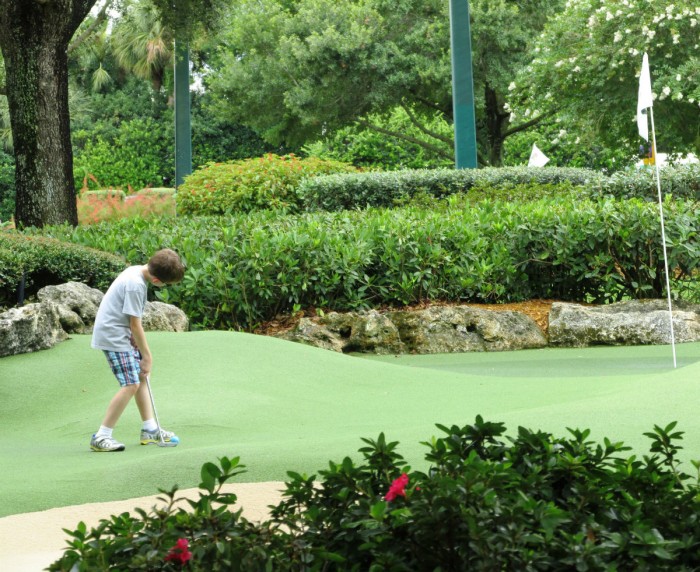 At the beginning of each hole, there is a sign that gives you hints for getting the best possible score on the hole, the distance and par. These signs proved to be extremely helpful once I stopped to read them!
Just like with their theme parks, Disney World mini golf is filled with lots of little details and surprises along the way. Be sure to enjoy the spectacular views and the enchanting musical score from Fantasia while you make your way through the course.
Don't forget to watch out for the hazards! We saw several lost balls and even a couple clubs in the water. We managed to hang onto our putters, but we did lose one ball. We were almost finished, so we just played the rest of the way sharing our other golf balls.
Things To Consider
Both of these courses are fairly difficult especially The Fairways. If you are playing with rookie mini golfers, you may want to consider not keeping score at all or having everyone play from the point of the best putt. When my boys were very young, we always had them compete against par rather than each other to avoid battles on the course.
Weather can be a factor when playing these courses. They are in the direct sunlight with little-to-no shade, so be prepared for brutally hot conditions during the warm summer months. Also, cast members monitor the surrounding weather and they will call you in off the courses when lightning is in the area.
BoardWalk Bakery
Once we had finished our challenging round of mini golf, we had worked up quite an appetite. We decided to head over to BoardWalk Bakery for a cupcake pick-me-up. It is a short walk from Fantasia Gardens to Disney's BoardWalk Inn where the bakery is located. When we arrived, there were important decisions to be made.
There are almost two dozen different pastries, cupcakes and cookies to choose from on any given day at BoardWalk Bakery. The desserts range in price from about $3 to $5 and each count as one snack credit on the Disney Dining Plan. That evening we were all in the mood for cupcakes, but it was too difficult to pick, so of course we got them all! It was for the sake of research, right? We split each of the cupcakes into six pieces so that all of us could try them. They were deliciously sweet, just as we expected. The strawberry cupcake was by far our favorite.
In a state of cupcake-induced sugar coma, we all went to bed early that night to prepare for our next big day of touring. All-in-all, the evening was a huge success. Everyone had enjoyed the slower pace of Disney World mini golf and massive cupcakes and was up early the next day, touring plan in hand, feeling refreshed and ready to go!
Do you have a favorite unique way to spend a relaxing evening at Disney World? Please leave a comment!