Uh-Oh…Every Disney World Restaurant Is Booked!
Your boss tells you that you're attending a meeting in Orlando…next week. You read too many comments on Twitter about how fun Reunion 2011 will be, and book a last minute trip. You can't think of any other anniversary presents, so you opt to surprise your spouse with an impromptu weekend trip to Walt Disney World (hint, hint Sarah). You're sitting in class desperately trying to avoid learning anything, so you distract yourself by booking a trip. You just flat out forget to make Advance Dining Reservations until two weeks before your trip.
Whatever your circumstances, if you visit Walt Disney World frequently, chances are at some time or another, you'll find yourself in this predicament. A trip to Walt Disney World quickly approaching, and you're without any Table Service restaurant reservations. Now, you can do what I always do, and walk up to the podium pretending to be Lou Mongello, but if you're tall or a female, this strategy may not work. Instead, rather than resolving yourself to dining-defeat, try these strategies.
1. Walk-Up – It seems like this one should be a no-brainer, right? However, years of the Disney Dining Plan have killed the spontaneity in dining (among other things) and  left many Walt Disney World regulars with the impression that the era of walk-up availability disappeared along with Dreamfinder in the 1990s. While that was the case for a while, it's not true anymore. Recent changes, including steps taken to reduce the number of double-bookings and the introduction of a $10 credit card hold at select restaurants for ADRs have increased the walk-up availability at many restaurants. In recent months, we've been able to walk-up and obtain tables at Via Napoli, Sanaa, Le Cellier, Sci-Fi Diner, and the Hollywood Brown Derby all with less than 30 minute waits. The best times to try this strategy are right when the restaurant opens and right before it closes, although we've been successful during "normal" dinner hours, too. Of course, if you have a party of 10, this may be much more difficult.
2. Alter Your Expectations – If you are an obsessive planner who just wouldn't feel comfortable 'winging it' with walk-up reservations, you can still book reservations in advance. Just don't expect those meals to be at Chef Mickey's and Cinderella's Royal Table. Instead, aim for less popular restaurants, or make reservations for off-hours. As a test, I decided to see what restaurants I could book today (11/11) in Epcot for tomorrow (11/12) at lunch. Much to my surprise, 12 of 16 restaurants had availability. Sure, I can't go to the over-rated Le Cellier (that's right, over-rated–heresy, I know), but there are plenty of fabulous choices on that list. Now if you're trying to do this on 12/30 for New Year's Eve, you probably won't have the same luck, but it's always worth a shot. At the very least, making a reservation guarantees you a table somewhere. You can always use it as a safety net and try for a walk-up table at a different restaurant. If you must have Le Cellier, I recommend speaking Canadian to the host or hostess and saying, "Guess what?! I got a fever, and the only prescription is more cheddar cheese soup, pretzel bread, and mushroom filet mignon!"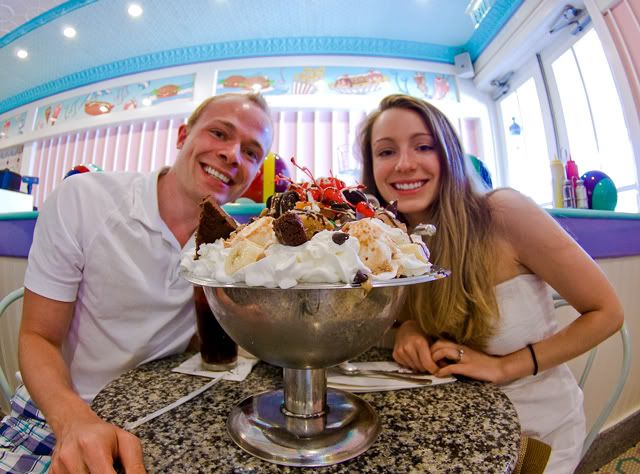 3. Eat at No-Reservation Restaurants – Well, maybe restaurant (singular) is the more apt term. I'm talking about Beaches & Cream. If you're in Epcot on a hot summer day, nothing is quite as nice as taking a stroll out of the International Gateway exit and heading over to Beaches & Cream for a delicious meal of ice cream. Beaches & Cream is a Table Service restaurant that does not even accept reservations. If you don't consider ice cream as a nutritious meal in-itself (now that's just ignorant!) you can also try one of the delicious burgers or sandwiches. You may say, "well, I can't eat at Beaches & Cream everyday!" Uhh…have you seen the ice cream list? It's veritable ice cream-art! Seriously, I'd rather hang it on my wall than some Pollock paint drippings. Other good restaurants, such as Trail's End, Olivia's Cafe, Captain's Grille, Big River Grille, The Wave, and Turf Club Bar & Grill rarely have any waits, so try these options, too. In fact, many resort restaurants often have little to no waits.
4. Eat at Non-Disney Restaurants On or Off-Property – This might be even greater heresy than my Le Cellier comments above (for what it's worth, I like Le Cellier, I just think it doesn't live up to the hype), but try some of the non-Disney restaurants around Walt Disney World. If you're eating in the World Showcase or Downtown Disney, there's a good chance that you're eating at a non-Disney restaurant, anyway, but take it a little further. Delicious restaurants can be found in the Swan & Dolphin Hotels, just outside Downtown Disney, and a couple of minutes off property. Since none of these allow the same 180-day ADR window, you're much more likely to get a table at one of these restaurants when you want it. The added upside is that many of these restaurants offer delicious cuisine (particularly the Swan & Dolphin restaurants) and don't charge the same "Disney" premium.
5. Eat Upper-Echelon Counter Service Food – Failing all of the above, eat at nicer Counter Service restaurants. Instead of your normal burger at Cosmic Ray's or Electric Umbrella, try one of the new lobster rolls at Columbia Harbour House (it's delicious!) or the salmon at Sunshine Seasons. Explore the restaurants in the World Showcase. Never eaten at the Tangierine Cafe? Finally do it! Try the delicious ribs at Flame Tree Barbeque. In Disney's Hollywood Studios, try…uh…try heading over to the World Showcase! Being a little more adventurous and spending a little more on Counter Service meals isn't a total substitute for eating at sit-down restaurants, but it's a decent replacement in a pinch.
In the end, advance-planning is always best, and those who do their due diligence are typically rewarded with more satisfying vacations (regardless of the destination) than those who just show up and expect to stumble into fun. That said, a lot of advance-planning isn't always possible, and in those cases when it's not possible, make lemonade out of lemons. Heck, you might even find that the added element of spontaneity resulting from not planning every aspect of your trip 6 months in advance is actually a bit relieving!
Do you have experience snagging a table at a Walt Disney World restaurant at the last minute or without reservations? Have any other expert tips to share with our readers? Share your thoughts in the comments!