10 Great Snacks at Disneyland
Who doesn't love sitting at home dreaming about food at Disney?  Especially when there doesn't seem to be anything in your own pantry but less-than-ripe bananas, stale potato chips, and half eaten boxes of cereal.  But I digress…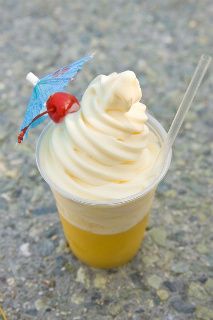 So let's dream of Disney snacks!  There's no way of course to hit on every great snack at Disneyland.  About 30 seconds in Marceline's Confectionery will tell you that there's probably 100 good choices in that one store alone.  So I'll just hit on 10 that my family and I particularly enjoy.
1. Dole Whip Float – Of course I had to start here.  It wouldn't take anyone that reads my blogs very long to pick up on my love for Dole Whip Floats.  Pineapple flavored soft serve ice cream, which many people enjoy alone, but in a float it's soaked in pineapple juice.  It's genius.  If you want that cool, refreshing snack that doesn't feel too heavy in your stomach on a hot day, this is it.  Do notice I did not say these are necessarily "light" snacks.  I just said this one doesn't feel as heavy in your belly as some of the richer snacks do.  Oh yes – AND it's delicious.  Did I mention that?  You can find Dole Whips in Adventureland right next to the Enchanted Tiki Room.  By the way, if you go inside the courtyard waiting area for the Tiki room, the line to order is often shorter!
2. Churros – For the uninitiated, churros are basically long, skinny, fried dough dipped in cinnamon and sugar.  Does anybody see anything not to like about that last sentence?  Nope, me neither.  These Disneyland snacks are so popular they have their own Facebook fan page.  Churros can be found all over these days and, as evidenced by the ginormous lines at the many stands where they are sold, the Disneyland version will not disappoint you.  It's deep fried yumminess.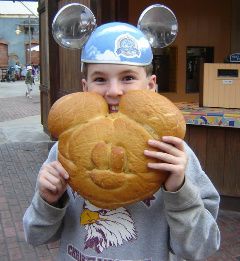 3. Sourdough Mickey Bread – We discovered our love of the Mickey shaped sourdough bread many years ago.  When you start out on The Bread Tour in California Adventure they'll even give you a sample to wet your taste buds.  The tour will tell you how the starter for this bread has been around for more than 100 years.  Our family's personal touring plan involves the bread tour, and then a stop in the Pacific Wharf Café next door to buy a giant Mickey sourdough sometime before lunch.  It's our go to snack for the rest of the day while waiting in line, or whenever we need a little bite of something to tide us over until the next meal.  Of course, they do have the sourdough in other shapes, and there's even bowls to eat chili or clam chowder out of.  But seriously, doesn't everything taste better when it's shaped like Mickey?
4. Beignets – Speaking of deep fried.  Beignets are square pieces of dough that are deep fried and rolled in powdered sugar.  The more powdered sugar the better seems to be the philosophy at the Jazz Kitchen Express in the Downtown Disney District.  Try walking away from your table there without some powdered sugar somewhere on your face or clothes.  The Jazz Kitchen Express even sells the famous Café du Monde mixes so you can attempt to recreate these at home.  Café Orleans in the Disneyland park has beignets on the menu as well.  And guess what?  They're shaped like Mickey!  During the holidays Café Orleans ups the ante even more and sells a gingerbread flavored version.  And to top it off, Club 33 has a pumpkin version!  Okay, pumpkin doesn't really excite me, but I'm sure it does some people!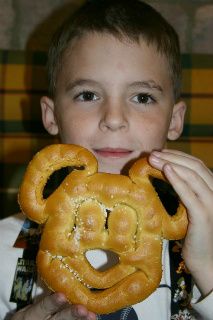 5. Mickey Shaped Pretzels – I'm sure some of you have picked up on a theme here.  Yes, Disneyland has many seemingly ordinary snacks shaped like our favorite mouse.  The Mickey shaped soft pretzels have been around for quite a while!  I remember the joy my son expressed the first time we encountered them at White Water Snacks in Disney's Grand Californian Hotel and Spa back in 2004.  See the picture on the right for proof.  I remember how excited I was when I tried a bite and realized they weren't the hard overcooked pretzels that are sold at stadiums across the country.  This is a large Mickey shaped soft pretzel with optional dipping sauces like cheese.  I think they're a really good size for the price.  Disney World has been slow to the party on this one since this pretzel didn't make its way to the East coast until late summer of 2011.
6. Smoked Turkey Legs – I'll admit turkey legs aren't my favorite thing to eat.  In fact, the whole appearance of the pinkish meat still on the bone actually weirds me out a little.  But I included them on this list of favorite snacks because I know they are beloved and I actually get quite a kick out of watching people walking around gnawing on the giant things.  Huge Harley Davidson-sized men.  Tiny, petite, little well-dressed women.  The turkey leg appeal knows no class system.  It appeals to the masses.  The first time someone in my traveling group actually bought one, I was fascinated watching them tear into it.  And maybe – a little horrified.
7. Hand-Dipped Corn Dogs – Do these count as snacks?  Let's say they do.  These corn dogs are hand-dipped and fried while you wait.  They are so delicious.  There are a few places to get them like Little Red Wagon Corn Dogs on Main Street, U.S.A., or Stage Door Café and Corn Dog Castle in California Adventure.  Diehard fans of the Disneyland corn dog will tell you that one is better than the other, but I haven't ever had one I didn't like.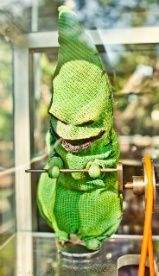 8. Popcorn – Nope, there's nothing very different about popcorn at Disneyland.  It's your basic popped fresh popcorn from a cart.  We can't seem to resist it at Disneyland though.  Maybe it's the smell that assaults us when we're weak and hungry.  Maybe it's the fun of seeing how many different miniature characters you can find that turn the popcorn wheels inside the carts.  Maybe it's increasing our collection of collectible souvenir buckets at home.  Maybe it's the crazy expensive R2D2 bucket you can buy in Tomorrowland.  I don't know what it is, but seriously, we can't visit Disneyland without at least one of us buying some popcorn!
9. Snacks on a Stick – For a great selection of food on a stick try Bengal Barbeque in Disneyland.  Food on a stick has to be a snack right?  You can definitely make a meal out of these sticks, but they're good for quick snacks too.  There's chicken on a stick, two flavors of beef on a stick, vegetables on a stick, and the amazingly popular bacon wrapped asparagus on a stick.  Yes, I said asparagus.  Everything's better with bacon right?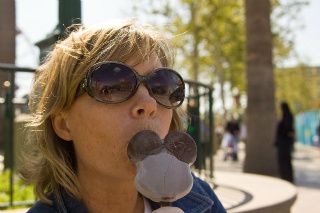 10. Mickey Premium Ice Cream Bars – I'll end with another fan favorite.  At first glance these may seem like a Dove ice cream bar with strategically placed "ears".  They are, of course, much more than that.  Well maybe they're not, but remember what I said about food shaped like Mickey?  If you have any doubt how passionately people feel about these ice cream bars, go to any Disney cruise message board and see the uproar that began a few weeks ago when the Disney ships ran out of Mickey bars for some period of time.  There was great wailing and gnashing of teeth, cancelling of cruises was considered, there were tears – and that was just from me!
I know I've missed some of your favorites, so tell us what they are!  Don't keep them a secret.  This is one case where I do want to know what I've been missing!