10 Great Things About the Disneyland Hotel
Having just stayed at the Disneyland Hotel in November, I thought it was time for a blog about it!  Now that the 2-year renovation is pretty much complete, a blog about it seems even timelier.  If it's been a while since you've visited the Disneyland Hotel, it's time for another visit!
I really like the Disneyland Hotel.  It may not be my favorite hotel at Disneyland (that distinction would definitely go to the Disney's Grand Californian Hotel and Spa—which I wrote about here as my favorite Disney hotel anywhere bar none), but I always enjoy the Disneyland Hotel.  It's a good location from which you can easily walk to any location at the Disneyland Resort, it's got a great pool, and the list goes on.  In fact it goes on below.  In numbers 1-10 as has become my way.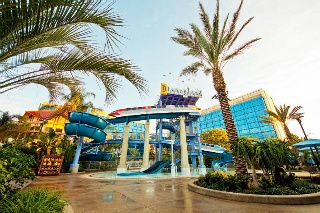 1. The Pool – I have always enjoyed the pool at the Disneyland Hotel.  We always liked the Neverland theming with the ship and giant croc.  Ariel was a nice touch by the hot tub too!  The new E-Ticket pool, however, is awesome!  I didn't quite get the concept art pictures with the monorails, but I definitely got it when I saw the pool in person.  There are multiple slides!  Much better than a lot of Disney resorts.  Combine that with the waterfalls, bubble jets, private cabanas, zero entry, and it's awesome.  I love it!  Your kids will too!
2. The Lobbies – The Disneyland Hotel is composed of three towers.  Each tower is named after one of the lands in Disneyland.  There's Adventure, Fantasy and Frontier Towers.  Each one is full of memorabilia with wonderful artwork and model displays in the lobbies.  The Fantasy Tower has Mary Blair artwork reminiscent of it's a small world.  The Big Thunder Mountain Railroad model in the Frontier Tower is huge and super cool!   It's a recreation of the original concept model for Big Thunder.  And the Adventure Tower contains a homage to the Jungle Cruise.
3. Proximity to the Monorail – Unlike Walt Disney World, Disneyland is lacking a monorail stop inside a hotel.  Now, the monorail does go by some rooms at the Grand Californian (by the balconies actually), but it doesn't stop at the hotel!  So, the Disneyland Hotel is the closest of the three Disney hotels to the monorail stop in Downtown Disney at Disneyland.  When you don't want to walk all the way to the main gate, it's great to be able to zip into Tomorrowland on the monorail.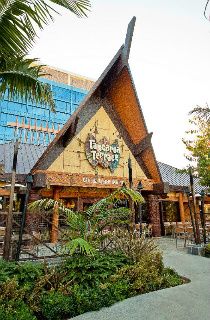 4. Tangaroa Terrace – Casual Island Dining – It's so great to finally have a quick service place at the Disneyland Hotel!  It's not like Downtown Disney is far, but it's still nice to be able to grab something hot and quick at the resort itself.  Now if you read one of my previous blogs, you'll know that I was NOT excited about the sweet potato fries!  But I did enjoy breakfast there one morning, and I'm sure other, less picky eaters, will be perfectly happy with a great burger and sweet potato fries.
5. Trader Sam's –  Enchanted Tiki Bar – Being a teetotaler myself, I can't really comment on the specifics of this new bar's menu.  I can relay that I've read some great reviews of it!  Guests are really loving it!  There's live music on the patio during the evenings and the theming inside is incredible.  Stop by to look even if you don't drink!
6. Headboards Headboards Headboards – Did I mention the headboards?  Oh my word they are gorgeous!  They're a striking dark wood with an inlay of the Sleeping Beauty Castle.  When you flip the on switch, "A Dream is a Wish Your Heart Makes" plays and the fiber optic fireworks light up.  The imagineers were very smart and the lights grow steady and the music stops after a minute so you can keep it on as a nightlight if you want!
7. Steakhouse 55 – 24 layer chocolate cake.  I think that's enough said.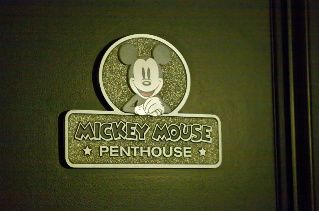 8. Signature Suites – Not that I've been privileged enough to stay in one, but Disneyland has some great themed suites.  The Mickey Mouse Penthouse, Pirates of the Caribbean Suite, Fairy Tale Suite, Adventureland Suite, and Big Thunder Mountain Suite.  These suites are themed to the hilt!  If you want to escape from reality, this is your chance to be completely immersed in Disney magic.  Your pocketbook will pay a pretty penny for that immersion, but many guests obviously feel it's worth it!  These suites are constantly booked!
9. Goofy's Kitchen – Goofy's Kitchen is the closest thing Disneyland has to one of my favorite character buffets – Chef Mickey's.  At Goofy's Kitchen, the food is really good for a buffet, and there are characters everywhere.  Not the Fab 5 like at Chef Mickey's but a different assortment.  Goofy is, of course, always there, I mean it's his kitchen so he should be there.  We've also seen Aladdin, several different princesses (though never more than one princess at a time), Max, Baloo, Genie, etc.  When our kids were little we were regulars.  We've had some of our best character interactions at Goofy's Kitchen.  The tablecloths are paper so the characters love to draw pictures on them.  Who knew Goofy could draw so well?  It's also the perfect place to celebrate a child's birthday!  Who am I kidding, it's a great place to celebrate an adult's birthday!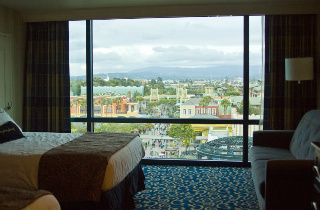 10. The Views – Disneyland Hotel has some great views.  The disclaimer here is that all the rooms definitely do NOT have great views!  In fact, the room I stayed in back in November had a decidedly ugly view of the parking lot!  But some of the views are just gorgeous.  The upper floors of the Adventure Tower that overlook Downtown Disney will give you a view of Downtown Disney straight ahead with Space Mountain on your left and maybe even a glimpse of the The Twilight Zone Tower of Terror on the right!  You can see it all!
How about you?  What do you like about the Disneyland Hotel?