How Disney's Animal Kingdom is Preparing for Rivers of Light
The most under-appreciated theme park in Walt Disney World is about to be the proud recipient of a brand new nighttime spectacular that promises to be unforgettable.  Rivers of Light is set to debut on Earth Day, April 22nd, the 18th anniversary of Disney's Animal Kingdom. Disney has begun releasing more details about the show, its themes, and major visual elements. In fact, they held a brief chat on the Disney Parks Blog to share some information about the show and its development. I also visited my favorite Walt Disney World theme park a few days ago and checked out the construction of the show's amphitheater. Finally, there's some other preparations being made in the park to get ready for the arrival of Rivers of Light.
Disney reveals more details about Rivers of Light
Disney recently released a few videos showing footage of technical rehearsals as well as construction of some of the shows key floats. In case you've missed the concept art and basic storylines, Rivers of Light will take place on the lagoon in between the back edge of Discovery Island and Asia, essentially in front of Expedition Everest. Fountains, water projection screens, lighting, floats, boats, and live performers will bring this spectacle to life. Even the parks icon, the Tree of Life will become part of the show. If for some reason you are really wanting to stay away from any spoilers whatsoever then it may be best to skip ahead to the next section regarding the amphitheater construction.
The story and overall theme is original, rather than playing on Disney IPs or characters, it does seem that there will be a few Disney touches weaved in, however. It is being described as a bringing together water and light for an emotional, wonderful journey. There are four large floats each featuring a different animal: a tiger (perhaps the most impressive float), two elephants, three owls, and a turtle. These floats are about 15 feet tall and are full of glowing light. These animals are said to be our guides on our journey.
It was also revealed that the show will feature two human characters. Described as nomadic Asian shaman, these two figures will not have any speaking lines, but are said to be storytellers. They were revealed during a live question and answer session held by Disney this week. Their costumes are very elaborate and appropriately theatrical.
The show will of course be set to a stunning musical score. Mark Mancina is the composer. His previous work either as a composer or orchestrator includes Twister, Speed, Brother Bear, a variety of television series, and  the Tarzan sequels and animated television series.  Perhaps a bit more notable is the music was recorded at the legendary Abbey Road studio in London.
It has also been revealed that the amphitheater will seat a total of 5,000 people. It is divided into two sections, as though they are two villages and a river runs between them. One can imagine that show elements would make some sort of appearance on the river and perhaps each village is represented by one of the two shaman. Speaking of the amphitheater let's take a look at how construction is progressing.
Amphitheater construction
For quite a while most of the Asia section of Disney's Animal Kingdom has been a seemingly forbidden land full of construction walls. This remains true for the majority of the area near Expedition Everest as the amphitheater is being built as well as the perimeter around the lagoon is being prepared to be an unofficial viewing away as hundreds of guests who don't make it into the theater will surely take to the pathways around the lagoon to at least catch a glimpse of the pageantry. These construction walls make for a bit of congestion near Expedition Everest.
Multiple sources state that watching the show from around the lagoon will be possible, though not favorable. The show will incorporate some interaction from the amphitheater, again being referred to as two villages. It should also be remembered that a large portion of the show features images projected onto water fountain screens. If you've ever watched World of Color while being off to the side you know the experience is somewhat diminished.
It has also been confirmed that Rivers of Light will have dining packages and FastPass+ reservations available. This was confirmed on Twitter by Disney Parks Blog author Jenn, with more details to be revealed soon. I have to wonder if this will somehow involve Flame Tree BBQ which currently has a really cool view of the lagoon, albeit it is of what will be the backside of the show. From this area you can see some of the special lights and projectors already installed and ready to go.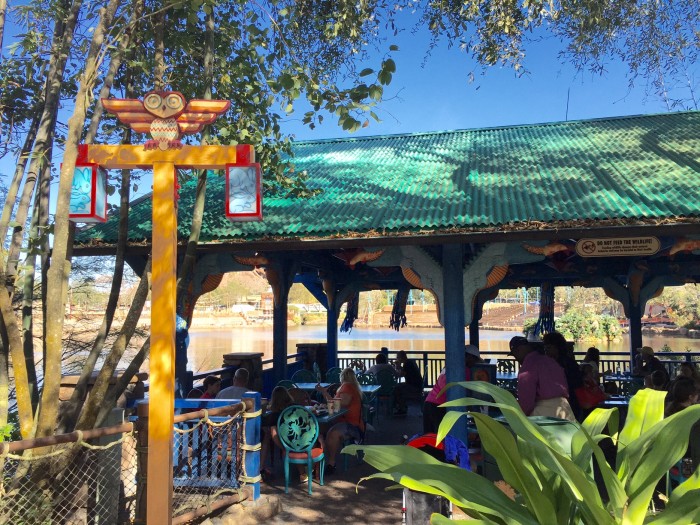 Over at the Flame Tree BBQ seating area is just about the only place in the park to get a decent view of the amphitheater since the construction walls block the up close views. It looks to be a wide viewing area, although not very tall or steep. I wonder what the views will be like and how comfortable the seating will be. I am also pleased to see that my beloved "laundry steps" are still in tact.
Back on the other side of the lagoon, near Expedition Everest, I was able to snap a few shots of the amphitheater through the few "peep holes" provided near the bridge that separates the two seating areas.
Preparations and new additions
Disney's Animal Kingdom is about the become the kind of park it has never been before: a park you can visit at night. Not only will Rivers of Light draw a night time crowd, but there is talk that a night time Kilimanjaro Safari is being considered. Plus, the long awaited Pandora: Land of Avatar is said to receive a gorgeous night time treatment.
All this is in hopes of boosting attendance to Animal Kingdom, and also keep guests in the park longer. In preparation of the hopeful increase in attendance, a few enhancements have been made to the park in the past year. The main pathways of Discovery Island have been significantly widened and the shops made slightly easier to navigate as well. Though this still poses a challenge with the beautiful, peaceful, but narrow Oasis which is the only way in or out of the park.
Practically every quick service location in the park received an updated menu in the past few months. Even the restaurant I really am not much of a fan of, Restaurantosaurus, has gotten an upgraded toppings bar with items like bleu cheese crumbles, banana peppers, and guacamole. When I visited the bar was desperately needing attention, but you can still see the variety it now offers.
There is also the exciting Tiffins full service restaurant still under construction near Pizzafari. As more progress on the arrival of Rivers of Light is made I get more and more excited. Disney's Animal Kingdom is filled with such beauty and majesty. It seems that Rivers of Light will elevate the park even further, which will be a wonder to behold.