Disney's Vero Beach Resort: What to Know
TouringPlans welcomes Guest Author Bridgett Hurley.
Disney's Vero Beach Resort is an afterthought for many Disney fans. Online articles suggest that it only warrants a two-day stay before a cruise or theme park vacation. On the contrary, we spent four nights at Vero Beach and left with things undone on our to-do list. We're not the only fans of Vero Beach; Travel & Leisure recently listed it in the Top 15 U.S. Resorts for Families based on reader surveys.
Resort Overview
First the basics: Disney's Vero Beach Resort is 105 miles from Walt Disney World. Unlike Disney's Hilton Head Resort, the Vero Beach Resort is right on the Atlantic Ocean. Although it is a Disney Vacation Club Resort, you do not have to be a DVC Member to stay here. There are hotel rooms, studios, one-bedroom villas, two-bedroom villas, and deluxe three-bedroom cottages. Only the cottages and the upper-level hotel rooms have a view of the beach because the resort is nestled behind a healthy dune.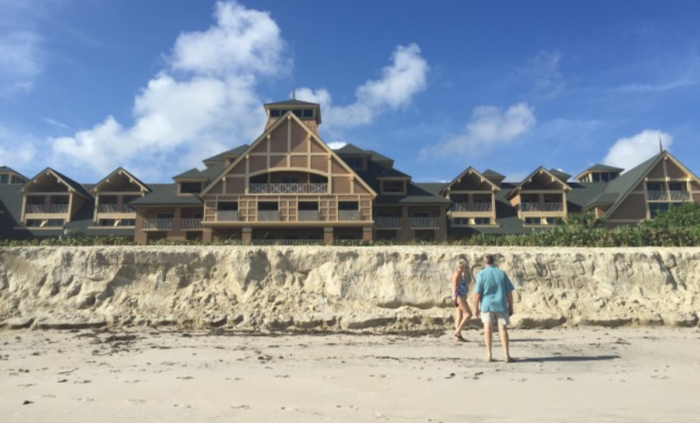 Pro tip: Bring your MagicBands! Disney's Vero Beach Resort has recently enabled room access and charging privileges with MagicBands.
Activities at Vero Beach Resort
Good news: Disney Annual Passholder and Disney Vacation Club discounts are both available at Vero Beach restaurants and retail locations. Many activities are free, but for paid options don't forget about your Membership or Annual Pass.
Sea Turtles
The dune protects the resort from weather and protects the sea turtles from light from the resort. Sea turtles are everywhere at Vero Beach: in the décor and on the beach. In late spring and early summer, sea turtles come up onto the beach at night to lay their eggs. In late summer and early fall the eggs hatch and the hatchlings run, or more accurately flap, to the sea. Every morning Disney personnel from Animal Kingdom go out on the beach to find and mark any new sea turtle nests. From 7:00 to 7:30 each morning they are available to answer questions for guests.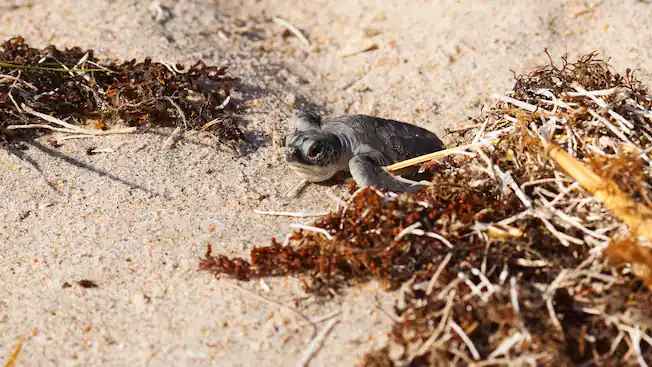 We did not see any turtles on the beach during our stay, but we did see a large sea turtle flopping around in the sea for hours waiting for nightfall. We watched from the boardwalk for her to come onto the beach but went to bed before she came on shore and laid her eggs. When we woke up the next morning, we came out on the beach to find she had laid her eggs right near the boardwalk.
Rocket Launches
You read that right: rocket launches. About once per week, there is a rocket launched from Cape Canaveral and you can see it clearly from the beach at the resort. It usually happens early in the morning and a handful of people gather on the beach to watch. The launch we were hoping to watch was delayed by weather, so instead, we drove to the Kennedy Space Center. The Space Center is about an hour north of Vero Beach, and we spent a fantastic day there. You can see the launch schedule and other events on the Kennedy Space Center Event calendar.
Beach and Pool
The beach at Vero is lovely and uncrowded. You can rent two beach chairs and an umbrella for the day for $25 if you are a Disney Vacation Club member and $30 if you aren't. When the seas are calm, you can reserve body boards for $8 per day and paddle boards and kayaks for $25 per hour.
Pro tip: Reserve the chairs for the entire length of your stay on the first day of your stay since they sell out regularly. If they aren't available to reserve, you can get in line at 8:45 AM to get one of the chairs that they hold back for "day of" reservations.
The pool at the resort is fabulous. There is a 163-foot water slide where the resort holds regular water slide races. At Eb and Flo's Rentals you can get free towels for either beach or pool. There are pool noodles, life jackets, and beach balls also available for free. Most importantly, unlike some Disney resorts, there are enough lounge chairs to go around.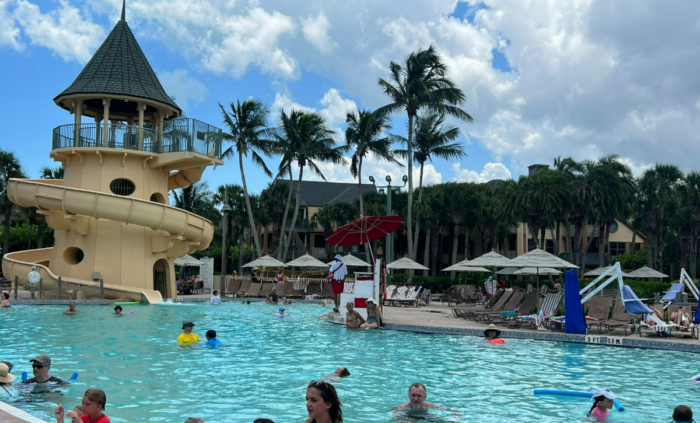 Every day the resort staff lead pool-side games: name that tune, Disney trivia, and bingo all were offered while we were there. In addition, there are pool parties for the little ones with line dancing, musical chairs, and beach ball games.
Outdoor Activities
In addition to the fun at the pool, the resort offers shuffleboard, miniature golf, pool, and Ping-Pong for free. Every day there is either a cornhole or bocce tournament. There are regular sand sculpture competitions, treasure hunts, and spike ball tournaments as well. If you aren't a fan of group activities, there are tennis courts, a volleyball court, and a basketball court you can use at your leisure.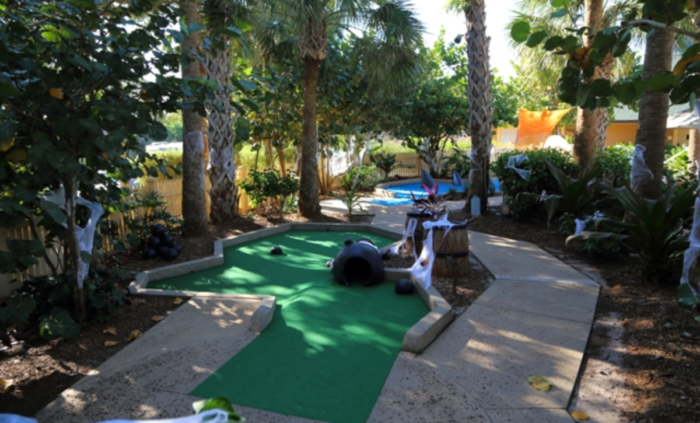 Our favorite paid activity was catch-and-release fishing in a stocked pond where you are guaranteed to catch a fish. This novice fisherman caught two in the first 30 minutes. Other paid outdoor activities include yoga, archery, and kayak adventures.
Crafts and Indoor Activities
It rains a lot in Florida, especially at the beach. No worries! There are loads of indoor activities too. There are free paper airplane and origami sessions as well as treasure hunts for the little ones. If you don't mind paying for crafts you can choose from Mickey tie dye, instructor-led painting, memory jars, seashell painting, jewelry making, and a lot more.
Fun for Adults
While there are loads of activities for the kids, Disney has not forgotten about the adults. For the 21 and up crew there are brewery tours and cocktail-making seminars. There are adults-only trivia games, including Majority Rules, and Match Your Mate. We found there are usually about a dozen participants, so this is a great way to meet other couples at the resort.
The Kiss Goodnight
There are no fireworks at Disney's Vero Beach Resort, but you won't miss them. Every night there is either a movie on the green or a campfire. The campfires are not to be missed. The resort staff leads a group of kids and adults in 30 minutes of campfire songs. Then they break out s'mores. Everyone was having a great time.
Dining at Vero Beach Resort
Wind & Waves Grill – Table Service, breakfast and dinner only
Wind & Waves Market – Counter Service, breakfast, lunch, and dinner
The Green Cabin Room – lounge serving coffee, tea, and pastries during breakfast hours, bar drinks and light bites during the evening
Wind & Waves Bar – bar service on the pool and the beach
We felt that the food at Disney's Vero Beach Resort is a mixed bag. The marquee restaurant, Wind and Waves, is expensive for dinner and offers a great menu with mediocre execution. However, breakfast there was less expensive and fantastic. There used to be a character meal here, but it hasn't returned since the Covid shutdown.
The quick-service locations and bars offer decent food at affordable prices. The standout items were Dole Whip and bread pudding.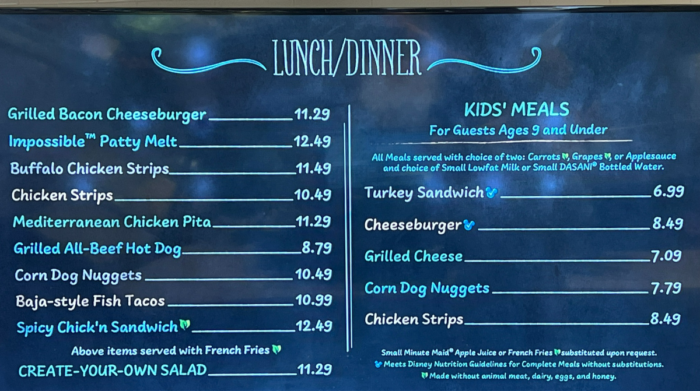 There are servers on the beach and poolside, which is a nice touch. If you are planning to have cocktails, be ready to shell out (pun intended) $15- $17 for each one.
When to Go and How to Book
The high season in Vero Beach runs from late January to early May. Temperatures are comfortable and the mugginess of summer has not yet set in. The turtle nesting season runs from early March to October 31. You can book a stay online, or call (407) 939-7540. You can also book a stay at Vero Beach using a travel agent such as the TouringPlans Travel Agency.
Our group of adults and teens spent 4 days at the resort and left already planning our next vacation. One caveat: we have been to Vero Beach off-season and found it rather boring. There are still activities scheduled, but fewer of them. Without the beach and pool available, expect to have a more relaxing vacation. If you are used to Walt Disney World vacations like we are, you may find it a bit too relaxing. In high season though it is a great mix of beach and Disney Magic.
Bridgett Hurley is an attorney, organizational development expert, mom and foster mom who loves to share Disney with her family and friends. She has been a Disney Vacation Club Member and annual passholder since 2016.