FAQ: EVERYTHING There is to Know About the Weather at Disney World
After a more than decade of researching and writing about Disney World, I can without hesitation say that by far the most frequently asked trip planning question is, "What will the weather be like during my trip?"
Even if you've spent countless hours planning, making reservations, and studying touring plans to construct the best possible Disney trip, your plans can quickly go awry when unexpected weather conditions arise.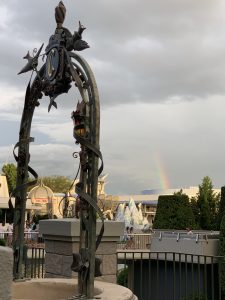 What's my first step?
Before you even book your trip, your first step is to take a quick look at the long term average temperature and precipitation during the time you plan to visit. Historical data provides averages, meaning that what will happen during any given year might vary from those numbers, sometimes considerably. However, in general you can get a general idea of what you might expect to encounter.
Why should I do that?
Well, if you're incredibly heat sensitive, you might see that during some months, the average Orlando temperature is in the 90s during the day. That might be a deal breaker for some people. Similarly, some months have a high propensity for hurricanes, which could deter you if you have a fear of storms.
What's a good source for long-term weather information?
There are dozens, if not hundreds, of websites where you can find this information, sliced and diced in many different ways. A quick Google search of "average weather Orlando Florida" will bring up sites where you can explore. One source that I particularly like is WeatherSpark.com, mostly because of their nifty charts and graphs.
The WeatherSpark chart below is a good visual that illustrates that during mid-day from May through September, you can expect that it will be in the 85-95 degree (F) temperature range.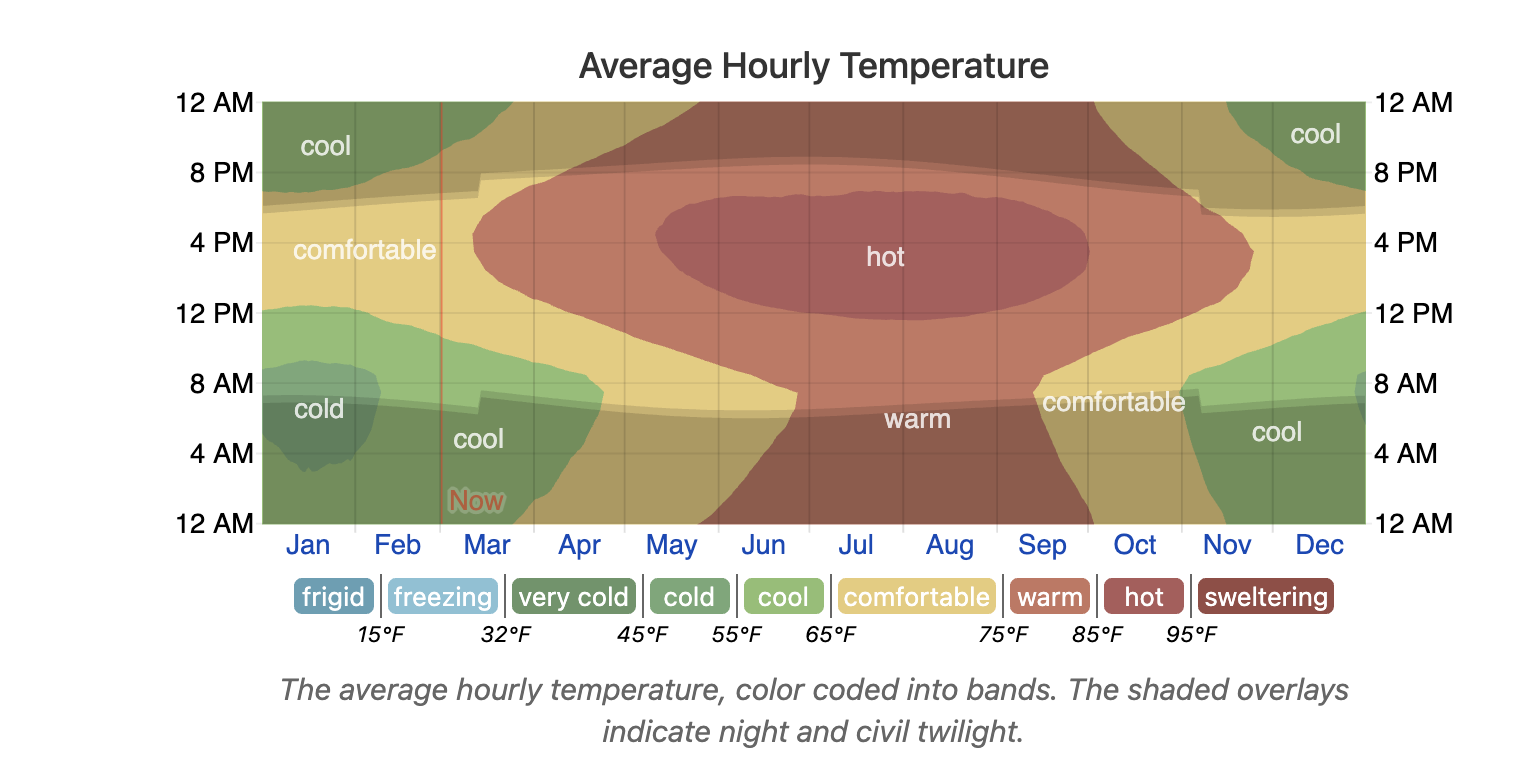 Also from WeatherSpark, the chart below shows that during July and August, there's a 60+ percent chance it will rain at some point during the day.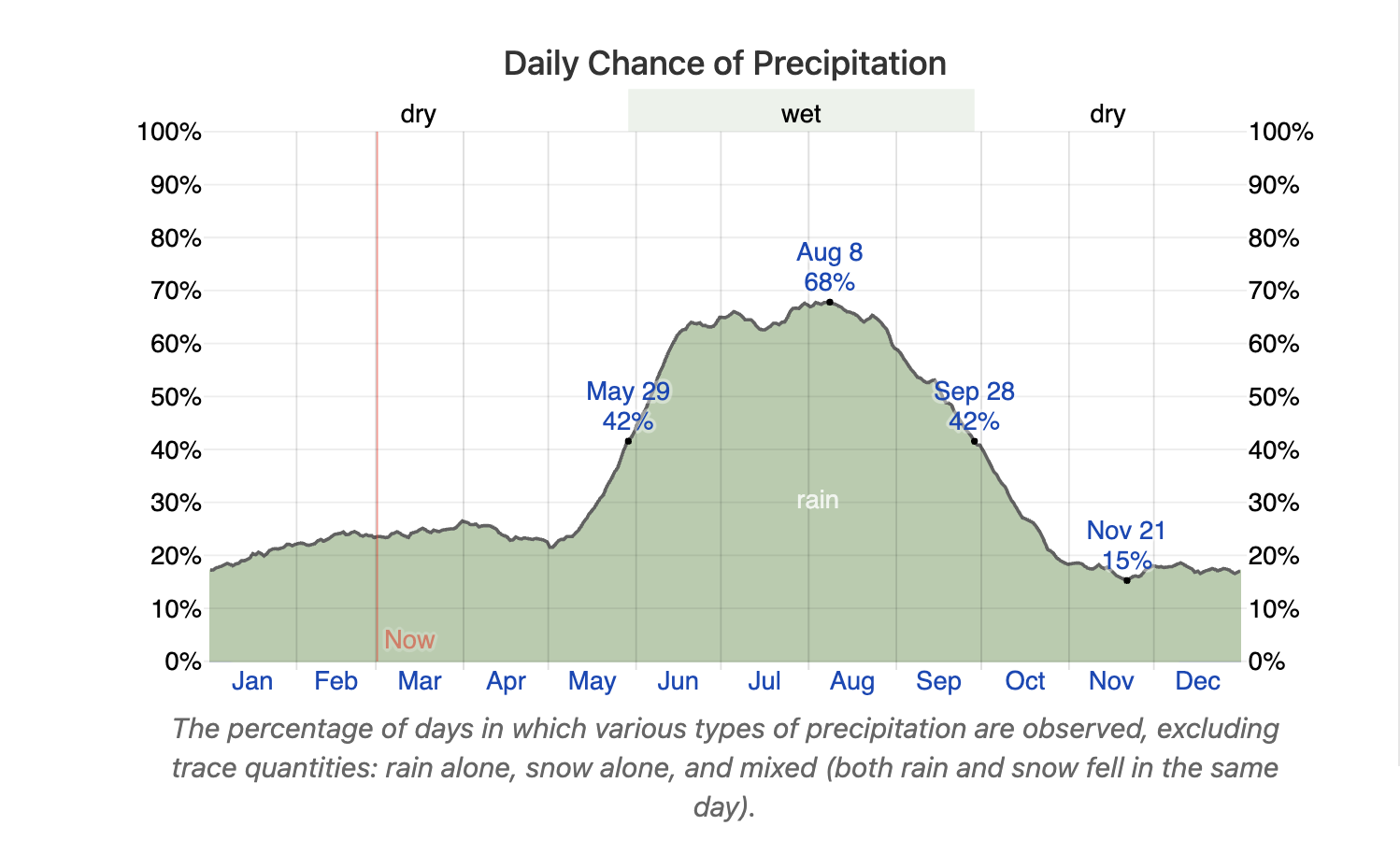 How accurate are those long term forecasts?
As I mentioned, long term forecasts are averages – aggregate data based on history. You may experience something different during your trip.
For example, I have visited Walt Disney World during the first week of December during seven of the last ten years. If you look at the WeatherSpark chart below, you'll see that the average daytime high for that week is in the mid-70s and the average nighttime low is in the high-50s. Five of the years I visited at that time, that's exactly what I experienced, temperate climes perfect for touring. My other two early December visits had significant deviation from the curve. One year I was sweating through my tee shirts, with temperatures in the upper 80s. A different year, I ended up purchasing two heavy sweatshirts and pair of gloves because early morning temperatures were in the low 40s. Same week, vastly different experiences.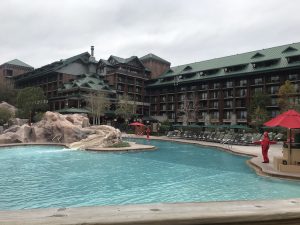 So how do I plan for those fluctuations?
To fine tune your planning, you need to check long-term AND short-term forecasts.
Since there is such long-term weather variability, it's important to check the shorter ten-, seven-, five-, and three-day forecasts for Orlando immediately prior to your departure from home. This will let you swap out your jeans for an extra pair of shorts, add a pair of gloves to your bag, or throw an umbrella into your carry-on.
What's a good source for short-term weather information?
You certainly have at least one or two weather apps loaded on your phone, so that's a good place to start.
I'm a freak, so I tend to check the forecasts from half a dozen different sources. These might include:
The short-term forecasts from these sites are usually in agreement, but every once in a while you find an outlier that is different enough from the others that it makes you rethink some aspect of your packing.
Do you monitor the weather during your trip?
Absolutely! While I'm on my Walt Disney World vacation, I also take a look at the hourly forecasts (available from many of the sources listed above) at least once in the morning and once in the afternoon. This can help with decisions about how long you might be able to spend at a water park, whether you should bring a jacket for your evening stroll around Disney Springs, or if you can leave your ponchos in the room.
If you have an iPhone, you'll have access to DarkSky data that gives micro data on precipitation in a highly compact area. You can even set it to provide you alerts that say things like "light rain starting in 11 minutes" or "expect heavy rain for the next hour."
The Weather Underground app is my latest obsession because it gives predicted wind speed and the exact quantity of precipitation expected every hour.
Is it really that hot at Walt Disney World?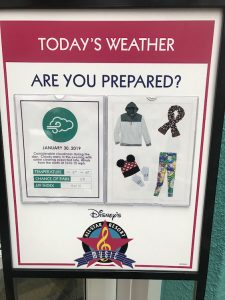 Yep.
The temperatures can reach into the upper 90s at any point in May through September. Couple this with the inevitable zillion percent humidity and, yes folks, it's going to feel hot. If you're traveling during the summer, be sure to take all the usual precautions for outdoor warm weather activity: wear lightweight and light-colored clothing, wear sunscreen, stay hydrated, spend the hottest part of the day indoors, etc.
Take special precautions with members of your traveling party who may be particularly susceptible to heat exhaustion such as older people, babies, and individuals with medical conditions.
Also consider how you'll be getting around the parks and your resort. For example, I'm generally fine now with an August visit to Walt Disney World, but those years in which I wore my children in a front carrier on August trips were brutal. This may be the trip that you bring a fan or umbrella for your stroller or that you rent an ECV for grandma who is prone to shortness of breath.
One thing to consider – even in the middle of the summer, you may want to throw a light sweater into your park bag. In my experience, the restaurants may be over air conditioned, causing a chill in comparison to the heat outside.
What should I wear at Disney World when it's sweltering hot?
Within the boundaries of family-friendly, you should wear as little as possible.
That said, Disney does have a dress code policy. It states:
"Proper attire, including shoes and shirts, must be worn at all times. The parks are a casual, family-oriented environment. Ensuring that the parks are family-friendly is an important part of the Disney experience. In that spirit, we ask you to use your discretion and common sense.
Disney reserves the right to deny admission to or remove any person wearing attire that is considered inappropriate or attire that could detract from the experience of other Guests. Attire that is not appropriate for the parks—and which may result in refusal of admittance—includes but is not limited to:
Costumes and costume masks (not medical masks), which may not be worn by Guests 14 years of age or older. Exceptions: Specific Halloween and Christmas events.
Some outfits inspired by Star Wars.
Clothing with objectionable material, including obscene language or graphics
Excessively torn clothing
Clothing which, by nature, exposes excessive portions of the skin that may be viewed as inappropriate for a family environment
Clothing that touches or drags on the ground
Objectionable tattoos."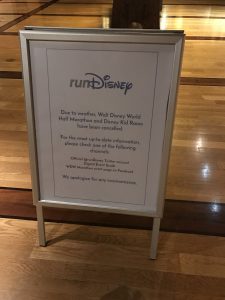 Is it ever cold at Disney World?
Sometimes. During one of those December trips I mentioned earlier, there was enough ice coating the walkway to the boat at Wilderness Lodge that a friend I was with slipped and twisted his ankle.
But for the most part, the show goes on at Walt Disney World, no matter what the weather conditions are. There are, however, a few situations where events or attractions will be cancelled due to cold. If temperatures won't make it out of the 50s, then generally the Disney water parks will be shuttered for the day. The Spirit of Aloha Luau at the Polynesian routinely cancelled shows in cold weather. If you're visiting during a cold snap, ask the concierge at your hotel to call and confirm that specific outdoor activities will be operational.
Can you swim at Disney World when it's cold?
The Walt Disney World resorts only have outdoor pools. These are heated to approximately 83 degrees, year round. I have often seen parents sitting on deck chair wearing sweatshirts and scarves, while their children happily splash in the pools. If you or your kids like to swim, bring your suit, regardless of the temperature. And don't forget that many Disney resort hotels have hot tubs.
What should I wear if it's cold at Disney World?
It's all about the layers. During the winter months at Walt Disney World, I typically wear jeans or capri-style pants rather than shorts. I'll start the day wearing a long-sleeved tee, covered by short-sleeved tee, covered by a fleece or sweatshirt and possibly gloves and a hat. As the day warms up, I'll pull off layers and stash them in my backpack. If you have a large family wearing multiple layers, you may want to rent a locker at the park so you're not carrying an entire closet worth of gear with you at all times.
I grew up in Maine and have a pretty high tolerance for cold, but I have seen winter Disney World visitors in full parka-and-Uggs ensembles. If that's what it takes to get you out in the parks during a cold snap, then I say go for it.
How often does it rain at Disney World?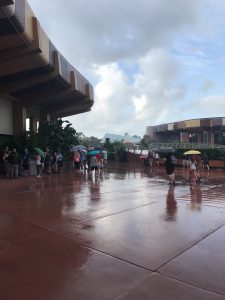 The wet months at Walt Disney World are June, July, August, and September. During that time, you can expect that it will rain almost every day.
Most of the time you will get an intense drenching for an hour in the late afternoon which then passes quickly. Do not panic if you look at the forecast just prior to your summer trip and see rain predicted every day. Chances are this will have negligible impact on your touring. Just pop into a long, show-style attraction (Carousel of Progress, Hall of Presidents, etc.) or a quick service restaurant and wait out the downpour. Or better yet, throw on your rain gear and proceed as if the sun is shining.
Of course there are situations where the rain is steady throughout the day. The best course of action is to have a "Singing in the Rain" attitude and hit the parks anyway. Chances are the crowds will be thinner than normal and you'll get some extra time on the rides.
Does rain impact park operations?
As with other adverse weather situations, the vast majority of Walt Disney World will continue to function in prolonged steady rain. Depending on the duration and intensity of the rain, a few of the attractions with outdoor components might temporarily halt operations (Dumbo, Test Track, etc).
If there are parades, fireworks, or outdoor shows of any sort, they may be postponed, abbreviated, or cancelled in driving wind or rain. Likewise when character greeting are operational, they may be cancelled or have a location adjustment in long-term rainy conditions. Stop by guest relations for up-to-the-minute updates.
Some attractions that continue operating in light rain may be halted due to lightning. For example, anything involving water will be closed if there has been a lightning strike within a six mile radius. This includes resort pools, water park attractions, water recreation at the deluxe resorts, and even water-based transportation such as the Friendship boats between EPCOT and Disney's Hollywood Studios or the boats between the Wilderness Lodge, Fort Wilderness, the Contemporary, and the Magic Kingdom. If boat transportation is suspended for more than 15 minutes, buses will be dispatched to service that route instead. If you're experiencing a storm which includes lightning, ask a cast member about which mode of transportation is operational.
Are the resort pools open when it's raining?
During light, or even heavy rain, the resort pools will remain open to guests. As noted above, if there is lightning nearby, the pools will be closed. My children have decided that going for a swim is one of their favorite activities during the inevitable summer afternoon downpour.
What should I wear to the parks when it's raining?
To keep dry, you basically have three choices: jacket, poncho, or umbrella. I've tried them all in every combination. My personal preference is a jacket/umbrella combo. I'm not a huge fan of ponchos. I find that the hood tends to slip off, leaving my head wet and water dripping down my neck, but maybe that's just me. I also never figure out what to do with a wet poncho once the rain has stopped. On the other hand, you can't beat ponchos for ease of packing; most fold up into tiny squares that can be stored at the bottom of a day pack.
Though not the most environmentally friendly route, disposable ponchos are available from discount stores like Walmart for just a dollar or two. Disney ponchos are available at most gift shops. They are not usually displayed unless it is actively raining. If you want one and don't see them available, just ask. During early 2021, adult Disney ponchos were sold in the parks for $11.26.
My favorite piece of rain gear for Disney is a pair of rubber flip flops. After ruining many a pair of shoes in rain at the Disney parks, I've learned that when it starts to pour, I take off my regular footwear and store it in my backpack, using the flip flops instead. This tip can be particularly helpful for children who complain about walking around in wet shoes/socks.
What happens in really bad weather, like a hurricane? Can I get a refund if I can't go to Disney because of bad weather?
Disney has a hurricane policy explicitly stated on the official Walt Disney World website. The key part of the policy states:
"If a hurricane warning is issued by the National Hurricane Center for the Orlando area—or for your place of residence—within 7 days of your scheduled arrival date, you may call in advance to reschedule or cancel your Walt Disney Travel Company Disney Resort Hotel Package and most room only reservations (booked directly with Disney) without any cancellation or change fees imposed by Disney.
If you have products and services provided by third-party suppliers included in your vacation—such as airlines, hotels, car rental agencies or travel insurance companies—you will continue to be responsible for any non-refundable payments, as well as cancellation or change fees assessed by those suppliers. The policy does not apply to certain special events or dining experiences.This policy also applies to Disney's Vero Beach Resort or Disney's Hilton Head Island Resort in the event a hurricane warning is issued for those destinations. If you have questions or you wish to reschedule your vacation due to a hurricane warning, please call (407) 939-7675. Guests under 18 years of age must have parent or guardian permission to call."
There is lots of fine print that goes along with this. If you're making plans to travel during hurricane season, I encourage you to read the website carefully. This may also be a time to consider purchasing trip insurance.
What happens if a hurricane happens when I'm already at WDW?
If you're at Walt Disney World during an actual tropical storm or hurricane, the theme parks and other attractions might cease operations entirely. You will be given safety instructions via your in-room television, printed materials, and cast member announcements. In the event that you are confined to your hotel, the Disney staff will bring in extra food and entertainment. This might include movies, characters, and games in the lobby. While a hurricane is no one's idea of a good time, there are certainly worse places to experience this than a Disney hotel.
How does Disney handle snow?
No, I don't mean snow at Walt Disney World itself. Even when the temperatures dip below freezing, you're extremely unlikely to see any real white stuff falling from the sky. But your Disney vacation may be impacted by snow in other areas of the country.
I happened to be at WDW one year when a Christmas blizzard forced the cancellations of nearly all flights in and out of the Northeastern US. This meant that my family was forced to spend four unplanned days at Walt Disney World. (You're crying, I know.)
Disney cast members were extremely helpful finding us alternative accommodations, moving our copious luggage twice, and rebooking our Magical Express transportation several times as each of our planned flights was cancelled. Try not to panic when situations like this happen. Your inability to leave also means that other guests will not be able to arrive, making rooms available even in hotels that were fully booked. Be as patient as you can and try to enjoy your extended stay.
What weather extremes have been reported for the Disney World area?
Trivia! I love it!
The highest recorded temperature at Walt Disney World was 102 degrees F. The lowest was 17 degrees F. No shorts on that vacation!
Anything else I should know?
If your future visit includes activities such as runDisney races, concerts, parties, ESPN Wide World of Sports competitions, or other happenings, be aware that each has their own weather related policies and procedures. Some that I've encountered have included: complete cancellation of a runDisney event due to projected lightning strikes, curtailment of an in-progress runDisney event due to heavy rain and lightning in the area, and temporary suspension of service at the outdoor EPCOT Food & Wine Festival booths due to rain. If you're concerned about the status of an event, stop by your resort concierge desk or any park guest relations office and ask them to call and verify operations.
Have any other questions about weather at Walt Disney World? Let us know in the comments.
First published March 7, 2021. Updates July 2, 2021.