FAQ Walt Disney World PhotoPass and Memory Maker
Walt Disney World regularly makes lists of the most photographed places in the United States, if not the world. Obviously these photos are primarily taken by individuals on their personal phones and cameras, but another steady source of Disney World pictures is the team of on-site PhotoPass photographers.
Updated June 13, 2023. 
What is PhotoPass?
PhotoPass refers to photographers stationed throughout the Walt Disney World theme parks (and sometimes other WDW locations as well). The PhotoPass photographers take your picture with their professional camera equipment. They are typically stationed at iconic locations such as in front of Magic Kingdom's Cinderella Castle or Epcot's Spaceship Earth, as well at a many regularly scheduled character greeting locations.
PhotoPass photographers are easily identifiable by their camera and costumes. The newest version of the photographer costume is a neon green shirt and blue shorts, but you may still find many PhotoPass cast members wearing tan vests or blue and white striped shirts.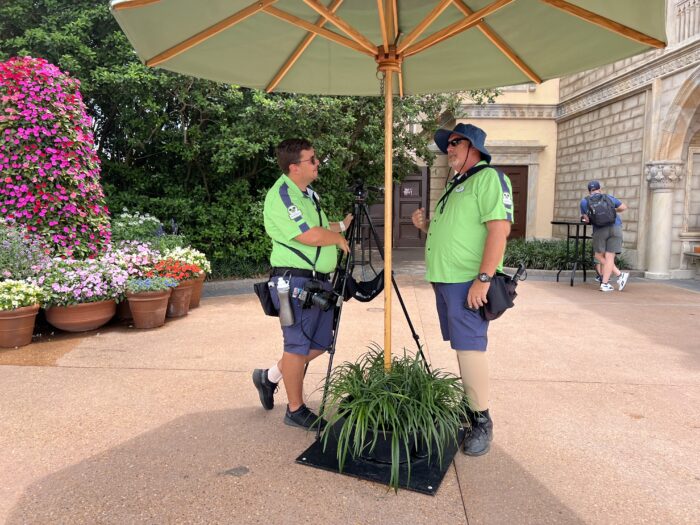 Often, the PhotoPass photographers will be working from a tripod, but this is not always the case. To have your photo taken, simply walk up to the photographer and ask for a picture, or if there is queue, stand there and wait until it is your turn.
Once the PhotoPass photographer has taken your picture, they will then link the photo to your My Disney Experience account by scanning one of your means of Disney identification. This could take the form of a plastic park ticket card, a MagicBand, or the MagicMobile feature on your mobile phone. If you don't have any of these media with you, the PhotoPass photographer may be able provide you with a card with a code that you can use to link pictures to your my Disney experience account or you can create a code on the My Disney Experience app (more on that below).
PhotoPass pictures can be purchased individually or you can opt to buy packages of multiple photos. These packages are called Memory Maker.
How much does this cost?
There is no cost at all to stand there and have your photo taken. This is a no obligation, no fee experience.
However, unless you pay, the photos will show up in your account with low resolution and with a big old watermark on them, rendering them useless for printing or posting to social media. To actually have access to your pictures in a useable way, you will need to pay.
If you'd like to purchase individual photos, they are currently priced at $18.95, plus tax, for a set of two 4 x 6 prints (you can't buy just one 4 x 6 print) or one 5 x 7 print or $20.95 (plus tax) for one 8 x 10 print. A digital download of one image costs $16.95. Other combination packages may be available and prices can, and do, change.
Memory Maker, the packages of multiple photos, are priced at $69 (plus tax) for a one-day package. This includes all the photos taken during one day at Walt Disney World. "One day" is defined as 6:00 a.m. on the date you activate the pass until 5:59 a.m. the following day.
Multi-day Memory Maker packages are priced at $169 (plus tax) if purchased more than three days prior to your trip or at $199 (plus tax) if purchased less than three prior to or during your trip. Walt Disney World Annual Pass holders may add Memory Maker to their pass for one-year for $99. Again, remember that prices can, and do, change.
If I buy a Memory Maker package, how many photos will that fee include?
I've never seen an upper limit indicated. I once purchased a Memory Maker for a trip that included a large family group visiting Walt Disney World for a nine-day trip. We had nearly 300 PhotoPass pictures on the Memory Maker account with no problem whatsoever.
Looking at the prices above and doing the math, you can see that if you'll be purchasing more than about nine pictures, it makes sense to purchase the Memory Maker package in advance – after nine photos everything (and there can be A LOT of everything) is gravy.
Does everyone on the trip need to purchase a Memory Maker?
Probably not, but it depends on how your My Disney Experience is configured.
Your Memory Maker package can include photos linked by up to 25 members of your My Disney Experience "Friends and Family" list. In the vast majority of cases, a family/group visiting Disney World will be "Friends and Family" and will be fewer than 25 people. Assuming that this is you, only one person in your group needs to buy the Memory Maker to have everyone's pictures included in the price.
Still, Memory Maker sounds expensive. Why would I want to do this?
The key reason guests purchase Memory Maker is that having a PhotoPass photographer take your picture allows the entire family to be in the shot. In my family, I am the chief photographer. I have approximately 7 billion photos of my kids and my husband, taken by me. Whereas nearly all of the few dozen pictures of our entire family together were taken by PhotoPass photographers. Solo travelers may find that paying for PhotoPass/Memory Maker is the only reliable way to get well-composed shots.
Additionally, there are some PhotoPass shooting locations that are difficult for guests to access. There are also creative or embellished pictures called "Magic Shots" that can only be taken by PhotoPass folks. (More on that below.)
Aside from cost, are there any reasons why I wouldn't want to get a Memory Maker package?
Some folks just don't like being photographed. If that's you, then skipping PhotoPass is an easy choice.
Additionally, there is a small time factor involved. In most cases, the lines for PhotoPass are short, but in some cases you'll have to wait 5-10 minutes. While that doesn't seem like a lot, at certain times of the day a ten minute break can derail a carefully crafted Touring Plan.
Is there a duration that the Memory Maker is good for?
Multi-day Memory Maker purchases includes all your PhotoPass pictures taken within 30 days from the date of activation. The exception to this rule applies to Memory Makers associated with a Walt Disney World annual pass ticket. More on this below.
For non-Annual Pass Memory Maker purchases, the photos will remain accessible in your account for 45 days from the date they were taken. Typically this means that you'll have a bit over a month after you get home to download photos.
Annual pass holders who purchase a Memory Maker add-on for their pass will get all photos taken during any visit covered in the duration of their pass. Photos remain in their account for up to one year.
Are the photos good quality?
"Good" is in the eye of the beholder, but generally yes. Every once in a while you'll find a dud photographer or encounter a camera that isn't properly calibrated, but the vast majority of the time guests are happy with their images.
How long does it take to get my pictures once they're taken?
You will typically see PhotoPass pictures show up in your My Disney Experience account within an hour or so after they're taken. If it's been several hours and your photos have not appeared in My Disney Experience, you should stop by one of the PhotoPass offices. If you have the date/time/location where you posed for the PhotoPass photographer, the office should be able to locate the pictures for you and add them to your account.
Where are the PhotoPass offices located?
The PhotoPass offices are all located near their respective park entrances.
Magic Kingdom: Inside the Town Square Theater
Epcot: Camera Center
Disney's Hollywood Studios: Sid Cahuenga's One of a Kind
Animal Kingdom: Garden Gate Gifts
Disney Springs: PhotoPass Studio (between World of Disney and Ghirardelli's Chocolate Shop)
Note that park admission is require to enter a theme park. If you're not at a park and don't want to pay an admission fee to enter one, your only option is the Disney Springs office.
Are the photos take on rides part of Memory Maker package?
Yes! Some of the Walt Disney World attractions have automated photos taken during the ride. These photos are included with your Memory Maker purchase.
Which rides have photos?
Magic Kingdom: Buzz Lightyear's Space Ranger Spin, Haunted Mansion, Space Mountain, Splash Mountain, Seven Dwarfs Mine Train, Pirates of the Caribbean
Epcot: Test Track, Frozen Ever After
Disney's Hollywood Studios: Rock 'n' Roller Coaster, Tower of Terror, Slinky Dog Dash
Animal Kingdom: Dinosaur, Expedition Everest
Is there any other way to get access to photo taken on the rides?
Yep! Guests who have purchased Disney's Genie+ product have their on-ride photos included in the Genie+ fee. If you're buying Genie+ and just want the ride photos, there's no need to also buy a MemoryMaker.
Will photoPass photographers take pictures with my camera?
They might, depending on how busy they are and what the pandemic rules are at the time of your visit, but this is really not part of their duties, and if there's a line for the PhotoPass photographer, then this is rude to other guests. If you want a group photo taken and aren't going to buy the PhotoPass products, it's better form to ask a passerby to take your picture with your phone/camera. This is common practice at Disney World and most other guests are very willing to help.
Pro tip: If you want another guest to take your picture, look for a young woman. While this is obviously a stereotype, there is some validity to the idea that young women take better phone photos.
Where can I find the photographers? Is there a list of where they're located?
While there are some standard PhotoPass locations, the photographers do move around from time to time, particularly if there are adverse outdoor weather conditions. To see where the photographers are during your visit, open up the map feature in your My Disney Experience app (use the point button next to the home button).
The default display on the map is attraction wait times. However, if you click on the arrow next to "Wait Times," you'll bring up a menu of other items you can choose to highlight on the map, such as restroom and dining locations. One option is "PhotoPass" which will show photographer locations, indicated by a little Mickey head symbol.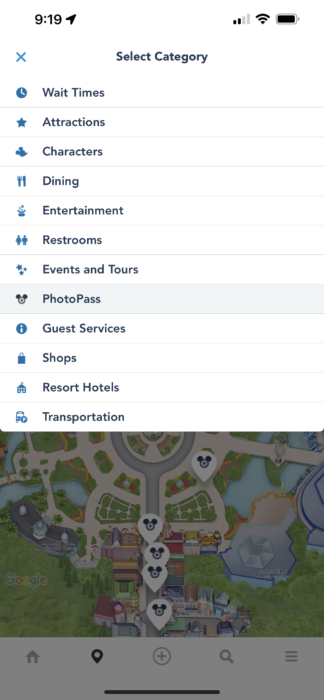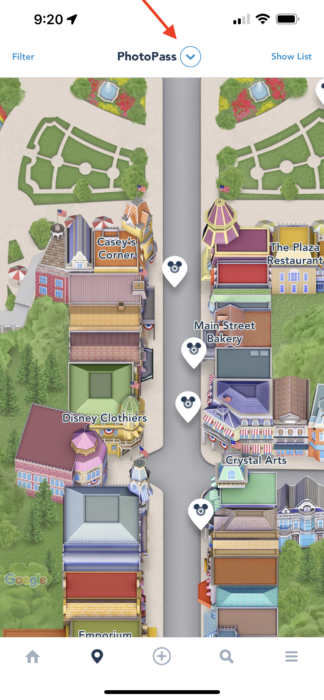 You mentioned Magic Shots. What's that?
Magic Shots are PhotoPass pictures that are embellished with animated characters or trick photography.
The most common Magic Shots involve the photographer inserting a cartoon image of a Disney character into your photo. For example, the photographer may ask you to hold out your hand. Your hand is empty, but when you see the image, Tinker Bell will be sitting on your palm. There are approximately 40 different Magic Shots of this type.
Other Magic Shots include Super Zooms (the camera is located many yards away and there is animation that zooms in on your location) and Tiny World shots that use a 360 degree camera to place you in the center of a universe.
Do the Magic Shots cost extra?
No, Magic Shots are the same price as regular PhotoPass purchases and they are included with your Memory Maker package.
Any other cool features?
There is a photo studio located at the Disney Springs PhotoPass office. There are plain and Disney backgrounds available. You can go there and requests a portrait session and the pictures will be included with your Memory Maker.
Touring Plans social media guru Chrissy Harrison had the great idea to use the PhotoPass studio for school portraits. This could also be done for graduation or engagement pictures.
How do I see my PhotoPass pictures?
Sign in to the My Disney Experience app on your phone. The welcome screen will have a box that says "Photos." Click there. (Note: This is not the same thing as the "Disney PhotoPass Lenses" box. That's an entirely different thing – more on that below.)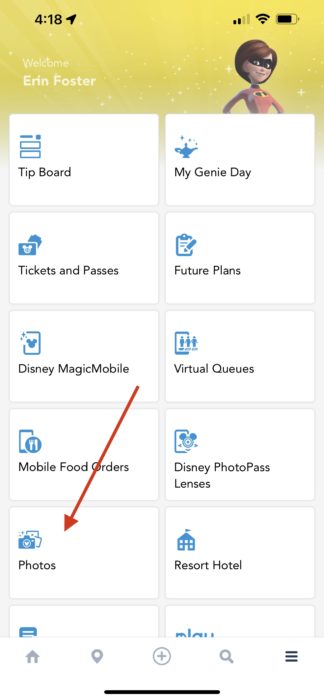 Clicking "Photos" brings up all your PhotoPass pictures. You can either display this in a grid or in a long list format.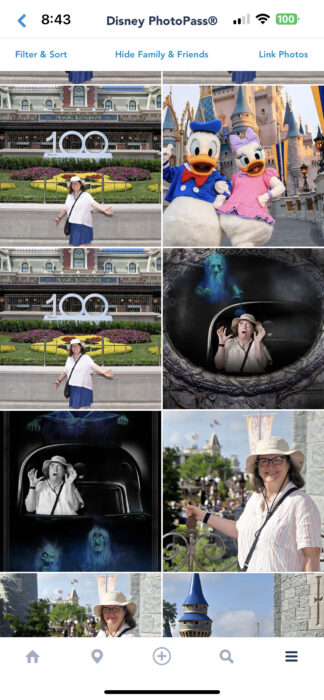 How exactly do I link PhotoPass pictures to my account?
If you've purchased a Memory Maker in advance, the pictures should automatically be linked to your account when you scan a MagicBand or MagicMobile enabled phone. If your pictures are not automatically linked, click "link photos" in the PhotoPass section of the My Disney Experience app.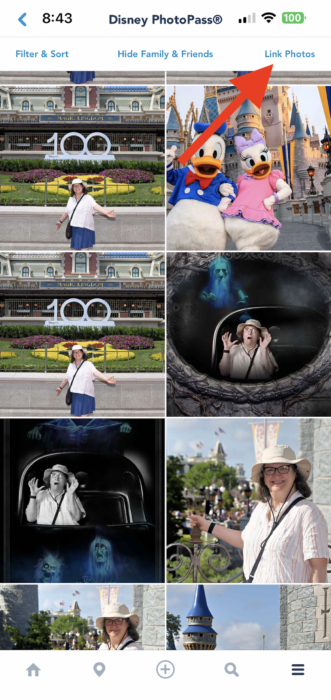 You'll see a number of linking options available here. If a photographer has given you a card with a code, you can scan the card or type in the unique 16 digit code located on the card. You can link a MagicBand or plastic ticket card to use for PhotoPass scans. You can also click "Show PhotoPass Code" which will create a unique QR code on your phone that photographers can scan to link pictures to your account.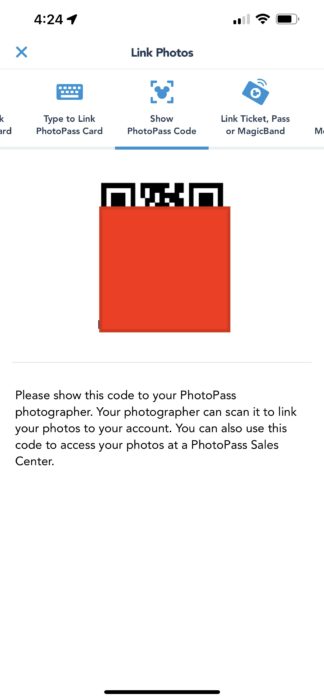 How do I save the pictures?
Click on an individual picture and you'll get three options: Save, share, or edit. Selecting "Save" will give you the option to add the image file to your phone's camera roll in either medium or high resolution.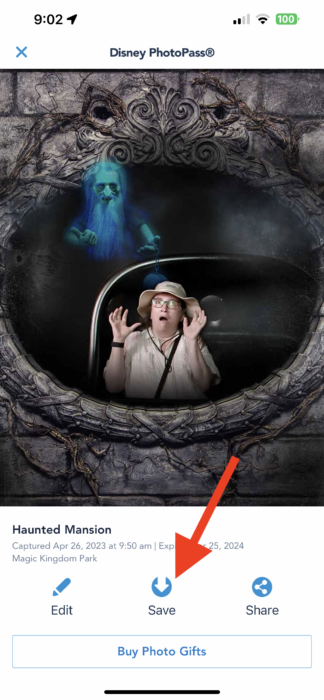 You can save the photos as is, or you can select "Edit" to modify the images by cropping or adding a filter.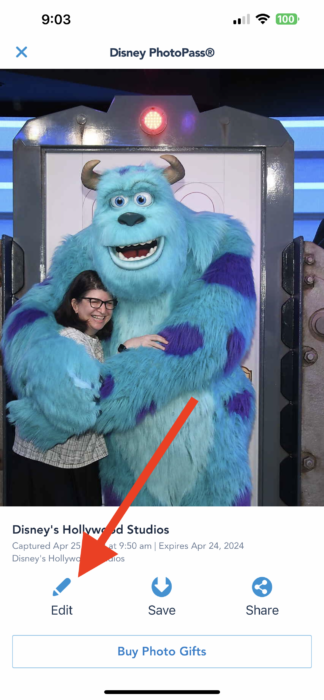 You can also access your pictures on a laptop or desktop computer by visiting https://disneyworld.disney.go.com/photopass/gallery and logging into your account.
The default display here is gallery mode.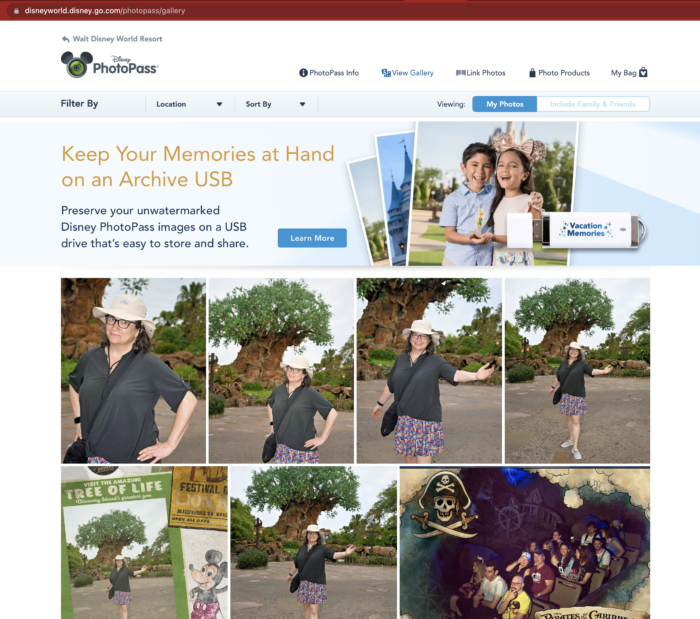 Clicking an individual picture brings up the option to download the image (arrow icon) or to delete it from your account (trash can icon). You can also purchase prints from here.
Note: These prices are for prints AFTER you've already purchased the download right to the image through PhotoPass or via Memory Maker. As print prices go, these are extremely high. You'll certainly be better off printing them yourself at home, printing them at your local drugstore, or by using one of the many general online photo printing services such as Shutterfly or Snapfish.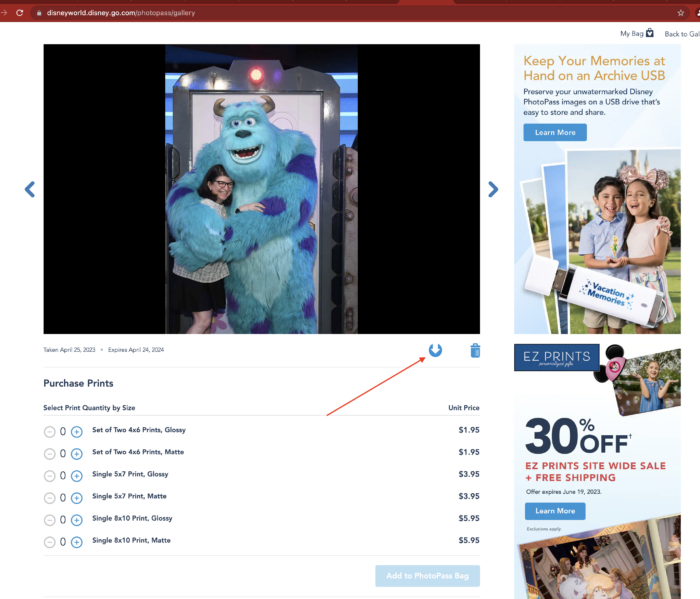 Can I print out my PhotoPass pictures?
Once you've downloaded your pictures you can use them for any non-commercial purpose you like: make prints, post on social media, turn them into holiday cards, etc.
What else can I do on the PhotoPass website?
Links on the PhotoPass website lead to an option to purchase JPEGs of all your photos on a thumb drive. If you have hundred of pictures and don't feel like downloading them individually, this could be a convenient option, though there is a fee. I tend to download my images a few at a time while I'm standing in line for rides at the parks so the task doesn't seem so odious.
The PhotoPass website also provides access to a site where you can make photo gifts such as mugs, ornaments, mousepads, and the like.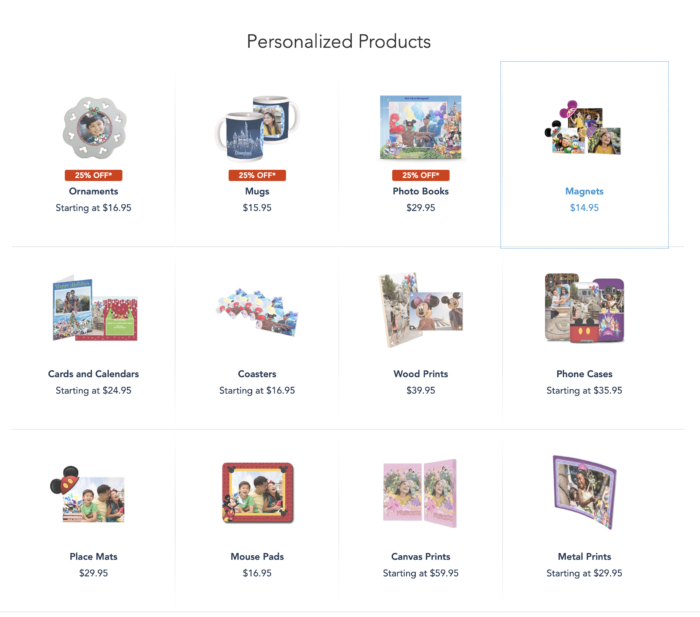 Disney contracts this service out to a company called EZ Prints. The products EZ Prints offers are similar to those offered by many other online photo gift services. If you have a favorite site, there is little reason to purchase this type of item here.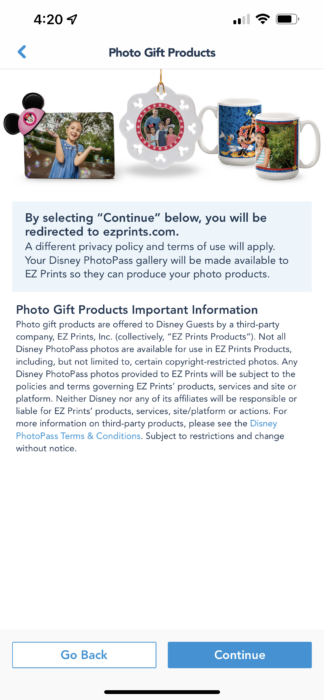 If you do decide to use EZ Prints, look around for coupon codes.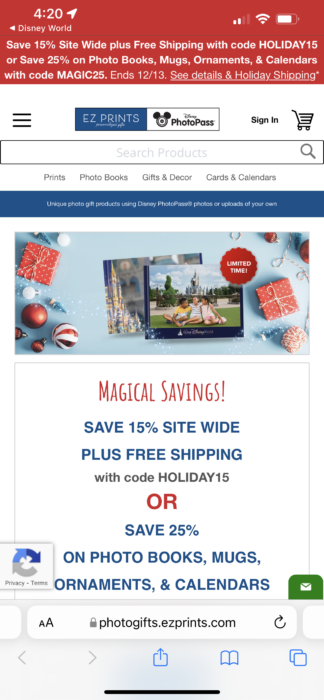 Are PhotoPass pictures included if I buy a Disney World annual pass?
They used to be, but not any more.
Beginning with annual passes purchased after September 8, 2021 annual pass holders who want access to Memory Maker will have to pay for it separately. This is available for a discounted rate of $99.
In most situations, you'll fine if only one member of your family of passholders buys the Memory Maker add-on. (Remember from above that up that the photos of up to 25 linked Friends and Family can be added to one account.) Be careful when purchasing annual passes online for several people at once. We've heard that the online system may try to add the $99 fee to each guest rather than just one.
An easy workaround is to wait to add the Memory Maker feature to your annual pass while you're at Disney World. Just go to any Guest Relations office at the parks or Disney Springs. The $99 fee will be the same and a human can make sure that you're not charged multiple times.
What is a PhotoPass lens?
PhotoPass lenses are similar to MagicShots. They have special filters or embellishments, somewhat like the overlays in SnapChat. Lenses are only available to guests who have purchased Disney World's Genie+ service. Genie+ costs about $15-30 per person, per day, plus tax. (Genie+ cost varies daily depending on park crowd levels.)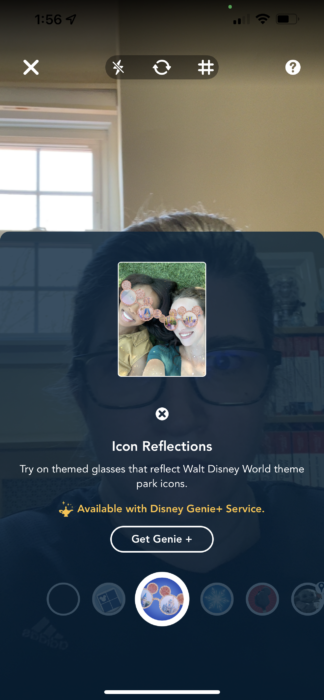 There is some legal mumbo jumbo associated with some of the lenses, read carefully if that's an area of concern for you.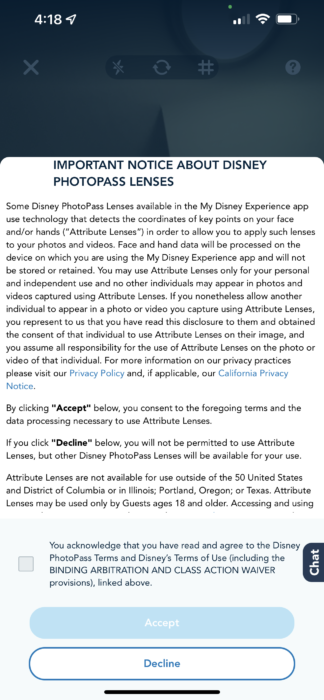 I'm in a race. Can runDisney photos be added to my account?
Yes. Pictures taken by PhotoPass photographers during a runDisney race are included in your Memory Maker package (or you can buy them individually). From the runDisney site:
"All photos taken by photographers during runDisney events will be linked to your bib number — no need to stop to collect PhotoPass Cards or link to MagicBands. Photo linking instructions will be included in race event guides and on the runDisney results page. View and buy your runDisney photos at MyDisneyPhotoPass.com or on the My Disney Experience app available within 48 hours after your racing event."
I'm going on a Disney Cruise too, can I use my Memory Maker account there?
No. Disney Cruise Line has teams of onboard photographers that function very much like the PhotoPass folks, taking guest pictures at key points on the ship. You can buy packages of these onboard photos at a set price, but this is not a Memory Maker package. The two products are completely unrelated and are not interchangeable.
Check out our post of Disney Cruise Line photo packages for more details on this topic.
Is it worth it?
Worth is in the eye of the beholder.
That said, if you're not fond of photos and are short on time, PhotoPass and Memory Maker are probably not worth the cost for you. If you're traveling with a large group for a long family reunion, particularly if there are multiple generations involved, then a Memory Maker probably is worth it. Consider your own needs to assess where you fall on the spectrum.
Originally published Jan 3, 2022.