Gambling on Disney Cruise Line? BINGO!
Unlike most cruise lines, there are no casinos on the Disney Cruise Line ships. You won't find an adults-only smoky room filled with blackjack tables and one-armed bandits, instead DCL offers boisterous games of BINGO filled with song, children, and sometimes hefty cash prizes. Here's what you need to know.
When is bingo offered?
Bingo sessions are offered once, or sometimes twice, per day on nearly every day of every Disney Cruise Line sailing. (Sessions are not typically offered on embarkation days.) Check your Disney Cruise Line Navigator app for specific times during your sailing.
Note: Sales of bingo cards/machines often begin 30-45 minutes before the actual bingo games start. If you're sure you want to play, then send at least one adult member of your party to this "pre-sale" session to buy-in to the game and to snag a seat at the venue. On crowded sailings, both of these may be unavailable to latecomers.
Where is bingo held?
Bingo games are held in one of the ships' lounges, or in particularly crowded sailings, it may be held in a movie theater. Again, be sure to check the Navigator app for specifics.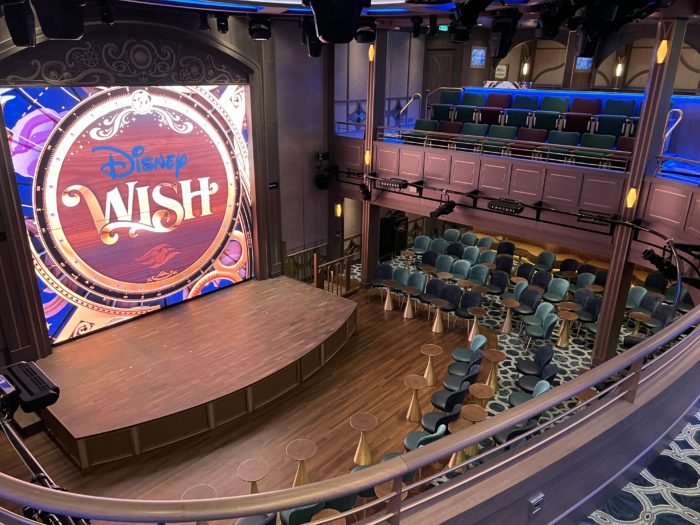 Who can play?
Everyone is allowed in the bingo room and kids can play along, but the actual bingo cards/machines must be paid for by an adult age 18 or older and if there are winnings, they will go to an adult.
How much does bingo cost to play?
Prices vary. As a point of reference, on a recent sailing of the Wish, a 3-card pack of paper game cards (good for the four games held in a session) was $10, a mechanical handset loaded with 24 cards for each of the four games was $40, a handset loaded with 48 cards for each of the four games was $50 and a "family pack" of two 24-card handsets was $60.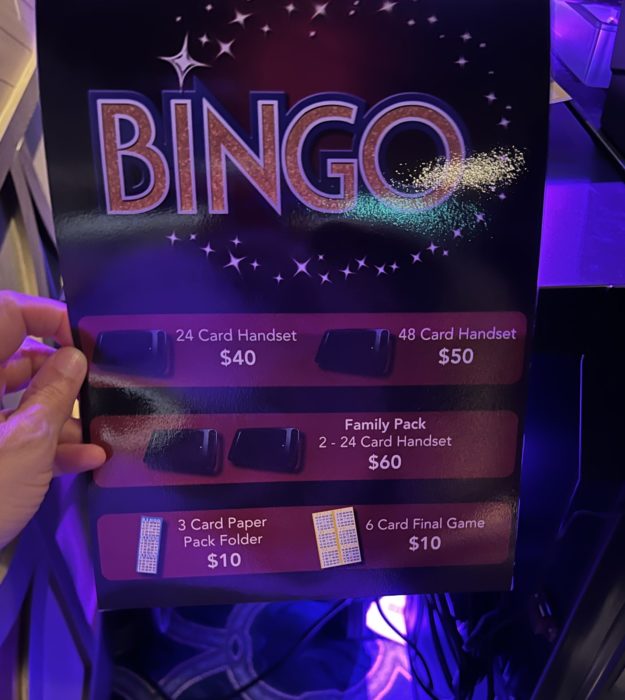 On a sailing of the Dream during spring 2022, prices were $15 for a 3-card paper pack, $25 for 6-card paper pack, $40 for a 24-card handset, $50 for a 48-card handset, and $70 for two 24-card handsets plus two 3-card paper packs.
You'll likely find that prices are slightly more during the final bingo session of your sailing, when the jackpot payouts are higher.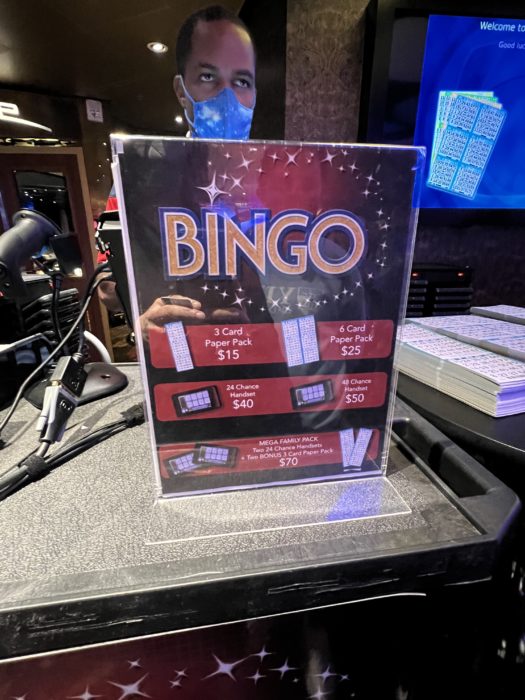 How much can I win?
Cash prizes vary by game, depending on how many passengers are playing. The first game of each four-game session will have the lowest payout and the last of the four games will have the highest payout. On a typical cruise, the first game will have a payout in the $100-200 range and the last game will have a payout of $400-600 per game, but there is large variability in these numbers. The very last game of a sailing may be designated a special jackpot game with prizes up to $10,000 or so.
Any of these payouts may be split among several guests if there are multiple bingo wins in a given game.
In addition to cash prizes, most bingo sessions also have random drawings for non-cash prizes of DCL swag such as baseball caps or mugs. Additionally, the spa might offer random drawings during bingo for things like massage sessions or an onboard shop might offer drawings for small pieces of jewelry.
What is handset?
A handset is a machine loaded with multiple bingo "cards." Rather than you having to manually keep track of which numbers have been played, as you would with a paper card, the machine keeps track for you, alerting you when you're getting close to an acceptable bingo.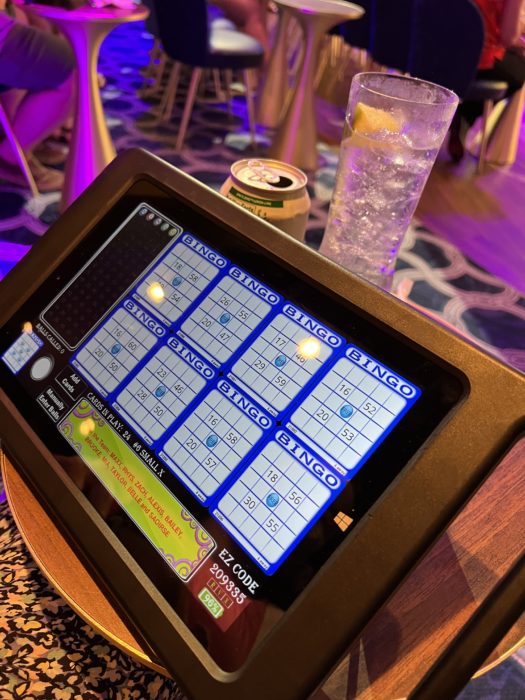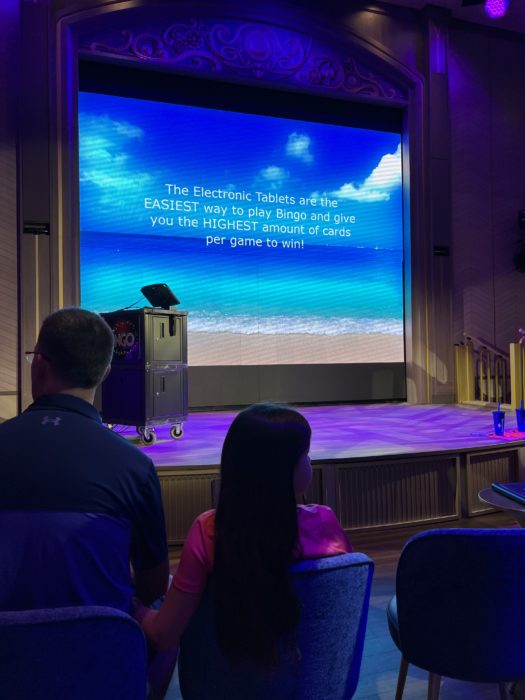 Are all bingo games the same?
No. DCL typically has four games per bingo session and they will all be a different style of bingo. For example, one game might ask guests to complete one diagonal line. Other games might ask you to complete the top and bottom rows, to complete both the B column and the O column, to complete any block of six contiguous numbers, or even to complete an entire card (a "blackout").
Do people really win?
Yep! My family plays an embarrassing amount of bingo on every DCL sailing. A member of my family has won perhaps half a dozen times over the course of playing about a hundred times. Recently my oldest daughter won $135 on the Dream and then a few weeks later another daughter won $554 on the Wish. The most I have ever personally won was $95.
Several years ago, I witness another guest win about $9,000 in the final bingo game on a sailing of the Fantasy. This paid for his entire cruise and then some. Needless to say, his cries of joy could be heard all the way down the deck.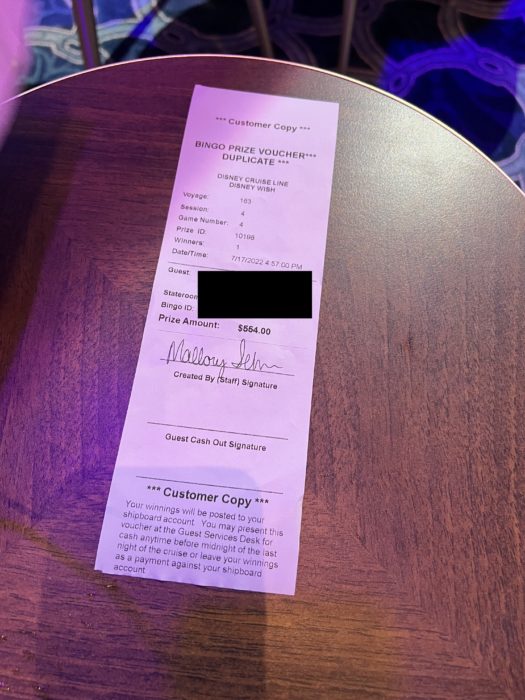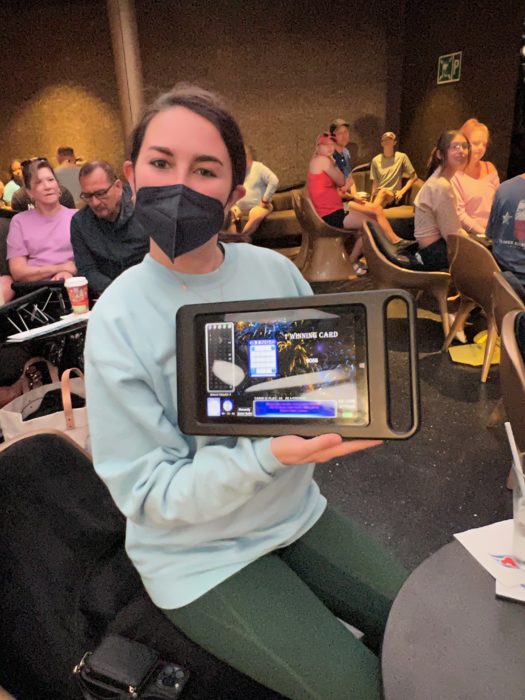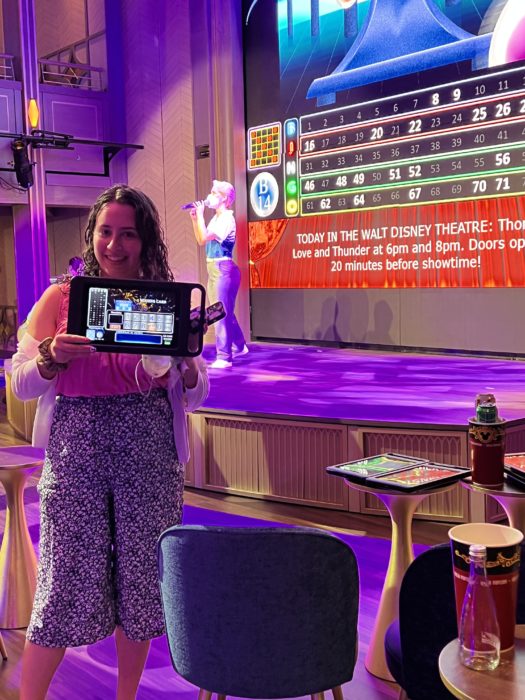 How do you collect your winnings?
The default option is for the winnings to be deposited as a credit into your onboard account. However, if you prefer cash, or if your winnings are larger than your onboard bill, speak to the Guest Services desk and they'll issue you cash.
Are refreshments available during bingo?
Waiters will come to the seating areas during bingo. You can purchase alcoholic or non-alcoholic beverages for a fee, though there is no obligation to do so.
You can also bring a soda or snack from the onboard quick service locations with you into bingo for no charge.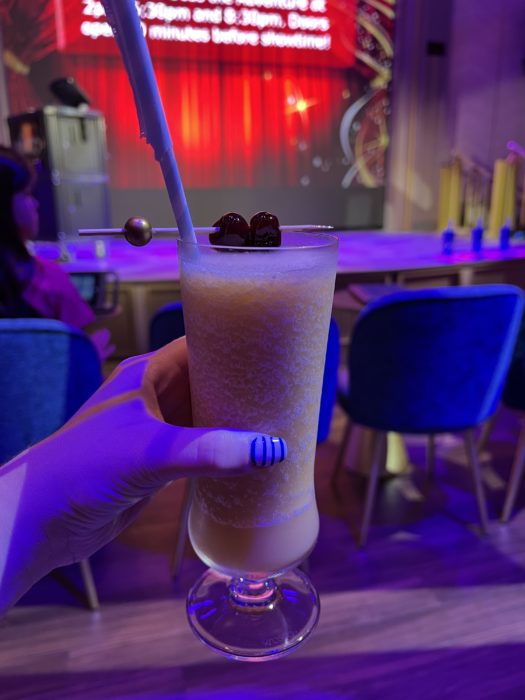 Are there any solid rules for DCL bingo?
Yep. Here they are:
The minimum age for winners is 18. Children below the age of 18 may participate, however they must be supervised at all times by the adult who purchased the bingo card in play. The adult must also claim any winnings.
Bingo cards must be purchased and activated for the current session. Retain your receipt for proof of purchase.
It is the responsibility of the player to stop the game when they have a valid claim to bingo. Once the game is closed, no further claims will be honored.
The last number called must appear in the winning pattern.
Bingo cards cannot be ripped or torn, and must remain intact.
Any and all errors must be presented to bingo staff prior to game start.
You must notify the staff if there are any handset malfunctions.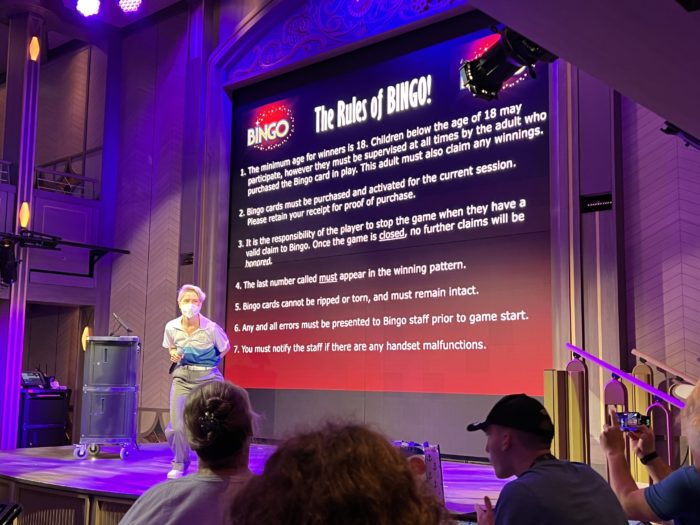 Any other rules?
Well, in addition to the official rules, DCL bingo has plenty of unofficial rules that you'll pick up on as you play. Some of these include:
When you're one number away from getting a bingo, you're supposed to stand up. This both lets other guests in the room know what's going on and alerts the bingo staff that they should make their way to your section of the room in case you win.
The bingo staff, and everyone else, in the room gets up to dance when the ball B-11 is called. (When the bingo machine is set in Spanish mode, B-11 sounds like "Beyonce" and, of course, everyone dances to Beyonce.
The bingo machine is named Betty. (The reason for this has never been clear to me.) If you're not getting the numbers you want, you should yell "SHAKE IT UP BETTY!"
In general DCL bingo is a convivial affair, with lots of music and merriment. Expect things to be moderately loud and boisterous. Have fun!