How to Get from the Airport to Walt Disney World
One of the most basic questions in planning a trip to Walt Disney World is: How do I get from Orlando International Airport to my Disney hotel. Here are your options. Last updated/republished July 15, 2023.
Motorcoach
There are two companies offering motorcoach service to the Disney World Resort from Orlando International, Mears Connect and Sunshine Flyer. Although we still have separate descriptions below, the two services will merge into a single service on August 1, 2023: Mears Connect Driven by Sunshine Flyer. Sunshine Flyer will still operate as described below until August 1.
Mears Connect
Mears has been running shuttles from MCO to WDW for decades. While Magical Express was a Disney brand name, the actual bus service was run by Mears. And prior to the inception of Magical Express, Mears ran the WDW hotel shuttle under their own name as a fee-based service for guests.
Now that Magical Express has ended, Mears Connect is once again running hotel shuttles from MCO to Disney World. Mears Connect has two forms of service: Standard and Express.
Standard service functions like Magical Express used to. This is a shared ride in a motorcoach that may make a few stops at other hotels, and you may wait up to 20 minutes for your ride to depart from the airport. Rides may be reserved either one-way or round-trip. Each leg costs $16 for adults or $13.50 for children.
The Express Service is much like a town car service. Your party is transported in a dedicated vehicle; it's just you and the driver. The round trip price is $250 for up to four passengers, with additional passengers transported at $55 each, round trip. Mears advertises that it will not implement surge pricing during high demand transportation windows.
There are pros and cons to each version related to cost, time commitment, interaction with other guests (important to some in the COVID era), need for car seats, and so on.
Both the standard and express services have options for handicapped guests.
Sunshine Flyer
Sunshine Flyer is another motorcoach service, featuring buses that are wrapped as 1920's era locomotives or passenger cars. Like Mears Connect, Sunshine Flyer promises that you won't wait more than 20 minutes to board your bus. They also schedule trips so that it's no more than 65 minutes from the time your bus departs until you're dropped off at your resort. Each leg costs $16 per adult and $10 for children.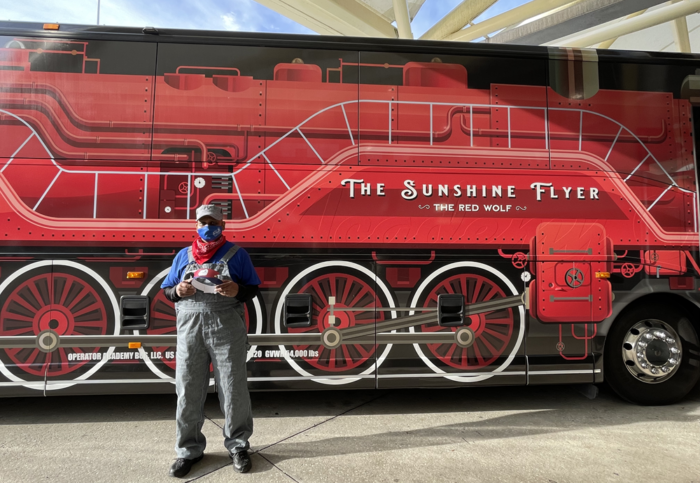 The two services are very similar, but there are a couple of important operational differences. First, Mears Connect is a 24-hour service, but Sunshine Flyer runs from 4 a.m. to 11 p.m. If you're somehow arriving in the wee hours of the morning, this may make a difference to you. The other significant difference is that Mears Connect services a number of the Disney Good Neighbor hotels in Disney Springs and the surrounding area, and Sunshine Flyer does not.
Rent a Car
There are a number of rental car options from MCO. Rental agencies located at the airport itself include: Alamo, Avis, Budget, Dollar, Enterprise, Hertz, National, Payless, Sixt, and Thrifty. These services have cars that you pick up directly at the airport terminal.
Additionally, there are a few dozen vehicle rental agencies that keep their cars off-site, accessible via a shuttle service from the airport. Among these are Florida Van Rentals, Action Car Rental, Inbocars, Fox Rent A Car, and GreenMotion Car Rental.
Choosing the right rental agent for your needs will involve an assessment of price, loyalty programs/points options, party size, type of vehicle required, and so on. You should also consider whether you will be subject to parking fees at your Disney hotel. Note: Disney Vacation Club members may not be subject to the same fees as other guests.
Another significant factor in the decision to rent a car will be your overall vacation plans. Your decision might be very different if you're just visiting Walt Disney World during your trip or if you're planning to go to other area attractions, to the beach, or to travel to other parts of Florida.
Arrange for a Town Car or Limo Service
Town Car and Limo services typically pick you up directly at the airport. Depending on the service you can customize your pick-up by choosing a type of vehicle, need for car seats, party size, amenities like snacks and water, and interim stops on the way to your hotel (at a grocery store, for example). There are dozens of Town Car services that work in central Florida. Popular options include Happy Limo and Quicksilver.
Take a Ride Share Service
Lyft is the preferred ride share service for Disney World, but Uber works just as well. Just download the app/s to get started. It never hurts to compare prices and availability between the two.
Ride share use is second nature to some folks, but if you want to guarantee that you'll have wheelchair accommodation or car seats, a shuttle service (Magical Express or Mears Connect) or a reserved limo may give you more peace of mind.
In addition to using Lyft or Uber to get to/from the airport to your hotel, many guests also use these services to travel from their hotel to the theme parks or to other resorts. Disney's transportation system of buses, boats, monorails, and the Skyliner does serve these routes at no charge; however, Disney's free options may not always be the fastest option.
Take a Minnie Van
If you're staying Club Level at Disney World, you have the option to arrange a Minnie Van in advance. The price is $199 one-way, and you'll need to work with Signature Services to book. Minnie Vans are more expensive than a regular Lyft, but many who choose to use them like that they are a Disney product. You know the drivers are vetted by Disney, you know they'll show up with carseats, and you're confident that the experience will go smoothly.
Take a Taxi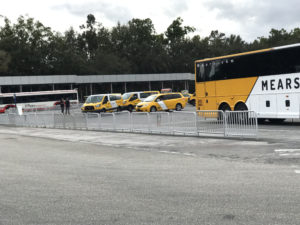 Good old yellow cabs are still an option. If you're at the airport and want a cab, just go to the Ground Transportation Level and look for the taxi line. You'll be boarded in the next available vehicle.
From your hotel, ask the bell services desk to call you a cab.
Many of the taxis in the Orlando area are operated by Mears, the same folks that run Magical Express and its replacement. Give them a call at 407-422-2222 if you have questions.
(Don't) Take the Train
Someday guests may be able to take a train from MCO to WDW, but that day is not today.
Brightline was planning to build a passenger rail line from Orlando International to a station to be built somewhere at Disney World (likely Disney Springs). Unfortunately, that project has been canceled. It's unknown if any Orlando Brightline stations that are built in the future would be close enough to Disney World to make the train a reasonable option.
For most of these options, you'll want to take a look at the Mousesavers.com Transportation Discount page, which is a great resource for codes and tips on how to save money on transportation to Walt Disney World.