Should You Rent a Car at Disney? Comparing the Costs of Getting Around Walt Disney World
One question we at TouringPlans frequently get has to do with getting to and around Walt Disney World, and how to do it as inexpensively as possible — should you rent a car, use ridesharing services, use cabs, something else?  If you're staying off site, you must budget the not-insignificant cost of transportation into your trip. Moreover, even though you can take advantage of Disney's Magical Express and Disney Transportation if you're staying at a Disney hotel, such that there isn't a need to have a car at all, many on-site guests find that Disney buses can be unpredictable and slow at times and/or some guests simply prefer the freedom associated with having a car or making their own transportation arrangements. Accordingly, it makes sense to take a deeper dive into other transportation options that give you more control and that can be faster to see if it's worth that extra premium.
With that in mind, here's a breakdown of what it costs to rent a car, versus using ridesharing services like Uber or Lyft. Want to know which comes out on top? Read on after the jump!
What is Ridesharing?
Ridesharing services have become common enough now to be pretty conceptually familiar to most, but if you don't have them in your city, you might still not know exactly how they work. Ridesharing services are similar to using a taxi cab, except instead of calling a cab, you use an app on your smartphone to call for a vehicle. Put in your location and where you're going, and the app will locate a nearby driver, who will then pick you up and take you to your destination. Unlike taxis, you're able to track the location of your driver in real time while you're waiting for the car to arrive, and at the end of the ride, the cost is automatically charged to a credit card associated with your account, so no cash exchanges hands and there is no direct monetary transaction between the driver and rider at all. Also worth noting, ridesharing service drivers use their own vehicles, so the car that comes to get you will not be marked like a cab would be, except perhaps with a small Uber or Lyft logo card in the window.
If you intend to use these services, you'll need to have the apps installed on your smartphone. You can download them here:
Most users of ridesharing services would likely agree that the experience tends to be more pleasant than a traditional cab. Knowing when your vehicle will arrive and what it will cost in advance can be very helpful as compared to calling for a cab and just waiting and hoping for the best. I personally find rideshare drivers to be much friendlier. More objectively, however, Uber and Lyft are going to be cheaper than a cab, and typically they are cheaper by a wide margin. Accordingly, to the extent that this article is intended to delve into the least expensive way to get around Walt Disney World when you don't have your own car with you, discussion of traditional cabs is going to be minimal — from a cost standpoint, they aren't really competitive, as you'll see below.
Methodology
Here's the method I used to delve into affordability. Let's assume a trip of 5 nights and 6 days from August 5-10, 2017, arriving at Orlando International Airport. I'm going to do the math for two non-Disney hotels who therefore don't have Disney transportation as an option — I'm using Wyndham Bonnet Creek Resort, a popular resort on the southeast part of Disney property, relatively close to Disney Springs, and Sheraton Vistana, which is fully off of Disney property but still close enough to be a popular option for off-site guests. I'm also doing the calculation for a Disney hotel for those of you that would simply prefer not to be entirely reliant upon Disney to get around — Coronado Springs, on account of its central location. I'll crunch the numbers for a party of 4, and for a party of 6, since the larger party will require a larger vehicle and will change the math a bit.
I used www.uberestimate.com to estimate the cost of any given ride using a rideshare service. It provides a range, so I've taken the average of the ends of the range. For example, for a ride where the range is $7-10, I'm using $8.50 as the cost of the ride.
For the cost of the rental, I obtained costs for Hertz, Alamo, and Enterprise for a standard/full-size vehicle. The weekly price (which is cheaper than by the day for 6 days) ranged from $315-$345. For the purposes of this exercise, I used $320, the median quote. For a vehicle that would accommodate the larger party, the cost range was slightly higher; the median quote was $350. Note that depending upon when you book, the price could be more or less, and even using these dates, you could pay less, even significantly less, using Hotwire, Priceline, or otherwise pre-paying your rental. Not everyone is comfortable with that, however, so I'll use the basic rate for the purposes of analysis. Just understand that the rental cost is the most fluid variable here, so make sure you crunch the numbers yourself for the time that you're going when you're trying to figure out which approach will be cheaper.
Finally, here's the schedule I'm using:
Day 1: Arrive at airport, travel to resort, roundtrip to Magic Kingdom;
Day 2: Travel to Disney's Hollywood Studios, Disney transportation to Epcot, return to resort;
Day 3: Animal Kingdom;
Day 4: Epcot morning, break, Magic Kingdom evening;
Day 5: Magic Kingdom, break, Disney Springs evening;
Day 6: Epcot, return to airport.
Look like a fun trip? Doesn't really matter, it's just for demonstration anyway, but hopefully it's similar enough to your trip for the math to be helpful. If it isn't, though, you can certainly run these same calculations using your own itinerary and the same tools I used.
Extra Costs Associated With Renting
One quick note about renting a car before we begin — while not really fair to call them "hidden," there are several additional costs beyond the raw cost of renting a car that you should take into account when budgeting the total amount you're going to pay:
While parking is included at Disney hotels, you have to pay extra for it at the Four Seasons, Swan and Dolphin, most non-Disney-run resorts in the Disney Springs area, and several other off-site resorts in the area. If you're renting a car primarily because the math works out that it's cheaper, make sure your resort doesn't charge you a parking fee that will eliminate those savings.
Similarly, if you're staying off-site, you're going to have to pay for parking when you go to the parks if you have a rental, which is currently $20/day. If you're using a rideshare service, you obviously won't have to bear this cost. Make sure you incorporate this added cost when you do the math. Obviously, if you're an annual passholder, you can ignore this from your calculation.
Do you need a car seat? Children that would otherwise require car seats are permitted to ride in shuttles, buses, cabs, and ride-share vehicles in Florida without a car seat, but if you're driving, they need to be in one. Unless you're bringing one from home, expect to pay between $15-20/day for a car seat.
Finally, your rental car will require gas. Walt Disney World isn't terribly far from the airport and there's not an enormous amount of driving once you're there, so I'm going to estimate $15 to be conservative; the actual cost of your gas may well be less, but for budgeting purposes, it should work.
One added note, rental car companies can also offer a variety of up-charges when you rent the car. Add-ons like extra insurance, prepay gas, and a SunPass transponder included for ease of toll charges can make your rental car prices creep upwards when you go to pick up your car. Make sure you know what you're going to pay for before you sign that contract.
The Results
So, how does this all break down?  Here's what I came up with:
Rental Costs
The costs below are based upon renting a standard/full-size car. The totals for renting a larger vehicle are included at the bottom of the chart — the only change is to the cost of the rental itself, which was $30 more when I booked for this exercise.
| | | | |
| --- | --- | --- | --- |
| | Coronado Springs | Wyndham Bonnet Springs | Sheraton Vistana |
| Rental Cost | $320 | $320 | $320 |
| Parking, Resorts | 0 | $120 | $0 |
| Parking, Parks | 0 | $120 | $120 |
| Gas | $15 | $15 | $15 |
| Tolls | $4.50 | $4.50 | $4.50 |
| | | | |
| Total | $339.50 | $579.50 | $459.50 |
| Total(6) | $369.50 | $609.50 | $489.50 |
Rideshare Costs
The per-ride costs are based upon a group of 4 or less using UberX. Larger groups would be required to use UberXL, which costs slightly more. While I have not included the per-cost UberXL rides here, they are reliably higher and the totals for the entire length of the trip are included at the bottom of the chart as well; as you can see, the need for a larger vehicle adds approximately 60% to the cost of using a rideshare service.
| | | | | |
| --- | --- | --- | --- | --- |
| Day | Trip | Coronado Springs | Wyndham Bonnet Springs | Sheraton Vistana |
| 1 | MCO-Resort |  $26.50 | $24 | $22 |
| | Magic Kingdom, RT |  $16 | $18 | $23 |
| 2 | To Hollywood Studios |  $6.50 | $6.50 | $9.50 |
| | From Epcot |  $7 | $7 | $9.50 |
| 3 | Animal Kingdom, RT |  $13 | $19 | $23 |
| 4 | Epcot, RT |  $14 | $14 | $19 |
| | Magic Kingdom, RT |  $16 | $18 | $23 |
| 5 | Magic Kingdom, RT |  $16 | $18 | $23 |
| | Disney Springs, RT |  $14 | $14 | $14 |
| 6 | Epcot, RT |  $14 | $14 | $19 |
| | Resort-MCO |  $26.50 |  $24 | $22 |
| | | | | |
|  Total | | $ 169.50 | $176.50 | $207 |
|  Total(6) | |  $279 | $288 | $344.50 |
Accordingly, for a trip like this, from a pure money standpoint, you'd be better off using Uber or Lyft rather than renting a car, and it's not really a close call.
So what's the takeaway?  That you will always save money by using rideshare services over renting a car?  Probably, but not necessarily.  As is apparent from the chart above, for a trip like this one, using a rideshare service is likely to be cheaper, and this is actually going to remain the case even if you go back to your resort a bit more than I've envisioned here. With that said, car rental prices can fluctuate pretty dramatically — I've seen full-size vehicles rent for as little as $13/day from the Orlando airport, and it could be that there is a deal available when you go that could make it a much closer call. The other big variable is whether you plan to make a trip over to Universal Studios, SeaWorld, or any of the other area attractions, as the more long rides you have to pay for, the more a rental is going to start to chisel into the savings. As is often the case when planning a Disney trip, it's worthwhile to run some rough numbers and see which is cheaper.
But What About Cabs?
As an aside, I've also crunched these numbers for taxi cabs using Mears' Taxi Fare estimator, because I know some of our readers still think of cabs first as a way to get around when they don't have a car. From a cost standpoint, cabs did not "fare" well, pun very much intended.  The same collection of trips from Coronado Springs that cost $169.50 using rideshare services cost a jaw-dropping $370.37 using old-school cabs, which is comparable to renting a car on this trip. For that reason, and because this is all about which way of getting around is more cost-effective, I'm not going to bother delving into cabs further — suffice it to say that if you're not going to rent a car and cost is a consideration, using a rideshare service like Uber or Lyft is going to be cheaper than taking a cab, and it's not really a close call.  Even if you travel at peak times and surge pricing causes the rideshare rides to be somewhat more expensive, you'll still save plenty of money by not relying on cabs.
Beyond Cost
Cost isn't the only consideration, of course, and there are a few quirks associated with renting a car and using ridesharing services that might sway your decision if the actual cost for you is close.
Rideshare services in most cases drop you off right near the entrance the park (except for the Magic Kingdom, more on that later). In contrast, when you rent a car, you have to park that car and then walk or take a tram to the park entrance. This adds time — sometimes significant time — to the process both coming and going.
At the Magic Kingdom, however, rideshare services drop you off and pick you up at the Ticket and Transportation Center, which is also where you park when you have a car. Accordingly, if you're staying at a Disney hotel, it's generally faster to just take the bus to the park because the buses drop off right by the Magic Kingdom entrance — even if you have to wait for a bit, it's still generally going to take less time than if you were to go through the rigmarole of parking.  The point is, if you're staying at a Disney hotel but plan to use a rental rather than relying upon Disney transportation because it will save you time, it might not save you any time at all if you're going to be spending a lot of time at the Magic Kingdom and you might end up not using it as much as you think.
If you're using a rideshare service, however, you can eliminate this issue to some extent by being dropped off at the Contemporary Resort and walking over to the Magic Kingdom from there. It will add about a 10 minute walk to your journey, which may or may not be faster than just taking the Disney bus.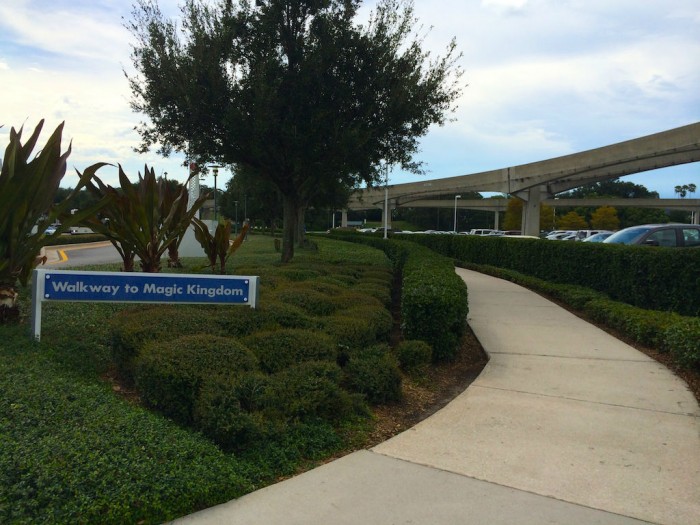 Tip: Hybrid Approach for Onsite Guests
What about those of you that are staying at a Disney hotel, but are thinking of renting a car just so you don't have to rely upon Disney transportation? Here's where using a rideshare service can really be a great way to have the flexibility of controlling your own schedule without breaking the bank.  Use Disney's transportation when it makes sense — for example when you're going to the Magic Kingdom, when the bus to the park you're going to happens to be pulling up as you get to the bus stop (or you can tell from the monitors at some resorts that it's close), or even to and from the airport using Disney's Magical Express — and rely upon rideshare services for your other transportation needs. Rideshare services can be a particular boon when you're going from resort to resort, when relying upon Disney transportation will probably mean going to one location only to hop on another bus to your ultimate destination. Using our example above, if this hypothetical family at Coronado Springs were to use Disney's Magical Express and take the bus to Magic Kingdom only, the total transportation bill of $169.50 could be reduced to just under $69.  As compared to the overall cost of a Disney trip, $69 is a drop in the bucket and could well be worth the money for the added flexibility it provides and the time it saves.
* * *
What do you do?  Rent a car?  Use Uber or Lyft?  Disney buses?  Will this change how you approach it going forward?  Are there any other things that you factor into your cost comparison?  Let us know in the comments!