Resort Rundown: Disney's Caribbean Beach Overview
Escape to the Caribbean islands, or at least Disney's interpretation of them. At Disney's Caribbean Beach Resort you will find tropical influences everywhere you turn. A well-appointed Moderate resort, the first one ever created in fact, many families find Caribbean Beach to be a happy medium between a good value and solid amenities. Now, with the addition of having the Disney Skyliner hub on its grounds, and a massive redesign of the main building and dining, this resort is gaining popularity.
Location
Disney's Caribbean Beach Resort is practically in the middle of Walt Disney World property. As a Moderate resort there are some great amenities, though no major attractions within walking distance. However, the brand-new Disney Skyliner system transports guests to Disney's Hollywood Studios and EPCOT, and its hub is part of Caribbean Beach's grounds. In fact, it is the only resort with direct Skyliner service to both parks.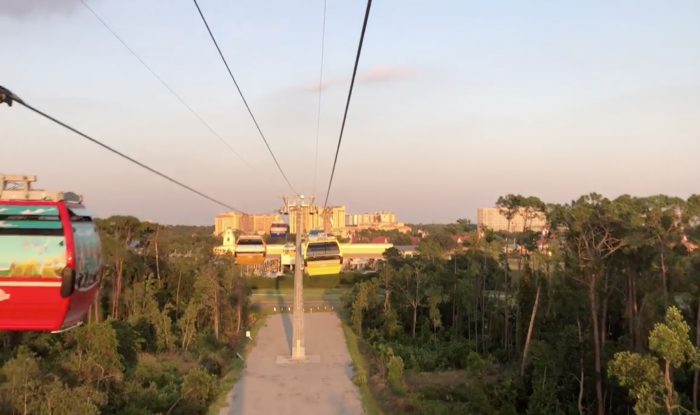 Rooms
Enjoy the tropical atmosphere of the resort as it is carried into the rooms. Exotic-style wood furniture and panels add a relaxing getaway feel. Bright tropical colors are merely an accent so as to note assault the senses. There are no major touches of Disney either, in any of the decor. A great feature of the Moderate resorts is the larger vanity area as compared to the Value resorts, and that this vanity area is both separate from the shower and toilet, but also partitioned off from the bedroom. All rooms have two queen beds, and there is a "5th Sleeper" category that includes a pull down bed. There are also a select number of rooms with one king bed.
An additional category of rooms is the Pirate rooms. These themed rooms are fantastic for a special ocassion with kids, but not so much otherwise. While the decor is over the top and wonderfully detailed, the pirate ship beds – which look super cool – are not all that comfortable. Plus, the beds are only double size, not queen.
Each cluster, or village, of buildings is named after a different Caribbean Island. Aruba is nearest to Disney's Riveria Resort Skyliner Station, and Jamiaca is nearest to Caribbean Beach's station. The remaining villages, Martinique, Barbados, and Trinidad require a walk across the resort's lagoon to access either station. Once upon a time, Caribbean Beach, being the oldest Moderate resort, often had the lowest room rate. Now, with rooms refurbished in 2018 and the re-imagining of the dining and amenities, it often has the highest room rate of its category.
There are two view categories: Standard and Water or Pool view. Speaking of views, you can use the awesome TouringPlans Room Finder to help you narrow down the exact room location you would like. You can plug in your preferences and find rooms that match your needs. Then when you make your reservations and check in you can request your desired rooms. This tool is free to use.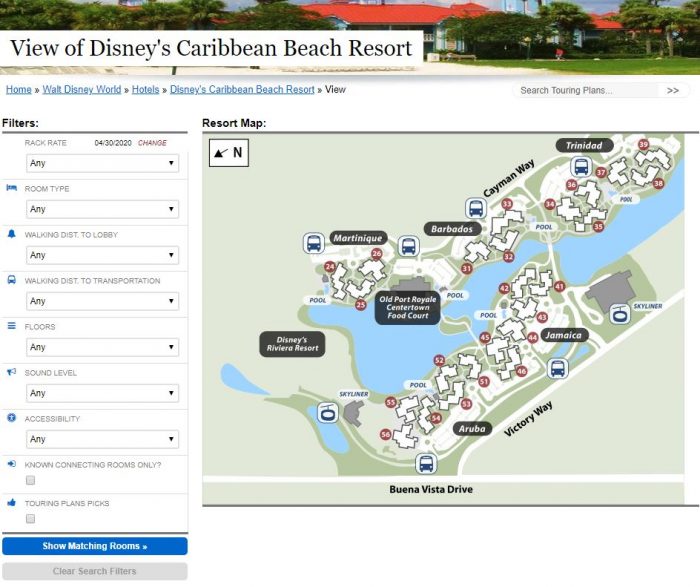 You can tour a renovated room in our video:
Dining
As a Moderate resort, Caribbean Beach offers one table service dining location, one counter service location, one deluxe pool bar and a pool snack bar, and on-site pizza delivery. The table service location is considered to be a hidden gem by many. Sebastian's Bistro is a newcomer. It replaced Shutters which was a very unpopular table service tucked away in Old Port Royale. A massive re-imagining of Old Port Royale – the resort's main building with shopping, dining, and recreation provided a much needed upgrade.  Open for dinner only, this restaurant is a nice choice if you want a relaxing evening back at your resort. Sometimes reservations can be hard to catch at Sebastian's Bistro, so check out our free TouringPlans Dining Reservation Finder.
Centertown Market is the resort's counter service food court, open for all meal periods. The interior used to resemble an outdoor Caribbean market. The heavily themed area has been modernized, but it is still a nice dining area with great tropical flavors from which to choose. And don't forget you can use the Mobile Order function, so you can order food while in your room or on the bus on your way back from the parks and pick it up when you arrive.
Banana Cabana is the resort's pool bar, but it is so much more than a basic pool bar. It has a tropical lounge feel with spectacular views. Besides some delightful tropical cocktails, like Caribbean Smuggler and Hoist the Colors, Banana Cabana also has some of the best mocktails on property. And, their food options are wonderful – don't miss the Loaded Sweet Potato Fries, Jerk Chicken Sandwich, or the Caribbean-Style Cheesesteak.
If you're in need of more dining options, there is on-site pizza delivery or you can stroll over to Disney's Riviera Resort, or hop aboard the Disney Skyliner to head to EPCOT or Disney's Hollywood Studios.
Pools
There are lots of pools for splashing around at this island themed resort. Fuentes del Morro Pool is the feature pool and one of the most elaborate pools found in a Moderate resort. Two waterslides plus out-coves and water cannons make this a popular pool with kids. There is also a ship-themed water playground. For a quieter retreat, there are five small leisure pools at each collection of guest room buildings.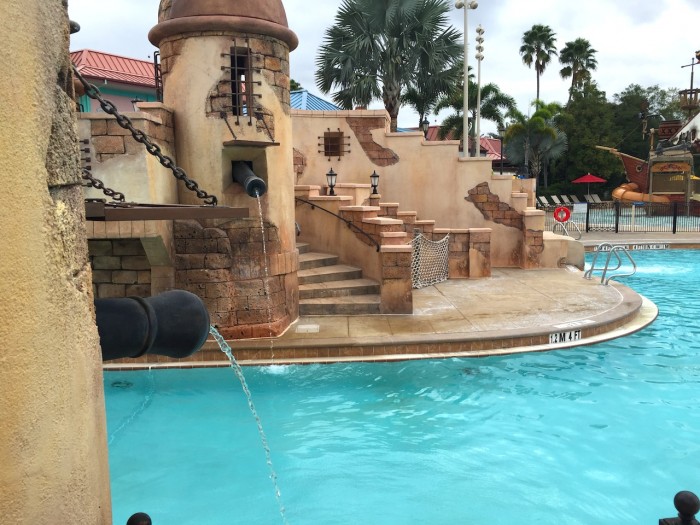 Recreation
There is a lot recreation throughout this tropical getaway. Movies Under the Stars and the campfires are great features. A playground, volleyball, and a jogging trail each provide different ways to have fun. There's a little island in the middle of the lagoon, accessible by bridge that is fun to explore. Fishing, bike rentals, and pirate cruises are an additional charge, and round out the fun of this resort.
Transportation
One of the most loved features of this resort is the Disney Skyliner gondola system. Disney's Caribbean Beach Resort is the hub of the Skyliner system with connections to EPCOT, Disney's Hollywood Studios, and Disney's Pop Century and Art of Animation Resorts. Disney buses are available for the remaining theme parks and the water parks, and Disney Springs. There is also an internal bus system to get around the resort itself.
Other Information
Want to learn more about Caribbean Beach? Come along on a walking tour in our video here:
We sure ran through a lot of information about Disney's Caribbean Beach Resort, so here's a handy-dandy infographic that sums it all up: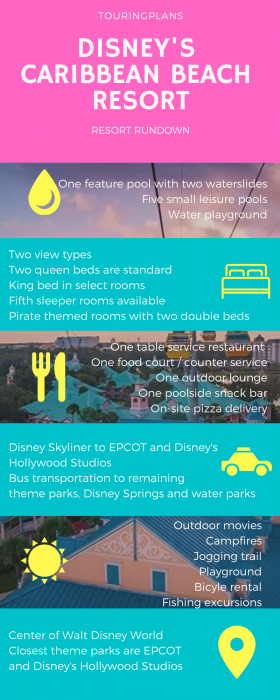 Have you stayed at Caribbean Beach before? What are your thoughts about this resort?