SATURDAY SIX: Six Reasons We Love Disney's Fort Wilderness Resort Cabins
This week's SATURDAY SIX takes a look at Disney's Fort Wilderness Cabins, and today we even have a special guest author in Steve Bloom. Now Steve is a statistician by trade so he brings the one thing we've never had in the two years of writing this fine blog, a brain. In fact, because of Steve's experience in numbers we are going to officially dub this the first ever edition of the STAT SIX. So without further ado, take it away Steve!
Fort Wilderness is the largest resort at Walt Disney World. The rustic themed resort opened with the park itself in 1971 and covers 750-acres. The original Wilderness Homes were added in the '80s. The current cabins started to replace the Wilderness Homes in the late '90s. The resort currently has 800 campsites and 409 cabins. Disney classifies the cabins as moderates, but they are really in their own category. 96% of the Unofficial Guide readers would stay at the cabins again, so let's look at six reasons many of them feel this way, starting with…
# 6 – "There's so much room for activities!"
Fort Wilderness has more activities than any resort at Walt Disney World. There are two dinner shows: Hoop-Dee-Doo Musical Revue and Mickey's Backyard BBQ. The Trails End Restaurant is a SATURDAY SIX favorite. In addition to the evening movies, there is the charming Campfire Sing-Along with Chip 'n' Dale.
At the bike barn, you can rent canoes, kayaks, bikes, and tennis rackets. At the marina, you can rent water crafts to explore Bay Lake and Seven Seas Lagoon. Tri-Circle-D Ranch offers pony rides, trail rides, and horse-drawn wagon rides. From the beach, you can watch the Magic Kingdom fireworks and the Electrical Water Pageant. There are miles of trails, including a 2.3 mile exercise trail to Wilderness Lodge. There are two pools, a quiet pool, and the larger Meadows Pool with a slide, hot tub, and kid's splash zone. Scattered across the resort are sand volleyball courts, basketball courts, and playgrounds. There are even Segway tours!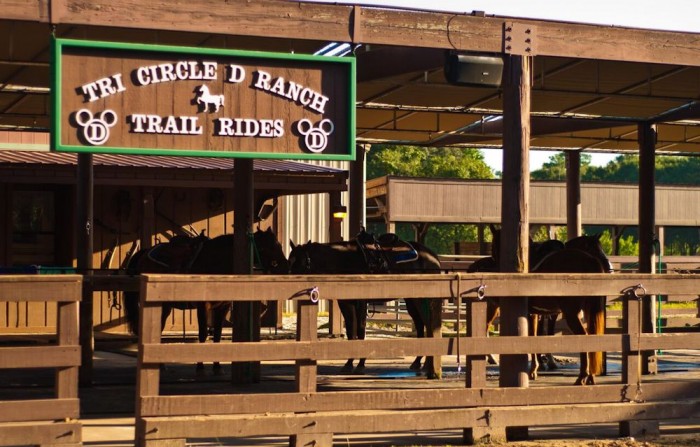 # 5 – Parking
Feel like the VIP you are with your own parking spot. The Unofficial Guide recommends driving to Epcot, Hollywood Studios, and Disney's Animal Kingdom. If you are one of the 70% of guests that drives to Walt Disney World, having a reserved parking spaces just steps away from you door is priceless. If you don't have a car, consider renting a golf cart to get to Disney transportation.
–
#4 – Full Kitchen and Living Room
Having a kitchen is a nice option to have while you are on vacation. Eating breakfast in the cabin can save you time and money, helping to have your family ready to go at rope drop. Here is a handy dandy article on various ways to stock up that fridge while staying in The World. While the full kitchen can save invaluable time (and just as valuable money), a separate bedroom and living room is nice for decompressing and being able to spread out. Keeping one's sanity is an under appreciated factor in spending a week (or more) with friends and loved ones while on vacation and the extra space in a cabin can certainly help in that department.
–
#3 – Water Taxi to the Magic Kingdom
Ft. Wilderness is the only non-deluxe resort with a boat launch to a Disney theme park. There is also a boat launch that will take you to Wilderness Lodge and the Contemporary.
–
#2 – Space and Size
The cabins are larger than a normal moderate hotel room. A cabin is 504 sq. ft. and can sleep six people. The bedroom has a full-size bed and bunk beds. The living room has a full-size murphy bed. Outside is a large deck with a picnic table. Cabins are 20-30 feet apart from each other. The setting is calm and quiet. On our last stay, we hosted a cookout with eight families and had plenty of space.
#1 – Glamping
Before Glamping (a portmanteau of glamor and camping) was a thing, Disney had it. Feel like you are camping but have daily housekeeping, air conditioning, and running water. Two HD televisions and Wi-Fi is the only way I want to camp. There's no Netflix, so in a way you're still roughing it.
Cabins on loops 100, 2200, 2300, and 2500 are being remodeled. Below are a few pictures of a cabin on loop 2200 that is nearly complete. The kitchen and bathroom are completely replaced. The oven/stove is being replaced with a cook top. The Murphy bed is replaced by cabinets and a larger TV. I assume the sofa will be a pull out bed. The carpet in the bedroom has been replaced with hardwood flooring. The beds get new mattresses and the safe is replaced with a larger digital version. Flooring and deck are also replaced.
So there you have it: Six Reasons We Love Disney's Fort Wilderness Cabins. We'd like to thank Steve Bloom for classing up the SATURDAY SIX a little bit, although as a statistician he should know there is a 0% chance any of our readers know what "portmanteau" means. We do know what "port wine" is though, if that means anything.
See you next weekend for the latest installment of the SATURDAY SIX, where we'll look at something fun from the world of Disney and Universal. If you enjoyed yourself, be sure to check out The Magic, The Memories, and Merch! articles, or, for your listening pleasure, check out the Pardon the Pixie Dust podcast. You can also follow Your Humble Author on Twitter (@derekburgan)
If you enjoyed this article, you will surely like the following:
Six Reasons We Love Port Orleans French Quarter
Six Reasons We Love Pop Century
Six Reasons We Love The Contemporary
Six Reasons We Love The BoardWalk Resort
Special Thanks to crack staff photographer Brandon Glover and blogger to the stars Megan Stump for their invaluable assistance with this article. Be sure to also check out Brandon on The Park Blogger podcast with co-hosts Aengus Mackenzie and Brian Carey.
FINAL PLUG! Did you know The Unofficial Guide to Universal Orlando has a special edition of the SATURDAY SIX in it? Finally, someone came up with an actual reason to read a book. ORDER this baby now and support SIX NATION (boy do we need a better name than that.)