The SATURDAY SIX Looks At Disney's Dog-Friendly Hotels
This week's SATURDAY SIX takes a look at Disney's DOG-FRIENDLY Hotels! There was unbridled chaos in the Disney fan community this week as we were all rocked by an announcement that no one saw coming. In a late-Friday news dump, specifically timed in order to bypass a news cycle, Disney revealed that selected resorts would become dog-friendly. Once controversial subjects – such as pool hopping, reusing refillable mugs on multiple trips, and children who stay at the age of 9 for over 4 years – have now been replaced by an even more nefarious subject. One that threatens to ruin all of our collective vacations…
That said, we here at the SATURDAY SIX are going to do our best to bring this community together to help speed along the healing process. It is time to look at some of the "fine print" conspicuously hidden in the new dog-friendly rules. To go over these Dos and Don'ts we're going to riff on the classic "Goofus and Galiant" formula, except tweaked for a more sophisticated outrage culture audience using David and Derek. David is David Davies, a longtime TouringPlans analyst and IT strategist, who most recently had his emotion processing chip upgraded to sync with the latest version of iOS. Derek is Your Humble Author. Together we hit the new dog-friendly guidelines from every angle possible to show the big picture. Ready to see what we found out? Well let's kick off the countdown with…
# 6 – Pre-Trip Grooming
Many WDW guests aren't aware of Best Friends Pet Care, which is located at WDW directly across the street from Port Orleans Riverside. As Julia Mascardo pointed out in her great primer to dog-friendly resources at WDW, Best Friends not only offers kennel service for dogs, but day care and grooming services. We all want to look our best for vacation, shouldn't Man's Best Friend?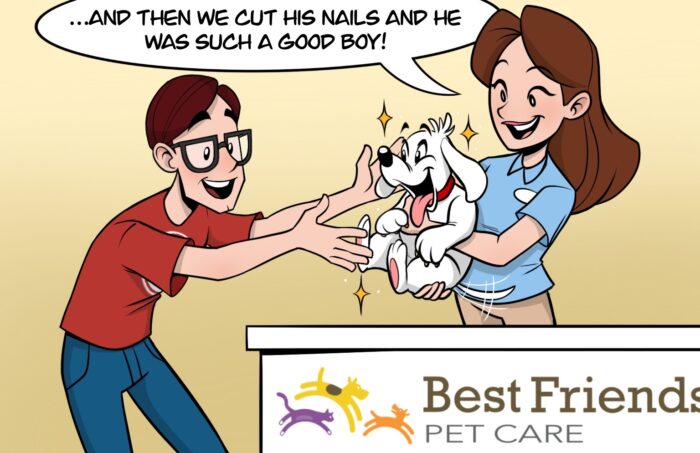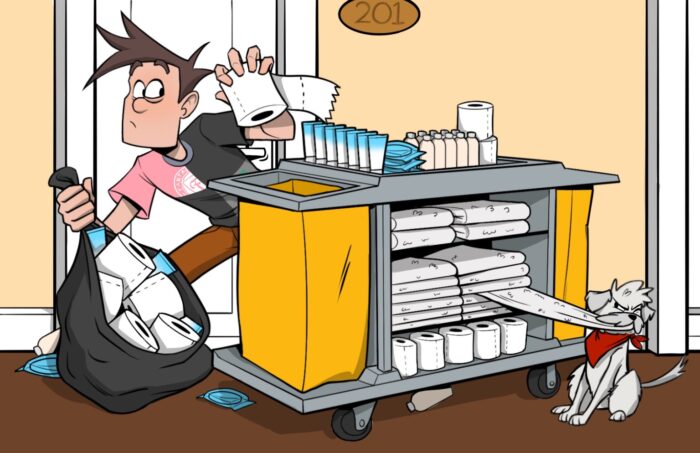 –
# 5 – Feeding Your Pet
Because only licensed service animals are allowed in Disney restaurants and food courts, guests are encouraged to bring their pet's favorite food and snacks to be served in-room.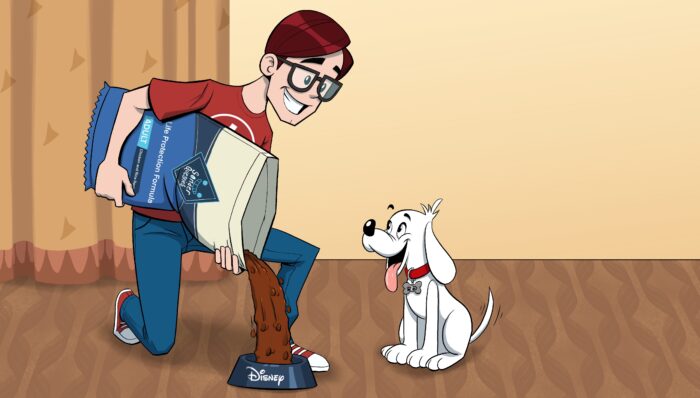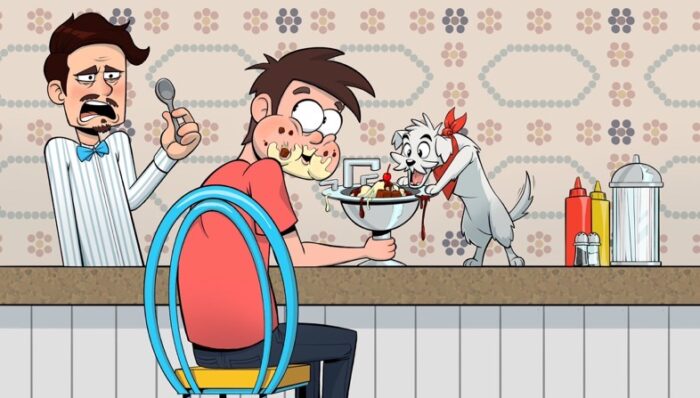 –
# 4 – Disney Branded Pet Merchandise
Upon check-in, guests will be given Pluto's Welcome Kit which will include a mat, bowls, a pet ID tag, courtesy plastic disposable bags, puppy pads and dog walking maps. However, us longtime Disney veterans know the "cool" items are in the gift shop. We may get MagicBands sent to our house, but those only come in generic colors, you have to buy the ones that are themed to characters or attractions. Good news for Fido, as Disney will be releasing even more branded merchandise specifically geared to our pets!
–
# 3 – Always Have Your Dog On A Leash
Disney requests that all dogs are properly leashed or restrained at all times while in public places or on Resort property. This rule does not apply to small children (we asked.)
–
# 2 – Dog Waste
Guests are responsible for the proper disposal of their dog's waste. Pads will be provided for inside the room and there will be specific Pet Relief areas outside.
–
# 1 – In Case Of Excessive Dog Barking…
Disney encourages guests to provide supervision at all times while staying on Resort property, and dogs should not be left unattended in the room for more than 7 hours. Dogs are strenuously requested to remain silent if left unattended in the room. If noise is heard, the guest will be called to address the noise within 30 minutes.
–
HONORABLE MENTION: Dog Walking
Select areas on property will be available for guests to walk their dogs. Reminder, dogs are not permitted in Theme Parks or Disney Springs. We're not 100% sure if dogs are allowed at the mini-golf courses, but since the Air Bud series of movies have covered the sports of football, basketball, baseball, soccer, and volleyball, we're going to assume your canine is a natural athlete and will at least want to play the back 9.
–
So there you have it: The SATURDAY SIX Looks at Disney's Dog-Friendly Hotels! See you next weekend for the latest installment of the SATURDAY SIX, where we'll look at something fun from the world of Disney and Universal. If you enjoyed yourself, be sure to check out The Magic, The Memories, and Merch! articles, or, for your listening pleasure, check out the E-Ticket Report podcast. You can also follow Your Humble Author on Twitter (@derekburgan).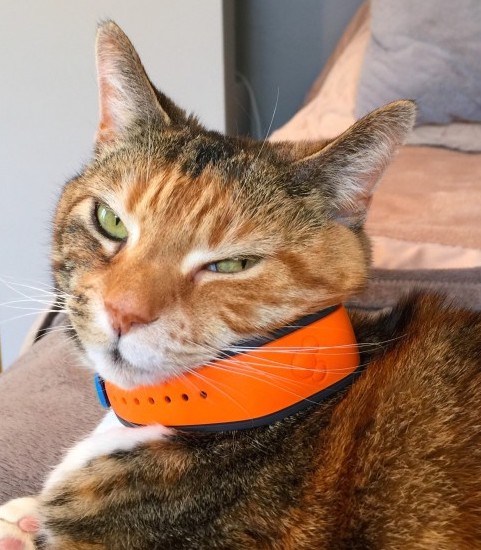 If you enjoyed this article, you will surely like the following:
6 Pieces of Disney Merchandise That Don't Exists (But Totally Should)
6 Times The Simpsons Nailed Being A Theme Park Fan
Walt Disney World Locations Used in Hulk Hogan's THUNDER IN PARADISE
SATURDAY SIX Looks At Ways Disney Can Introduce MARVEL Into The Parks
The SATURDAY SIX Uses Disney Villains To Explain Theme Park Blogging
6 Times Our Favorite TV Shows Went To Walt Disney World
Special Thanks to crack staff photographer Brandon Glover, crazy cat lady – and our Fearless Leader – Laurel Stewart, and blogger to the stars Megan Stump for their invaluable assistance with this article. Be sure to also check out Brandon on The Park Blogger podcast with goofballs co-hosts Aengus Mackenzie and LitemAndHyde , while fellow Potterheads may enjoy Meg's work on the Central Florida Slug Club.
FINAL PLUG! Did you know The 2017 Unofficial Guide to Universal Orlando has a special edition of the SATURDAY SIX in it? Finally, someone came up with an actual reason to read a book. ORDER this baby now!