SATURDAY SIX: Six Reasons We LOVE Disney's Animal Kingdom
This week's SATURDAY SIX looks at Reasons We LOVE Disney's Animal Kingdom. For July, we are going to try something new around here. It's our first ever themed series of articles for the SATURDAY SIX, and we're going to put a spotlight on Walt Disney World. That's right, we are going to take a look at each one of Disney's four parks and explain why they are some of our favorite places on Earth. First up, the oft-maligned Animal Kingdom which has completely transformed itself from a "half day park" to possibly the best theme park in all of Orlando.
While Animal Kingdom was originally designed to keep people on WDW property, and not make a side trip to Tampa for Busch Gardens, it has become one of the most interesting theme parks you'll ever see. By far and away the biggest park at Disney (the Kilimanjaro Safaris attraction by itself is larger than the entire Magic Kingdom) Animal Kingdom has a combination of terrific thrill rides, world class shows, and amazing safari adventures. Filled with unforgettable experiences, Animal Kingdom simply has it all. But what do we love most about this park? Well, sit back, pour out a 40 for Little Red, and let's start our countdown with…
# 6 – The Tree of Life
With Cinderella Castle and Spaceship Earth, WDW already had two of the greatest – and most recognizable – theme park icons in the world. With the majestic Tree of Life, Animal Kingdom's park icon immediately joined them. Despite being completely man-made (even the leaves are made out of a special plastic called Kynar), the Tree of Life looks as if it sprung from the ground and it's only when you stare at it do you begin to see over 300 animal designs carved into the trunk and roots. The details will make your jaw drop.
Recently the Tree of Life became even more breathtaking with the introduction of projection mapping for the Tree of Life Awakens shows. These three minute shows make it appear that some of the animals in the trunk come alive before your eyes, along with spellbinding special effects in the leaves above. This is true Disney Magic.
–
# 5 – Gorilla Falls Exploration Trail/Maharajah Jungle Trek
While all the other Orlando theme parks have been conditioning guests to go from one 3-4 minute experience to the next, Animal Kingdom is a park which encourages everyone to slow down and appreciate the environment surrounding us. One of the ways it accomplishes this feat is with several different trails that guests can explore. The two most popular are the Gorilla Falls Exploration Trail and the Maharajah Jungle Trek. Here you can set your own pace, and see many incredible animals such as tigers, Grevy's zebras, Malayan flying foxes (bats), hippos, naked mole rats, and – of course – gorillas. With FP+, we like to schedule our ride experiences for later in the day and we rope drop the trails. This is when there are less crowds, more animals out and about, and it allows you the time to take everything in, because sometimes these creatures can be hard to spot.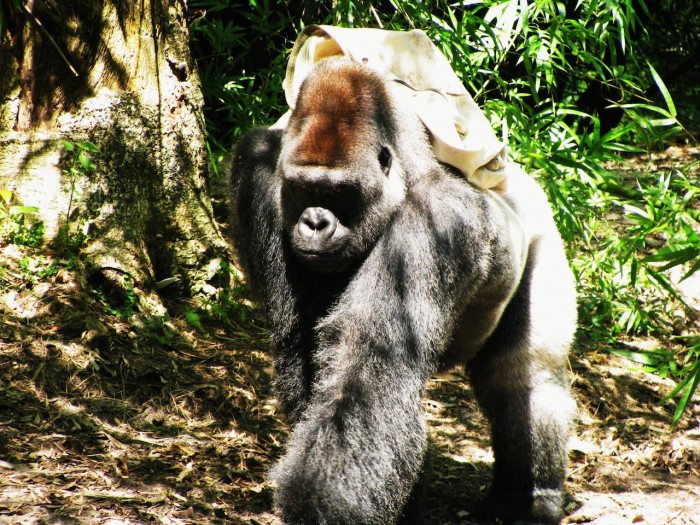 # 4 – Expedition Everest
What WDI showed they could do in 1979 with Big Thunder Mountain, they perfected in 2006 with Expedition Everest. There is simply not a better looking coaster in the world. The queue is flawless, and brilliantly sets up the story of searching for the Yeti in the Himalayas. There are no loops, inversions, or gigantic drops in the ride, but there is plenty of excitement and an awesome section which has the ride going backwards. It's impossible to mention Expedition Everest without bringing up the 500 pound gorilla in the room, the Yeti animatronic itself. Billed as one of the biggest and most impressive animatronics ever made, few guests actually got to see the Yeti work as it was intended. As we wrote in our article Six Things We Wish Theme Park Guests Would Stop Complaining About, the half a second you spend speeding past a Yeti that doesn't move doesn't take away from all the things which Everest nails perfectly.
Hands down the most picturesque attraction (and surrounding area) in any Florida Disney park, Everest is both Beauty and the Beast as it also makes a case for being WDW's most thrilling attraction. Although with Pandora: The World of Avatar coming in the next few years, Everest may not even be the best looking area in its own park!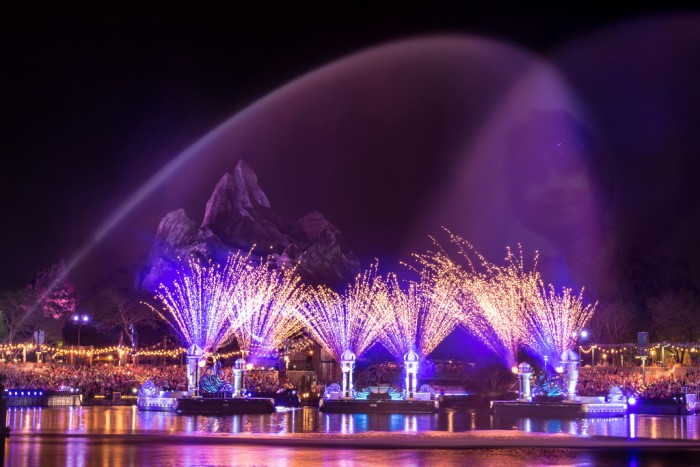 # 3 – The Shows!
There are a lot of truly great shows at Walt Disney World, but the two BEST shows are both at Animal Kingdom. With Finding Nemo: The Musical and Festival of the Lion King, guests of all ages are going to be entertained with top-notch performances that will have you singing along. The term "Broadway caliber" is thrown around a lot in the theme park world and Disney Cruise Line, but Nemo's puppets (designed by Michael Curry, who also created the puppets for the legendary Tapestry of Nations parade at Epcot and the Tales of Beedle the Bard stage shows in Diagon Alley) are as stunning as anything you'll see on the Great White Way. The puppetry used by the actors during the show, along with the voice work, is hands-down the best on property. With fantastic digital backdrops, and new songs created just for this show, Finding Nemo is an unforgettable attraction. There's also something to be said for being able to enjoy a 35 minute show in air conditioning during an average day at the Animal Kingdom when the weather hits its usual 150 degrees with 200% humidity.
–
Meanwhile Festival of the Lion King is the consensus pick for best show in any theme park across the planet (especially now that Aladdin has been replaced by a Frozen musical over at Disney California Adventure.) The live performances of the Lion King soundtrack are exceptional, and the show also includes a decent amount of audience participation. With singers, dancers, acrobats, fire throwers, and characters such as Timon and Pumbaa, Lion King is a show that will keep both the younger set enthralled as us old folks enjoy the pure artistry.
–
# 2 – Tiffins
Even though it is the newest entry into the theme park table service universe, Tiffins has already laid claim to being the best restaurant in a WDW theme park. That's not faint praise, because while some disagree with our love for the Be Our Guest experience in the Magic Kingdom, Tiffins also has a leg up on signature dining experiences at Le Cellier, Teppan Edo, and the Hollywood Brown Derby. Designed by Imagineer Joe Rohde, the inside of Tiffins is pretty much an attraction in and of itself for any fan of the Animal Kingdom, as the walls are filled with artwork and artifacts inspired by Rohde's exotic travels across the glove. Despite being elaborately themed, Tiffins also feels quiet and reserved, a place befitting its mouthwatering – and wallet emptying – menu. Tiffins is true destination dining and should not be missed.
For an in-depth look at the menu. check out this Tiffins dining review.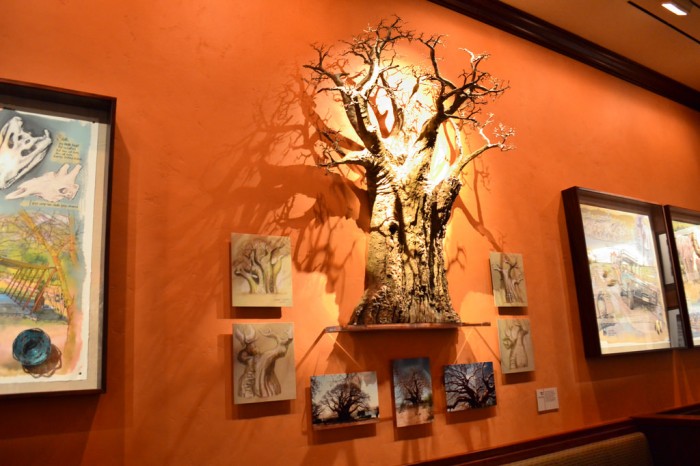 –
# 1 – Kilimanjaro Safaris
Kilimanjaro Safaris is one of those rare theme park attractions where you can ride it 100 times and have a completely unique experience on each one. Because the animals are not animatronics, the time of day you go can completely impact not only what animals you see, but also what they are doing out on the lush savannah. Unlike the Jungle Cruise skippers, the Cast Members driving you around eschew most of the campy jokes and instead give you actual information on the animals and the landscape. There is nothing in Orlando you can compare Kilimanjaro Safaris to, and for what it is – a scaled down version of an actual African safari – it's perfect and is everything we love about Animal Kingdom in one ride.
–
HONORABLE MENTION – Dawa Bar
There is plenty of available seating at Dawa, and you have to love the unique stools bar at the bar. A wide assortment of African beers, and the best mojitio on property are the headliners here, and consider stopping by the nearby pretzel stand first to grab a snack with your drink. Grabbing a drink at Dawa and enjoying the musical stylings of the nearby Burudika Band while people watching will bring a smile to anyone's face.
–
DOUBLE SECRET HONORABLE MENTION – Souvenir cups
Longtime SATURDAY SIX readers know we are pretty big fans of souvenir cups. Until recently, the lack of good souvenir cups was one of the park's biggest weaknesses, bigger than even Chester and Hester's Dino-Rama. Things have finally started to turn the corner, and recently Animal Kingdom had the debut of two of the most impressive cups in recent memory. Clearly made to tie into the indefinitely delayed Rivers of Light nighttime spectacular, Animal Kingdom now has two cups which not only light up and change colors, but "flicker" like they are actual working lanterns. One of the cups can actually fold like a paper lantern! We're talking about E-Ticket souvenir cups here. Game changer.
One of the fun games to play while you are at Animal Kingdom is buying this "musical tumbler" and time how long it takes before you grab it from whomever is playing with it and throw it as far as you can. The longest anyone has gone before being driven bonkers is officially 4 minutes, 23 seconds (although that guest was hard of hearing, so the theme park rules committee may put an asterisk on that record and only recognize the next highest time of 75 seconds.)
–
But Maybe, Just Maybe The Reason We Love Animal Kingdom So Much is Because…
IT GETS ALL THE WEIRD STUFF!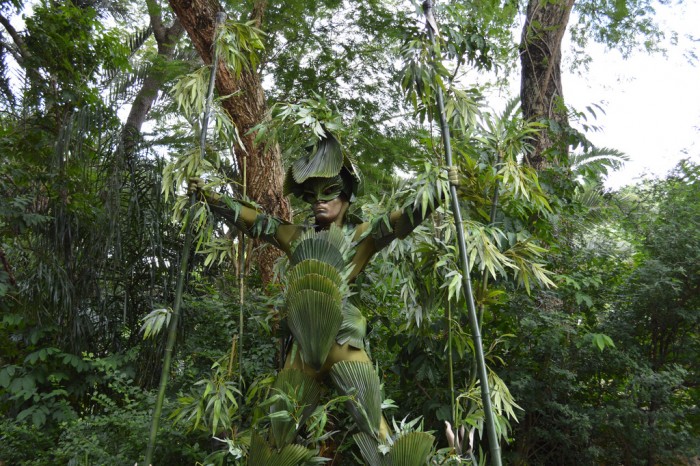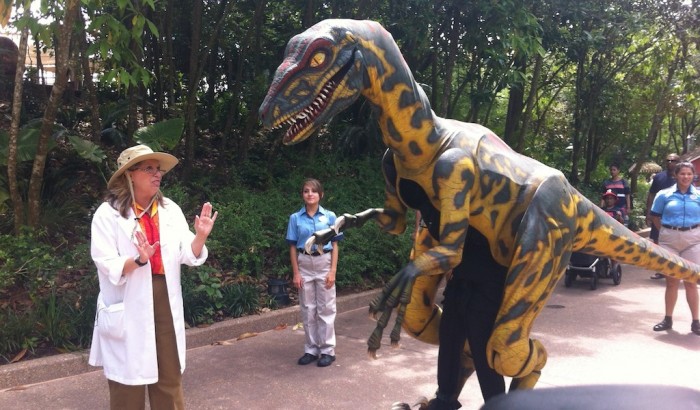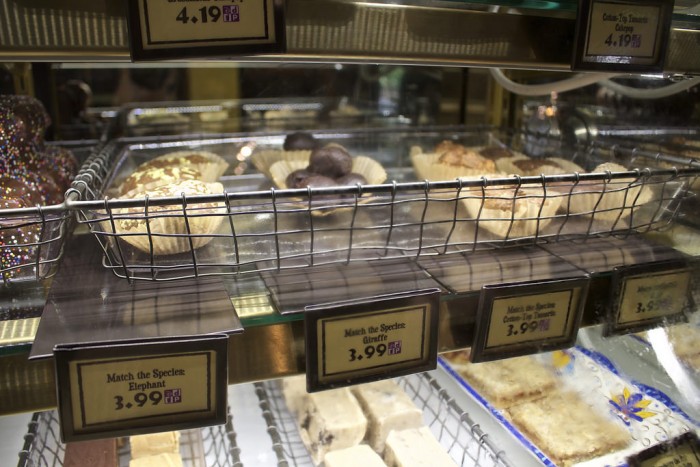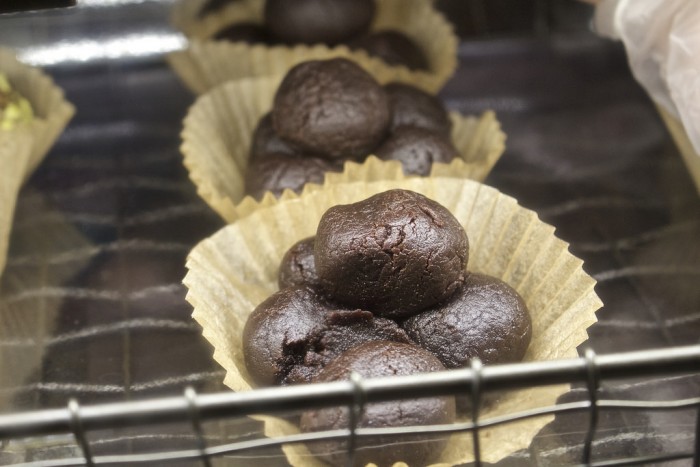 So there you have it: Six Reasons We LOVE Disney's ANIMAL KINGDOM. See you next weekend for the latest installment of the SATURDAY SIX, where we'll be going to HOLLYWOOD STUDIOS. If you enjoyed yourself, be sure to check out The Magic, The Memories, and Merch! articles, or, for your listening pleasure, check out the E-Ticket Report podcast. You can also follow Your Humble Author on Twitter (@derekburgan)
If you enjoyed this article, you will surely like the following:
Six Reasons We Love Disney's Animal Kingdom Lodge
Six EXTREME EATS at Walt Disney World
Six Most Unique Dining Experiences at Walt Disney World
Six Theme Park Questions For the Magic 8 Ball
The Six Best Pressed Pennies at the Universal Orlando Resort
Special Thanks to crack staff photographer Brandon Glover, photo wunderkind Mike Sperduto, Finder of Ye Lost Keys Tim Grassey, the man who gives 9 Dragons  5 stars "Brutal" Brian Carey, the mayor of Tommy Bahama "Dangerous" Dirk Wallen, and blogger to the stars Megan Stump for their invaluable assistance with this article. Be sure to also check out Brandon on The Park Blogger podcast with co-host Aengus Mackenzie along with Meg's Yeti To Be Named Disney Podcast.