SATURDAY SIX: 6 Reasons We Love Sailing On The DISNEY CRUISE LINE
This week's SATURDAY SIX takes a look at Reasons We Love DISNEY CRUISE LINE! For years I put off taking a cruise despite being all but begged by my family. Just as my friends and coworkers don't understand why we repeatedly keep going to theme parks on vacation, I didn't understand what they saw in cruising. A couple years ago a funny thing happened, I broke down and agreed to go a cruise. (I know, the definition of first-world problems, right?) Halfway through the sailing, I fell in love with cruising. The penny dropped and I understood. Today we're going to look at some of our favorite parts of the Disney Cruise Line, starting with…
# 6 – The Characters
Both Disney and Universal are hard at work creating the next generation rides for us to enjoy, but over the years meet and greets have become a bigger part of the average guest's vacation experience. For many, meeting characters is just as fun as riding an attraction or watching a show. Good news for people considering take a Disney Cruise, there are a ton of character experiences throughout the sailing!
Related article: Tips for Meeting Characters on a Disney Cruise
One thing many guests in the Disney parks lament is the loss of "spontaneous" encounters with characters. Because meet and greets are so popular now, the days of characters of just being in the parks and walking up to people are all but gone. Imagine our surprise while on a Disney Cruise when Donald Duck just came over to our shuffleboard game and asked to play.  This was the definition of a Disney "magical moment" and something we will never forget.
Just as we have character dining experiences at Walt Disney World, there are similar meals to meet characters with onboard the ships.
On Halloween and Christmas sailings, the characters have even MORE unique outfits!
# 5 – Merchandise
Anyone who has read our sister blog – The Magic, The Memories, and Merch! –  knows that we have seen our fair share of Disney merchandise over the years. In fact, we've seen more than any person should ever have to see and more than a few items that we can't forget we saw (no matter how hard we try). All that said, the quality rate for Disney Cruise Line merchandise is higher than any other Disney brand. By far. A lot of thought and attention has gone into making quality items across the line; from t-shirts to high end collectibles to even Tsum Tsums. Other competitors in the cruise market can rival Disney on quality of shows, food, and even characters, but no one comes within a mile 20,000 leagues of touching Disney Cruise Line when it comes to merchandise.
# 4 –  Star Wars and Marvel Days at Sea
With the upcoming Star Wars: Galaxy's Edge in DHS and attractions such as the Guardians of the Galaxy coaster being built in Epcot, theme park fans are finally going to get what they've been asking for a long time: more Star Wars and Marvel in the parks. Over the past several years, Disney Cruise Line has introduced Star Wars and Marvel "days at sea" to great fan reaction. Much like how Universal Studios Florida becomes a completely different park during their Halloween Horror Nights event, the Disney ships super serve their guests with Star Wars/Marvel related music, characters, activities, food & drink, shows and – of course – souvenirs.
Related article: REVIEW – Marvel Day at Sea
# 3 – The Shows
We all have our favorite Walt Disney World shows, and one of our absolute favorite parts of taking a Disney Cruise was the high caliber of shows presented throughout our sailing. Even better, if you couldn't make it to the theater to see the show in person, the shows were available to watch in your stateroom on TV (imagine being able to watch Finding Nemo – the Musical or Festival of the Lion King from your room at the Animal Kingdom Lodge). With iconic Disney characters and stories, top notch actors and actresses, big budget sets, and family friendly humor, the shows made a perfect cap to our nights on the ship.
# 2 – Dining
More than anything else, the one thing you need to bring with you on a Disney Cruise is your appetite. The main dining rooms need to be seen to be believed (and you'll experience them all with DCL's rotational dining.) Like Be Our Guest Restaurant in the Magic Kingdom, the details in all of the main dining rooms are out of this world. All of the food in the main dining rooms is included with your fare, so if you don't like one dish, try another one. There are also grab n' go locations on the ship serving pizza, sandwiches, and ice cream, for no extra cost. For an extra charge guests can dine at restaurants such as Remy or Palo. For our cruise, we ate at Palo for $30 a person and it was comparable – if not better – than a signature dining experience at WDW. Remy is $95 per person and delivers a food and service "experience" that is similar to the level you would see at Victoria & Alberts and should be on any Disney foodie's bucket list.
Most items on the room service menu are "free," including Mickey Premium Ice Cream Bars! We have a cruise planned for next April, and while one member in our traveling party is thinking about all the excursions we'll be going on in various Caribbean ports, the only thing on my mind is thinking about which food I'm going to eat every day. One thing is for sure, I will finally be able to answer the age old question of how many Mickey waffles can one person consume.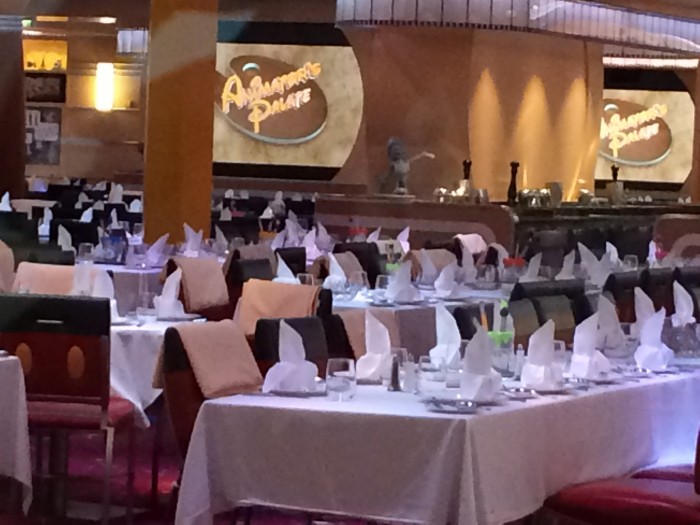 # 1 – Castaway Cay
Since becoming fans of cruising, we've taken several sailings on various cruise lines and have visited a bunch of islands in the Caribbean. For me, Disney's Castaway Cay is hands-down the best place we have ever gone to. Castaway Cay has the gorgeous beaches and related activities that we enjoy in other ports, and then sprinkles on top the patented Disney theming and service. We loved snorkeling in the calm waters of the family friendly beaches, and then enjoyed the waves at Serenity Bay (the adults only area.) The private island was also our first time signing up for a runDisney "race" with the Castaway Cay 5k. We have had nothing but great experiences at every port we have ever been to in the Caribbean, but Castaway Cay was a notch above everything else. It's that good.  (It even had amazing merchandise!)
HONORABLE MENTION: Pirate Night
Readers of TouringPlans are much more savvy than I was when I went on my first DCL sailing. What I should have done is read articles like What I Wish I Knew Before My First Disney Cruise by Savannah Sanders, or any of the various tips from Laurel Stewart or Erin Foster. Instead, I went in "blind" and when a pair of pirate bandanas and gold coins were left in our stateroom one night, I had no idea it was for pirate night the next day. Many others on the ship already knew about this Disney Cruise Line staple, and packed accordingly. It was fun seeing the elaborate pirate costumes many families wore, along with the DCL staff being "pirates" for the day as well. The characters were in their pirate outfits, and there were special pirate themed shows including an incredible nighttime experience that was capped off with fireworks.
DOUBLE SECRET HONORABLE MENTION: AquaDuck
A water coaster aboard a Disney ship. How cool is that?!
TRIPLE THREAT HONORABLE MENTION: Disembarkation
In my experience, most cruise lines are very good at getting guests ONTO a ship. Getting you OFF the ship is another story entirely. The Disney Cruise Line was amazing. The night before we packed our bags and left them outside our room. We were given luggage tags and told to remember which character we had. The next morning we had our last breakfast on the ship (at Animator's Palette) and eventually made our way to luggage area where we easily found our stuff in our character's area. Everything was so simple and easy that it now drives me crazy on other cruise lines when disembarkation is combination of watching paint dry on the ship followed by a recreation of Pamplona's running of the bulls to a luggage area so confusing it will make you feel like Marcus Brody trying to find his way around in Indiana Jones and the Last Crusade.
So there you have it: Six Reasons We Love DISNEY CRUISE LINE! See you next weekend for the latest installment of the SATURDAY SIX, where we'll look at something fun from the world of Disney and Universal. If you enjoyed yourself, be sure to check out The Magic, The Memories, and Merch! articles, or, for your listening pleasure, check out the E-Ticket Report podcast. You can also follow Your Humble Author on Twitter (@derekburgan).
If you enjoyed this article, you will surely like the following:
Disney Cruise Line PRESSED PENNIES
Surprises #Everywhere on the Disney Dream  (by noted sourpuss David Davies)
Tips For Meeting Characters on a Disney Cruise
Special Thanks to our spirit animal Brandon Glover, Captain Cruiseline Scott Sanders of the Disney Cruise Line Blog, professional vacationeer Julia Mascardo, character stalker Heather Winfeld, Terrific Tammy Whiting of Storybook Destinations, the Sommelier of Tony's Town Square Brian Carey, the SAT SIX Fun Squad of Parkscope Joe and Nick, and blogger to the stars Megan Stump for their invaluable assistance with this article. Be sure to also check out Brandon on The Park Blogger podcast with goofballs co-hosts Aengus Mackenzie and LitemAndHyde , while fellow Potterheads may enjoy Meg's work on the Central Florida Slug Club.
FINAL PLUG! Did you know The 2018 Unofficial Guide to Universal Orlando has a special edition of the SATURDAY SIX in it? Finally, someone came up with an actual reason to read a book. ORDER this baby now!