SATURDAY SIX Looks At Six MORE Theme Park Related Comic Books
This week's SATURDAY SIX takes a look at Six MORE Theme Park Related Comic Books. Last year the SATURDAY SIX had an in-depth investigative report on the Six BEST Theme Park Related Comic Books. This is an issue – pardon the pun – that is near and dear to our hearts as it combines two of our favorite hobbies: theme parks and comic books. The Walt Disney characters we know and love have been in comic books going back all the way to 1940, and currently there are three different publishers putting out Disney comic books. The first is Disney itself, through the the Marvel Comics brand. With the Disney Kingdoms imprint, Marvel is releasing stories inspired by Disney Parks and Resorts characters and attractions such as Figment and Seekers of the Weird. The second is Joe Books, who have the license for movie adaptations such as Zootopia, along with new books featuring the characters of Frozen, Finding Dory, and Pirates of the Caribbean. The third is IDW Publishing, who have the license for the Disney comic book titles – like Uncle Scrooge and Walt Disney's Comics – that have gone back for decades.
In the past year IDW has released variant covers that have put a spotlight on several of our favorite theme park attractions such as The Haunted Mansion, Mr. Toad's Wild Ride, and Dumbo. These covers are absolutely amazing and done by artists such as Andrea Freccero, Derek Charm, John Loter, and James Silvani. We are going to spotlight these variant covers throughout the article because we love them so much, but the SATURDAY SIX itself is going to look at comic books – some over twenty years old, some not even twenty days old – whose stories have dealt with theme parks directly. So sit back, relax, and let's begin our countdown starting with…
 # 6 – The Enchanted Tiki Room
Disney announced the Enchanted Tiki Room comic book earlier this summer during the San Diego Comic Con. This came as a shocker to me personally, but I couldn't have been happier hearing the news. A comic book based on one of my favorite attractions at the Magic Kingdom, and I only could have been more surprised if it was a series about the Peoplemover.
The first issue just hit the stands in early October, and it shows that the world famous macaws and other birds that make up the Enchanted Tiki Room are just one part of a large story. Set on a mysterious island in the Pacific, we are told that each week a group of humans are flown to the island and end up having their lives changed forever by what they experience. If that sounds like the plot to a certain '80s TV show, you're not wrong (the issue even has a reference to it.)
For theme park fans, the star of the show is of course the Enchanted Tiki Room itself along with the talkative macaws José, Fritz, Pierre, and Michael. We do get to see the Tiki Room in all its glory, and some fun interactions with the birds, but for the most part the issue is centered around the characters visiting the island (including a mysterious one at the very end.) There are several "Easter Eggs" throughout the issue for Tiki Room fanatics like myself, and even an appearance by a certain Little Orange Bird from the nearby Sunshine Tree Terrace in Adventureland.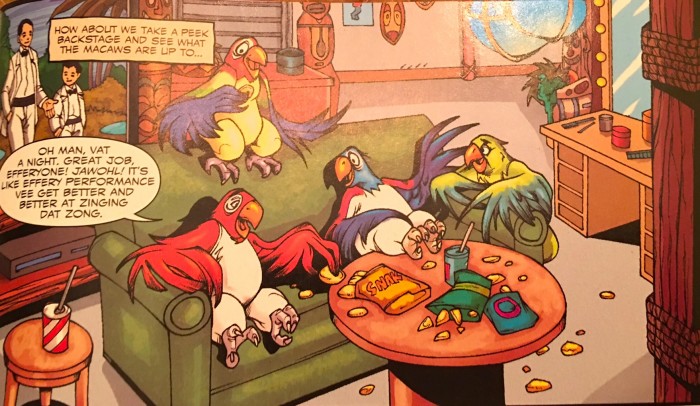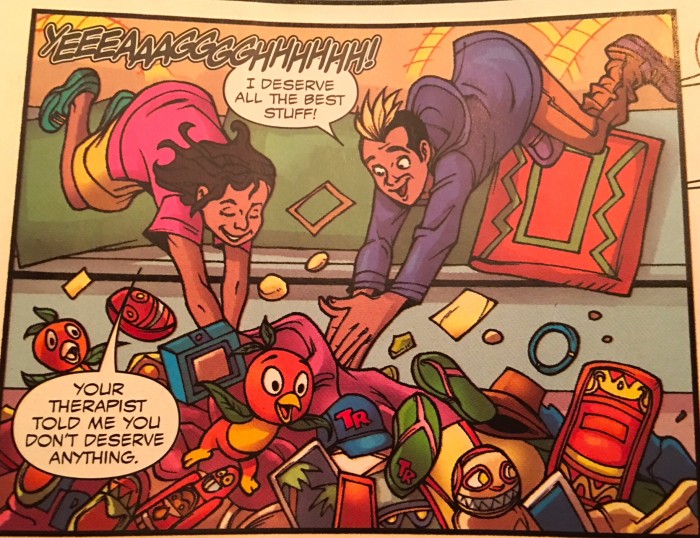 –
–
# 5 – Captain EO
Next we are going to step into the Way Back machine and head on over to 1987, when the comic book adaptation of Captain EO was released. Readers of this fine blog know that Captain EO is another one of all our time favorite attractions, however despite the STUNNING art by Tom Yeates, this is not one of our favorite theme park related comic books? Why, because – like the attraction itself – it's in 3-D. The comic book industry has been trying to do 3-D comic books for who knows how long and, with rare exceptions, it just doesn't work. Or maybe a better description is that it just doesn't work as well as you'd want it to. You have to read the comics with those goofy cardboard glasses with each eye looking at a slightly different picture through either the red or blue lens. Because of the constraints the artists have to work in, you're generally not getting a true comic book experience with detailed backgrounds, etc.
Outside of the 3-D, the Captain EO comic book is great. A lot of the times comic book adaptations of live action films can fall flat because the artist can't nail down the likenesses of the actors or actresses, but Yeates kills it here. His Michael Jackson is perfect and is just as good with every other character. It is a straight up adaptation of the film, but of course you are missing one of the actual biggest strengths of the movie, the songs. Turns out there's a big difference between hearing the king of pop Michael Jackson singing We Are Here To Save The World or It's Just Another Part of Me and just seeing the words printed on a page. Who knew?
–
–
# 4 – Cheeseburger Chronicles
Produced in 1983 for The Land Pavilion in EPCOT Center, Cheeseburger Chronicles is next level bonkers. The comic features three stories: The Case of the Purloined Sirloins, The Space Spinner, and The Cheddora Cheese Mystery. In the universe of Cheeseburger Chronicles, humans live right along side talking meat and vegetables and the latter is perfectly fine that the former eats them.
Our first story features "Patty" the hamburger visiting her cousins Chuck Roast, and Sir Loin (along with his butler, Mignon) as they prepare for a big "protein cook off." All the beef was stolen, but it was revealed it was taken by a group that wanted to prove you could have a high-protein meal with foods other than meat. Actually, this comic was decades ahead of its time.
The second story is absolutely insane and involves a Lettuce dream sequence. During this dream, the Lettuce finds himself in the future and sees that we humans have turned to "space farming" because there were now 8 Billion people on Earth (see what I said about being ahead of its time?!) The last story has Chelsea Cheese looking  for her sister Cheddora, fearing she has run away. Joined by Patty, the two go around town and talk to various other foods while we get a whole bunch of "facts about cheese." Seriously. Their last stop was at a pizza place, where we are told pizza is "a healthy snack for growing kids – – all that calcium, remember?" I'm beginning to think Congress was reading the Cheeseburger Chronicles when they declared pizza was a vegetable a couple years ago.
The last page of the comic gives us a very small taste of EPCOT, with an all too brief look at Living with the Land. What I wouldn't have given for a guest appearance by Kitchen Kabaret in the comic, or anything else from The Land Pavilion because outside of Living with the Land everything is long gone now.
–
–
# 3 – Big Thunder Mountain Railroad
We're going back to the Disney Kingdoms line for our next book, Big Thunder Mountain Railroad. When issue one was released in early 2015, it was exciting because this was the first time in decades that Disney had a comic book based around a theme park attraction. Even better, the comic not only used the Barnabas T Bullion character that was added to the ride's backstory in 2012, but the lead character of the comic is Bullion's daughter Abigal. We are in an era of female empowerment, and it is nice to see a strong women character featured in a Western tale.
I'm a sucker for Old West stories done right, whether on the screen in Deadwood, or in the creative comic 1872, which reimagined iconic Marvel characters such as Captain America, Iron Man, and the Kingpin in a whole new way. Big Thunder Mountain Railroad was a nice surprise. The artwork is solid, and the artist Tigh Walker does a good job on the action sequences. Big Thunder does exactly what I would want in an all ages book based around a theme park attraction.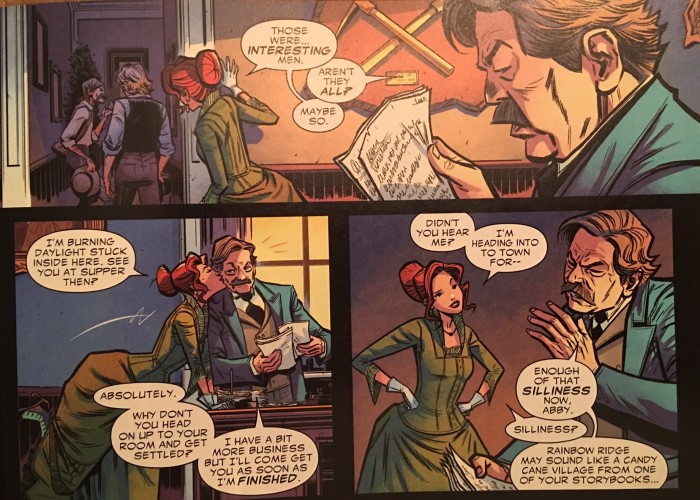 –
–
# 2 – Magic Kingdom Comics
Disney has a rich history of comic book stories featuring their characters visiting the theme parks. For many fans today, being able to read these comics is a challenge for a couple reasons. One, it is hard to track down exactly what issue of what comic these stories appeared in. Two, even if you did know which comic to get, they are nowhere near as easy to find as issues of say, Batman or Spider-Man. Thankfully this year IDW released two giant issues of Magic Kingdom Comics that collects many of these stories.
Issue 1 features Fantastic River Race (by Disney comics legend Carl Barks), Donald and Mickey in Frontierland, Red Rogue's Treasures, and Goofy in Fantasyland.
Issue 2 features Plunkett's Emporium, Mastering the Matterhorn, and Incredible Disneyland Adventure.
Both of these books are treasure troves for Disney theme park fans as you get to see so many classic attractions represented. The first panel of issue 1 features Disneyland's Mark Twain Riverboat, and from there we have the Country Bears, Pirates of the Caribbean, Peter Pan's Flight, Mr. Toad's Wild Ride, Dumbo and more. Issue 2 has Main Street USA, the Matterhorn, and an adventure starring Mickey Mouse during Disneyland's 30th Anniversary celebration. As much as I'm enjoying the unique takes on attractions such as Tiki Room and Big Thunder Mountain Railroad in today's comics, I wish we could have stories with Scrooge McDuck and Mickey Mouse that feature attractions and lands that are in the parks today. Not just to enjoy now, but to have our own piece of nostalgia in 10, 20, and 30 years from now.
–
–
# 1 – The Haunted Mansion
It is hard to think of a Disney attraction that is more well suited for a comic book than the Haunted Mansion. Despite what the horrible movie would lead you to believe, there's a lot of great stories to mine from the ride. There are also many memorable parts of the attraction, from the outdoor queue, to the pre-show, to the actual ride itself, that you can represent in the story. Our lead character of the story is Danny, and he encounters a whole bunch of things that theme park fans will recognize. There is a lot of fan service in the Haunted Mansion comic, and while I'm not sure how that would affect a reader who wasn't a theme park fan, for people like us, it's great. A little while back we did an article on The Simpsons Going To Theme Parks, and how great it is seeing the parks we love being represented in a whole new way. I had that same sense of fun reading the Haunted Mansion and seeing so many elements from the attraction being represented on the page. From the stretching room to Madame Leota, this comic delivers on the promise of seeing The Haunted Mansion.
Like Big Thunder Mountain Railroad, I really enjoyed the art direction of the book. Marvel has put together some high quality creative teams for these Disney Kingdoms books and the quality shows.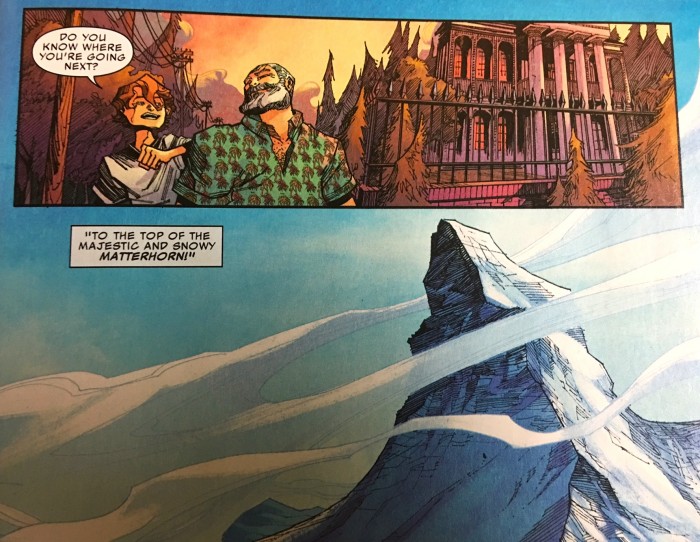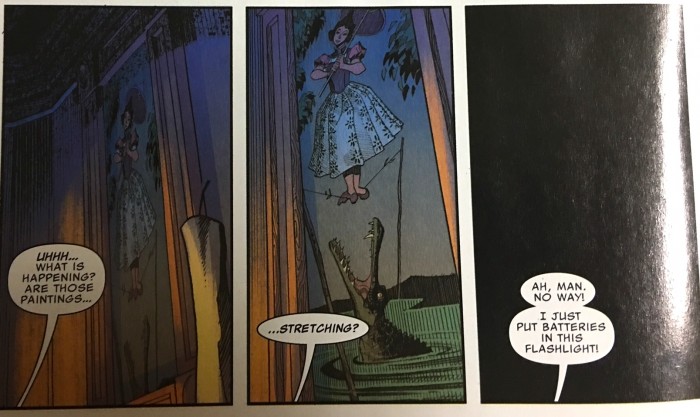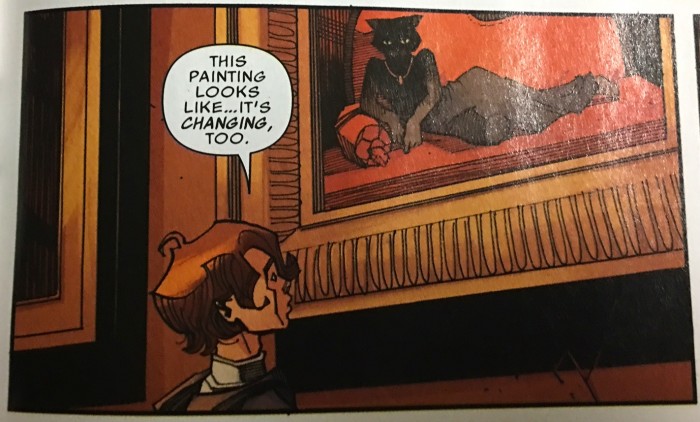 –
How do YOU get your hands on comics? EASY! 1) Search on ComicLocator.com to find a comic store near you. This is the absolute best way because not only can you check out comics before you buy them, but you'll also have access to back issues. Most comic stores also offer a subscription service where you can tell them which comics you would like every month and they will hold them for you until you can come in. 2) If you are not near a comic store you can always subscribe to books such as Uncle Scrooge or Enchanted Tiki Room through an online comic store. We've had great success with Atomic Empire. 3) The Walt Disney World resort now offer a limited amount of comics for sale, but only the Disney Kingdoms or Star Wars lines from Marvel. You can generally find them at the larger gift shops on property, but we've also seen them in places you wouldn't expect, like The Contemporary.  The Universal Orlando Resort has an entire comics store at Islands of Adventure featuring solely Marvel books, and a second shop in Universal Studios Florida that carries a ton of DC and Image comic books such as The Walking Dead.
For comic fans, here is Your Humble Author's all time favorite graphic novels:  Watchmen, Batman: Year One, Wolverine: Old Man Logan, The Walking Dead Omnibus, Maus, Daredevil: Born Again, DC Universe: The Stories of Alan Moore, Sandman: Dream Country, X-Men Days of Future Past and Kingdom Come. Recently I greatly enjoyed The Beauty from Image Comics.
So there you have it: Six MORE Theme Park Related Comic Books. See you next weekend for the latest installment of the SATURDAY SIX, where we'll look at something fun from the world of Disney and Universal. If you enjoyed yourself, be sure to check out The Magic, The Memories, and Merch! articles, or, for your listening pleasure, check out the Pardon the Pixie Dust podcast. You can also follow Your Humble Author on Twitter (@derekburgan)
If you enjoyed this article, you will surely like the following:
Six Reasons We LOVE Disney's BoardWalk Resort
Ranking the New Restaurants at DISNEY SPRINGS
Six Most Unique Dining Experiences at Walt Disney World
WDW Locations used in Hulk Hogan's Thunder in Paradise
Six Reasons We LOVE Universal's Toothsome Chocolate Emporium
Special Thanks to crack staff photographer Brandon Glover and blogger to the stars Megan Stump for their invaluable assistance with this article. Be sure to also check out Brandon on The Park Blogger podcast with co-host Aengus Mackenzie.
FINAL PLUG! Did you know The Unofficial Guide to Universal Orlando has a special edition of the SATURDAY SIX in it? Finally, someone came up with an actual reason to read a book. ORDER this baby now and support SIX NATION (boy do we need a better name than that.)