SATURDAY SIX: Six Reasons We LOVE Disney's Polynesian Village Resort
This week's SATURDAY SIX takes a look at Six Reasons We LOVE Disney's Polynesian Village Resort. Throughout the years Walt Disney World has created many incredible resorts including Art of Animation, Port Orleans French Quarter and the Animal Kingdom Lodge, but back when the Magic Kingdom opened in 1971 it had a grand total of two: The Contemporary, and the Polynesian Village. Talk about about two hotels that have stood the test of time! In fact they may be even more popular today than they have ever been.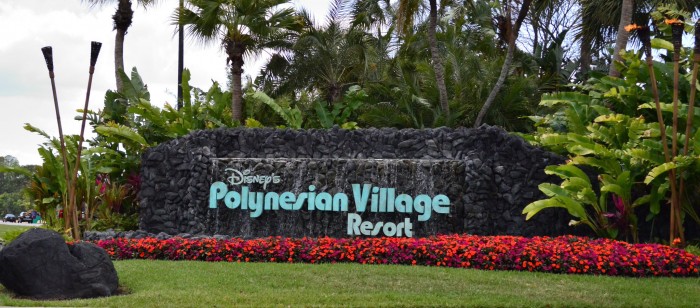 While there have been many refurbishments and updates over the years, The Poly still retains the charm it has had for over 40 years. Combining the the lushness of the South Tropics with the mystery of Adventureland, this is one resort that is going make an impact with just about every Disney fan. So sit back, relax on a beachside hammock, and let's begin counting down our top six reasons we love The Poly starting with…
# 6 – The Bungalows
One of the newest additions to The Poly is also one of the most spectacular (if not pricey). 20 two-bedroom bungalows now sit on Seven Seas Lagoon looking directly at the Magic Kingdom. With a private back deck providing an astonishing view of nighttime spectaculars such as Wishes, the bungalows are filled with subtle Disney touches along with all of today's modern conveniences that the Disney Vacation Club provides. With prices starting around $2000 a night, you'll probably want to spend a lot of time inside the actual bungalow to get the most bang for your buck. While relaxing, be sure to check out the Mary Blair artwork along with tributes to Tropical Serenade and the Electrical Water Pageant.
Also read: Polynesian Bora Bora Bungalow review at the Disney Tourist Blog.
–
# 5 – Transportation to the Magic Kingdom
Along with the Grand Floridian and the Contemporary, the Poly is an official Monorail Resort. We're now in 2016 and the Disney monorail is still one of the absolute coolest forms of transportation. If anything, looking around and seeing Segways and hoverboards (that don't actually hover but do catch on fire), transportation is about 100 times less cooler today than the world Walt Disney envisioned with People Movers, railroads, and monorails.
Not only can guests take a monorail to the Magic Kingdom, boat service is also available. Is there anything better in this world than being on a Disney boat? It's a Small World, Pirates of the Caribbean, Living with the Land, Gran Fiesta Tour, Disney Cruise Line, need we say more? Put us on water and everything is okay with the world.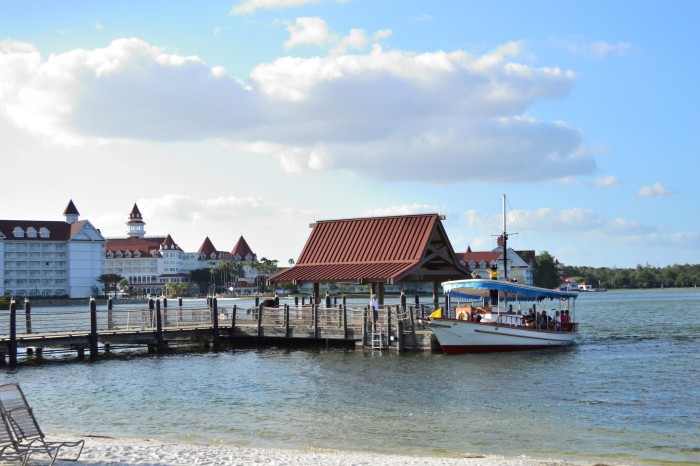 –
# 4 – South Pacific Theming
Readers of this fine column know how much we love Universal's Royal Pacific Resort. We haven't even been to Disney's Aulani Resort in Hawaii yet, but we know we are gong to love it. Why? The South Pacific theming. There is just some special about the beautiful landscaping  that combines tranquility and luxury. White sand beaches, bamboo, palm trees, and water features make The Poly one of the most relaxing resorts on property. After a major – and controversial – refurbishment to its lobby removed a large fountain in 2015, the new lobby is much more open and allows guests to immediately be in awe of the resort's proximity to the greatest theme park in the world.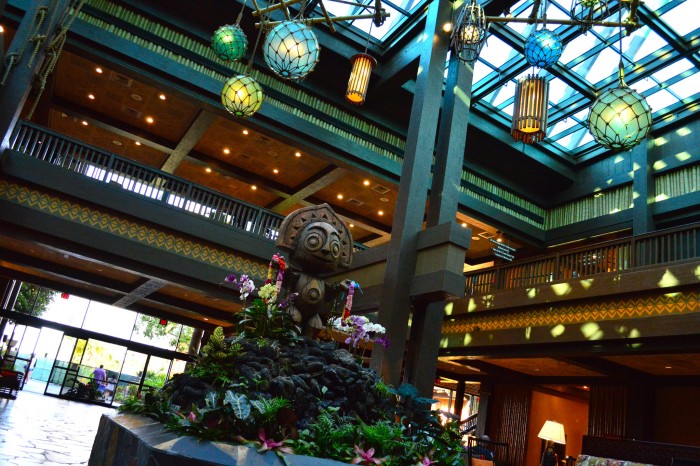 –
# 3 – Tambu Lounge
One of the most popular lounges in all of Walt Disney World, Tambu Lounge is home to two legendary drinks: the Backscratcher, and the Lapu Lapu, which is served in a pineapple. No Monorail Bar Crawl is complete without a stop at Tambu, and don't forget that its menu does offer several of nearby 'Ohana's signature items.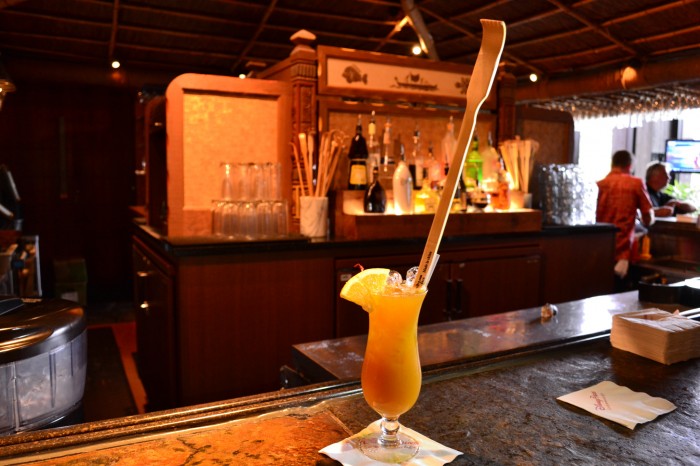 –
# 2 – 'Ohana and Kona Cafe
Disney says that 'Ohana means family, but 'Ohana might as well mean no ADRs are available as it is one of the hardest to get into restaurants at Walt Disney World. Sitting directly next to Tambu Lounge, 'Ohana is a restaurant which meat lovers will call "home" (although the chefs are also more than happy to provide wonderful vegetarian and vegan dishes as well). The mouthwatering appetizers are served family style (be careful not to fill up on the tasty pineapple-coconut bread, chicken wings or dumplings) but the main event here is the all you can eat beef, shrimp, and chicken served via skewers. The servers ask you to "say when" and you'll tempted to just tell them to leave the skewer. It's that good.
'Ohana is also home to the Best Friends Breakfast featuring Lilo and Stitch (along with Pluto and Mickey Mouse decked out in his Hawaiian garb).
Also located in the Grand Ceremonial House is Kona Cafe, one of WDW's most underrated dining venues. One of these days we're going to do a SATURDAY SIX on the most popular food items at Disney, and we can surely bet that Kona Cafe's Tonga Toast is going to make the list.  Think about it, French toast layered with bananas (and it can be made vegan as well!) If you can't get one of the coveted ADRs to 'Ohana, be sure to stop by Kona Cafe and Tambu Lounge and you'll be very happy.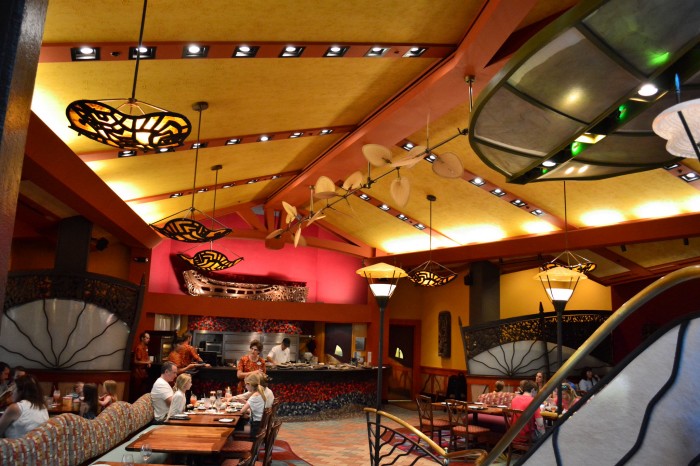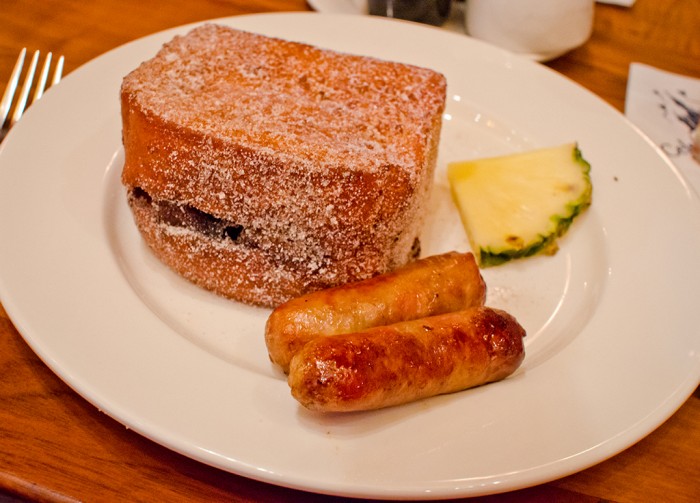 –
# 1 – Trader Sam's Grog Grotto
Trader Sam's is actually two great bars in one. There is the actual Grog Grotto, a fully immersive extravangaza that is unlike anything else at WDW, and the more laid back Tiki Terrace located outside. You can get all the wonderful souvenir tiki mugs outside on the Terrace, but inside is where you will see and hear all the show elements associated with the various drinks. You can't make a wrong choice: enjoy the relaxing live music on the Terrace while sipping on a Spikey Pineapple, or look at all the amazing detail inside the Grotto while witnessing the spectacle of a Nautilus being served.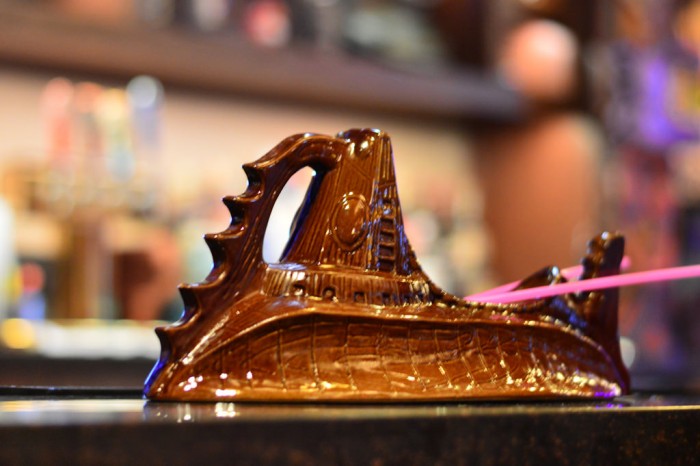 –
HONORABLE MENTION – Pineapple Lanai
The world famous Dole Whip made the list for our Six Iconic Snacks at Walt Disney World, but there's a second place on property where you can enjoy this delicacy without having to pony up the cash for a park ticket. The Pineapple Lanai to go window features Dole Whip soft serve and Dole Whip floats with lines generally much shorter than in Adventureland's Aloha Isle.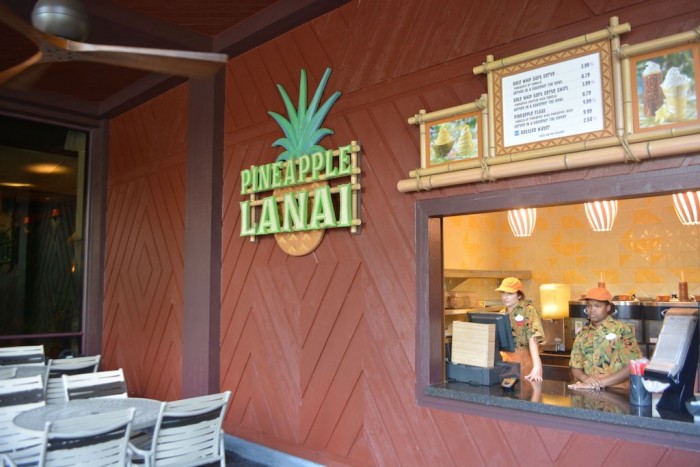 So there you have it: Six Reasons We Love Disney's Polynesian Village Resort. See you next weekend for the latest installment of the SATURDAY SIX, where we'll look at something fun from the world of Disney and Universal. If you enjoyed yourself, be sure to check out The Magic, The Memories, and Merch! articles, or, for your listening pleasure, check out the Pardon the Pixie Dust podcast. You can also follow Your Humble Author on Twitter (@derekburgan)
If you enjoyed this article, you will surely like the following:
Six Reasons We Love Disney's Port Orleans Riverside
Six Reasons We Love Disney's Contemporary Resort
Six Reasons to Check Out Disney's Pop Century Resort
Six Reasons We Love Disney's Old Key West Resort
Special Thanks to crack staff photographer Brandon Glover, Disney photography Icon Tom Bricker, crazy cat lady Laurel Stewart, and blogger to the stars Megan Stump for their invaluable assistance with this article. Be sure to also check out Brandon on The Park Blogger podcast with co-hosts Aengus Mackenzie and Brian Carey. 
FINAL PLUG! Did you know The Unofficial Guide to Universal Orlando has a special edition of the SATURDAY SIX in it? Finally, someone came up with an actual reason to read a book. ORDER this baby now! (For every copy sold, a percentage of the profits* go towards buying a DVD of the Seven Dwarfs Mine Train rap video.)
*0%