SATURDAY SIX: 6 of the MOST UNIQUE Dining Experiences at Walt Disney World
This week's SATURDAY SIX takes a look at some of the Most Unique Dining Experiences at Walt Disney World. Nobody enjoys eating at "The World" more than us. From trying next level bonkers hotdogs at the Grand Flo and Animal Kingdom poop snacks, to eating refined cuisine found at Be Our Guest Restaurant and 'Ohana, food may have actually replaced attractions as what we look forward to the most on our Disney vacations. Now it can be expensive to eat onsite, no doubt, but Disney also offers many unique, one-of-a-kind experiences you will never get back at home. These meals won't just fill you up, they'll give you memories. So today we're going to take a look at some of most unique dining experiences on property, starting with…
# 6 – Sanaa (Animal Kingdom Lodge)
The Animal Kingdom Lodge may be our favorite resort on Disney property. Among other things AKL has to offer; it has rooms in which guests can look out at live animals, has one of the best collection of onsite restaurants at WDW including Boma and Jiko, and also has authentic African art found throughout the resort. Did we forget to mention zebra domes? You can never forget zebra domes. While AKL may be off the beaten path for most WDW guests, one restaurant worth going well out of your way to experience is Sanaa. Located in Kidani Village, Sanaa is the only restaurant at AKL which has a view looking out onto the beautiful savanna and all the animals. The decor of the restaurant is wonderful, with the chairs having backs echoing African tribal shields and lighting fixtures based on nests that Weaver birds would make. The dining room floor has beautiful representations of acacia trees while the entire room is filled with art, which is appropriate since Sanaa is the Swahili word for artwork. Sanaa is hands-down one of the most gorgeous restaurants in Orlando.
Sanaa also happens to be the home of one of the all time greatest foods at WDW: the Indian-Style Bread Service. With five different types of breads and nine varieties of "accompaniments" (which may or may not be the Swahili word for dipping sauces) this is one appetizer that needs to be on your Disney Bucket List. The rest of the menu is worth exploring as well, with many unique options that are far removed from chicken fingers, hamburgers, and pre-made flatbreads,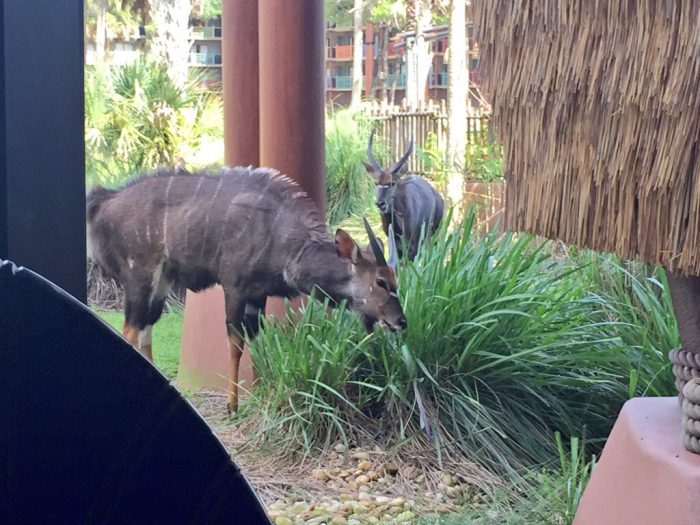 One item we love getting at both lunch and dinner is the Potjie Inspired dish. The menu describes it as: "Choose one from the Journey – Goan Seafood Curry, Butter Chicken, Braised Beef, or Spicy Durban Shrimp. Choose one from the Harvest – Chickpea Wat, Aloo Masala, Paneer Tikka, Lentil Dhal, or Cilantro-Coconut Vegetables. Served with scented Basmati Rice."
One thing to also keep in mind is that Sanaa has a lounge which allows walk-ups if you can't secure an ADR. There is a full bar and you're allowed to order off the regular menu.
If you are absolutely insane, like some people we know, you can go to the bar and order the Indian-style bread service to go and take it to the pool area.
# 5 – AMC Dine-In Theaters (Disney Springs)
I have two places in Orlando where I like to see movies. One is the true IMAX screen at Pointe Orlando on International Drive. There is nothing like seeing a special effects laden blockbuster on a true IMAX screen. Nothing. The other place I'll catch a film is at the AMC Dine-In Theatres at Disney Springs. With a shockingly good menu along with a full bar, this is how movies were meant to be enjoyed…with people bringing you stuff! Instead of the usual movie theater where there is literally nothing to do while waiting for your movie, the lobby of the Dine-In Theatres features the MacGuffins bar and lounge. At MacGuffins you can enjoy drinks along with being able to order off the food menu. Inside the actual theater, guests are seated with a table in front of them and a call button for your server. There is no minimum purchase, and you can even just order popcorn and soda (or nothing if you so desire.) Disney Springs has a bowling alley (Splitsville) and a movie theater that both serve food and drinks that are as good or better than many onsite restaurants. Don't overlook them.
# 4 – 50's Prime Time Cafe (Disney Hollywood Studios)
50's Prime Time Cafe at DHS is one of the few interactive restaurants at Disney, and by that we mean the diners are part of the "show." The entire restaurant is themed to an old timey kitchen, complete with black and white TVs. With chicken noodle soup, meatloaf, Mom's old fashioned pot roast, and Grandma's chicken pot pie, the menu is themed to home cookin' meals that many of us had growing up. The servers are always in character, such as "Cousin Lilly" or "Uncle Bob," and will playfully nag you during the meal, so don't forget to eat those green beans! With great theming, a tasty menu, and the chance to possibly see a family member get an "airplane" of food brought to their mouth, 50's Prime Time has to be experienced at least once because there is nothing quite like it in your hometown.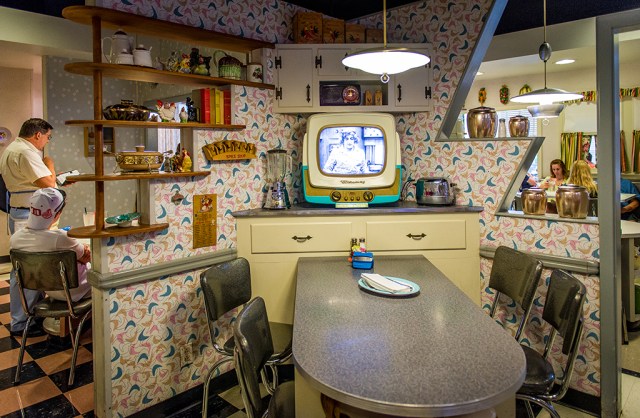 # 3 – Sci-Fi Dine-In Theater (Disney Hollywood Studios)
We admit that the menu at Sci-Fi Dine-In Theater at DHS is not going to earn any Michelin stars. In fact the food would have a hard time cracking the top half of WDW sit down restaurants. However, this list is about unique experiences and Sci-Fi delivers that and then some. The restaurant simulates diners being at a '50s drive-in movie theater at night, and does so spectacularly. Guests are seated in a faux classic American car, which is an attraction in and of itself. Meanwhile all the cars are facing a giant movie screen playing classic clips from the 1950s. Our best bet? Get some appetizers and a couple milkshakes and just enjoy yourself. Or go for desserts, because the S'mores brownie and ice cream along with the house-made candy bar are legit. The Sci-Fi Dine-In Theater is what immersive theming is all about. The food may not be memorable, but the experience itself is something you will remember for years to come. Telling people back at home, "you won't believe where we ate at…"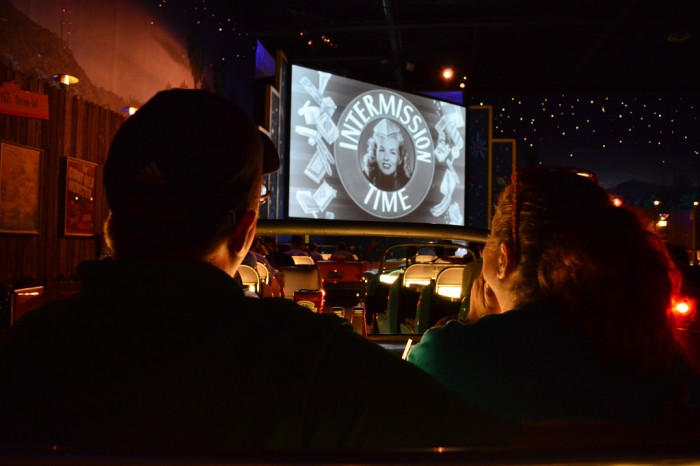 # 2 – Whispering Canyon Cafe (Wilderness Lodge)
Similar to 50's Prime Time, the severs at Whispering Canyon Cafe can be fully committed to a "performance." Meaning: this is not the place to come for a quiet and relaxing meal. However, mixed in with all the hootin' and hollerin' is one of our favorite meals at WDW because Whispering Canyon offers the All-You-Care-To-Enjoy Skillet (which will be described from this point on as the all you can eat skillet, because we're not insane.) With ribs, pulled pork, beef brisket, sausage and more, this skillet is what we call mighty fine eatin'! Whispering Canyon also offers a vegan-friendly skillet that contains items such as Beyond Meat sausage and Gardein chick'n. In fact, with this one dish Whispering Canyon went from one of the worst restaurants at WDW for vegans to one of the best. It's that good. Even better, besides the all you can eat skillets there is all you can drink milkshakes! Kids will absolutely love Whispering Canyon because of the over the top atmosphere, including the well known bit of what happens when you ask for ketchup. Adults will enjoy it because of the tasty vittles.
# 1 – Hoop-Dee-Doo Musical Revue (Fort Wilderness)
If you haven't done the Hoop Dee Doo Revue yet, stop reading immediately and book an ADR. We'll wait here for you.
Back? Good. Now Walt Disney World is filled with wonderful shows, from Festival of the Lion King to Finding Nemo: The Musical to the Indiana Jones Epic Stunt Spectacular, but Hoop Dee Doo Revue blows them all away. It's funny, entertaining for all ages, and has songs you'll be humming to yourself long after the show ends. Not only is the all you can eat food incredible, but even the plates that you eat on and the mason jars you drink from add to the overall dining experience. It's one thing for the delicious fried chicken and finger lickin' ribs to be unlimited, but the beer and sangria are also poured all meal long. If we're dreaming, don't ever wake us up.
The gigantic strawberry shortcake that caps off your dinner is one of the best desserts at WDW, and trust us, we've tried them all. It is rare to find something that can appeal just as much to the 7 year old in your party as it does to the 70 year old, but Hoop Dee Doo Revue hits that spot and continues to be a jewel in the Walt Disney World crown. On your next vacation you owe it to yourself to book a family dinner at Hoop Dee Doo Revue, and consider making a day or night of it and explore everything Fort Wilderness has to offer. You may surprised with what you find!
Honorable Mention – Brunch at California Grill (The Contemporary)
The first rule of real estate is location, location, location, and no restaurant at WDW can top the California Grill when it comes to that. Sitting high atop the Contemporary Resort, the California Grill's floor-to-ceiling windows overlook the Magic Kingdom. During the park's nighttime spectaculars, such as Happily Ever After, the lights in the California Grill dim while the fireworks music is played overhead. It's also a truly wonderful place to be eating while enjoying the sunset. The service is more reminiscent of a fine dining restaurant than your average Disney table service restaurant, and is impeccable.
However, the meal we would recommend experiencing at California Grill is brunch. Offered on Sundays from 10AM to 1PM, this meal includes all you can eat buffet-style offerings along with an a la carte menu. At $80 per person, the price is steep, but the quality of food, the level of service, and the unbelievable view you get while enjoying your meal makes this one worth checking out.
For more read  TouringPlans' resident foodie Tessa Koten's thoughts on the Brunch at the Top experience, and check out Tom Bricker's rave review as well.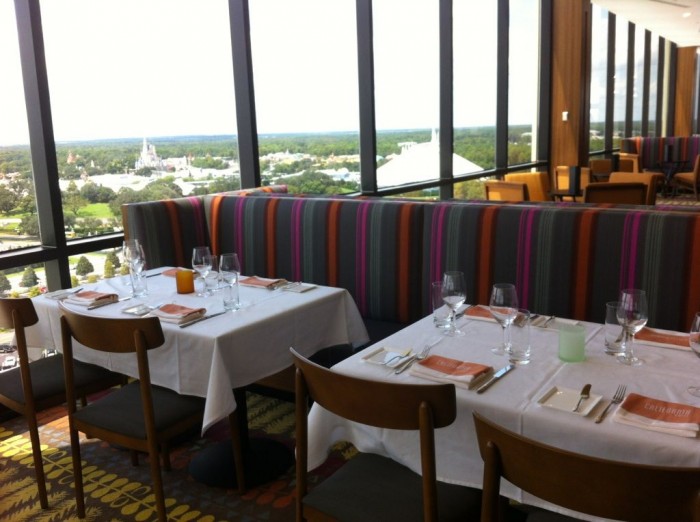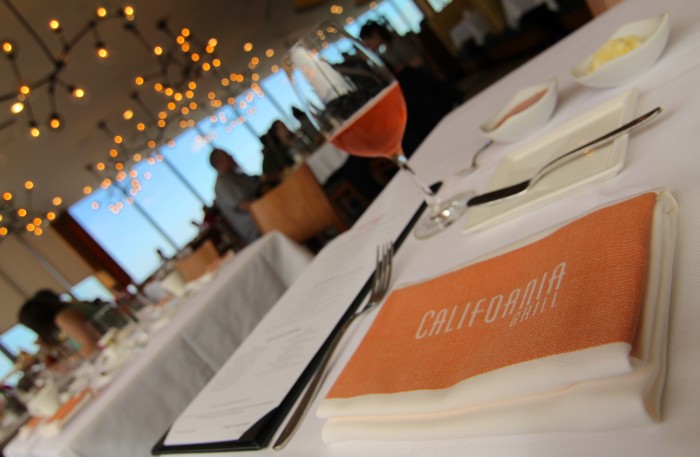 (UPDATE: A reader in the comments section suggested that the Dine-In Theatres at Disney Springs aren't as unusual an experience as others on this list because AMC has more of these venues across the country. That is a great point and a reason why I wouldn't have included a place like Rainforest Cafe. We'll do a followup article with more appropriately unique locations including Biergarten, La Hacienda de San Angel, and Mickey's Backyard BBQ.)
SPECIAL BONUS LOCATION: Cinderella's Royal Table (Magic Kingdom)
Speaking of location… Cinderella's Royal Table has the ultimate location, inside Cinderella Castle smack dab in the middle of the Magic Kingdom. This is the place many children (and adults) dream of being inside, and it lives up to the hype. Akershus in Epcot may be a better bang for the buck when it comes to meeting princesses, but Cinderella's Royal Table is the most "magical." The entire process is a memorable one, including the walk up the stairs to the actual restaurant. Is it pricey? Yes, but there's a reason Cinderella's Royal Table books up almost 180 days out consistently. There are so many little details in the building, and fun surprises for the kids throughout, that being able to meet several Disney princesses without waiting in line is just cherry on the sundae.
Be sure to check out Julia Mascardo's article – Cinderella's Royal Table: Worth the hype? Brian McNichol's look at CRT in his series on character meals, and our very own SATURDAY SIX giving 6 Reasons Breakfast at CRT is Worth Your Time and Effort.
So there you have it: 6 of the Most Unique Dining Experiences at Walt Disney World! (yes, we know "most unique" is not grammatically correct, but we are the VOICE OF THE PEOPLE not the voice of Strunk and White.) See you next weekend for the latest installment of the SATURDAY SIX, where we'll look at something fun from the world of Disney and Universal. If you enjoyed yourself, be sure to check out The Magic, The Memories, and Merch! articles, or, for your listening pleasure, check out the E-Ticket Report podcast. You can also follow Your Humble Author on Twitter (@derekburgan).
If you enjoyed this article, you will surely like the following:
California Grill: A Review of BRUNCH AT THE TOP
6 Examples of the DISNEY DIFFERENCE
Menu Monday: 50's Prime Time Cafe
Special Thanks to The Elite Brandon Glover, Mr. 'Ohana Tim Grassey, the SAT SIX Fun Squad of Parkscope Joe and Nick, hot shot Michael Carelli,  and Hermione Granger's tutor Megan Stump for their invaluable assistance with this article. The SAT SIX is inspired each week by goofballs Aengus Mackenzie and LitemAndHyde and you Potterheads will  enjoy Meg's other blog work over at the Central Florida Slug Club.
FINAL PLUG! Did you know The 2018 Unofficial Guide to Universal Orlando has a special edition of the SATURDAY SIX in it? Finally, someone came up with an actual reason to read a book. ORDER this baby now!