SATURDAY SIX: Our Six Favorite Jokes in Universal's Springfield U.S.A.
This week's SATURDAY SIX covers Our Six Favorite Jokes in Universal's Springfield U.S.A. Universal Studios Florida has received a lot of attention over the past two years. The park fixed many of its most glaring weaknesses by adding a new daytime parade, a nighttime spectacular, a new E-Ticket in Transformers: The Ride 3D, an incredible family ride in Despicable Me: Minion Mayhem, and of course will shortly be debuting the first ever park-to-park attraction with the Hogwarts Express that will travel to what could possibly be the most immersive land in the history of theme parks with Diagon Alley (keep up to date on all the Potter construction with Seth Kubersky's PotterWatch articles.)

And while all of this is no less than exciting, throughout all these developments one area of the park has quietly become one of our favorite places in Orlando: Springfield U.S.A. The Simpsons Ride has been a favorite of many since its debut in 2008, with the television show's trademark sarcastic wit taking its aim at the world of theme parks. Now the area is a completely developed land with a second attraction, a Photo Connect opportunity, elaborately themed carnival games, an outdoor bar in Duff Gardens, and some of the best quick service food items in any theme park including Fast Food Boulevard, Bumblebee Man's Taco Truck, and Lard Lad Donuts.
But what makes Springfield U.S.A. stand out is the clever use of jokes and humor throughout the entire land. Today we're going to look at our six favorite bits.
# 6 – Kwik-E-Mart Merchandise Signs
When you step into the Kwik-E-Mart, the gift store for The Simpsons Ride, you would be best served by walking around and noticing all the details throughout the store. Our favorite gags are the clever signs above some of the merchandise saying things like, "C'mon, if you ran a store I'd buy your junk!, "Satisfaction begrudgingly guaranteed," and "Today's merchandise at tomorrow's prices!"
# 5 – The Fast Food Boulevard Menus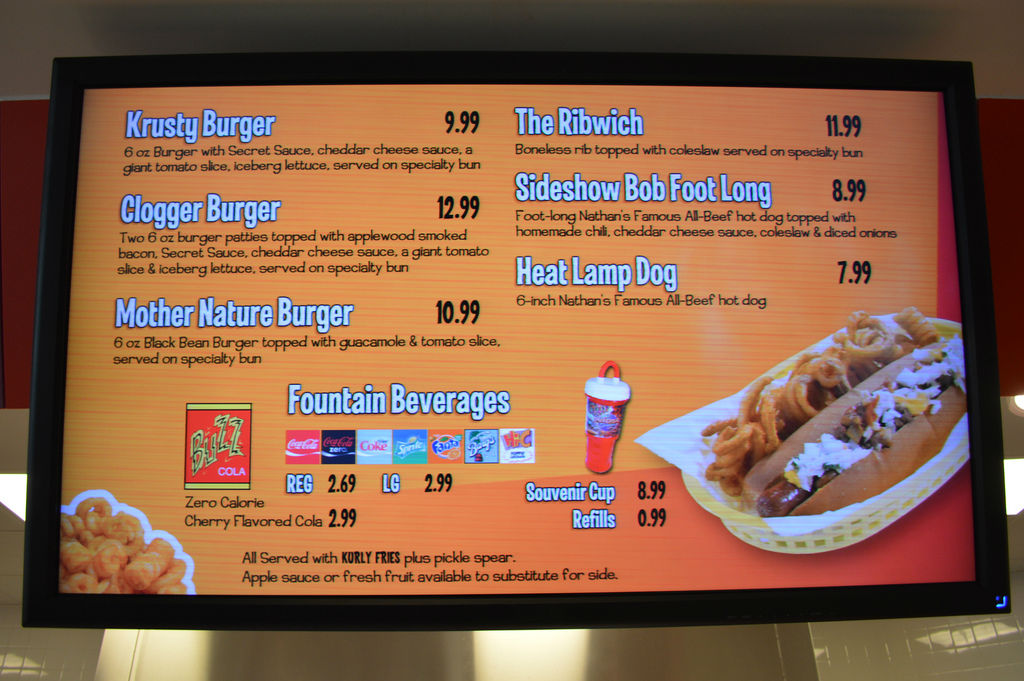 Regular readers of the Saturday Six know how much we love Fast Food Boulevard. Incredibly, Universal took its worst quick service location with the old International Food & Film Festival and turned it into its best. But today we're not looking at the number of unique food items. Instead, we're taking a look at the menu descriptions, themselves. Written by actual Simpsons screenwriters, these menus include items like the Heat Lamp Dog, Chicken Arms (instead of chicken wings), and The Frying Dutchman's own Clam Chowd-arr.
# 4 – Krustyland's Carnival Games
Carnival games at theme parks are a hot-button issue for many hardcore fans. Whether its the games at Animal Kingdom's DinoLand U.S.A. or the ones throughout both of Universal's parks, there are many cries from guests that these "games of skill" don't fit and belong in amusement parks like Six Flags. Regardless of how you feel about carnival games, it's impossible to believe it could ever been done better than what has been done in Springfield U.S.A., where the games have been incorporated into the Krustyland facade of The Simpsons Ride. The prizes are Simpsons themed products you can't buy in any store (including Duff Beer baseball jerseys and Spider-Pig plush dolls). And best of all, the games even mock you for playing with signs all but saying they are a rip-off.
# 3 –  Simpsons Couch Gag
If your family members are anything like mine, they like buying photos during their theme park vacation and are invariably shocked when they see the price-per-photo. There's a reason Disney can market its Memory Maker photo package (and Universal its Photo Connect Star Card package) as a savings despite the relatively high price. The new Simpsons Couch Gag Photo Connect Experience takes a swipe at these very same prices. One sign has "Professionally shot souvenir photos" with shot crossed out and replaced with priced while another sign proclaims, "Pictures are worth a thousand words," but has in small print, words extra. Small details, but brilliant.
# 2 – Kwik-E-Mart Register
For long-time Simpsons fans like myself, this joke is for you. Referencing a sign seen briefly in a classic episode of The Simpsons ("Homer and Apu"), this Do Not Accept Checks From sign is located by the register of the Kwik-E-Mart.
# 1 – Kang & Kodos' Twirl 'n' Hurl Queue
I love everything about the new Kang & Kodos' Twirl 'n' Hurl attraction. Everything. There are hilarious ads in the queue. There are videos playing with classic moments from the Simpsons television show involving Kang & Kodos. The safety spiel before the ride is great. The comments made during and after the ride by Kodos are hilarious. The ride itself has interactive elements, and even the story of the attraction is that you are begin recruited to destroy Earth. This is one spinner ride that has just as much enjoyment for adults as it does for little children.
My favorite jokes of the ride are the jabs made at attraction queues, which have taken on a new relevance now that Disney has implemented FastPass+. No one likes lines in a theme park, but Springfield U.S.A. is the only place where guests are outright mocked for standing in a long queue. Ironically enough, Kang & Kodos' Twirl 'n' Hurl rarely has a long queue.
So there you have it: Our Six Favorite Jokes in Springfield U.S.A. These great gags are just the tip of the iceberg when you enter this great land, and be sure to keep your eyes open for other incredibly jokes that make fun of Disney attractions such as Pirates of the Caribbean, The Haunted Mansion, and even the Hall of Presidents. See you next weekend for the latest edition of the Saturday Six, where we will look at Epcot's Flower & Garden Festival. If you had fun, be sure to check out The Magic, The Memories, and Merch! articles or, for your listening pleasure, check out Pardon the Pixie Dust podcast.
Special thanks to Disney Blogger Extraordinaire Morgan Crutchfield and Brandon Glover for their assistance with this article.