SATURDAY SIX: Top Six Theme Park Bars in Orlando
This week's SATURDAY SIX covers the Top Six Theme Park Bars in Orlando. Reading the recent Epcot After Hours Wind Down reviews got the staff of Saturday Six thinking about the best theme park bars in town, so we grabbed our iPad and pulled up the Walt Disney World Bars and Lounges eGuide as a reference, cashed in our 30 day A.A. chips, and hit the parks to make our final judgements. What follows are the very best of your watering hole options inside the theme parks….
# 6 – Duff Gardens (Universal Studios Florida)
Duff Gardens is one of the newer entries in the parks, making its debut at Universal Studios Florida in August of 2013. The variety of drinks served here is limited (various Duff beers, coke products, Buzz Cola, and the Flaming Moe) but what Duff Gardens lacks in overall drink options, it makes up for in atmosphere and location. The topiaries of the 7 Duffs (Tipsy, Queasy, Surly, Sleazy, Edgy, Dizzy and Remorseful) are incredible. There is a photo op with Duffman and guests are steps away from the wonderful statue of Jebediah Springfield. There is signage within the bar that has the trademark Simpsons wit while cleverly mocking traditional beer advertisements. There is plenty of seating at the bar and there are even more tables bordering the nearby lagoon. Grabbing a couple tacos from Bumblebee Man's Taco Truck and a Duff beer on tap from Duff Gardens is one of our favorite theme park meals.
# 5 – Dawa Bar (Animal Kingdom)
Coming in June will be a special Saturday Six dedicated to "Six Reasons Animal Kingdom isn't a Half Day Park" and reason 6A could be the Dawa Bar. A wonderful and relaxing place to have a drink, Dawa Bar offers many authentic beers and wines from Africa along with traditional domestic selections. It's located in the Africa section of Animal Kingdom, right near Tusker House and it's ample seating and shade can be the perfect cool down when it seems to be 1000 degrees outside. Our best bets are the Tusker Lager and a Sugar Cane Mojito.
# 4 – Tune-In Lounge (Hollywood Studios)
I think many would agree that Hollywood Studios needs a lot of fixing to be a full day park for most families, but one thing it has right is the Tune-In Lounge. Located next to the popular 50's Prime Time Cafe, the Tune-In Lounge has a huge drink selection and also offers the full menu of the 50's Prime Time Cafe. Keep that in mind when you can't get the Advance Dining Reservation you want or there is an extremely long wait for a table at 50's Prime Time. Several different seating areas are themed to the living rooms of typical American families in the 1950's, complete with television shows from that era. Everything about the Tune-In Lounge will take you back to a different era and time (until the check comes and you fast forward back to reality.) The full bar offers a large selection of liquid courage that will have you ready to withstand a two hour wait at Toy Story Midway Mania or even the next showing of Lights, Motors, Action! Our best bets are Dad's Electric Lemonade and – since you can order off the 50's Prime Time Cafe menu – a PB&J Milkshake.
Pro Tip: If you do order the PB&J Milkshake, try it with chocolate ice cream. It tastes just like Reese's Puffs cereal and is out of this world.
# 3 – La Cava del Tequila (Epcot)
La Cava del Tequila inside the Mexico pavilion in Epcot is at the very top of many "best bar" lists and it makes quite a case for itself. Specializing in tequilas, flavored salts, and various tapas, one of La Cava's biggest strengths is its location within the Mexican pavilion at Epcot's World Showcase. Being inside keeps you away from the outdoor humidity (and frequent rain storms) and you are mere steps away from the Gran Fiesta Tour Starring the Three Caballeros, an attraction that can almost become a surreal experience after a couple shots of tequila. Our best bets are the Avocado and Jalapeño Margaritas along with the Trio Combo (tortilla chips served with salsa, queso, and guacamole.)
Pro Tip: Be sure to follow La Cava del Tequila on twitter (@cavadeltequila) as they have one of the better social media accounts of any theme park venue and often times will offer special deals ($5 shots, free chips, etc) to their followers.
# 2 – Hog's Head (Islands of Adventure)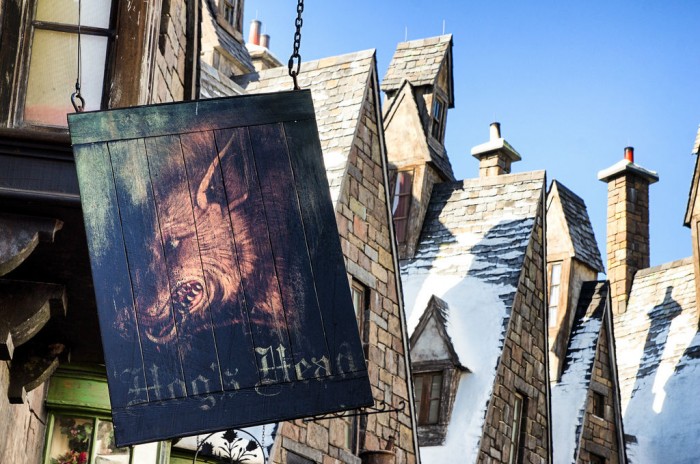 Amazingly enough, the Hog's Head pub in Hogsmeade Village can almost be considered an overlooked gem of the Wizarding World of Harry Potter. Despite the fact you can get Butterbeer at the Hog's Head, there is generally no line, or a much smaller one than at the Butterbeer carts just steps away outside the door. This is the only location at Universal where you can get the exclusive Hog's Head Ale, brewed exclusively for the Wizarding World by the Florida Beer Company. There is a huge Hog's Head animatronic and several shrunken heads taken straight from the Potter film Prisoner of Azkaban. As with everything in Hogsmeade Village there is detail everywhere you look, from Fire Whiskey bottles to "Yesterday's Specials" on the wall. While there are no food offerings at the Hog's Head, it is connected to the Three Broomsticks. There is plenty of seating inside and even more outside where you can kick back with a pint while enjoying the weather and atmosphere (pay attention to the "No Feeding of Winged Creatures" sign.) Our best bet is the Hog's Head Ale, but we won't blame anyone for getting their Butterbeer fix.
Pro Tip: While not advertised, the Hog's Head offers mixed drinks as well as combinations of beers including the Golden (half Stella Artois/half Bass Ale.)
# 1 – Rose & Crown Pub (Epcot)
The Rose & Crown pub in Epcot's World Showcase truly has it all. The overall theming is second to none; Rose & Crown looks and feels like walking into an authentic English bar. The location in Epcot's World Showcase just inside the "back gate" can't be beat and even includes a great view of the IllumiNations nighttime spectacular. The menu includes traditional English favorites such as Fish and Chips and Scotch eggs. The bar itself has great choices like Bass Ale, Guinness Stout, and Harp Lager. Then you have pub blends including the Black & Tan (half Bass/half Guinness) and a Shandy (half Sprite/half Bass Ale). AND you have beer flights and scotch flights. Our best bets are the Imperial Sampler (pictured above) and the Fish and Chips.
HONORABLE MENTION: Moe's Tavern (USF)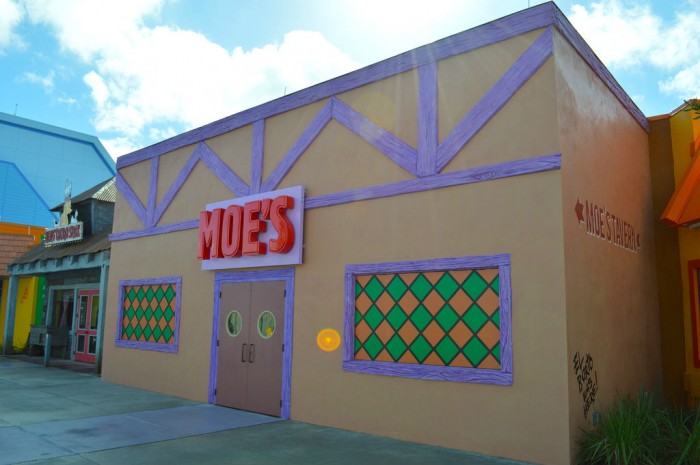 Like Duff Gardens, Moe's Tavern may not have the amount of drink selections of the other bars on this list, but it more than makes up for it by recreating one of the most famous bars in television history. The Love Tester? It's here. Barney Gumble? He's here with a fantastic photo op. Tons of Simpsons references are located throughout Moe's Tavern bringing you straight into the world of the Simpsons. While Moe's offers no food selections, it is connected to Fast Food Blvd, the best counter service location in any theme park. Our best bet includes grabbing a Chicken and Waffle sandwich from Cletus' Chik'n Shack and the signature Flaming Moe at the bar.
So there you have it: the Top Six Theme Park Bars in Orlando. This is a subject near and dear to our hearts and we could easily turn this into a Buzzfeed-like "57 bars you need to drink at" and include more of our favorites including IOA's Backwater Bar, Finnegan's at USF, and Epcot's Tutto Gusto, among others. See you next weekend for the latest edition of the Saturday Six, where we are going to go thrill seeking as we look at the Top Six Roller Coasters in Orlando. If you had fun, be sure to check out The Magic, The Memories, and Merch! articles or, for your listening pleasure, check out Pardon the Pixie Dust podcast.
Special thanks to Disney Blogger Extraordinaire Morgan Crutchfield, Mike Sperduto, and crack staff photographer Brandon Glover for their assistance with this article. I'd also like to thank Stacey Lantz and hopefully direct some of you to her blog "Confessions of a Disney Nerd." Stacey has a wonderful sense of a humor and a passion for WDW that very few have, all of which comes across in her trip reports and blog updates.
And be sure to check out Brian McNichols' Walt Disney World's Bars and Lounges eGuide. Over 250 pages, over 430 pictures and over 25 recipes to recreate your favorite WDW cocktails.