SATURDAY SIX: Six Surprises of Universal's Diagon Alley
This week's SATURDAY SIX covers Six Surprises of Universal's Diagon Alley. The Universal Orlando Resort held its big Diagon Alley media event this week, and TouringPlans' own Seth Kubersky was on hand each night of the the three day event. For this red carpet event, Universal flew in some major players from the Potter movie universe, including the usual crew of Evanna Lynch (Luna Lovegood) and the Phelps twins (Fred and George Weasley), but also used the Floo Network and brought in Bonnie Wright (Ginny Weasley), Domhnall Gleason (Bill Weasley), Tom Felton (Draco Malfoy), Matt Lewis (Neville Longbottom), Warwick Davis (Professor Flitwick), Robbie Coltrain (Hagrid), and Helena Bonham Carter (Bellatrix Lestrange). For the first time ever, media and VIPs were able to ride on the Hogwarts Express and Harry Potter and the Escape from Gringotts, along with experiencing everything in Diagon Alley itself.  The Leaky Cauldron. Carkitt Market. Knockturn Alley. All of it.
We'll cover all the big stuff in due time (especially with the newly announced July 8 Grand Opening date for all guests), but today we're going to look at six surprises within Diagon Alley that had us grinning wider than Ron Weasley after seeing a Veela.
# 6 – Gringotts Bank Notes
After many years Universal finally has its version of Disney Dollars in the form of Gringotts Bank Notes. Located in Carkitt Market, the Gringotts Money Exchange will allow guests to exchange their Muggle money for Gringotts Bank Notes (in $10 or $20 denominations), which can then be used as souvenirs or as currency to purchase anything in the Wizarding World or on Universal property. Even more impressive is the goblin animatronic that interacts with the guests, including looking directly at the person talking to it. Both creepy and fun.
# 5 – Animatronic Kneazle in Magical Menagerie
Every store in Diagon Alley has its own unique charm, but the one we really enjoyed was Magical Menagerie. Here guests can get toy pixies along with plush versions of all their favorite animals from the Potter universe, including Crookshanks, Buckbeak, Fang, Fluffy, Scabbers along with various cats, ravens, owls, toads, rats and more. But it's the decor that stands out, including an impressive animatronic Kneazel. In the movies, Hermoine's pet Crookshanks seemed more like an ordinary house cat, but in the book version Crookshanks is a half-Kneazel, which are cat-like in appearance except more exotic and with a lion-like tail. Kneazels are highly intelligent, unusually aggressive, and are very adept at spotting untrustworthy people, so be sure to keep them far away from us theme park bloggers!
# 4 – The Singing Sorceress Celestina Warbeck and the Banshees
In a previous edition of the SATURDAY SIX, we discussed how much we were looking forward to some of the live performances that will take place within Diagon Alley (much like the Frog Choir and Triwizard Spirit Rally in Hogsmeade), but one that we didn't know was coming was Celestina Warbeck and the Banshees. An example of just how deep the Wizarding World goes into Potter lore, Celestina Warbeck and the Banshees is a musical act only mentioned very briefly in the books, but it is brought to life in Carkitt Market. The group rousingly performs three songs, whose titles were created by JK Rowling herself: "You Stole My Cauldron but You Can't Have My Heart," "A Cauldron Full of Hot Strong Love," and "You Charmed the Heart Right Out of Me."
# 3 – Gillywater
Take a bottle of Gillywater…
And at Eternelle's Elixir of Refreshment. you can purchase one of four elixirs to mix in…
Equaling a brand new drink!
A simple concept that we all see (and use) in our everyday lives, but Universal found a way to make it fit perfectly within the Wizarding World.
# 2 – Interactive Wands and The One Map To Rule Them All
Last week at Hogsmeade Village we saw medallions pop up seemingly in the middle of the night for guests to be able to interact with various elements in the storefronts. Shortly after, the official Universal blog confirmed that interactive wands were coming to the Wizarding World. Now that Diagon Alley is open, the interactive wands are available to purchase ($44.95) and come with an incredible map, which shows many of the spots where eager witches and wizards can cast spells in both Diagon Alley and Hogsmeade. We have been sent owls, who tell us that there are still more areas to interact with that aren't on the map that guests will be able to discover on their own.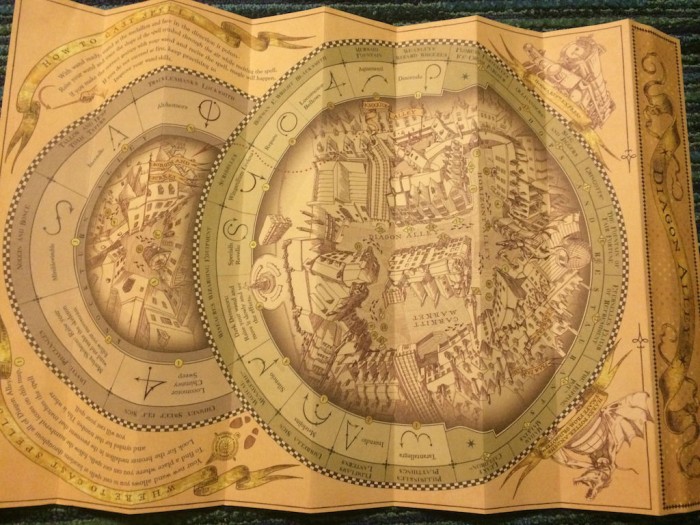 # 1 – Tributes to JAWS
Theme park fans love rides, but what the hardcore fans seem to love even more is references to their favorite rides and attractions that no longer exist. In the Magic Kingdom there is a reference to the Nautilus from 20,0000 Leagues Under the Sea in the amazing rock work for the queue of Under the Sea ~ Voyage of the Little Mermaid and a Mr. Toad appearance in The Many Adventures of Winnie the Pooh, while over at Universal Studios Florida Doc Brown from Back to the Future: The Ride makes an appearance in the queue video of The Simpsons Ride and a small statue of King Kong sits in the throne room of Revenge of the Mummy. Even the new Starbucks in Epcot has a hidden Communicore logo to appease fans.
The Universal parks will almost always be tied to the iconic character of JAWS, and the removal of the JAWS attraction in 2012 may have caused a riot if people didn't know the Wizarding World was coming to replace it. A beloved ride that has had problems from literally day one, JAWS holds a special place in the hearts of many Universal fans. Now, when Hogsmeade Village opened in 2010, it contained exactly zero references to any of the elements of Lost Continent that it replaced, such as the Enchanted Oak Restaurant, so not everyone was convinced that there would be any JAWS references in Diagon Alley.
You can now rest easy, as there are multiple references to JAWS in Diagon Alley, including this one at the record store in the London Waterfront facade.
HONORABLE MENTION: The Extended Queue to Harry Potter and the Escape From Gringotts
We knew the queue area for Harry Potter and the Escape From Gringotts would be big, but we had no idea it would be THIS BIG. Keep in mind that the extended queue will only be used on the busiest of days and many guests will never see it, but the entire queue can stretch up to 2.5 miles in length. The good news? All reports say the indoor portion of the queue and the ride itself are going to be worth the wait. So grab your Kindle, load up a whole bunch of SATURDAY SIX and The Magic, The Memories, and Merch! articles and you will be ready to go!
So there you have it: Six Surprises of Universal's Diagon Alley. See you next weekend for the latest edition of the Saturday Six, where we are going to look at The Top Six Shows at Walt Disney World . If you had fun, be sure to check out The Magic, The Memories, and Merch! articles, or, for your listening pleasure, check out Pardon the Pixie Dust podcast.
Special thanks to PotterWatch's own Seth Kubersky for his invaluable assistance with this article, and Mike Sperduto, for being brilliant.