SATURDAY SIX: Top Six New Drinks in Universal's Diagon Alley
This week's SATURDAY SIX takes a look at Top Six New Drinks in Universal's Diagon Alley. The original plan for this week was to take a look at the top six options for food and drink in the newest addition to the Wizarding World, but after reaching out to a blue panel commission to tabulate the results we came to one realization: that mission was truly impossible. There are so many new foods, snacks, and drinks within Diagon Alley and each person seems to have a different favorite. So we're going to take a page from Bill O'Reilly's playbook by throwing out the previous plan and we'll do it live! We're gonna break down our favorites in each category over the course of the next three weeks and we'll start off with our favorite beverages…
# 6 – Tongue Tying Lemon Squash
Our list begins with the Tongue Tying Lemon Squash. Think of the lemonades you get freshly made at your local fair or farmer's market and imagine more lemon being used along with a hint of vanilla. The taste is very tart, but this drink has already become the best lemonade on property. ($4.79 at the The Hopping Pot)
# 5 – Peachtree Fizzing Tea
Peachtree Fizzing Tea. Like a Pumpkin Fizz over at the Three Broomsticks in Hogsmade, the Fizzing Tea is a carbonated beverage. Peach flavored and with a hint of ginger. It reminded us of a peach cobbler and wasn't overwhelmingly sweet. ($4.79 at the Leaky Cauldron)
# 4 – Wizard's Brew
Fans of Duff Dry over in Springfield U.S.A. will more than likely enjoy Wizard's Brew as it is a very dark stout with notes of coffee and chocolate. Not for everyone, this can be an especially strong drink (thankfully not bitter) and is another exclusive brew made for Universal by the Florida Beer Company, who previously had brewed Hog's Head Ale, Duff, Duff Lite, and Duff Dry for the parks. ($7/75 at The Hopping Pot)
# 3- Fishy Green Ale
One of the most unique and original drinks created for the area was Fishy Green Ale. Like the original Butterbeer and then the Flaming Moe in Springfield, Universal has created a theme park signature drink that is like no other. The drink itself is green in color with a creamy mint taste along with some hints of cinnamon. At the bottom of the drink are plump blueberry "fish eggs." The Fishy Green Ale comes with a bigger straw than the other drinks to be able to suck these "eggs" up and they almost explode in your mouth. Like the Wizard's Brew, the non-alcoholic Fishy Green Ale is not for everyone, but those who enjoy it are going to love it. ($4.99 at the Fountain of Fair Fortunre)
# 2 – Dragon Scale
Dragon Scale is a lager more along the lines of the exclusive Hog's Head Ale in Hogsmeade and regular Duff Beer in Springfield. An equivalent Muggle beer would be close to Killian's. Like the Hog's Head beer, the tap for Dragon Scale is incredibly designed. For us, a highlight of Diagon Alley on a hot day is grabbing an ice cold Dragon Scale and then walking outside to enjoy it while the Gringotts dragon roars and spews fire. ($7.75 at the Fountain of Fair Fortune)
# 1 – Otter's Fizzy Orange Juice
Possibly the biggest surprise of all the new drinks is Otter's Fizzy Orange Juice. Slightly carbonated, this orange drink has a hint of vanilla along with cinnamon and sugar on the rim. This combo on the rim of the cup is one of the greatest breakthroughs in the last 20 years of drink technology. Like a Blue Moon beer, this non-alcoholic drink is topped with an orange slice. It may not have the fanfare of other Potter-themed drinks, but for our money the refreshing Otter's Fizzy Orange Juice tops the list. ($4.79 at the Leaky Cauldron)
HONORABLE MENTION: Gillywater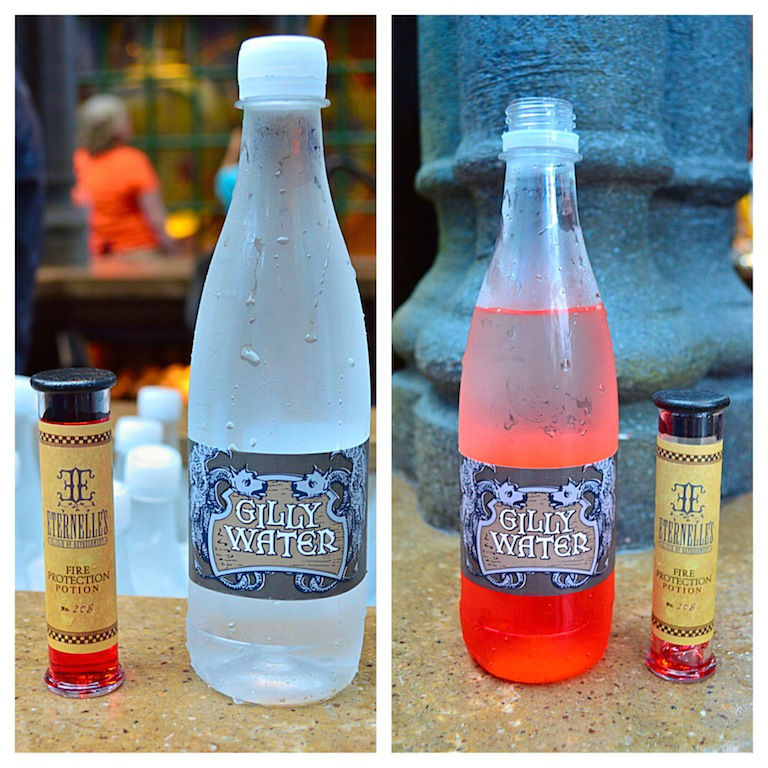 With Gillywater Universal has almost done the impossible. They have created a bottle of flavored water that guests will gladly line up and pay over $8 for. In a world of overpriced Fiji and Vitamin Water this pricepoint is like breaking the 4 minute mile. What helps is the emotional connection that guests have with Gillywater from its various mentions in the Potter books and films. There is also the insanely great theming of the stand which sells Gillywater and the elixirs to mix in, Eternelle's Elixir of Refreshment in Carkitt Market.
In many ways Gillywater is similar to the chocolate frog that debuted with the opening of Hogsmeade in 2010. It may be a bit pricey, but Universal made the experience itself memorable and tied to a moment that fans remember from the books or movies. For Gillywater, Romilda Vane tried to get Harry Potter to drink some Gillywater mixed with a love potion in Half Blood Prince.
So there you have it: the Top Six New Drinks in Universal's Diagon Alley. See you next weekend for the latest edition of the SATURDAY SIX, where we are going to look at our favorite foods, so get ready to read a rave review over the Banger Pub Style Sandwich from the Leaky Cauldron. If you had fun, be sure to check out The Magic, The Memories, and Merch! articles, or, for your listening pleasure, check out Pardon the Pixie Dust podcast.
Special thanks to crack staff photographer Brandon Glover for his invaluable assistance in this article. I would also like to thank hand models Meg (one of the founding members of #PotterWatch, her story of which you can listen on episode 3.2 of  the Parkscope podcast), @saidthelion, @mimi0987, @elevnage, Universal park icon @hatetofly, Disney super fan @Trygve and Gregory Ryan. Greg is one of the contributors to the Unofficial Universal Orlando Podcast. UUOP just celebrated their 100th episode and I would like to congratulate them on being one of the best Universal-centered audio in the world.