SATURDAY SIX: Six MORE Of Our Favorite Walt Disney World Snacks
This week's SATURDAY SIX takes a look at Six MORE Of Our Favorite WDW Snacks. We are still reeling from the shocking news yesterday that both the Osborne Family Spectacle of Dancing Lights and Mulch, Sweat, n' Shears will be ending their runs at Disney's Hollywood Studios (and word on the street is that MuppetVision 3D isn't accepting any calls from a 407 area code just to be safe). We need a little pick me up, and nothing lifts our spirits faster than theme park snacks! We've covered the iconic snacks of the Magic Kingdom, our favorite snacks outside of the WDW parks, and some of the most outrageous snacks on property. Today we are going to look at six more items that need to be on your WDW Snack Bucket List. So sit back, get ready to go into a full diabetic coma, and let's begin our countdown starting with…
# 6 – Carrot Cake Cookie at the Writer's Stop (Disney's Hollywood Studios)
We've heard the negatives, so let's spend a minute and talk about what's right with Disney's Hollywood Studios. It has the consensus Best Overall Attraction at Walt Disney World, one of the most unique dining experiences you'll find on property, and also has one of the most overlooked gems inside the parks with the Writer's Stop. Almost hidden inside DHS is a quaint little coffee shop that offers you the opportunity to just unwind and sip on a coffee while reading a Disney book. While the Writer's Stop offers a bunch of treat options, the signature Carrot Cake Cookie is why you want to go out of your way to stop by on your next vacation. The layer of cream cheese between two carrot cake cookies is going to have you make audible sounds of joy as you bite into it. Take a minute to relax, and feel free to grab one of the many Disney themed books on the shelves, or bring one of your own to enjoy (we suggest The Unofficial Guide 2016 or Sam Gennaway's Universal vs. Disney book.)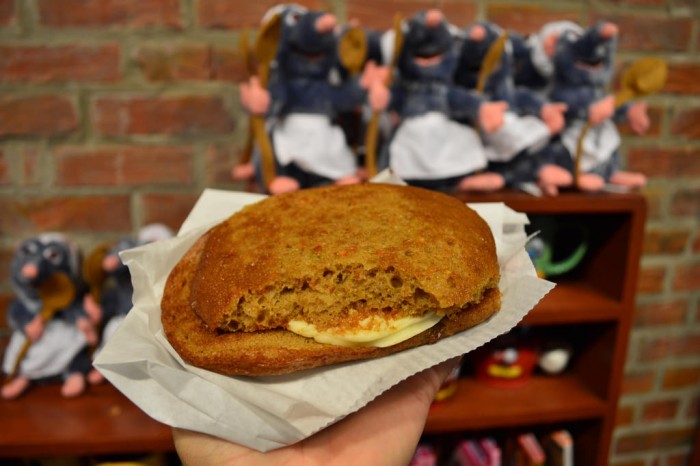 –
5. Corn Dog Nuggets at Casey's Corner (Magic Kingdom)
What the Magic Kingdom lacks in overall restaurant quality (here's hoping the new Skipper Cantina in Adventureland delivers the way Be Our Guest did in New Fantastyland) it more than makes up for in having the most Must Do Snacks at The World, including the Corn Dog Nuggets at Casey's Corner. Located on Main Street USA, Casey's is a great place to hop into, to grab a snack before the Festival of Fantasy parade, the Main Street Electrical Parade, or Wishes. Besides being tasty, the Corn Dog Nuggets are the easiest snack to grab and go. Pair them up with your favorite dipping sauce (our choice is mustard, but we also enjoy BBQ sauce once in a while as well) and enjoy!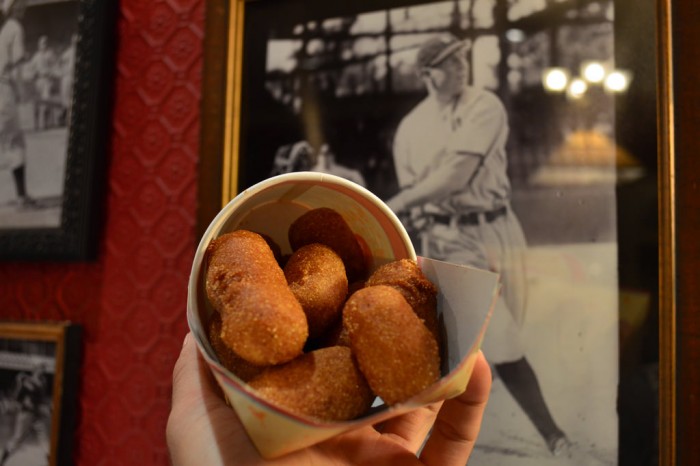 –
# 4 – Beignets at Sassagoula Floatworks & Food Factory (Disney's Port Orleans French Quarter)
We are constantly changing our minds on our favorite Deluxe Resort (some days it's The Contemporary, for others it's Animal Kingdom Lodge, Beach Club or the Poly) but here at the SATURDAY SIX Port Orleans French Quarter is pound for pound the best Moderate at Walt Disney World. One of the many reasons? BEIGNETS. Always made fresh to order at the Sassagoula Floatworks & Food Factory, these warm pieces of fried dough covered in powdered sugar are  – to quote Ned Flanders – scrumdiddlyumptious. Even if not staying onsite, we highly recommend spending a day walking around the Port Orleans Resort (don't forget to stroll into the nearby Riverside, which is our second favorite Moderate) and taking in all it has to offer.
–
# 3 – Adventureland Egg and Spring Rolls (Magic Kingdom)
It is said that Walt Disney himself wanted garbage cans to be no farther than 30 steps apart from each other at Disneyland to encourage guests not to liter. Taking that concept to the next level, Walt Disney World has food carts seemingly every 10 steps in order to encourage us to eat something. While you can buy popcorn, churros, and turkey legs throughout the Magic Kingdom thanks to these ubiquitous carts,  only Adventureland has one offering the Vegetable Egg Roll and Cheeseburger Spring Roll. Both are fantastic, but definitely try out the cheeseburger option if you've never had it before. The hamburger and cheese inside a spring roll is certainly odd to see once you bite into it, but it is flavorful! Sauces available include hot mustard and soy for the vegetable egg roll and ketchup for the cheeseburger spring roll.
–
# 2 – Mickey Kitchen Sink Sundae at Plaza Ice Cream Parlor (Magic Kingdom)
Hands down the most "fun" snack on the list is the Mickey Kitchen Sink Sundae. Formerly only available at the Beach Club's Beaches & Cream, you can now also get the sundae inside the Magic Kingdom at the Plaza Ice Cream Parlor on Main Street USA. This is a preferable option because if you are at Beaches & Cream you should man up and do the real Kitchen Sink Sundae. What's great about the Mickey Kitchen Sink is that you actually get to keep the Mickey Pants serving dish! You can also choose exactly which types of ice cream you would like as scoops in  your sundae, which is definitely a plus as each  person you are splitting it with can choose their favorite flavor. Pour on the hot fudge (caramel and peanut butter sauce also available), add some whipped cream and cherries and you are ready to go!
–
# 1 – Bread Pudding at Tambu Lounge (Disney's Polynesian Village Resort)
If you haven't had dinner at 'Ohana in Disney's Polynesian Village Resort, you should stop reading this article right now and go. We'll wait for you. Unfortunately we probably needed to get into Doc Brown's DeLorean and travel back to six months ago to tell you the news because 'Ohana is one of the most in demand ADRs at Walt Disney World. An already popular restaurant is now even harder to get into thanks to apps and websites preying on Disney guests by scooping up reservations and selling them with a fee. However, one thing we can do without any ADR is go right next door to Ohana at the Tambu Lounge and order one of the best parts of the Ohana feast: the Bread Pudding. For less than $5 you get a single serving of the 'Ohana Bread Pudding served with a scoop of Vanilla Ice Cream and a side of Banana-Caramel Sauce. We recommend to slowly drizzle the sauce over the bread pudding to really whet your appetite. When completely covered, you might as well rename this dish to the more appropriate Heaven On a Plate.
So there you have it: the Six MORE Of Our Favorite Snacks at Walt Disney World. See you next weekend for the latest installment of the SATURDAY SIX, where we'll look at something fun from the world of Disney and Universal. If you enjoyed yourself, be sure to check out The Magic, The Memories, and Merch! articles, or, for your listening pleasure, check out the Pardon the Pixie Dust podcast. You can also follow Your Humble Author on Twitter (@derekburgan)
If you enjoyed this article, you will surely like the following:
Disney Dining: Splitsville at Disney Springs
Disney Dining: The Smokehouse at Disney Springs
Six Most Unique Dining Experiences at Walt Disney World
Disney Dining: FoodQuest at DisneyQuest
Special Thanks to crack staff photographer Brandon Glover and blogger to the stars Megan Stump for their invaluable assistance with this article. Be sure to also check out Brandon on The Park Blogger podcast with co-hosts Aengus Mackenzie and Brian Carey.
FINAL PLUG! Did you know The Unofficial Guide to Universal Orlando has a special edition of the SATURDAY SIX in it? Finally, someone came up with an actual reason to read a book. ORDER this baby now and support SIX NATION (boy do we need a better name than that.)