SATURDAY SIX: Six Things To Do On Your Next Orlando Trip (Outside of Disney and Universal)
This week's SATURDAY SIX takes a look at Six Things To Do On Your Next Orlando Trip (Outside of Disney and Universal). When I was growing up, our family trips to Orlando never meant just going to Disney. Sure, we would spend time at the Magic Kingdom and Epcot, but we always built time in our vacation to travel outside of Walt Disney World and visit attractions like Cypress Gardens, the Kennedy Space Center, and SeaWorld. Now it seems many guests lock themselves into a vacation at WDW and – thanks in part to Magical Express – never leave property. The Wizarding World of Harry Potter has convinced some to venture over to the dark side of the Universal Orlando Resort, and today we are going to look at six other things to do on your next Orlando trip that are worth checking out. Remember that clicking on any picture will bring it up in full size, and let's count down the fun….
# 6 – Fun Spot America
Located near Universal off of I-Drive, Fun Spot America doesn't away the immersive theming you will see at Universal and Disney, but still has the fun rides and at a very reasonable price. One unique feature is that admission to the park is free, so that if you have family members who don't enjoy going on rides, they can still be with everyone without having to pay the full cost of a ticket like you do at the theme parks. For my family this is a great option because my grandmother loves coming with us to the parks but has zero interest in riding anything. She does enjoy watching the kids have fun, and at Fun Spot this entertainment costs her $0 where at Disney it's $100. Another ticket option Fun Spot has that I wish the bigger parks would adopt is pricing of rides based on height rather than age. I'll never understand why both Disney and Universal for all intents and purposes charge a full price ticket to kids whose height prevents them from going on many of the park's rides.
Fun Spot has a wide mix of attractions ranging from kiddie rides like the Sea Serpent to actual roller coasters like White Lightning (the only wooden coaster in Orlando). My personal favorite is the Rip Curl, which is a ride you've seen a thousand times before at local carnivals, but Fun Spot takes it up to an "11."  The park is always spotless, the employees are fantastic, there are rides for everyone, and the deals you can get on rides and food will make you want to come back (and there is a second Fun Spot in the nearby Kissimmee area as well.)
# 5 – Ripley's Believe It Or Not! Odditorium
Ripley's Believe or Not! is probably something you've seen in a brochure on the rack of what I like to call Places You'll Never Go, but it is worth a look as it is a completely unique experience. If you've been to a Museum of Science, think of this as a Museum of the Bizarre, with a level of interactivity that can make it a lot of fun for the whole family. There are tons of great photo ops throughout the building, along with a fascinating look at people and artifacts from around the world, some of which seem too impossible to be true (but they are!). Ripley's reminds me of the Blue Man Group in that it is almost impossible to describe to someone who hasn't experienced it because you can't say "It's like _____," because there is nothing like it back home. Kids will love the hands-on interactive elements, and adults will love the wall-to-wall artifacts and the fact that you don't have to queue for 20 minutes or more to see everything.
# 4 – Gatorland
Gatorland is old school Florida and gets more amazing every time I go. I think many Orlando visitors see the live gators featured at Congo River mini-golf courses and think Gatorland can't be much more than that, but it's much, much more and surprisingly offers a lot for young children. One thing that many guests may not realize is that the park features many more animals than just alligators, although it famously has thousands of those on its 110 acres. A great half day park, Gatorland also offers some incredible up-charge features such as Night Shine, where you experience gators in the dark, and the best Zip Line experience that I've ever done.
# 3 – LEGOLAND Florida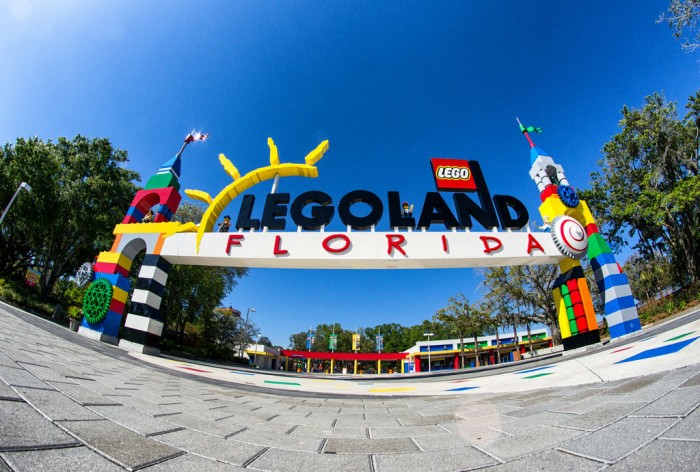 I am a true believer in LEGOLAND and think it is worth a trip just to experience Miniland USA, where you can see areas such as Las Vegas, Times Square, Washington D.C., and San Francisco brought to life in LEGO form. The detail is stunning. There is a large section on Florida where they recreate the Daytona Speedway, the Kennedy Space Center, Bok Tower, and South Beach, all to scale. After you are done picking your jaw up off the floor walking through these areas, there are also six Star Wars planet recreations including Naboo, Tatooine, and Hoth. Miniland USA is possibly my favorite thing in any Florida theme park.
While Fun Spot, Ripley's, and Gatorland are relatively close to WDW and Universal, LEGOLAND is where the old Cypress Gardens used to be in Winter Haven, Florida, about 45 minutes away. There are many rides for the younger set, a 4-D movie theater playing LEGO short films, a water park, and a restored section of Cypress Gardens to walk through. There is a sense of whimsy throughout the park that adds a lot to the overall experience, such as the statue of a LEGO painter who is painting "LEGOLAND at night," and his canvas is all black. Downtown Disney fans will see an old friend taking a snooze on a Legoland bench, and the park also offers one of my all-time favorite theme park snacks, Granny's Apple Fries. When it comes to souvenirs, it's hard to beat the family photo you can get printed out on actual LEGO bricks. If you have young kids in your family, LEGOLAND gets my highest possible recommendation.
# 2 – SeaWorld Orlando
SeaWorld has been hit hard by the reaction to the movie Blackfish, but the park still does a lot of things extremely well and has a great combination of play areas for kids, thrill rides for teens and adults, and shows which the entire family can enjoy together. On top of all that there are many exhibits on marine life that are worth going out of your way to see, including one of my favorite things to do in the entire park, walking through the aquarium attached to the Manta roller coaster.
# 1 – Busch Gardens Tampa
Busch Gardens is in Tampa, about an hour away from Orlando on the west coast of Florida, and combines a series of first class thrill rides along with a gigantic animal preserve. Fans of Disney's Exhibition Everest and Rock 'n' Roller Coaster or Universal's The Incredible Hulk Coaster and Dragon Challenge are going to want to run, not walk, to experience Busch Gardens' Cheetah Run, SheiKra, Kumba, and Montu coasters, while the park's newest attraction, Falcon's Fury, stands alone at the top of the scare-the-crap-out-of-you department. Meanwhile Busch Gardens' biggest strength is not the rides, but the terrific zoo that surrounds everything.
Recently I was at Busch Gardens' Howl-O-Scream event, its version of Universal's Halloween Horror Nights, and found that I had a better overall experience than I had ever had at HHN. Now, I love Universal's Halloween event, but it seemed like Busch Gardens worked harder at every facet of the game to earn my money (and they did; I will certainly return next year and add it to my HHN/Mickey's Not-So-Scary rotation).
Like the others on this list, Busch Gardens also offers aggressive discounts on tickets, making it a great option for those looking for value on their vacation. The number one question I am asked by my family and friends who are looking into an Orlando vacation is where can they get cheap tickets for Disney and Universal. The short answer? You can't. That's the one thing both companies know you have to buy. However, SeaWorld, Busch Gardens, Ripley's, and the rest all have various discounts to get you in the door.  So next time you are browsing through the brochures of Places You Won't Go, consider checking some of them out. While I can't vouch for CSI: The Experience or Holy Land, I can say that everything featured today on the Saturday Six is well worth your time and money.
So there you have it: Six Things To Do On Your Next Orlando Trip Outside of Disney and Universal. See you next weekend for the latest edition of the SATURDAY SIX, where we are going take a look at the Disney Cruise Line. If you had fun, be sure to check out The Magic, The Memories, and Merch! articles, or, for your listening pleasure, check out the Pardon the Pixie Dust podcast.
Special thanks to crack staff photographer Brandon Glover, photo wunderkind Mike Sperduto, and the World Famous Banks Lee™  for their invaluable assistance in this article.