SATURDAY SIX: Six Reasons We Love Disney's Pop Century Resort
This week's SATURDAY SIX takes a look at Six Reasons We Love Disney's Pop Century Resort. One of Disney's Value Resorts, Pop Century has a level of theming that makes it stand out compared to the other lower priced hotel offerings at the All Star resorts while also having dedicated bus transportation to the parks and Downtown Disney.
The entire resort is themed around pop culture icons from the latter half of the twentieth century, with the wings of the hotel dedicated to the 1950s, 1960s, 1970s, 1980s, and 1990s. Each wing has elements from their particular decade throughout the area. If it sounds cheesy, that's because it is cheesy, but it's a good kind of cheesy way and one that can bring back a lot of memories for every family. At the very least Pop Century is great for an afternoon of "resort hopping" to see some of the things they offer that you can't find at any other Disney resort, starting with…
# 6 – The Lobby is a Wonderful Trip Back Through Time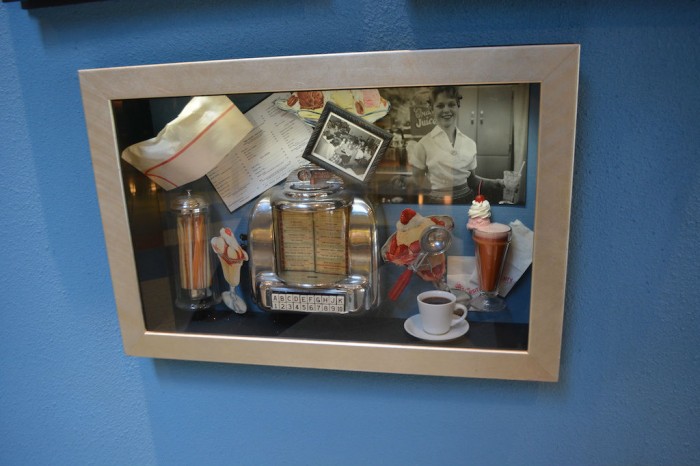 While the check-in desks inside Classic Hall are the same that you will see in many theme park hotels, the walls opposite check in are filled with shadow boxes containing items from the 1950s through the 1990s. This is a wall that will have various generations of every family seeing an item and instantly remembering where they were in life when that was popular.  Elvis, the Moon landing, Dobie Gillis (with Maynard G Krebs), the Beach Boys, Star Wars, Mork & Mindy, Jane Fonda's workout book, Trivial Pursuit, He-Man, Go-Bots, Smurfs, and so much more are in this area.
# 6A – THERE ARE FREE ARCADE GAMES IN THE LOBBY!
This is not a drill people. There are free video games inside the Pop Century Lobby. Video games are popular now, more than any time in history, but Pop Century celebrates how big arcade games were in the pre-Nintendo era of household gaming. Set on free play, the two machines inside Classic Hall have two games on each. One has Space Invaders and Qix, the other has Donkey Kong and Super Mario Bros. All four of these games were HUGE back in the day and it's a blast to play them again.
# 5 – Fast Forward Arcade
Speaking of video games, Pop Century also has a world class arcade to have some fun in that has a gigantic cross section of games including your standard arcade games, driving simulators, air hockey, and various games of skill to win tickets (which you can exchange for prizes.)  Highlights include more old school arcade games (including Galaga) along with basketball, football, and baseball games which make it easy to have competitions with your friends and family.
# 4 – The Food and Snacks at Everything Pop!
Like Cosmic Ray's Starlight Cafe at the Magic Kingdom, the Everything Pop! food court at Pop Century is split up into several sections, so while one area may have slices of pizza, another one will have burgers. Like the Bayliner Diner at Universal's Cabana Bay Beach Resort, along with your standard food options Everything Pop! has several choices to echo the theming of yesteryear. These include "comfort food" entrees such as chicken pot pie, pot roast, and meatloaf. Our favorite? Sloppy Joes! Where Everything Pop! goes above and beyond is in the snack department. Not only are there milkshakes available, but here is where you will find tie-dye cheesecake and the incredible King Cupcake. Dedicated to the "King" Elvis Presley, this cupcake contains all the elements Elvis used in his favorite sandwich combined with a chocolate cupcake. Inside the cupcake is a dollop of banana custard, while on top of the cupcake is peanut butter icing, candied bacon, and chocolate drizzle. Run, don't walk, to try this one.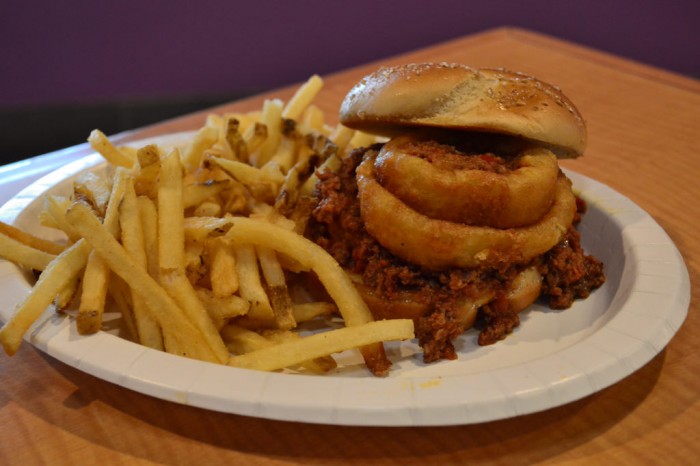 # 3 – Larger Than Life Disney Characters
If you enjoy getting pictures of Disney characters, Pop Century just may be the resort for you. Not only is there a great photo-op with Goofy outside of Classic Hall, but you will also find characters such as Roger Rabbit and Baloo the Bear standing at almost four stories tall throughout the resort.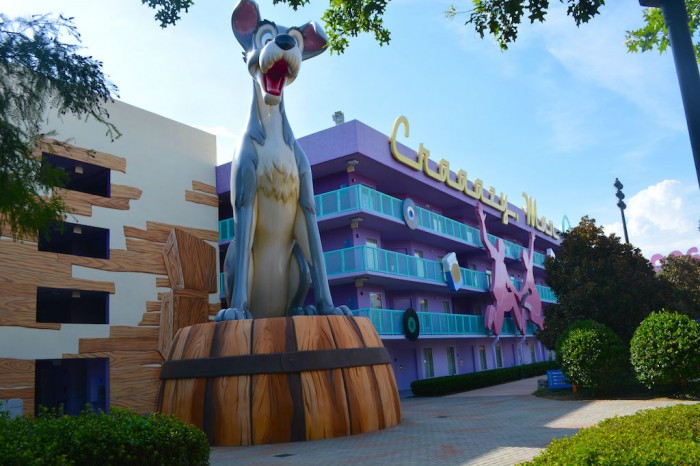 # 2 – Larger Than Life EVERYTHING
You've seen the Disney characters, but throughout the resort there are also gigantic versions of various pop culture items from the 20th Century. Foosball players, a Big Wheel, a tub of Play-Doh, and even Mr. and Mrs. Potato Head are among the large icon figures you will discover in each wing. Across each building  you will also find phrases from each era along with various items, such as transistor radios and Pac-Man. The outside stairwells for each building are also covered by four story tall props including bowling pins, 8 track tapes, and yo-yos. The "90s" building has three different types of retro cell phones hiding stairs behind them.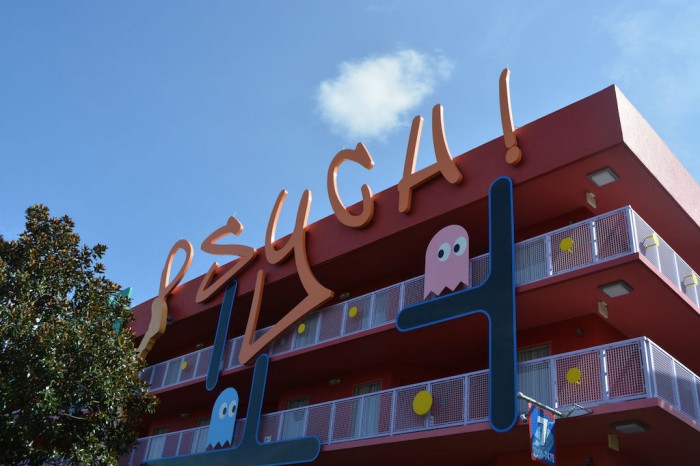 # 1 – The Walk Around Hour Glass Lake
Pop Century was originally conceived to have two separate areas. The first section, the Classic Years, was completed and is what we know as Pop today. A second section, the Legendary Years, was going to be built across Hourglass Lake and the two resorts would be connected by Generation Gap Bridge. The Legendary Years would have focused on the 1900s through the 1940s and what I wouldn't do to see how Disney would have handled the Great Depression and World War II.  As we know, the Legendary Years was never built and instead that area was eventually used for Art of Animation.
One of the strengths of both Pop Century and Art of Animation is being able to take advantage of Hourglass Lake between them and take a gingerly walk (or prepare for a runDisney race) around the entire area via large walkways. On Pop Century's half of the walkway there are signs along the way that highlight major events of various years. Staying at Pop Century allows you to get a great value when you're staying on-site at Disney, but it also gives you the ability to easily walk over and enjoy the fantastic Landscape of Flavors food court at Art of Animation along with some of AoA's outstanding theming including Radiator Springs from the movie Cars.
HONORABLE MENTION: A View of DHS Fireworks
Being able to see the highlights of the Frozen Summer Fun Live! fireworks show from Pop Century was a nice surprise and believe it or not one of the best viewing areas was inside the Computer Pool located by the 1990s wing of the resort. You can also see the fireworks from along the jogging trail bordering Hourglass Lake and from the outdoor breezeways on various buildings facing Art of Animation (the higher up the better.)
–
UPDATE! Pop Century delivers in a major way when it comes to resort merchandise!
–
One of the weakest areas in all of Disney's Value Resorts (outside of Art of Animation) has been the lack of resort specific merchandise. Recently Pop Century went from only having one very generic pin design to having a bunch of terrific new pins and magnets along with retro style items including Rubix cubes and Etch-A-Sketches. Pop Century immediately went from one of the most skippable resort gift shops to one of WDW's best.
So there you have it: Six Reasons We Love Disney's Pop Century Resort. See you next weekend for the latest edition of the SATURDAY SIX, where we are going to take a peek at Mickey's Not So Scary Halloween Party. If you had fun, be sure to check out The Magic, The Memories, and Merch! articles, or, for your listening pleasure, check out Pardon the Pixie Dust podcast.
Special thanks to crack staff photographer Brandon Glover for his invaluable assistance in this article.