SATURDAY SIX: Six "Secrets" of the Universal Orlando Resort (MEN IN BLACK, Doc Brown's Plans, USF's 2nd Entrance)
This week's SATURDAY SIX takes a look at Six "Secrets" of the Universal Orlando Resort. Here at the SATURDAY SIX headquarters we look at the "secrets" of the theme park universe we all love; such as Island of Adventure's Port of Entry and the Wizarding World of Harry Potter – Hogsmeade. Today we are going to look at the Universal Orlando Resort itself and examine six things you may not have known you could do there, even if you have gone 100 times. Remember that clicking on any picture will bring up the full size version, and let's get to counting down the secrets contained within Universal, starting with…
# 6 – Tour the "Immigration Room" of the MEN IN BLACK Alien Attack Queue
One of the areas at which Universal excels is attraction queues and one of our favorites is at MEN IN BLACK Alien Attack. One of the areas guests walk by overhead is the immigration room, which seems straight off the set of the first MIB film. What you may not know is that you can actually get a tour of this area. Talk to the Team Member outside of the attraction and ask if them if you can get a tour of the immigration room. If it is a slow time and they have someone available, another Team Member will come out and escort you into this incredible room.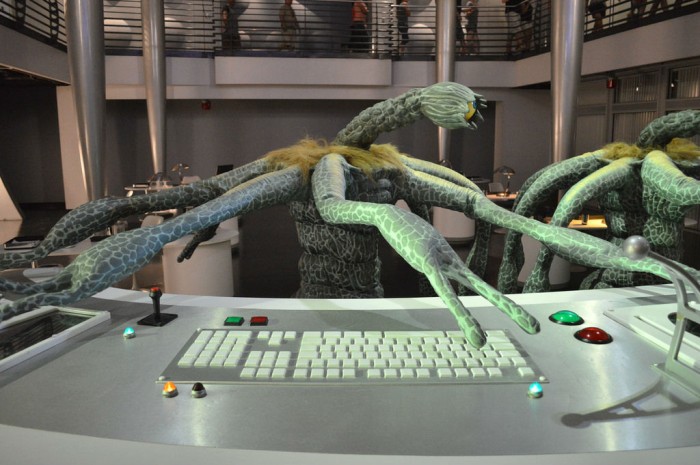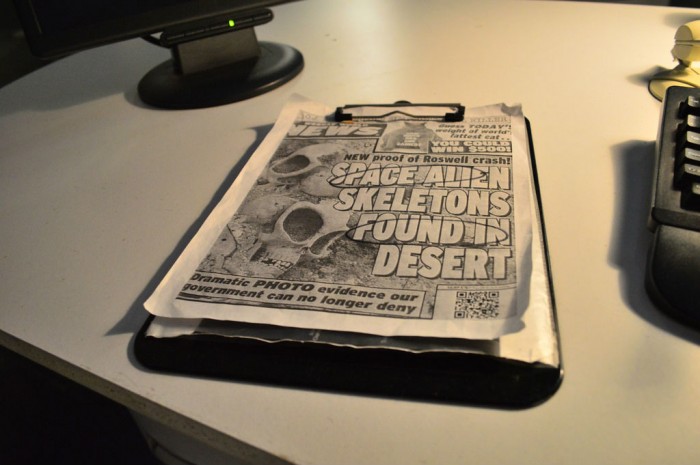 The detail  of the immigration room looks great when you walk above it, but it is insanely awesome when you are ground level and get to see all the little things like the paperwork and tabloids that are sitting on the desks. This is a fantastic spot to take fun photos, so take full advantage of the unique opportunity.
# 5 – A VIBE Tour of the Hard Rock Cafe (CityWalk)
We've actually done a whole "secrets" article on The Hard Rock Cafe in CityWalk, but I don't feel enough people know about the most amazing things you can do there, and it's absolutely free. The Hard Rock Cafe employs VIBE hosts, and these men and women can give you a tour of the Hard Rock Cafe and Hard Rock Live venues that will have you picking your jaw up off the floor. Depending on how busy the restaurant is and/or if a musical act is playing a the venue will affect how much you get to see, but during slower times you will be walked around the entire area and listen to a ton of wonderful stories of the history of the Hard Rock chain and several genres of music. The Hard Rock displays a lot of memorabilia throughout the restaurant, but there is even more backstage, and being able to see it, along with getting the stories behind each, is truly a gem in the Universal crown.
My personal favorite parts of the tour was getting the stories behind the Woodstock room (an upstairs dining room of the restaurant) and experiencing the John Lennon room and "The Attic," places where VIPs and musical acts that play at Hard Rock Live usually hang out. The Attic has signatures across its walls, with many names from rock 'n' roll history, and a mind-bending mix of eclectic props. I described it as the room of requirement from Harry Potter if it was furnished by the members Van Halen in 1984. This tour is great for an average person but if you are a fan of music and/or music history (especially the Beatles) you need to run, not walk, to this tour. A Universal Must-Do.
# 4 – A Control Room Tour of TWISTER…Ride It Out 
Time to go Full Paxton™ as we get a control room tour of TWISTER….Ride It Out. Like MEN IN BLACK Alien Attack, this one starts by asking the Team Member out front for a control booth tour. If it is available, another Team Member will come out and take you into the show control room where you can watch them run the show. Depending on when you enter, you will watch either a full or part of a show being run while the TMs talk about what is transpiring on the set. They point out facts and figures and will answer any questions you have on the show. They then allow you to sign a paper cow (yes, a paper cow. Now you HAVE to do it) and they will hang it on their bulletin board with the cows of previous guests.
After the show, you are  then taken into the set to watch it being reset live. Things they point out include: the giant fans that create the tornado – including several hidden fans that aren't noticeable during show operation – as well as the giant IMAX screen on the back wall. Once the show is reset you have the option of watching the show live. While they don't allow pictures inside the control room, this was a fascinating tour and it was neat hearing trivia of the attraction including a couple items left over from when this building was the home of a Ghostbusters attraction. Another fact that blew our minds was discovering that the tornado is always running, it becomes visible to guests when the liquid nitrogen and fire are added to it. You going to learn a lot on this tour, including why the show runner has to keep his hand on a red button for the duration of the entire show (how is that for a tease?!).
# 3 – Doc Brown's Plans to Get Back the Institute of Future Technology from Krusty the Clown 
There are a lot of Universal fans still in mourning over the loss of the Back to the Future ride, but thankfully the USF still has photo ops with the time traveling DeLorean along the train from BTTF III. The new Film Vault store in the park has some terrific BTTF merchandise, and of course there is Doc Brown himself, in our opinion one of USF's best meet 'n' greet characters.  Here are two "secrets" for BTTF fans. The first is in the queue for The Simpsons Ride, the attraction which replaced Back to the Future. We've established that Universal can produce some great things in its queues and this is no different as playing on TVs in the queue is a mix of classic clips from the Simpsons television show featuring antics at theme parks along with brand new animation. One of the new pieces of animation is a skit which explains how Krusty the Clown got control of the Institute of Future Technology (the building which housed BTTF: The Ride) from Doc Brown.  You can watch that video by CLICKING HERE.
Now that is #story. However, recently Universal took this story up a notice and gave the walk around Doc Brown character a cool looking bicycle to make his way around the park in. When he stops for meet 'n' greets, you can get a closer look at this bike and one of the props is a clipboard which gives Doc Brown's plans to get back the Institute of Future Technology. When it comes to levels of theming, it doesn't get deeper than that. Bravo Universal, bravo.
# 2 – Get Paid to Watch New TV Shows 
Throughout the year, Universal does a lot of third-party focus group testing to gauge guest reaction to new products, food and drink, and television shows. You will be reimbursed for your time in the form of Universal gift cards or cash. One of our favorite things to do is test upcoming television shows. These shows are "pilots," first episodes of televisions shows designed to see whether or not there is interest in making a full series. You are brought into a room filled with computers. You then put on a pair of headphones and hold two buttons, one red, and one green. When you watch the television show you are instructed to press the green button when you enjoy something in the show, and the red button for when you dislike something. Afterwards there is a lengthy questionnaire on the show itself, including what you thought of the show itself, how you felt about the various actors, and even questions on what network you think the show would be on. I personally have tested shows including Defiance (currently airing on SyFy) and the reboot of Ironside starring Blair Underwood which ended up being cancelled by NBC after just 3 airings in 2013.
You have no idea what show you will be seeing when you sign up, although you are asked ahead of time if you like a certain type of show, giving you an idea at least of what genre it is in. When I signed up to test what ended up being Defiance, shows I was asked if I liked included The Walking Dead, Falling Skies, and Battlestar Galactica. You are going to see these shows MONTHS before anyone else does, and that's if the show even makes the air. Not only do many shows never make it past a pilot, but often they have characters or plot elements changed because of the reactions to these very tests at places like Universal. This is where your voice is truly heard. For the Defiance testing, the show ran about 40 minutes and the questions took about another ten. I was paid $40 cash. I then spent the next two days trying to figure out how to make this my full time job.
# 1 – There is a Second Entrance to Universal Studios Florida
This is my favorite "secret" and one I use all the time as the turnstiles at every theme park drive me bananas. I always seem to be behind someone whose ticket media is a piece of paper they printed out from home that has been folded 15 times and of course not gotten out their pants pocket until the second they are asked for it directly. I have been behind parties of 8 in which one person has all the tickets and no one realized that each ticket is assigned to a specific person. I have even been behind guests trying to use Disney park tickets at Universal (front line Cast Members at Disney and Team Members at Universal have the patience of Job at times). Thankfully, at Universal Studios Florida there is a second entrance that is located near the Blue Man Group. This area has one person working, has no turnstile (the Team Member still checks your ticket media and does the finger scan) and never has a wait. Ever. It lets you into the park right in between the entrance to Despicable Me: Minion Mayhem and the Studios Store. You also get up close and personal with a good portion of Rip Ride Rockit as you make your way to this entrance. It is important to note that this entrance does not open with regular park opening (or early admission). It generally opens up around 10AM. This is the way I leave the park, as well. My recommendation? If not taking the Hogwarts Express over to USF, after you finish Islands of Adventure, take a sharp left at the end of the Hard Rock Cafe, check out a piece of the actual Berlin Wall, and continue on to the side entrance of USF.
HONORABLE MENTION – Universal Has Pet-Friendly Hotels
This is a "secret" for those guests like myself who have pets that the travel with, but find out that almost no resort on Walt Disney World property is pet friendly. All three of Universal's "deluxe" hotels are pet friendly including Loews Royal Pacific Resort, the Hard Rock Hotel, and Portofino Bay. The Royal Pacific even has a dedicated Royal Pet Resort area for dogs which is well themed, including statues. The pet-friendly rooms are located in one area of each hotel, so guests with no pets don't have to worry about being in a room that just had a Yorkshire Terrier which likes to the hog the bed in it (sorry, was I speaking aloud about my own pets again?)
So there you have it: Six "Secrets" of the Universal Orlando Resort. See you next weekend for the latest edition of the SATURDAY SIX, where we are going to grab a handful of Dramamine and take a look at the Disney Cruise Line as your humble author will be sailing on the Disney Wonder as part of TouringPlans #Everywhere promotion in October. If you had fun, be sure to check out The Magic, The Memories, and Merch! articles, or, for your listening pleasure, check out Pardon the Pixie Dust podcast.
Special thanks to crack staff photographer Brandon Glover, The Park Blogger's Brian Carey, and grammar cop MegS for their invaluable assistance in this article.